Election season means also means endorsement season.
Candidates are eager to gather endorsements from groups and organizations, who, in turn, are enthusiastic to show off their political relevancy. An endorsement from a prominent group could go a long way to transforming a candidate from a campaigner into an elected official.
Usually, there is a correlation between the size of the group making the endorsement and the size of the race. A union local might endorse a candidate for county commissioner. A regional newspaper might endorse a candidate for governor. A national conservation group might endorse a candidate for president.
But one group, the National Rifle Association, issues endorsements for candidates up and down the ticket, in races all across the country.
Whether they're running for state representative or president of the United States, the NRA will issue grades to candidates and possibly endorse them – as long as the candidates are suitably pro-gun rights in the view of the NRA.
The NRA gives "A's" for candidates with a proven record of supporting the Second Amendment and "F's" for those who don't.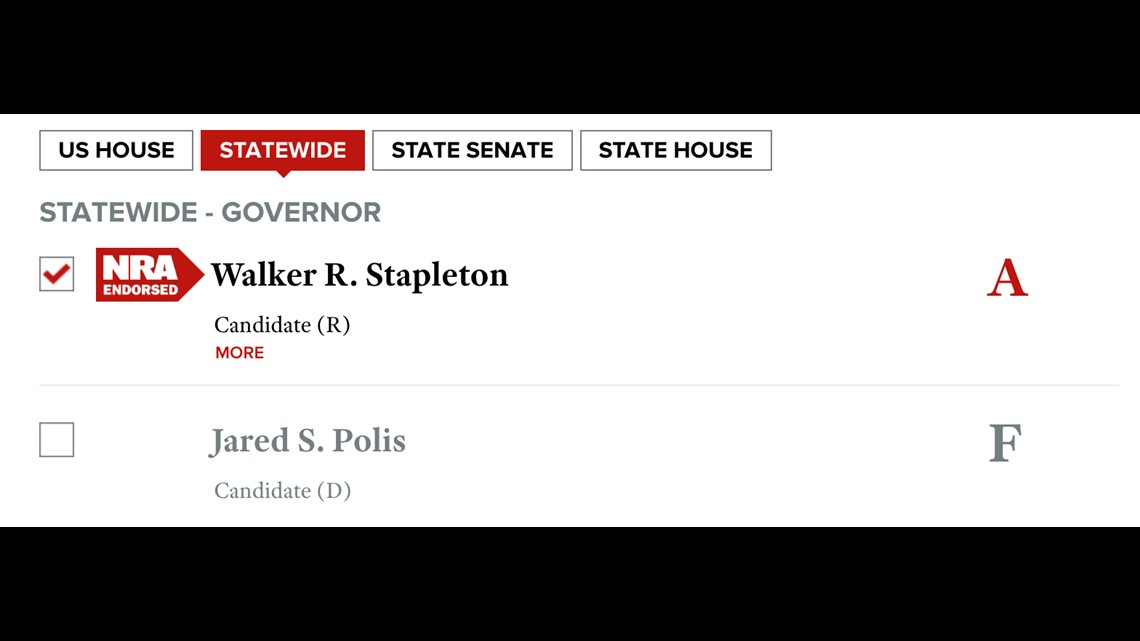 If you are a voter who strongly supports gun rights, then knowing who the NRA endorses might be a handy way to fill in your ballot. If you are a voter firmly in support of gun control, you may want to know who to vote against.
So how do voters find the rating for candidates in their particular district or state? If you are an NRA member, the candidate grades are printed in the NRA magazine that is mailed out in the weeks ahead of an election. But it's a lot harder to find candidates' grades if you are not a member.
The NRA Political Victory Fund website allows voters to search for grades and endorsements, but they don't automatically pop up. Voters are required to select a state and enter an address.
The NRA website will then display candidates' grade related to the U.S. House, state house, state senate and statewide races associated with the address. (In Colorado, there is no U.S. Senate race in this election. If there were, grades for those candidates would display, too.)
The site will not display grades for candidates running in districts outside of the address entered. If a voter wanted to search grades for all the candidates running for Congress, state house of representatives or state senate in other districts, he or she would have to manually enter valid addresses for each district.
There are seven congressional districts, 65 state house districts and 17 state senate districts up for election this year in Colorado. That's a lot of data entry.
The NRA told 9NEWS that candidates' grades and endorsements are meant for NRA members only, not the general public. A national NRA spokesperson listed out the grades for Colorado candidates running for Congress.
(Spoiler alert: The vast majority of Republican congressional candidates get A's and the NRA's endorsement. Democratic congressional candidates all get F's. The same pattern holds for candidates in statewide races.)