DENVER — And so it begins.
Denver International Airport travelers have begun to notice the first changes due to the airport's Great Hall Project: Some of their favorite dining and shopping spots are closed.
The airport says that because of the massive construction project beginning this week, all existing concessions in the Jeppesen Terminal will have to close eventually.
The good news is the closures will happen in phases.
Jeppesen Terminal concessions that are now closed for Phase 1 of construction:
The CofTea Shop
U.S. Post Office
Amore Fiori Flowers
Panda Express
Vertical Mile Market
Caribou Coffee
Jamba Juice
Burger King
Einstein Bros. Bagels
Taco Bell Express
Concessions that will remain open in Phase 1:
Airport Baggage Center
Boulder Beer Tap House
Cantina Grill
Colorado Lottery
Hudson Booksellers
Hudson News
Mangelsen Images of Nature
Peak News & Gifts
Public Service Credit Union
Red Rocks Bar & BBQ
Rocky Mountain Cafe
See's Candies
Subway
Way Out West
Grill & Vine
Ingredients
Roasting Plant
Sky Lounge
While they are working towards securing temporary concessions in the terminal, the airport reminds travelers that there are dining and shopping options in the Westin Hotel and Transit Center and on Concourses A, B and C.
The Great Hall construction project will take place in four phases:
Phase 1 - middle section of the Great Hall
Phase 2 - southern section (closest to the hotel and transit center)
Phase 3 - northern section
Phase 4 - where the Level 5 TSA screening areas are located today
Travelers will see temporary construction walls installed on Level 5 and Level 6 throughout July.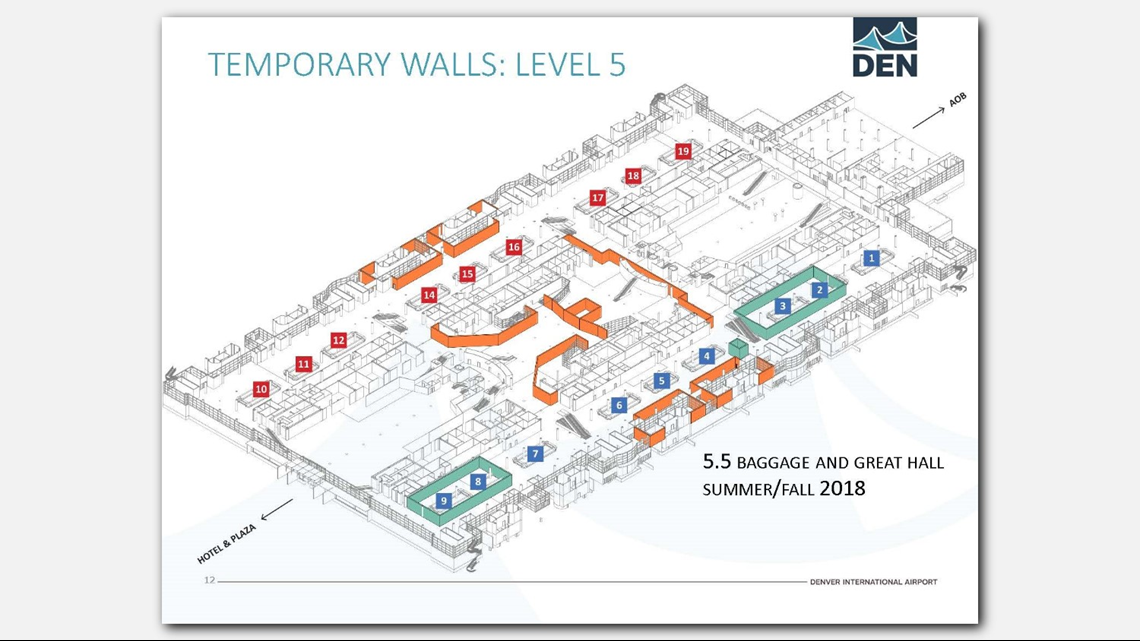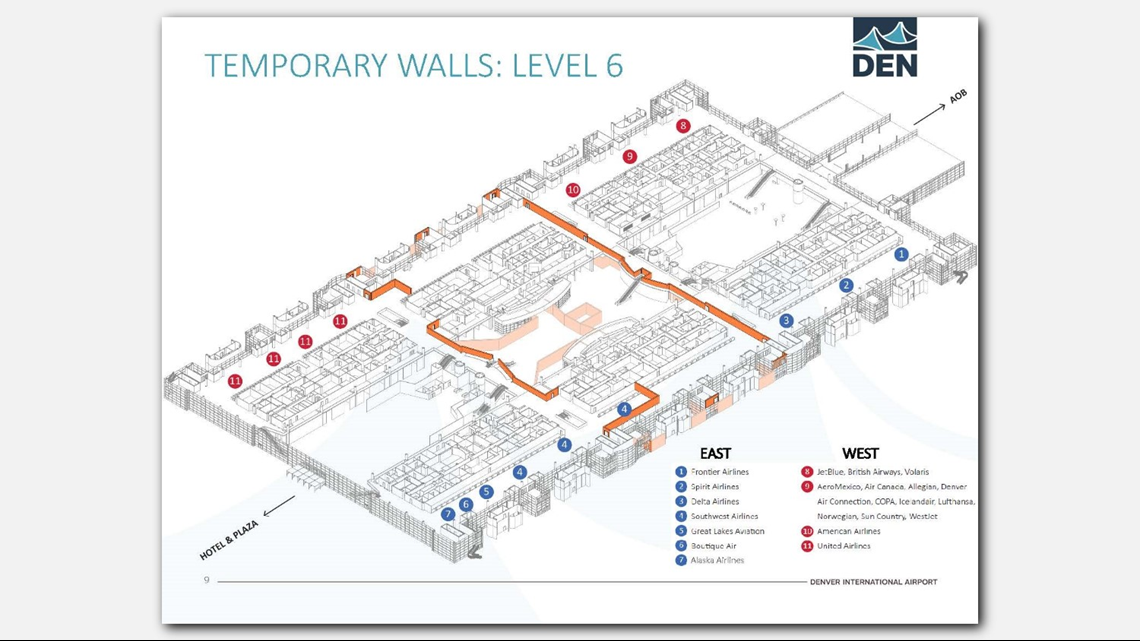 While the U.S. Post Office in the Jeppesen Terminal has closed, there are still mailing services offered at the airport:
USPS drop box in terminal, further north (signage is posted)
USPS drop boxes on A, B and C concourses
Stamp sales & money orders at Money Exchange locations in Jeppesen Terminal and A and B concourses
Stamps are also available at SkyMarket locations on B and C concourses
FedEx drop box on B and C concourses
UPS drop box on B and C concourses