VERIFY – YOU'VE GOT QUESTIONS, WE'LL FIND ANSWERS
A 9NEWS project to make sure what you've heard is true, accurate, verified. Want us to verify something for you? Email verify@9news.com.
Tens of thousands of people shared a lengthy Facebook post from a mom claiming she was followed in a Highlands Ranch clothing store by men she suspected of sex trafficking.
The since-deleted post was rapidly shared, garnering more than 50,000 shares on Facebook between Saturday and Monday night when it appears to have been removed.
"I can't say WHAT the true intentions were but I have 2 little kids and I am a young 20s, noticeably have a baby bump 7 months along. And by the weird s*** they kept throwing in the cart I'm not too shy to say this is sex trafficking behavior at its best. Please keep your kids close and secure in the store, and be aware: keep your mom senses up," the mom wrote.
So, 9NEWS set out to verify whether the men involved in sex trafficking and/or looking for victims inside of a Ross?
As it turns out, a lot of the fear spread by this particular post isn't backed up by facts, according to the Douglas County Sheriff's Office and a Ross employee who management tells us was in the store at the time.
The poster claimed three men followed her inside and outside the Ross Dress for Less on South University Boulevard and East Highlands Ranch Parkway on July 8.
She felt so uncomfortable she says wrote a text to show a cashier something wasn't right and called 911.
She saw women and kids' clothes in the men's cart and posted on Facebook "I'm not too shy to say this is sex trafficking behavior at its best."
However, the Ross employee working that day says the whole thing was blown out of proportion.
She confirmed to 9NEWS the mom was escorted out because she was uncomfortable, but said the men were there to shop and didn't think they were doing anything inappropriate.
In the post, the mom mentioned the men were here from Egypt on business, and she questioned why they were buying kids and women's clothing.
Douglas County Sgt. Jeff Miller did confirm that the men were visiting from Egypt, but he disputed the claim that they are involved in sex trafficking or did anything wrong.
This is the second time the sheriff's office debunked a similar concern shared online. Earlier this year, a mom claimed a man was trying to kidnap her kid outside the Highlands Ranch library.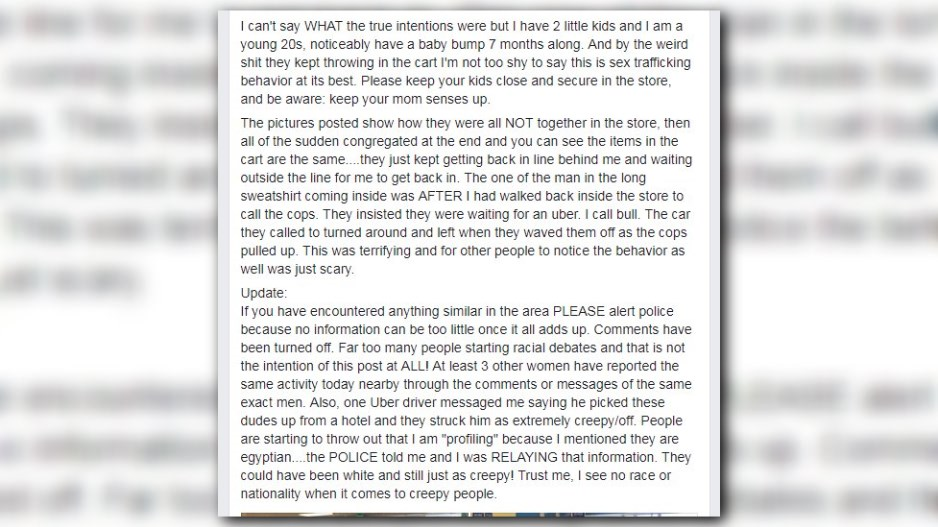 Lauren LeKander, a spokeswoman for the Douglas County Sheriff's Office, said that wasn't the case. Deputies spoke with the man who said he was parked next to the mom and moved her stroller because it was blocking his driver's side door.
The woman claimed on social media that she had to rip the stroller out of the man's hands, but Lekander said that's not the version of the story she gave to police.
"What information we have and have confirmed through making contact with the reporting party and the gentlemen who she claimed tried to kidnap her child is that story was completely twisted and turned on social media," Lekander said.
Beth Boggess, the FBI supervisory special agent who heads Colorado's violent crimes against children unit, said human traffickers target high-risk victims like runaways, or kids who come from difficult situations.
"It's a completely different crime," Boggess said. "We don't see kidnapping for human trafficking."
Boggess and her team haven't heard of an incident similar to the one described either Facebook post. That's also true for the Douglas County Sheriff's Office. Lekander couldn't find a case similar to the accounts being described.
"I can't say that it couldn't happen, but I don't know of any reports of that happening," Lekander said. "Especially now with social media, stories get way blown out of proportion."
The 9NEWS web team also verified the post is being shared by actual people on Facebook in groups and on their pages.
After this story was posted, the question was raised whether a person could face legal trouble for posting a photo and statement that isn't backed up by fact or corroborated by law enforcement.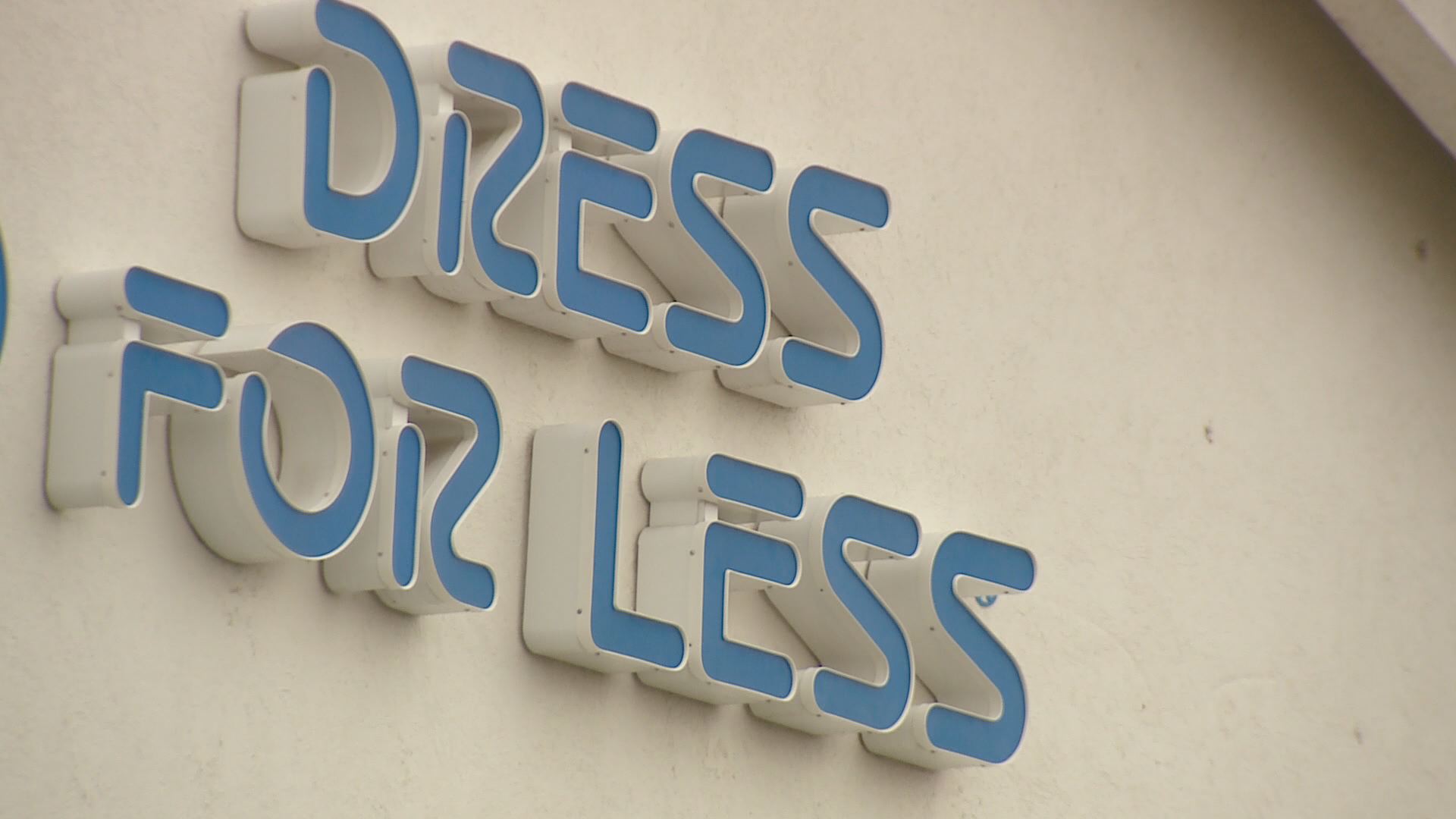 Scott Robinson, 9NEWS legal analyst, said the First Amendment protects opinion, but doesn't protect false statements. Drawing that line, though, can often be difficult.
"The statement may be a statement of opinion, but is that a risk you as a Facebook poster want to make?" Robinson asked. "It's definitely a risk when you a make statement that can be interpreted as statement of fact."
There's no indication the woman in this case is facing any legal action and it's not clear if she did anything legally wrong.
A defamation case can be tricky because a plaintiff would have to prove the social media post caused them harm.