VERIFY – YOU'VE GOT QUESTIONS, WE'LL FIND ANSWERS
A 9NEWS project to make sure what you've heard is true, accurate, verified. Want us to verify something for you? Email verify@9news.com
If you've been on Facebook over the last couple of days, you may have seen a status explaining how to block Facebook users who are "secretly following" you – they are typically something along the lines of:
"I did this and I blocked (X number of) people!!!! It was people I do not know and whose names I cannot pronounce. FB family and friends please do the following: Go to your account settings, go to blocking, go to block users, type in "Following Me" without the quotes, surprisingly there were (X number of) people following my FB page with names I cannot even pronounce. Very scary! They are all blocked now but I had to go to each individual name to block them. Copy and paste to pass it on."
The 9News verify team did some research to find out if there is any truth behind this rumor.
No, the rumor is nothing more than a variation of a common Facebook hoax that circulates around from time to time.
According to ThatsNonsense.com, a site dedicated to "exploring internet nonsense" and Snopes, a fact-checking site, the claim is false.
Searching the words "following me" in the "Block users" textbox under the Facebook settings does not provide a list of people who are following you.
"What it DOES do is bring up a list of users associated with the words you typed into the textbox – in this case the words "following" and "me". This can mean those words appear in a user's name, introduction or any of their About Me sections," according to ThatsNonsense.com.
People who follow the instructions will likely see a random list of Facebook users pop up because the words are relatively generic and frequently appear in those sections of people's profiles – and the letters "me" are common in user's names.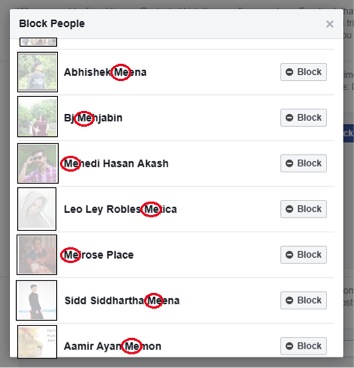 "These users will have little connection with you and are certainly not following you," according to ThatsNonsense.com.
In January, a similar Facebook rumor went around claiming "Facebook security" people were being paid to watch user's accounts – and said users could find out who by entering the words "Facebook Security" into the same "Block users" textbox.
According to Snopes, entering those words into the search box brings up people who have used the words somewhere on their profile, or somewhere visible, such as a public post – which is essentially the same result as the current rumor.
"The list returned by this search neither includes people who are furtively following you, nor persons employed to spy on you by Facebook security," according to the Snopes webpage.
Another similar story circulated on the social media site in 2011. Users were directed to type the words "Automation Labs" into the same text box to view stalkers - however the result was actually a list of users who had the words "automation labs" in their profile, according to ThatsNonsense.com.
"(The hoax) more than likely originally spawned as a result of a misunderstanding of Facebook's privacy settings," ThatsNonsense.com stated on its site.
FACEBOOK SECURITY SETTINGS
According to Facebook's help center, user's friends automatically follow them, however, users can also allow people who are not their friends follow them.
To manage who is able to friend and follow users, they can go to settings on Facebook, click "Public Posts' and select "Friends" or "Public" next to "Who Can Follow Me."
Public post notifications allow users to select if they want to be notified when people who are not their friends start following, sharing, liking or commenting on their public posts.
If users allow people to follow them, a list of followers can be found by clicking "Friends" below the cover photo on their profile and then selecting "Followers" – if you do not have any followers, this option will not appear.
Users who let people who are not their friends follow them should be aware that people who send friend requests that are ignored or deleted will automatically start following them – if users do not want someone to follow them, users can block the accounts.