For those of you who have said things such as "journalism is dead" and "why aren't people covering news that matters anymore?!" I encourage you look away now … or at least not click on a headline talking about a birth announcement for a trendy fall beverage from our coffee overlords expecting this to somehow be an in-depth look at the state of American politics.
Since this coffee company gets enough free marketing from the world of media, I'm not going to name them. You can probably guess who they are. Heck, you've probably been there. And if you haven't been there, you are probably VERY vocal about the fact you have not been there.
But here's what's going on: this coffee company is April the Giraffing us. Literally thousands of people are sitting and watching a birth announcement for the pumpkin spice latte, a fall beverage made solely for girls in ugg boots to post on Instagram.
Sure, I've been at work all morning (and if my boss has been reading this, don't worry: multi-tasking has been occurring), but I can't look away. I know it's a marketing ploy. But something about watching Pinterest play out in real life is absolutely enthralling. There hasn't been a birth yet, so here's a look at what you've missed!
This Facebook live began at 8:56 a.m. There was an empty barn. It was Pinteresty. There was a note with a cryptic number. I did not take a screenshot because I honestly did know the journey this would take me on.
There are currently 1,000 people watching a static shot of a barn ahead of a #PSL announcement #America #basic https://t.co/gyDj03eG4h

— Allison Sylte (@AllisonSylte) September 1, 2017
Unlike April the Giraffe, this Facebook Live birth announcement can speak to us
But the mystery continues. What's going on with the box?! Is that a nest? The plant looks suspiciously like it's from Ikea. And that chalkboard is so basic that, if it were math, I might still be able to do it.
The PSL is totally going to hatch out of this box, guys #StarbucksMarketingIsWorking pic.twitter.com/sz4MYEWsXa

— Allison Sylte (@AllisonSylte) September 1, 2017
We have met the PSL mascot: The Flannel God
A man in flannel has been tasked with putting things in the PSL birthing area. Usually, mythical beasts such as this don't appear until after Labor Day. Unless you're in River North ... at which point they have always revealed themselves.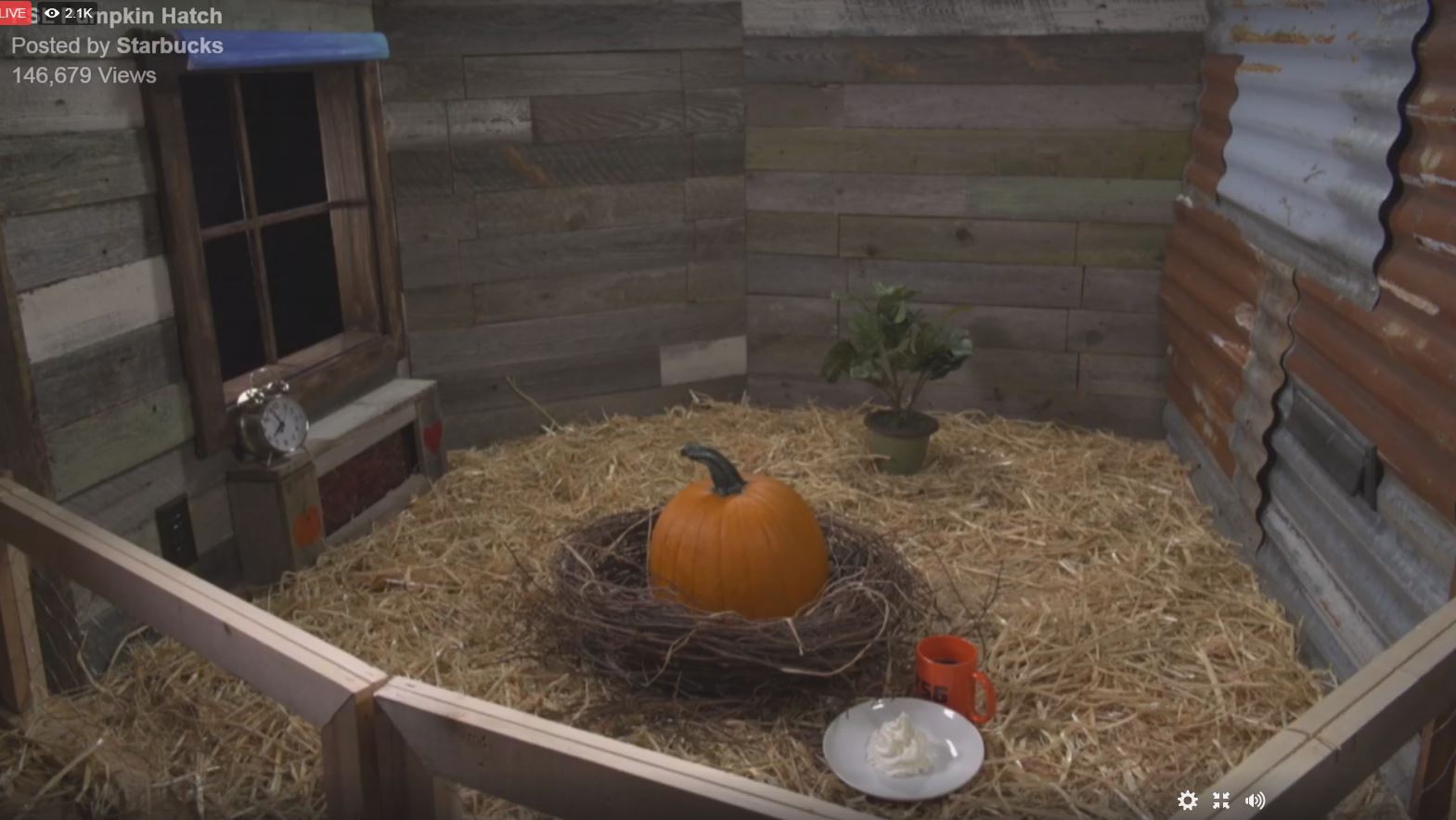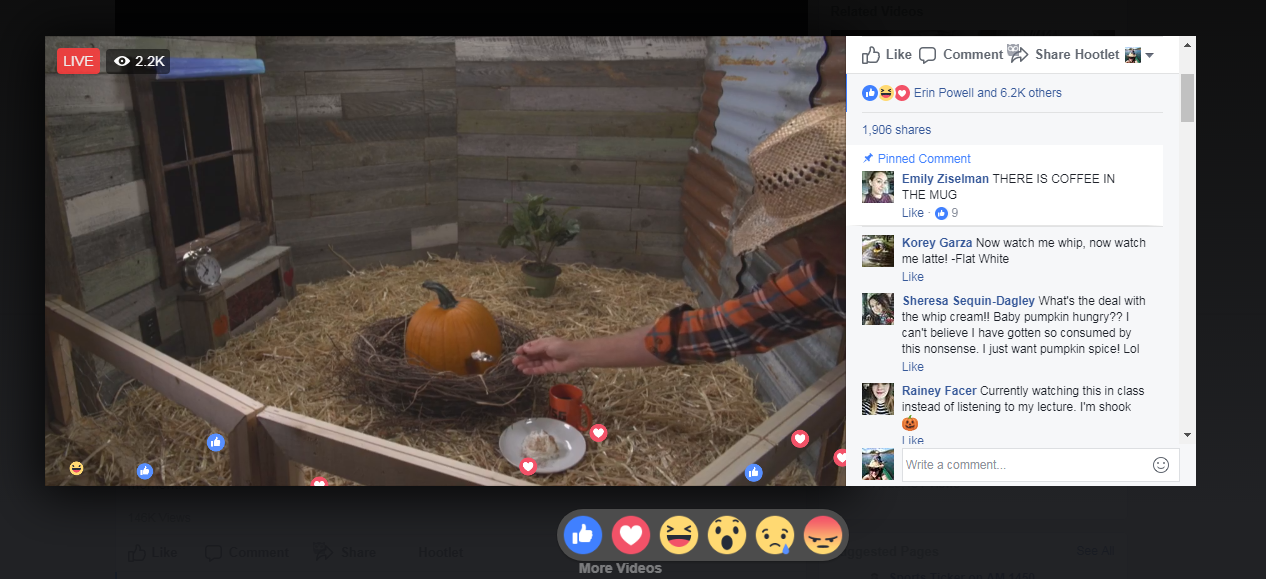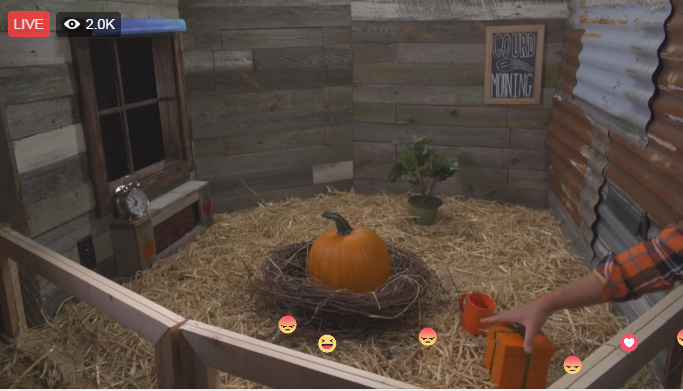 There is also whipped cream. If you're savy, you know this is an ingredient in the PSL. A message to wait. But is the waiting too much? No idea what either of these things mean. At this point, we're all along for the ride. APRIL THE GIRAFFE IS BEING BESTED BY A PUMPKIN.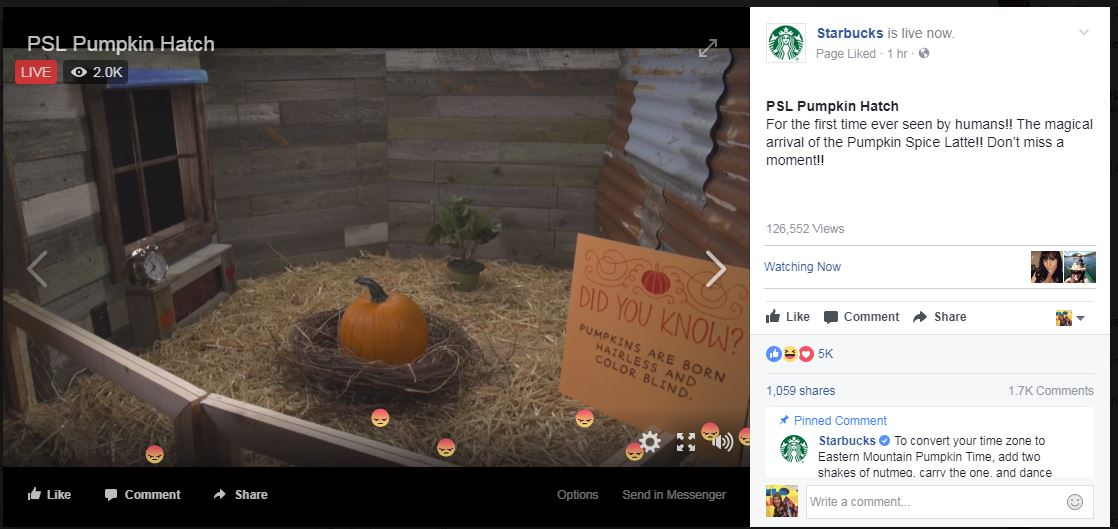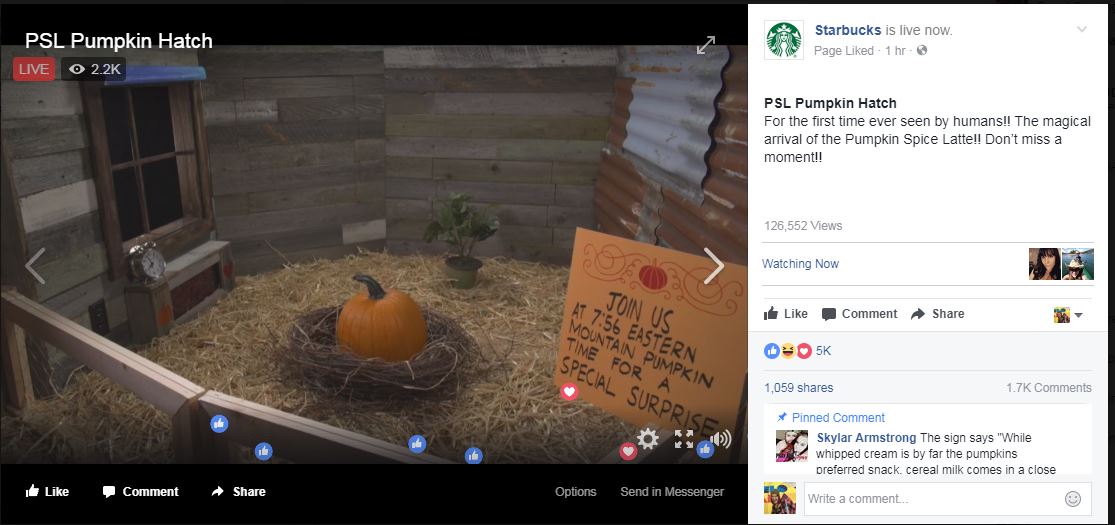 Things have taken a very "Lost"-esque turn WHAT DOES THIS MEAN?! To quote a 9NEWS producer: $7.56 is [how much the unnamed coffee company] will charge you for the PSL.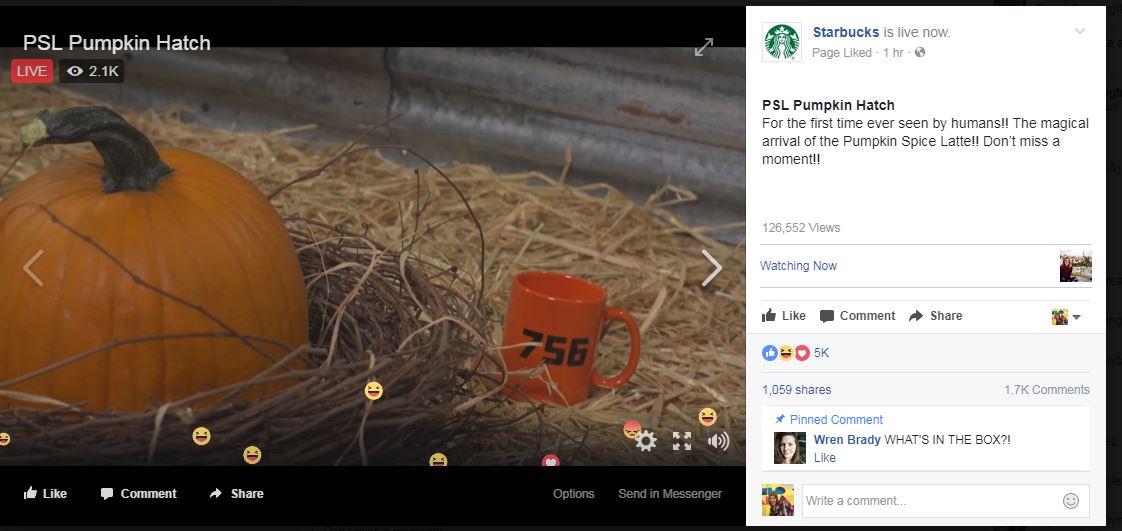 We get a closer look at the man now known as the "Flannel God"And he is placing a water bowl on the ground. What does this mean?!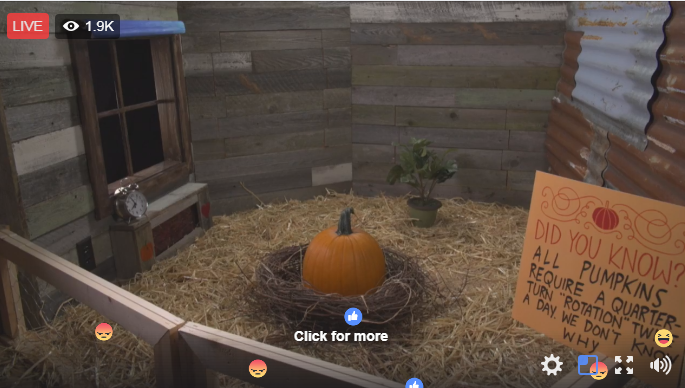 Seriously, what has this man done to become the King of Fall? Did something go down Game of Thrones style?! OH NO. WHAT HAPPENED TO THE LAST KING OF FALL?! Hey, cool plant! Also, is the hint in the clock?!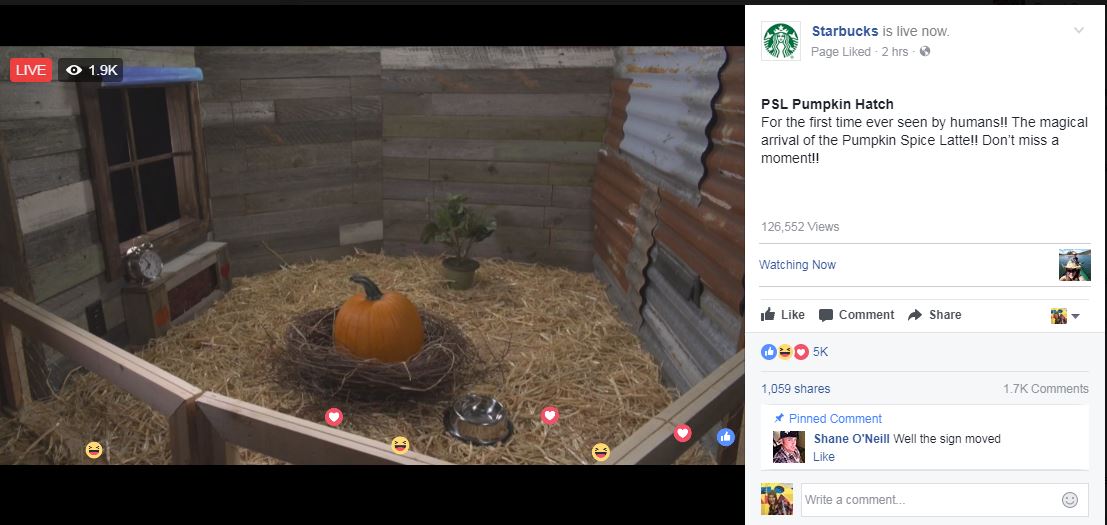 Let the games begin! The Flannel Gods are playing ball with the pumpkin ... and simultaneously toying with our hearts. I sure hope this isn't how lattes are made ...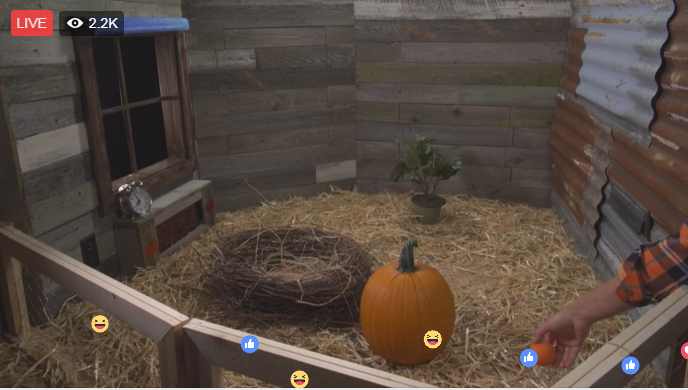 Isn't the pumpkin getting tired of playing ball? They're still playing ball. Or just throwing a mini pumpkin at a pumpkin. Do you think the big pumpkin is annoyed or tired? Can the big pumpkin even feel? What does it mean to be a big pumpkin anyway?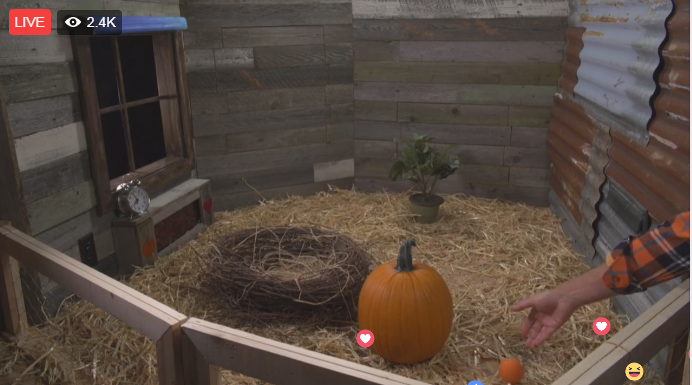 The unnamed coffee company didn't ultimately make 'fetch' happen The ball game is over. Now the pumpkin is once again in its nest, and probably asleep. I am slightly concerned I am getting trolled by an unnamed coffee company. Will I stop watching the pumpkin? Probably not. At this point, I'm afraid of going to the bathroom in fear of this being a total waste of time and the birth happening while I'm there.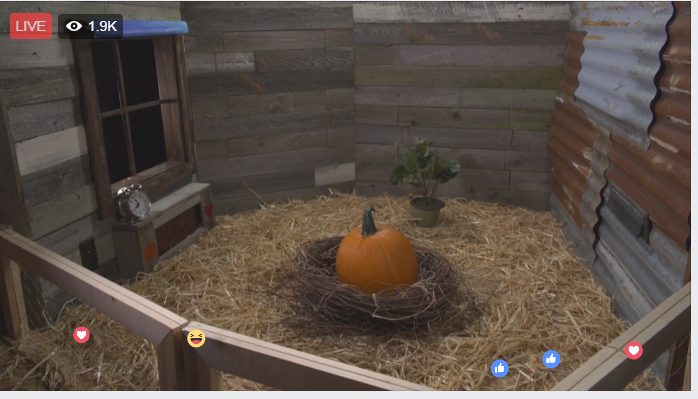 Even pumpkins need an afternoon napIs there something happening behind the sign? Is it ok to go to bathroom now? How long do we have to be patient before we find out what on Earth is going on?Alas, after a grand morning of being in a nest, eating whipped cream (with cinnamon!) and playing ball, naptime is calling for our pumpkin friend.As one livestream commenter said, "The Great American Eclipse has nothing on this."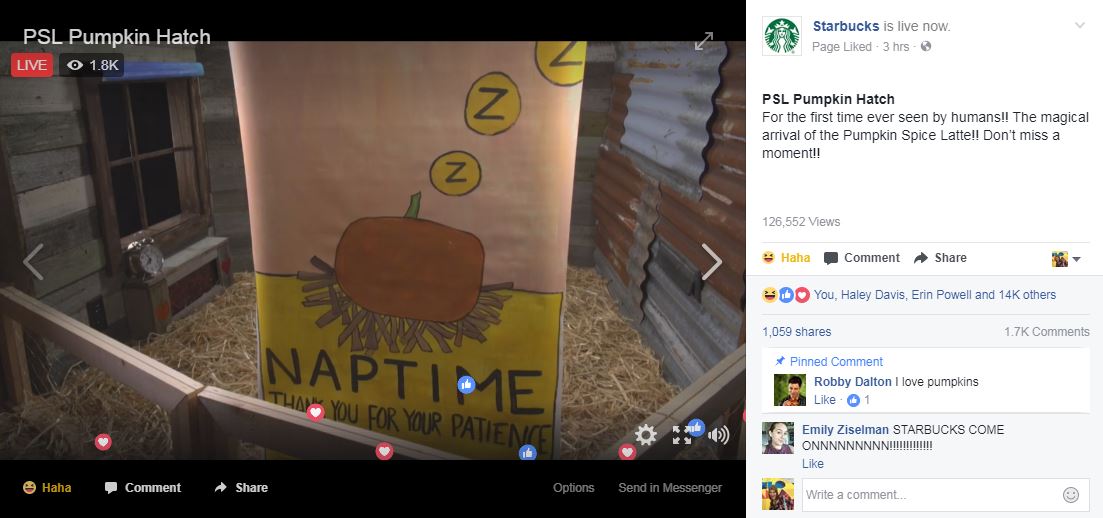 AND THEN THERE WERE KITTENS
There may or may not have been an audible gasp when all of a sudden, the barn door was opened, and at least four fluffy white kittens were let out to explore the pumpkin's home. We have to say, this was a surprising development given the fact that this livestream is to promote a fall-flavored coffee-beverage, but we sure aren't complaining. Update: there are now five kittens. A very helpful sign was put up identifying the critters as, "cats." They appear to find the pumpkin's nest quite delicious.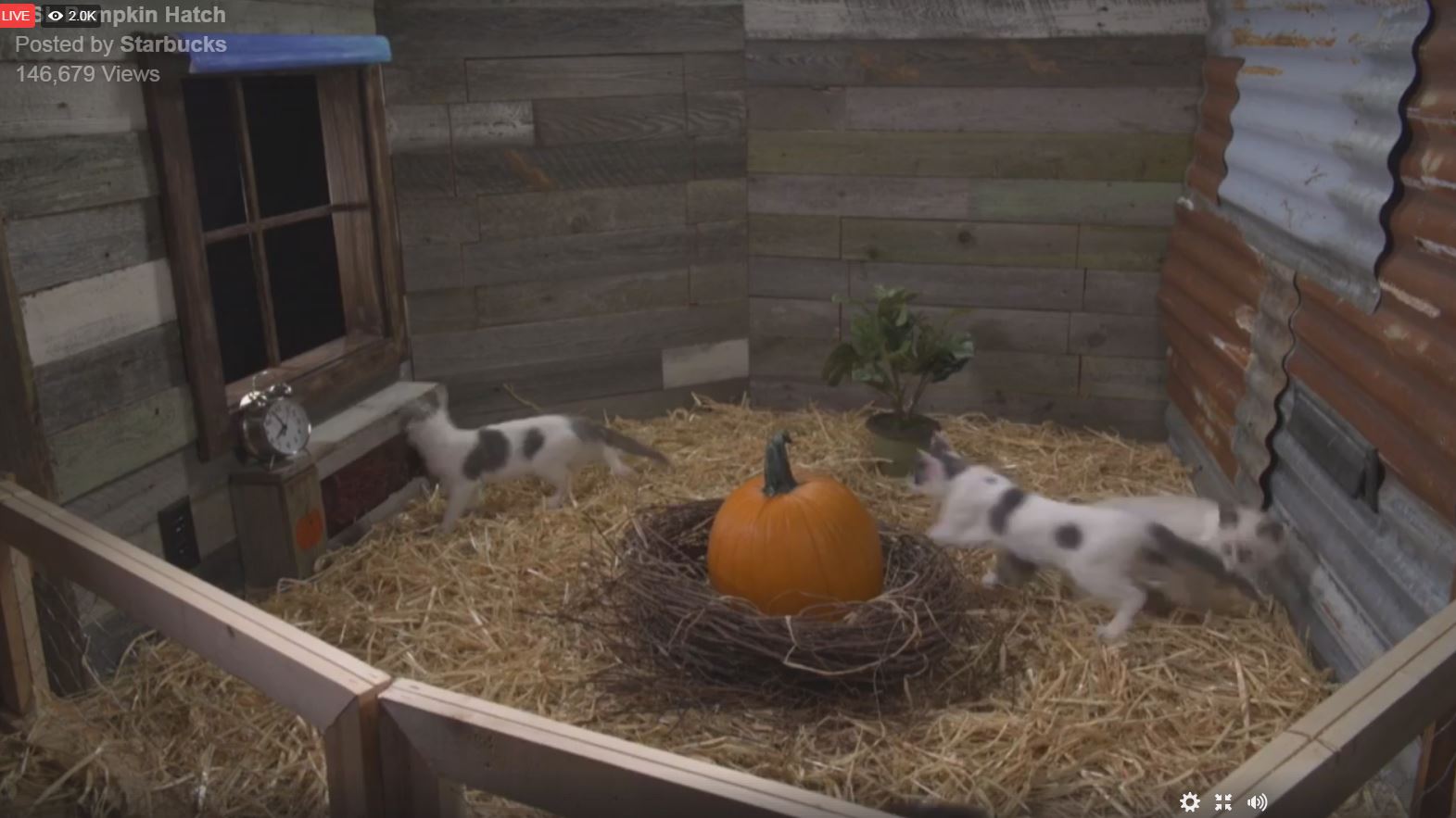 Then, something terrible happened.
Around 1:00 p.m., something terrible happened (as first world problems go). The livestream went offline, and then would not load for us anymore. We can only hope it will be coming back soon!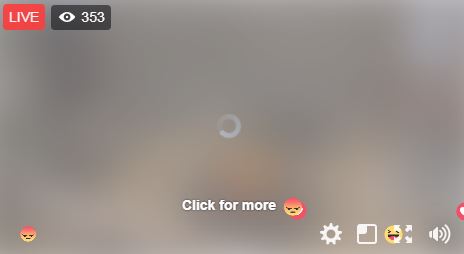 It's cool, guys. The kittens are back. HOORAY!!!!!! KITTENS!! Thank you you-know-who-coffee-company.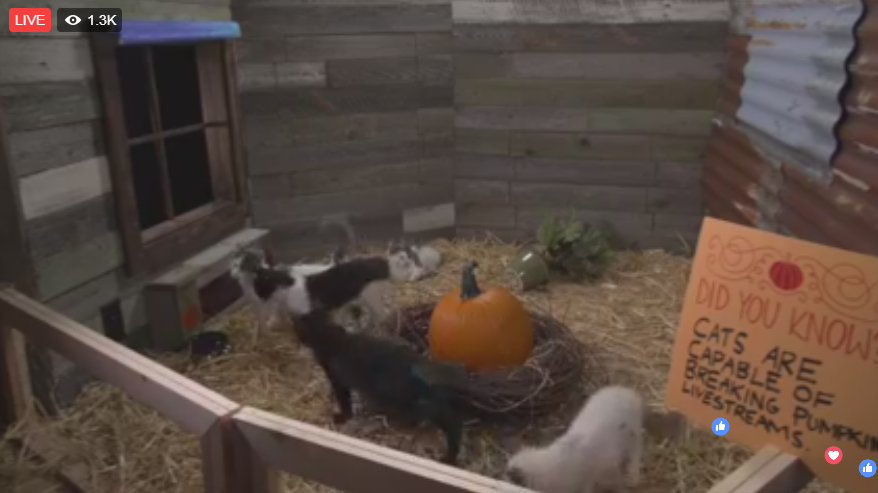 The pumpkin got a bit peckish later in the afternoon
While the pumpkin relaxed comfortably in its nest (with more than 1,000 people still watching it do so), flannel-clad man reappeared with a fresh dish of whipped cream.There was grating of fresh cinnamon, and we learned a fascinating fact about pumpkins, apparently: this unnamed-coffee-company claims pumpkins eat up to five pounds of cinnamon A DAY.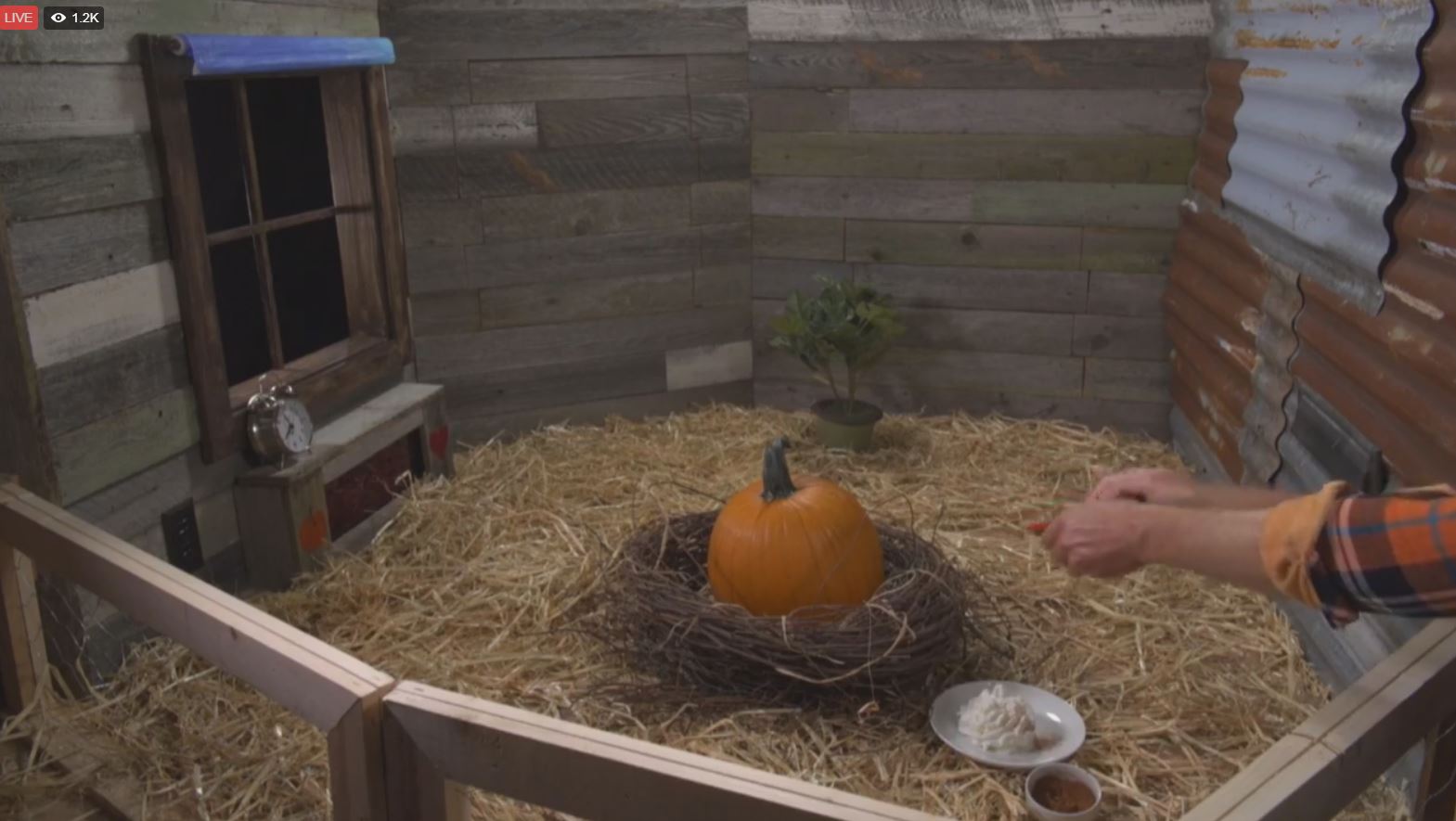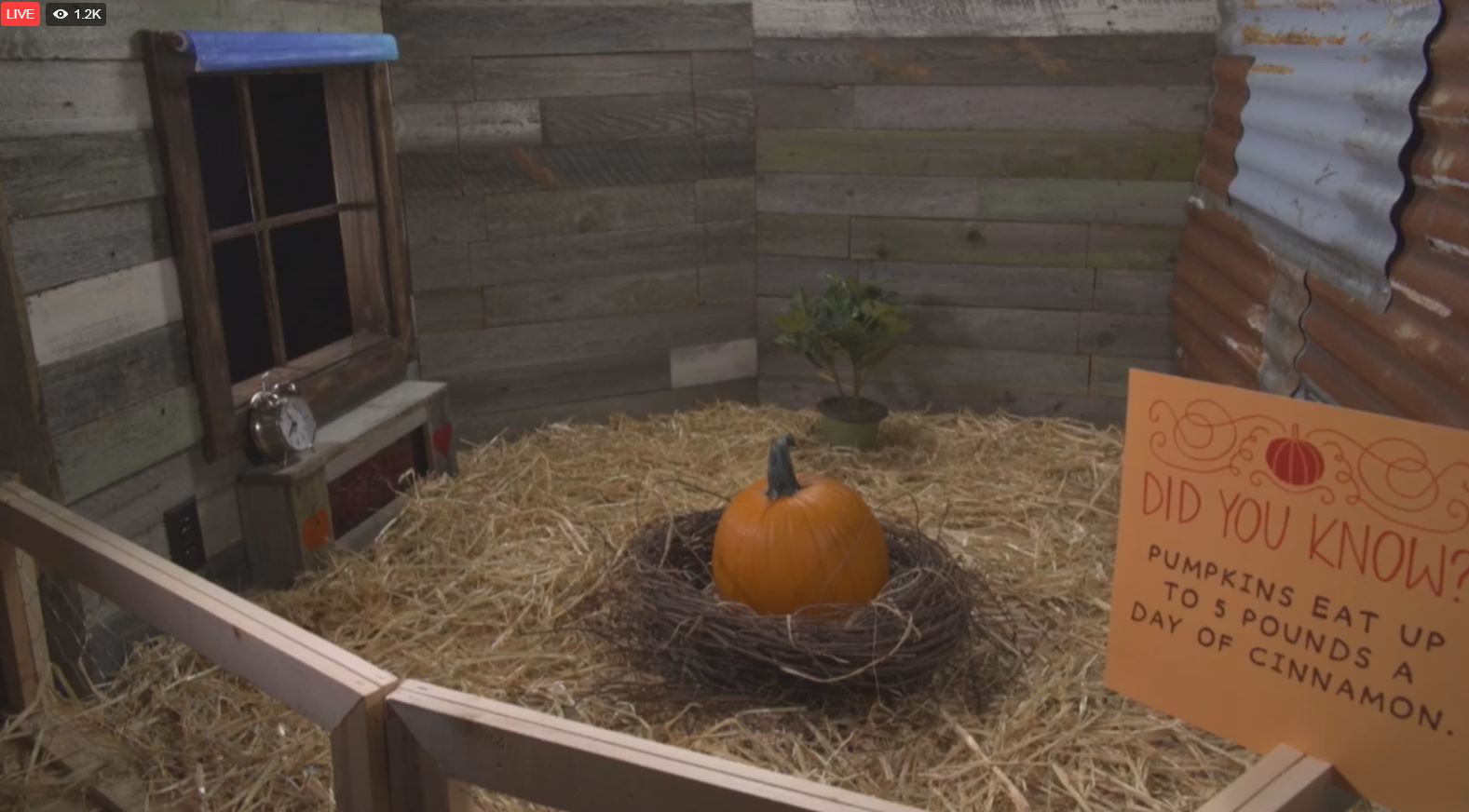 THIS IS NOT A DEVELOPING STORY AT ALL BECAUSE IT IS NOT A STORY. HOWEVER, WE WILL CONTINUE UPDATING IT BECAUSE, AT THIS POINT, THERE'S SOME SORT OF INVESTMENT INTO WHAT'S GOING ON HERE THAT CANNOT BE EXPLAINED UNLESS A TRAINED PSYCHOLOGIST GETS INVOLVED.