MOBILE, Alabama – By the time the Broncos are through with their Senior Bowl experience here this week, they're going to want three, No. 5 draft picks.
One for Josh Allen. One for Baker Mayfield. And one for another player in case they sign free-agent Kirk Cousins which in turn would cancel the thought of drafting Allen, Mayfield or any other quarterback with that No. 5 pick.
So many players looked impressive on the Broncos-coached North squad here Wednesday at Ladd Peeples Stadium, including Allen and Mayfield.
Allen has John Elway's type of quarterback oozing all through his talented body.
"Well, he's big, he's strong, he's got a strong arm and he can move around,'' Elway, the Broncos' general manager, said in an on-field interview with 9NEWS following the North team's practice.
"Yeah, I like any quarterback who has all that. And plus, he's been very good here throwing the ball. He's got all the tools to be a great player.''
Mayfield looked good, too, if in a different way. Allen fires 25-yard out pattern missiles that cause experienced, NFL coaches, scouts and executives to go, 'wow.'' A few yards after the ball leaves his hand, the football appears to elevate.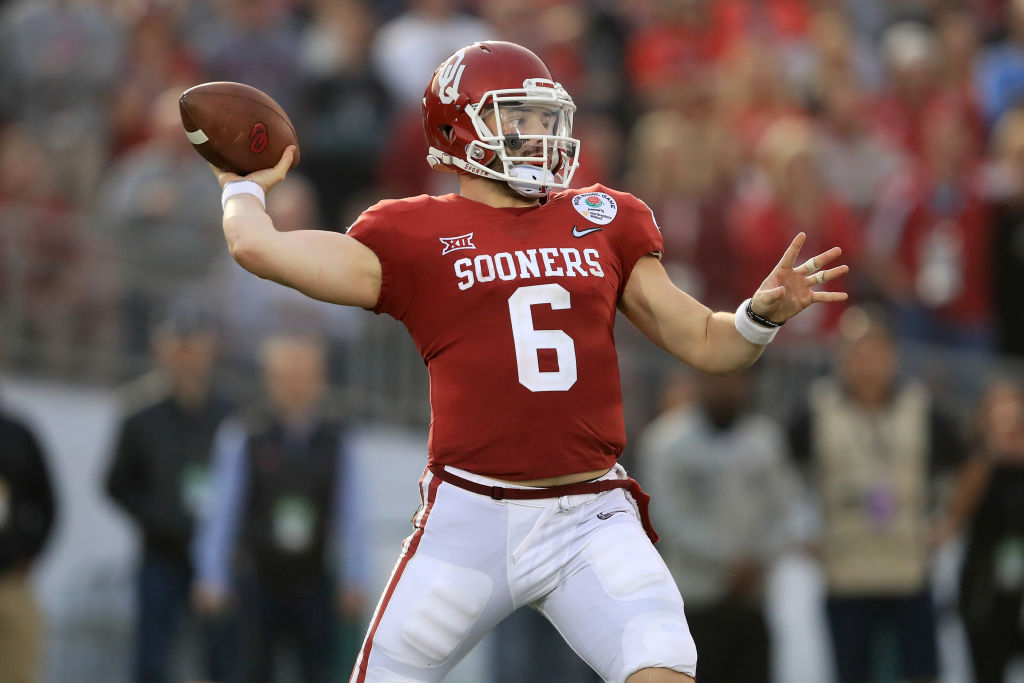 Ever hear the expression, "rising fastball?'' That's Allen's ball when viewed from field level.
The book on Allen, though, is while he can "throw a strawberry through a battleship,'' as one observing agent put it, "can he hit the battleship?''
Wondrous as Allen's deep out-pattern throws were, both from the pocket and on the move, he has missed a couple higher-percentage throws across the middle the past two days.
Accuracy is only everything to an NFL quarterback sustaining success.
"I'm not sure what the book is (on Allen),'' Broncos head coach Vance Joseph said to a media throng following practice. "I haven't studied him enough to know the book. I've watched the guy for two days and his accuracy seems pretty good for me. I don't know the book yet. I will know it in a month probably. He looked pretty darn good to me today."
Mayfield has to occasionally fight throwing a sinker. He doesn't do it often, but occasionally.
Mayfield does throw the ball with plenty of zip. He is way more accurate than Allen on the in-routes.
And he's a marvelous athlete.
Just because Allen has better all-around passing skills doesn't mean he'll be a better NFL quarterback than Mayfield.
"Yeah, at that position there's a lot of intangibles you've got to have,'' Elway said. "You not only have to be physically talented but you got to have the intangibles, too, to be able to win football games, and that's really what it's all about.
"For us, we're in the process of getting to know these guys as well as we can. To get to know them as well as we can and study them and know them as people. Not only what we see on tape but find out what they're made of and how big their heart is, what football means to them.
"All those type things go into the collection of information so when we finally get to our draft meetings we try to rank them the best that we possibly can and get some good football players.''
Mayfield is an off-the-charts competitor who has a Pete Rose-type personality that can alienate foes; inspire friends.
"Obviously, his confidence and his swagger could spell some certain things with him, but I like that,'' Joseph said. "I want a guy with confidence. I want a guy with swagger because it's a hard league. Guys can get broke by this league. I want a guy with great swagger and great confidence in his own abilities."
By the way, there is chance all this observation and evaluation of Allen and Mayfield could become moot. Given a what-if scenario of the Broncos signing a top free-agent quarterback like, say, Cousins, Elway wouldn't double down and take another quarterback with their No. 5 overall draft pick.
"Well, I would think we would probably not do that,'' he said. "But I think you get a guy like that, depending on … you never know how that's going to play out. We're in that process right now.''