ENGLEWOOD—John Elway can make the biggest draft splash of his career as the Denver Broncos' general manager.
Here's how: Elway uses the No. 20 overall draft pick on local legend Christian McCaffrey. Elway then trades his No. 51 pick in the second round, and his third-round compensatory pick (No. 101 overall) to the Cleveland Browns in exchange for left tackle Joe Thomas.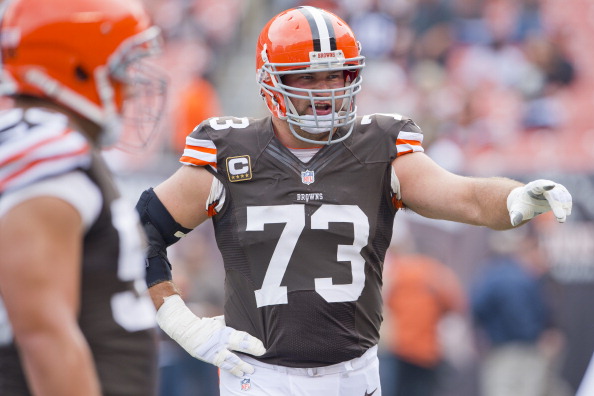 War room phone drop. War room walk off.
Elway could then let his top assistant, Matt Russell, and new head coach Vance Joseph handle the final six picks in four rounds 4 through 7 for all anyone cares.
I'm not saying Elway is considering such maneuvers with his two top two draft picks. I am saying this would stir the most excitement and get this Broncos region thinking Super Bowl again.
I also think the McCaffrey-veteran left tackle idea coming out of their top two picks – if not Thomas, the Broncos should also consider taking a run at Philadelphia's Jason Peters, or someone of that ilk -- must be a package deal. I don't think the Broncos would take McCaffrey at No. 20 if they don't have their left tackle in place.
Left tackle is simply too great a need. Based on last season, current offensive tackles Donald Stephenson and Ty Sambrailo need a readjustment to a swing position, at least to begin this season.
I picked Cleveland's Thomas and Philly's Peters because they play for teams whose front office has previously demonstrated a willingness to trade players for draft picks.
Von Miller will always be Elway's best draft pick. But Miller is a better pro than he was in college. He didn't become a superstar until Super Bowl 50.
McCaffrey will enter the NFL as a star. More importantly, the Broncos could use him. I'm not sure they would want a rookie receiving so much monstrous publicity. As the son of Ed and Lisa McCaffrey, brother of so many other McCaffrey athletes, and a former Valor Christian Academy star, Christian would be a bigger deal here than with any other NFL team.
McCaffrey was at Broncos headquarters Thursday as part of the team's local pro day. Unlike so many others local prospects like quarterback Austin Apodaca, who played at Silver Creek High School and New Mexico, receiver Stephen White, who played at Valor and Northern Colorado, and offensive tackle Justin Taxinger, who played at Longmont and Colorado School of Mines, McCaffrey did not work out for the Broncos.
Instead he showed up at the UCHealth Training Center wearing a dark suit with red tie. Clearly, McCaffrey was dressing for a job interview. He let the Broncos know that if he's still around by then, he wants that No. 20 draft slot.
The Broncos' quarterbacks spotted him walking through their building, dressed to the nines.
"Obviously, he is a great player,'' said Paxton Lynch. "You see him all over ESPN making these ridiculous plays. Wherever he ends up, if it's here, I'm sure we'll all be grateful to have him here. You've got a guy like Demaryius and Emmanuel to learn from, too, which would be very beneficial to him. I'm sure wherever he ends up, he's going to help the organization."
Ordinarily, the versatile skill position types go in the second round. Not sure why. But that's where NFL executives and scouts have valued the position.
McCaffrey is almost certain to go in the first round, though, because he is spectacularly versatile.
"He's a good player, obviously,'' Trevor Siemian said. "Wherever he goes he's going to have a ton of success. I don't know what the draft board looks like up there. Again, Elway has got a better answer for you. I'm looking forward to what he does in the league."
McCaffrey may not be a 20-carry-a-game running back, 16 games a year. Who is, anymore? More significantly, who wants one? The Kansas City Chiefs were better without Jamaal Charles the past two seasons. The Minnesota Vikings had just one great season with Adrian Peterson and that was because Brett Favre had one last great fling.
Where McCaffrey is special is what he can do as a receiver. His NFL scouting combine workout – where he cut so smoothly and explosively on his routes, while Leonard Fournette was clanking his way downfield – likely eliminated any chance of McCaffrey falling to the second round.
His character and gene pool also make him a "safe" first-round pick. From the jump, he should average one kickoff return, two punt returns, eight carries, five catches and 135 all-purpose yards a game.
I'd call that first-round value.
In his way of landing with the local team he has known intimately since the crib is the Broncos' desperate need for a left tackle. The Broncos can't come away from this draft without a starting left tackle. If they work a trade for a veteran, the Broncos must select a left tackle with their No. 20 overall pick.
The Broncos could well go left tackle Cam Robinson, Garett Bolles or Ryan Ramcyzk in the first round, and trade up from their No. 51 spot in the second round to take a versatile skill position player like Alvin Kamara or Joe Mixon.
It just wouldn't create the buzz of a Christian McCaffrey-Joe Thomas pairing.