I have never been less excited about acquiring a player than I was when the Broncos signed Case Keenum. However, after the past 48 hours I couldn't be more excited. The mix of hearing about Cousins' silly fully-guaranteed contract, reading Keenum's quotes from the press conference, and seeing his picture as a kid with that Elway jersey on, I couldn't be more excited to rally behind him!!! I can't wait for #7 and #4 to say, "This One's for Gary" while jointly hoisting up the Lombardi trophy next year!
--Art Mensing, San Antonio
Art — Kirk Cousins hit free agency at a perfect time – a few months before he turned 30 and coming off three consecutive stellar statistical seasons – so he earned his audacity. Most of these big deals are virtually guaranteed for three years, anyway, so while it was a legitimate record contract, it wasn't like it soared to another hemisphere.
Broncos general manager John Elway called several people who had worked for the Washington NFL team, and been around Cousins. He had Gary Kubiak to vouch for Keenum.
Come Monday morning, March 12, Elway had his contract guy, Mike Sullivan, call Cousins' agent, Mike McCartney. After determining the Broncos were a longshot in the derby that included Minnesota, Arizona and the New York Jets as competitors, Elway bailed on Cousins without even making an offer and turned quickly to Keenum.
Although almost everyone believes Cousins has more "franchise" quality skills than Keenum, you do have to wonder why Cousins has only been a .500 quarterback and Keenum was 11-3 last year.
Keenum moves better. He's savvy. He protects the ball.
He may not be a top-10 quarterback in terms of physical talent. He wasn't drafted in part because he measured only 72.63 inches tall (or closer to 6-foot, ½ inch, than 6-1) and because he was older than most at 24 years old after he had two redshirt years at the University of Houston.
But he's figured it out. I think he has a chance to become the next Jeff Garcia. Also listed at 6-1, Garcia struggled as a 29-year-old rookie with San Francisco in 1999, then made three consecutive Pro Bowls at 30, 31 and 32 years old.
Now that the Broncos got Keenum, what do you think the odds of them keeping the 5th pick and taking a quarterback like Josh Rosen or Baker Mayfield?
Also, what do you think they are going to do with the rest of the money they have left? I was hoping they would get Nate Solder and move Garett Bolles to right tackle but obviously that didn't happen.
Otherwise, maybe they go out and get a different tackle or a solid 3rd receiver.
Tanner -- The details of Keenum's contract says the Broncos would be wasting their No. 5 overall pick if they took a quarterback.
Keenum is making a full-guaranteed $18 million this year and then $7 million of his $18 million salary in 2019 is fully guaranteed.
That means the Broncos are counting on Keenum to be their starting quarterback for the next two seasons. I don't think the Broncos should use their No. 5 pick on someone who will sit for two years.
BUT. But. John Elway is not a predictable general manager. I can see him trading back to No. 11 (Miami), No. 12 (Buffalo) or 15 (Arizona) and taking Baker Mayfield if he falls and picking up position players with the extra second-round picks he would get in such a deal.He could then use one of those second-round picks and trade back into the first round.
I could also see him trading up from No. 5 to get Penn State running back Saquon Barkley or perhaps Darnold or Allen.
As for Solder, the Buena Vista native was never an option because the Broncos want to keep Bolles at left tackle and they didn't want to pay $15 million a year for an offensive tackle.
Problem is, the Broncos needed a Solder-caliber tackle. They better get an interior defensive lineman who can push the pocket – either a tackle or 3-4 end. They do need a No. 3 receiver, as you astutely pointed out, Tanner, but that may be a draft pick. They need a veteran tight end.
Yes, the Broncos have 11 draft picks. But there are no veteran tight ends in the draft.
I'm somewhat puzzled. If Case is that good, why did the Vikings dump him?
Patrick – Ding! Ding! Ding! In defense of Keenum, you could ask that question of every free agent in the still relatively short (25 years) history of NFL free agency.
Even Peyton Manning had major neck and arm strength issues in 2012.
Keenum led the Vikings to the NFC Championship and yet team management determined he wasn't good enough to win the final two games on an NFL schedule.
Money was a factor. The Vikings loved Keenum when he was making $2 million last year. Do you love him as it appeared he would make $18 million a year, which is indeed what he got from the Broncos?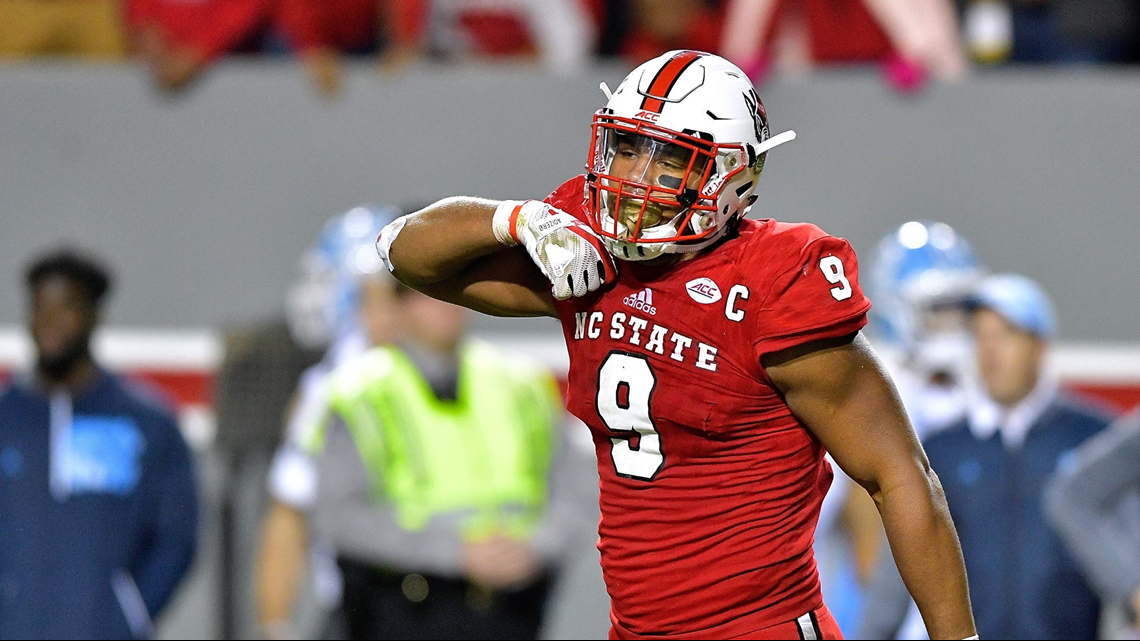 No. 5. Judging by your posts, I am guessing you do not think they are going QB. I would take Quenton Nelson or Saquan Barkley if he falls to them. I would be interested in Bradley Chubb, but I am not sure he is made for a 3-4?
Broncos have all this cap room and have done nothing in free agency. Kind of head-scratching.
Jon – At 6-foot-4, 269 pounds, Chubb is a tad small for defensive end, tad large for outside linebacker/edge rusher. He ran a ridiculous 4.65 in the 40 at the combine – where times were slower than Pro Days – so he can carry that weight on the edge.
Ordinarily, when a team picks as high as No. 5 for the first time in seven years, it should take a quarterback. The guaranteed structure of Keenum's contract, though, and the fact Paxton Lynch, a first-round draft pick two years ago, is the backup, strongly suggests the Broncos must go non-QB player at No. 5.
As for the Broncos not adding anyone other than Keenum or No. 3 cornerback Tramaine Brock, I'm with you, Jon. I'm scratching my head, waiting for the next move.
The second wave of free agency starts this week. The second tier of players will take multiple visits before signing.
Elway also had been working or some trades, which requires more patience. For instance, Washington safety Su'a Cravens and Dolphins right tackle Ja'Wuan James. The Broncos thought they had a deal in place with the Dolphins for James, but they needed another move to come through. When it didn't, they kept James.
The Broncos have made multiple offers for Cravens but have yet to reach a deal with Washington GM Bruce Allen.
I know in football the talk is about the big 4 prospects. Just wondering if you have heard anything regarding the talents of Mike White or Mason Rudolph who I assume are 2nd tier prospects. Would Denver be interested?
I know Chad Kelly is in rehab for physical issues. Have you heard anything about how he is doing with the mental side of the game? How is he doing with playbook, film study, etc.
Al – Washington State's Luke Falk might get drafted before Rudolph. Rudolph's perfect measurables (6-5, 235) and tremendous production (8,995 yards, 65 TDs, 13 INTs) his past two years at Oklahoma State are not overcoming concerns about converting from his college spread system, stiffness and arm strength.
I thought Western Kentucky's Mike White helped himself at the Senior Bowl, but the quarterback I've heard more from the Broncos as a possible late-round pick is Richmond's Kyle Lauletta.
As for Chad Kelly, whenever I ask a Broncos' coach or executive about him, the answer is something to effect of, "Don't know. Haven't seen him practice, much less play.''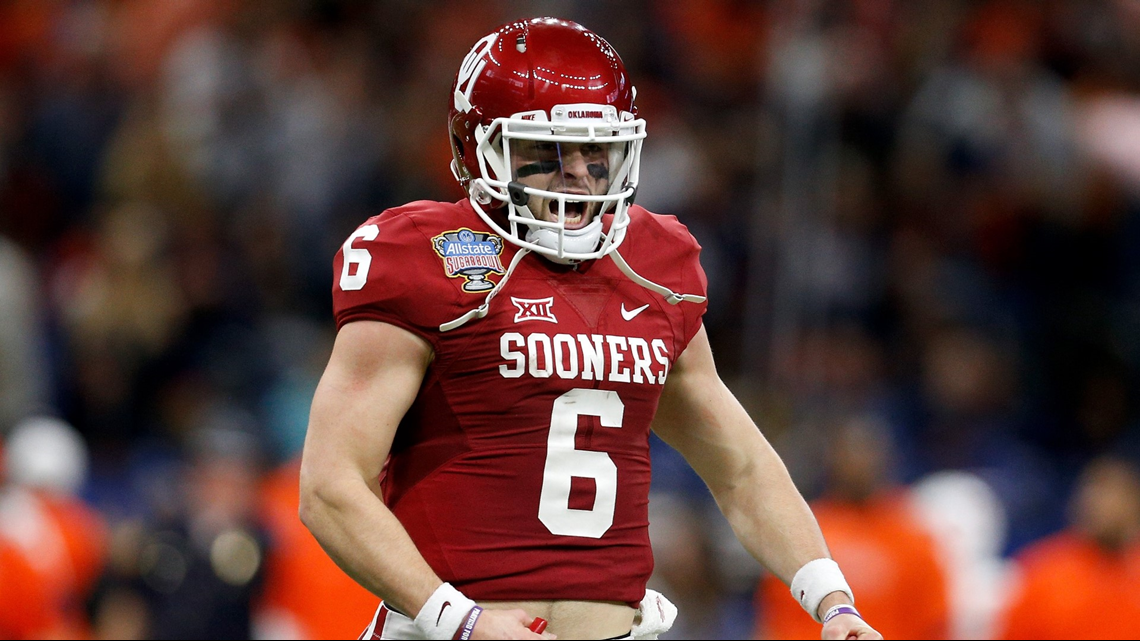 Mike, I think there's something that may temper your enthusiasm for Baker. The key to being a truly great NFL QB is sustained hard work and improvement. The great ones have continuously worked harder than the rest year over year. No one put/puts in more effort than Peyton, Tom and Drew. The QB savants like Elway and Aaron Rodgers are once in a generation and a team can't bank on drafting a savant.
So, the team has to draft the player who refuses to fail and will do whatever it takes to get better and succeed.
Does Baker have the same makeup? He talks a big game, but will he work hard enough? It's a different level of effort that few understand or are capable of. For the great ones it's not work, it's an obsession. They have to control the work effort, not try to work more. That's the personally trait I would look for. Not many people have this trait. Does Kurt Cousins? Which QB in the draft has the obsession? Maybe Sam Darnold. My take.
Thomas – I think one thing Baker Mayfield has is makeup. During their interactions with him at the Senior Bowl and NFL Combine, the Broncos came away impressed by his smarts and seriousness.
The concern with Mayfield is simple: He's not very big. But he can move and throw on the run and lead. He would match up well with Case Keenum.
But for the record, I don't think the Broncos should take Mayfield at No. 5. Trade back and take him, sure. I can see that. My ranking of the Big Four: Josh Allen, first; Darnold, second; Mayfield, third, Rosen, fourth.
For most of the college season, I had Rosen No. 1 because he is the most pocket-ready passer. He can really throw it. But he's a little skinny and he won't be able to make plays with his feet which is why I've got him No. 4.
THANK GOD ELWAY was NOT the one to start making fully guaranteed contacts the norm. I'm so proud of him. As a teacher in Texas who is a 14-year vet and works on a year to year contract for 55k with no signing bonus while the government/society almost always complains about our "cap number" and guarantees (our pensions) I have a hard time feeling bad for the NFL players' plight.
I understand they get paid for their talent, but as a fan who's also a teacher, I can't even fathom earning millions of dollars. All those astronomical numbers are nearly incomprehensible to a peasant like me and I don't begrudge them.
What isn't incomprehensible is that people don't work as hard when things are guaranteed. So, what I see is a league where half the players aren't going to try as hard. Which makes a crappier product for the people who are really paying them (the fans or misconstrued "haters" like me).
Not because they're lazy, but because they're human and human nature is to relax when you're comfortable. One of the things fans love about the NFL is that these guys have to earn it year after year. I don't want Bobby Bonilla to show up one day on an NFL field. Nobody wants to know the financial consequences of Bobby Bonilla unless you're part of the lucky Bonilla family. That's how you go from the new national past time to losing the biggest edge that put you there.
Art—I gave you two letters because you made some great points here, especially about how the human condition leaves one less hungry after he's been paid.
There was an indescribable tenacity to the 2015 Denver defense that hasn't been quite the same since.
But NFL players aren't overpaid, Art. The reason why they are handsomely paid is television. People simply don't want to watch you teach, Art, or me report and type. People by the millions want to watch football games.
What you do, Art, is more important than playing football. But TV generates billions. Not thousands. Not millions. Billions.
The owners shouldn't get all of it. Why shouldn't the employees, in this case the players, get their share?
We don't complain when Jennifer Lawrence is paid $20 million a movie (according to Hollywood Reporter).
The difference is, when an NFL player gets paid, I think naturally he doesn't quite play with the fearlessness he once did. Some of it is the teams' fault. They can become overly protective of their well-heeled investments.

This entire off-season there has been talk about needing two pieces to complete the offensive line. I'm curious why there is not much talk of Conner McGovern stepping in at right tackle or guard? Conner played well outside of the Miami game. A line of: Bolles, Leary, Paradis, McGovern and a free agent or rookie isn't bad in my mind. Why is there so little thought in McGovern?
I could talk Broncos with you until I'm blue in the face but this was one burning question I had.
Kenneth – Connor McGovern has a chance to start at right guard, not right tackle. He is coming along nicely.
We would bring him up a little more often, Ken, except for one thing: He's a guard. When the team's offseason topic is quarterback (Trevor Siemian, Brock Osweiler, Paxton Lynch), quarterback (Cousins, Keenum) and quarterback (Mayfield, Allen, Darnold, Rosen), guard talk is a button pusher. That's enough sports talk, wonder what's playing on KBCO?
Mike, I know women's college softball is on the low end of interest in Colorado but, you or someone you know should take a look at the turn around that the UNC Bears softball is making this year. If they can continue to play the way they have so far this year it will be miraculous! Just an FYI!
Bill – The UNC Bears softball team entered this season with 15 consecutive losing seasons, and they've had only one winning season (2002) since they re-started the program in 1999. They are 18-15 so far this year.
How about this team of Bears women softballers who have already played 33 games before March 19? As Lou from Littleton would say, 'Who's tougher than the Northern Colorado women softballers?'