KUSA – A few minutes before the Broncos' first team meeting of 2018 was to begin at 8 a.m. Monday, general manager John Elway called his starting running back into his office.
Elway could have delegated the difficult task to head coach Vance Joseph or someone else in the Broncos' organization, but he gave the bad news to Anderson himself.
"He said we're releasing you, this is a tough part of this job,'' Anderson said. "Thank you for everything you've done for us. Your're a helluva football player, there's a lot of interest in you out there. You'll land on your feet.''
Anderson's response?
"I just smiled, and said thank you for taking a chance on an undrafted kid,'' he said. "I had fun. It was a helluva way to start my career. Good luck to you all in the future.''
Later, after he returned to his Denver-area home, Anderson was asked to reflect on his time with the Broncos that began when he received a $12,500 signing bonus as a "premium" college free agent in 2013.
"I had a hellvua five years,'' Anderson said. "Pro Bowl, won the Super Bowl. Made some game-changing plays. It was a good way to start my career. I want to thank the organization for taking a chance on an undrafted kid. I had fun. It was a good five years. I had great teammates. I learned a lot. Just excited for my next chapter wherever that may be.''
He had two years at $4.5 million each year left on his contract but none of that money was guaranteed.
The Broncos not only saved money by releasing Anderson, they opened up playing time for Devontae Booker and De'Angelo Henderson.
It is believed the Broncos will also take a running back with one of the eight picks they have within the first five rounds.
"I've got nothing but respect for Book and De'Angelo and I hope they learned a lot from me,'' Anderson said. "Especially Book. Book has been with me for two years now and he knows how I went about the game. I hope he and De'Angelo took something from me.''
Multiple teams have already contacted Anderson's agent expressing interest in the running back.
Anderson was an underdog who overachieved. He didn't start in his two seasons for the University of California and he wasn't drafted in 2013. He made their 53-man roster on the strength of his first preseason game at San Francisco.
He broke out midway through the 2014 season, turning a Peyton Manning dump-off pass into a spectacular, cross-field, 51-yard touchdown.
RB C.J. Anderson Through the Years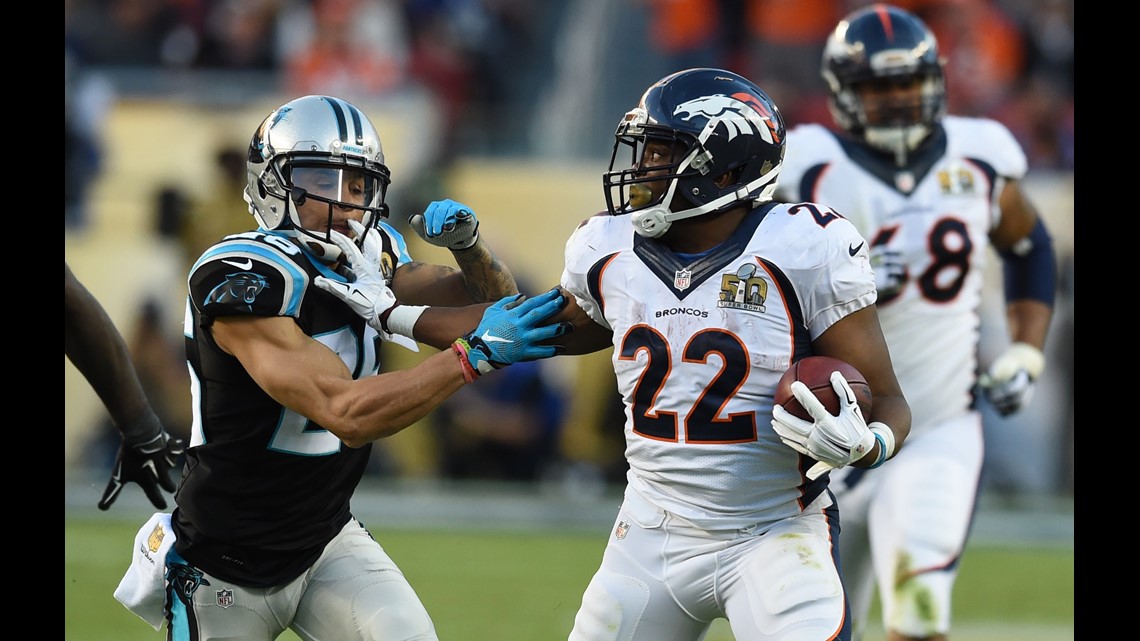 "That's the moment that jump-started my chance to play,'' Anderson said. "I think my biggest moment would be New England in the snow (a 48-yard walkoff touchdown run) in overtime. Or taking on Luke Kuechly for 1 yard and a touchdown in the Super Bowl. Cincinnati a couple years ago running down the left sideline (for a 39-yard touchdown) to take the lead.
"I gave to the Broncos all the effort I could possibly give. Hopeully, they're going to play (against) me sooner than expected.''
He laughed at his last comment, but better believe Anderson will use this release as a slight.
Anderson rushed for 767 yards in the final eight games that season and made the Pro Bowl. He had a solid 2015 regular season and postseason that was topped by a 90-yard effort against Carolina in a Super Bowl 50 win.
When the Broncos extended Anderson a low tender as a restricted free agent following the 2015 season, the Miami Dolphins and head coach Adam Gase signed him to a four-year, $18 million offer sheet.
The Broncos matched, paying him $6 million in 2016 and $3 million last year, but declined to give him his $4.5 million salary for this season and in 2019.
Anderson was not too surprised by his release. He had said Sunday in an interview with 9news: "I'm going into tomorrow, and the whole season thinking I can be traded at any time, at any moment. I'm going into this season thinking I can be cut at any moment. I'm going to use it as a motivation.''
It would have been better for Anderson had the Broncos released him prior to the start of free agency a month ago. But Elway exhausted all trade possibilities before deciding the start of team's offseason program Monday was the time to make the move.
"It's a daily loyalty business as I said before,'' Anderson said. "For five years the Broncos treated me with nothing but utmost respect and were super loyal to me. That daily loyalty has finally ran out. We'll see what holds next.''