William Gay has a powerful message to share.
"It was a tough situation for me."
An 11-year veteran in the NFL, Gay has been through a lot to get to the highest stage in the sports world but losing his mother was by far the toughest.
"She was just so beautiful. Beautiful spirit," said Gay, the middle child of three boys. "It was great to have her as a mom."
His story has led him to countless speaking events, including the Men for Change Luncheon in Fort Collins at the newly-named Canvas Stadium. More than 100 people, primarily men, came to the function to hear Gay's story.
Born and raised in Tallahassee, Florida, Gay and his two brothers were raised by a stern but loving Carolyn Hall Bryant. After things fell apart with Gay's father, she married Vernon Bryant, the father of Gay's younger brother. The relationship was rocky but outside of a couple of aunts and uncles, Gay and his brothers never knew there were issues in the marriage.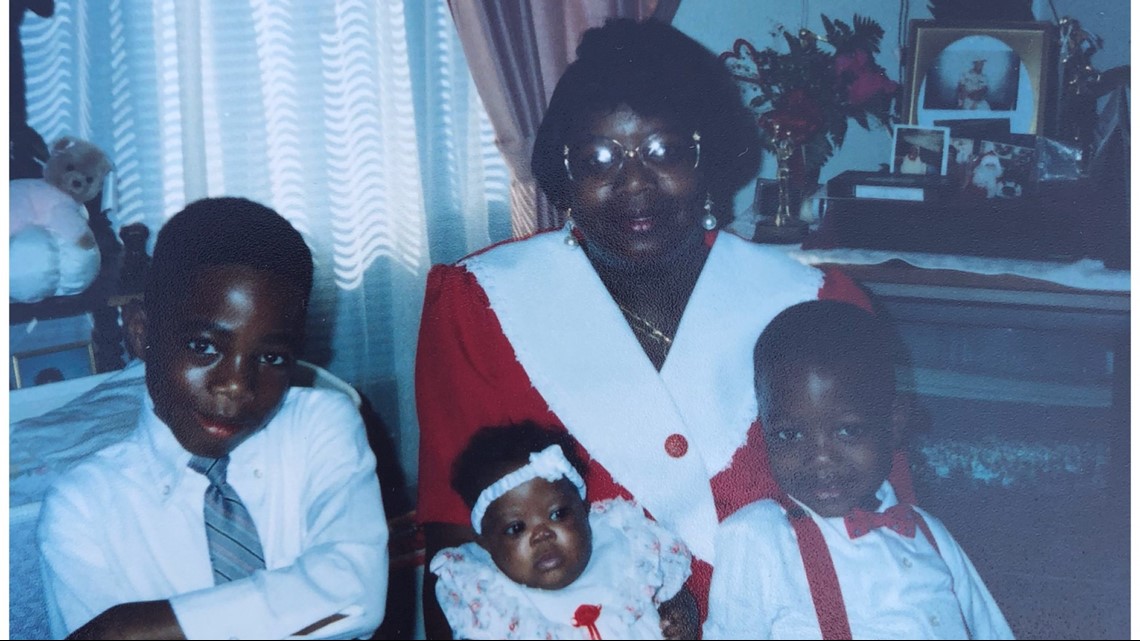 "All she knew was make sure her kids were good and make sure her kids are in a great situation, regardless of what she's going through." Gay recalled. "So she made sure, if there was something, we didn't see it."
On March 14, 1992, Carolyn decided she had had enough.
"She was fed up with him and she was ready to move on with her live. She was ready to change her life," Gay said.
Carolyn had a great job working for the state of Florida. She was going back to church. Life was looking up for the Bryant household once Vernon was out of the picture.
"She didn't want to let a man bring her down and she just wanted to do it for her kids," said Gay. "She was ready to tell her friends that she was done and unfortunately he wasn't with that plan."
That Saturday, Carolyn had dropped off her sons at her mother's house before heading to one of her friends' apartments.
"We were thinking we were going to play with friends. Mom gonna come back because she knows on Saturdays she goes with her friends, so it was just nothing out of the ordinary."
Instead, Vernon went and found Carolyn. He shot her three times before shooting himself. He died on the scene but Carolyn survived for five more hours before succumbing to her injuries. Gay, who was seven at the time, waited at the hospital but never got to say goodbye.
"You know, that's something that I do regret. Not seeing her as she took her last breaths even though I was a little kid."
The boys' grandmother, Corine Hall, took them in as her own. Because they were so young, Gay and his brothers were left in the dark about the sudden passing of their parents.
For the next four years, Gay would struggle in school and life and Corine struggled to reason with him.
"I was a menace to society. I was on the wrong path. I didn't care. I didn't listen to anybody of authority or whatever because I felt like the world took my mom away so why should I care?"
It wasn't until an uncle stepped in and sat Gay down for a hard conversation about the path he was taking.
"He told me death or jail and that still didn't register," he recalled. "Cause I'm 12, I wasn't thinking about that. But then he told me, you aren't going to be able to play football. I said hold up. So if I keep getting into trouble I'm not going to be able to play football?"
Football was his "safe haven", the place where he could be free from the world's problems. So from that moment on, Gay straightened up. He made good grades, obeyed his grandmother, and excelled in football.
A three-star prospect out of Rickards High School, Gay landed a D1 scholarship at Louisville. Four years after that, he was a fifth-round selection for the Pittsburgh Steelers in the 2007 NFL Draft. A year later, Gay became a Super Bowl Champion.
Through all of his football success, he still didn't know the details surrounding his mother's death.
"It was tough for my family to talk about and we kind of avoided the situation. Kind of just leave it at peace, don't talk about it. But that wasn't me. I wanted to find out more."
So on a trip back home to Tallahassee in 2014, Gay begged his uncle to tell him the truth – his mother was a victim of domestic violence, shot and killed by their step-father.
To this day, Gay believes that his step-father was "looking for all of us" on that fateful day.
"It runs through my mind like man, what if she was here?" Gay recalled. "God has a plan for me and maybe he didn't want me to leave that day. Maybe he wanted me to share this to the world and I fully believe in that."
Armed with the truth, Gay returned to Pittsburgh for the 2014 season. The Steelers were set to host the Colts on October 26 at Heinz Field. With the thought of his mother weighing heavily on his mind, he decided to break the NFL's uniform policy by wearing purple cleats – the color representing the movement to end domestic violence. Gay knew there would be a fine to pay, but he did it anyway and ended up playing one of his best games of the season.
He made a season-record eight tackles, six of them solo. He intercepted a pass from Andrew Luck, returning it for his very first pick-6 of his career as the Steelers went on to win, 51-34. His performance drew the media's attention as did his colorful footwear.
"And everybody was like, you wore purple cleats? And then, the questions started coming out. And I was able to tell them what the purple really meant."
With his story out there, the world took notice. At first, Gay saw sharing a painful part of his past as therapeutic. Over time, more people reached out to him, sharing their own stories of domestic violence. Some even said he helped them leave an abusive partner.
"And that was the turning point for me cause I was like, man, I'm making a difference by sharing my mom's story and keeping her voice alive."
Four years later, Gay is still sharing her story, creating awareness, and saving lives, even if he doesn't see it.
"That's my whole reason of telling her story because there could be a mother out there like that. That doesn't know the information, doesn't know who to go to," Gay added. "The resources that the shelters give, the information that they have out there, the people who care."
When asked if you see or hear someone else caught in an abusive relationship:
"There's no reason we should look the other way. Address the situation. Help. Call someone. If you're scared to help, call someone to come in," said Gay. "Stand up for what's right and know the signs. Know that there are people out there who are trying to help you and have the resources to help you out of the situation because you are not alone."
Gay signed a one-year contract with the New York Giants in April 2018. He continues to lead the fight to create awareness for domestic violence by volunteering at shelters and other organizations.
If you or someone you know and love is caught in an abusive relationship, please call 911 or the National Domestic Violence Hotline at (800)799-SAFE(7233).