DENVER — The Colorado Rockies home opener this year was 51 minutes faster than last year's.
Faster games mean fans have less time to spend money at concession stands, specifically on overpriced beers.
The Rockies announced on Thursday that they are joining other teams, extending alcohol sales through the eighth inning. The policy has been to stop sales at the end of the seventh inning, this will extend it one extra inning.
The Rockies are making the change as a result of new Major League Baseball (MLB) rule changes, particularly the pitch clock that has sped up games.
The shortest game of the first seven home games in 2022 was 2:48. The longest game of the first seven home games in 2023 was 2:47. The shortest, an eye-popping 2:14.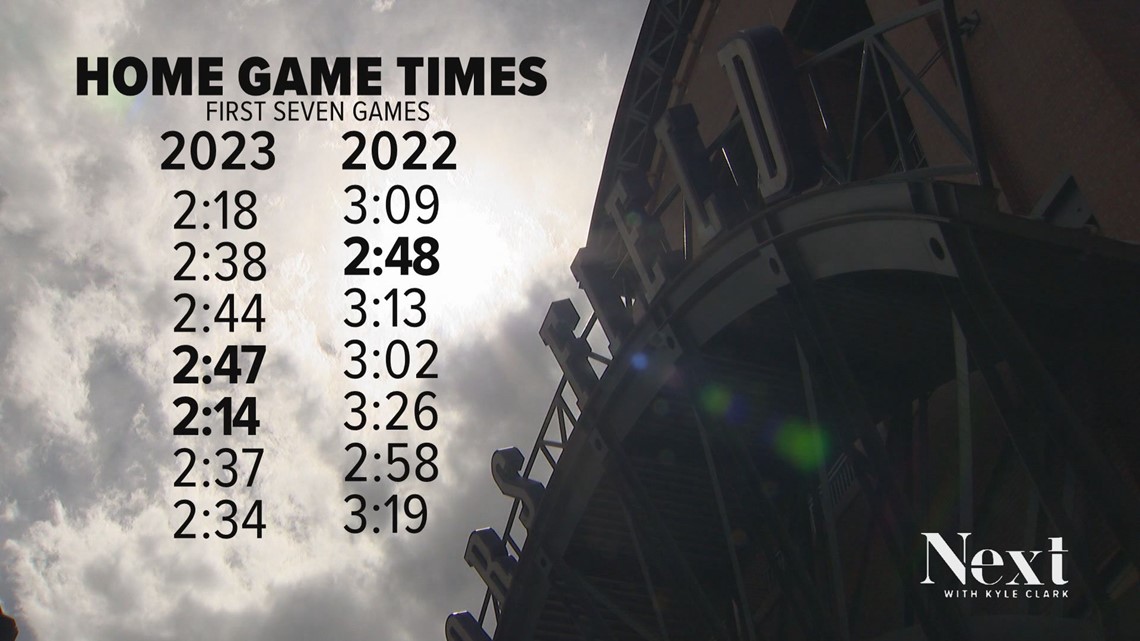 Extending last call means more of a chance to drink – and sell – more beer.
"We could have some reasonable regulations on when liquor sales need to end before the end of an event," said State Sen. Kevin Priola (D-Henderson). "They do fall under liquor licensing in the state of Colorado and part of liquor licensing is having certain criteria you need to abide by."
Priola was behind the to-go alcohol sales during the start of the pandemic. And he was supportive of a previous attempt to extend last call in bars to 4 a.m.
"I sit on the 'Opioid and Other Substances Use' committee, and I think it's something we might take a look at this year, along with substance-free seating," Priola said.
He was sponsor of a bill that died earlier this year that would have required four percent of a venue's seating to be substance-free.
"If someone's going to a Rockies game, we want to make sure that they plan for a safe way to get there and a safe way to get home. We'd love to work with the Rockies on this," said Fran Lanzer, executive director of Mothers Against Drunk Driving (MADD).
MADD does not take a position when it comes to sales of alcohol to people who are 21 and older.
"That's definitely a misconception people have about MADD, that we're against alcohol. If people are 21 and older, if they're being safe and responsible, we're not against drinking. That is a private choice. When you choose to drink and then get behind the wheel of an automobile, then it becomes a public safety concern," Lanzer said.
Alcohol policies differ by team, sport and state:
The Denver Broncos cut off alcohol sales at the end of the third quarter.
The Colorado Avalanche stop at the start of the third period.
The Denver Nuggets halt sales at the start of the fourth quarter.
"The only thing that sobers people up is time," Lanzer said. "Twenty, 40 minutes, it's not going to make a big difference in terms of safety. And that's why we want people to know, if you're going to be drinking at the game, don't even drive there."
At MetLife Stadium in New Jersey, the New York Jets and New York Giants stop alcohol sales at the start of the third quarter.
WATCH: Explaining the new MLB rules
"One thing we hear a lot about is, 'well, we'll have more time to sober up,' and the science just doesn't support that," Lanzer said. "If someone is above .08 [blood alcohol content level] at the end of the seventh inning or at the end of the eighth inning, they're not going to be safe to drive at the end of the game."
Driving under the influence is when someone has a blood alcohol content level of .08 or higher.
"Here in Colorado, last year, 281 people were killed in suspected impairment fatalities, which is potentially the highest since 1986," Lanzer said. "Don't even drive. Leave your keys at home, so that drunk driving doesn't become a factor here. You can have a good time at the game and get home safe."
Several other teams already announced changes to when alcohol sales would be allowed and the Rockies followed suit on Thursday. The team said the change would start with their home game on April 17.
MLB says it does not regulate when teams sell alcohol. Most franchises have used the seventh inning as a cutoff, at least partly to avoid overserving customers who could then get in their cars and drive home.
The Associated Press contributed to this report.
9NEWS+ has multiple live daily shows including 9NEWS Mornings, Next with Kyle Clark and 9NEWS+ Daily, an original streaming program. 9NEWS+ is where you can watch live breaking news, weather updates, and press conferences. You can also replay recent newscasts and find videos on demand of our top stories, local politics, investigations and Colorado specific features.