DENVER — Public and private partners spent hundreds of thousands of dollars on the Denver Nuggets Championship festivities last month, according to a 9NEWS analysis of spending records.
Private partners paid for most of the June parade and celebration of the team's first NBA Championship, which brought hundreds of thousands of fans to downtown Denver. The total spent from donations and taxpayer dollars was $897,728.72, according to records.
Kroenke Sports & Entertainment, which owns the Nuggets, gave the most: $440,000, according to event organizer Steve Sander. Taxpayers footed the almost $300,000 bill for city employees – mostly police officers – to be on the job.
9NEWS reached out to Kroenke Sports & Entertainment to confirm its donation, but a representative referred this reporter to Sander.
9NEWS also reached out to The Event Group to confirm its involvement, and the company directed this reporter to the City and County of Denver, which referred 9NEWS back to Sander. According to the Event Group website, the company lists the Denver Nuggets Championship parade and rally as an event it worked on.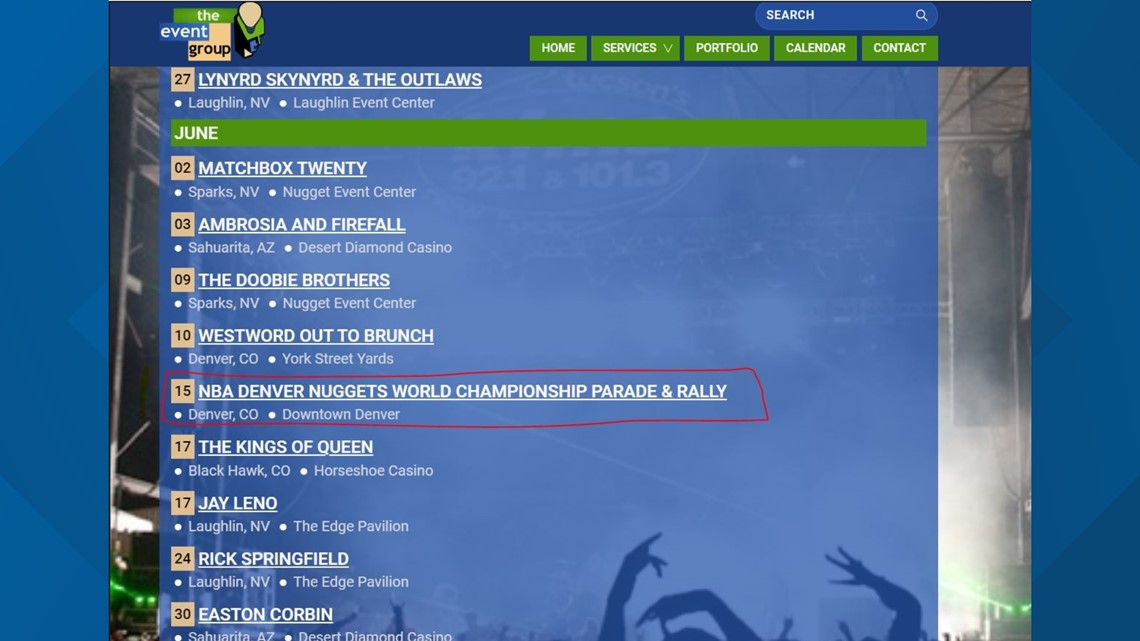 Personnel costs were the biggest expense for the City and County of Denver, according to a 9NEWS review of payroll records. The municipality spent $288,628.72 in taxpayer dollars for 4,341.75 hours of overtime and regular pay. Almost all of the money went to police and other safety personnel.

Josh Schneider, spokesperson for the Downtown Denver Partnership, said $9,100 in tax dollars from a Business Improvement District directed by the Downtown Denver Partnership was used to fund some clean-up efforts after the parade. The Business Improvement District is fueled by tax dollars.
Denver gave the celebration organizers a break on some costs. They waived $38,820.25 that they normally would charge for road closures and event permits. The biggest waiver was the $34,170 it usually costs to close Civic Center Park Road.
"This is an internal city-hosted event in partnership with the team and the city does not charge itself for internal events," Christa Bruning, a city spokesperson, wrote in an email.


Graphic created by Zack Newman.
More was spent on the Nuggets celebration than on the 2022 Colorado Avalanche celebration of their Stanley Cup win. But, Denver city officials could not calculate overtime pay at the time of the Avs parade, so the total spent was likely an undercount.
According to Denver Department of Finance data obtained through a records request, at least $96,050.22 went to the payroll of 210 city employees working the Avalanche event as a part of, or in addition to, their responsibilities. Of those, 151 were eligible for overtime, but it was unclear how many were paid more.
The Denver parks department accounted for 46% of the payroll spending, with $43,702.81.
Courtney Meihls, then-spokesperson for Denver's Department of Finance, also said there could be other city and county employees who were there but did not account for their time by using a code set aside for time spent on the Avalanche parade.
Reach investigative reporter Zack Newman at 303-548-9044. You can also call or text securely on Signal through that same number. Email: zack.newman@9news.com. Call or text is preferred over email.
More 9NEWS stories by Zack Newman:
9NEWS+ has multiple live daily shows including 9NEWS Mornings, Next with Kyle Clark and 9NEWS+ Daily, an original streaming program. 9NEWS+ is where you can watch live breaking news, weather updates, and press conferences. You can also replay recent newscasts and find videos on demand of our top stories, local politics, investigations and Colorado specific features.