MINNEAPOLIS — The Denver Nuggets are poised for a long run this spring, the league's best shooting team with a clean bill of health that boasts, of course, the two-time reigning NBA MVP.
Their depth is right up there on that asset list, too, as the Minnesota Timberwolves have been reminded during this so-far lopsided first-round NBA playoff series that the Nuggets lead 3-0.
"It's been a different guy's night every night, so I think really we've just been very spread out," said Michael Porter Jr. "Everyone's doing their job, so it's definitely not a one-man effort out there."
When Nikola Jokic picked up his fourth foul with 5:51 left in the third quarter of the Game 3 win on Friday at Minnesota, Bruce Brown and Jeff Green entered the game and helped make sure Denver stayed in control.
The three reserves in the rotation — Brown, Green and rookie Christian Braun — combined for 32 points. Jokic and standout point guard Jamal Murray were again complemented well by their fellow starters, with 25 points and nine rebounds from Porter, 14 points and smothering defense on Karl-Anthony Towns by Aaron Gordon and a hot-shooting second quarter by Kentavious Caldwell-Pope.
"The non-Nikola minutes were always a question mark. Three games now, I think the non-Nikola minutes have been outstanding for us," coach Mike Malone said. "Everybody's contributing, and for us to do what we're talking about doing, you need everybody."
The Nuggets have never been to the finals since entering the NBA in the 1976-77 season. They made the Western Conference Finals three years ago in the pandemic bubble in Florida.
Denver can be the first Western Conference team to reach the second round with a win Sunday at Minnesota in Game 4.
"We give them so much respect and we know that they are dangerous, and we don't want to let them play freely," Jokic said. "I think the focus that the guys have and the discipline, it's off the charts, and that's why we're up 3-0."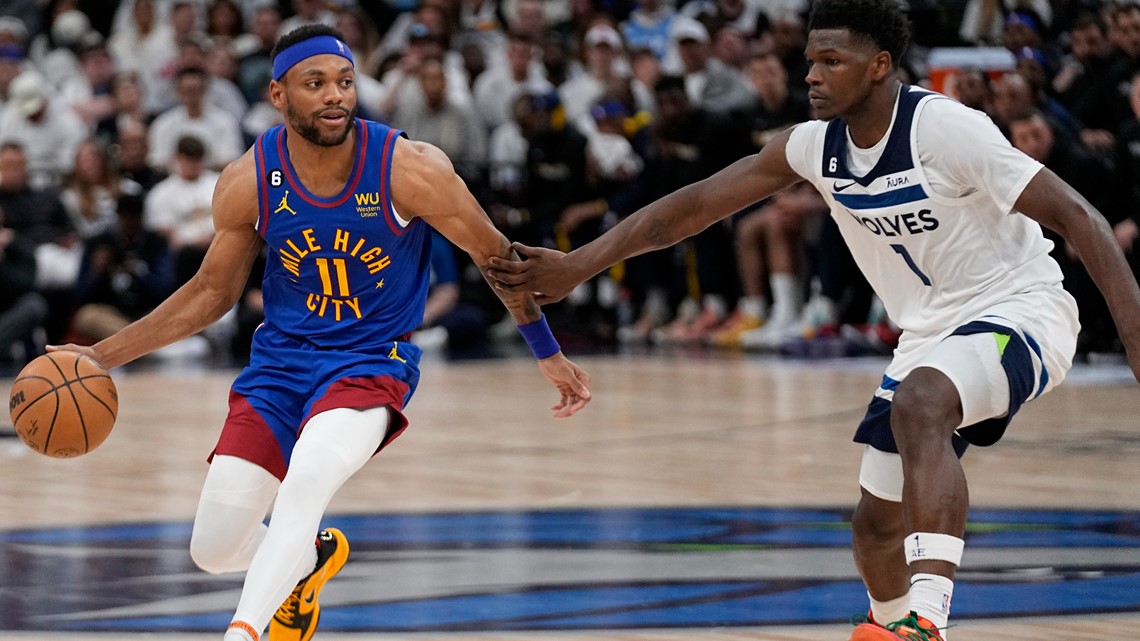 Nuggets lead 3-0. Game 4, 9:30 p.m. EDT, TNT.
— NEED TO KNOW: The Nuggets have made more than half of their shots and lost just one of 12 quarters against the Timberwolves, whose 40-point second quarter in Game 2 stands as their highlight of the series so far.
— KEEP AN EYE ON: Michael Porter Jr. The smooth-shooting 6-foot-10 small forward who has put his back trouble in the past is 22 for 41 from the floor and 11 of 12 from the foul line for Denver.
— INJURY WATCH: The absence of ace defender Jaden McDaniels (broken hand) and top bench scorer Naz Reid (broken wrist) has robbed the Timberwolves of their depth.
— PRESSURE IS ON: Mike Malone. The eighth-year head coach of the Nuggets has his team in prime position, with the top seed in a wide-open Western Conference and an opportunity to get some extra rest before the next round.