DENVER — Jamal Murray scored 32 points, Nikola Jokic got his 16th triple-double of the season and the Denver Nuggets held off the reeling New Orleans Pelicans 122-113 on Tuesday night.
Jokic finished with 26 points, 18 rebounds and 15 assists as the Western Conference leaders improved to 16-0 when Jokic has a triple-double. Murray made a season-high seven 3-pointers on his way to a big night.
CJ McCollum and Herbert Jones both scored 21 points for the Pelicans, who have dropped nine straight games. They finished 3-13 in January.
Part of the reason for the slide has been the absence of standout Zion Williamson, who has missed 15 straight games with a hamstring injury.
The Nuggets led by 13 early in the fourth quarter only to see the Pelicans cut it to five on several occasions, including a layup by Jones with less than a minute remaining. Murray and Jokic each converted a pair of free throws down the stretch to help Denver fend off New Orleans and move to 23-4 at home.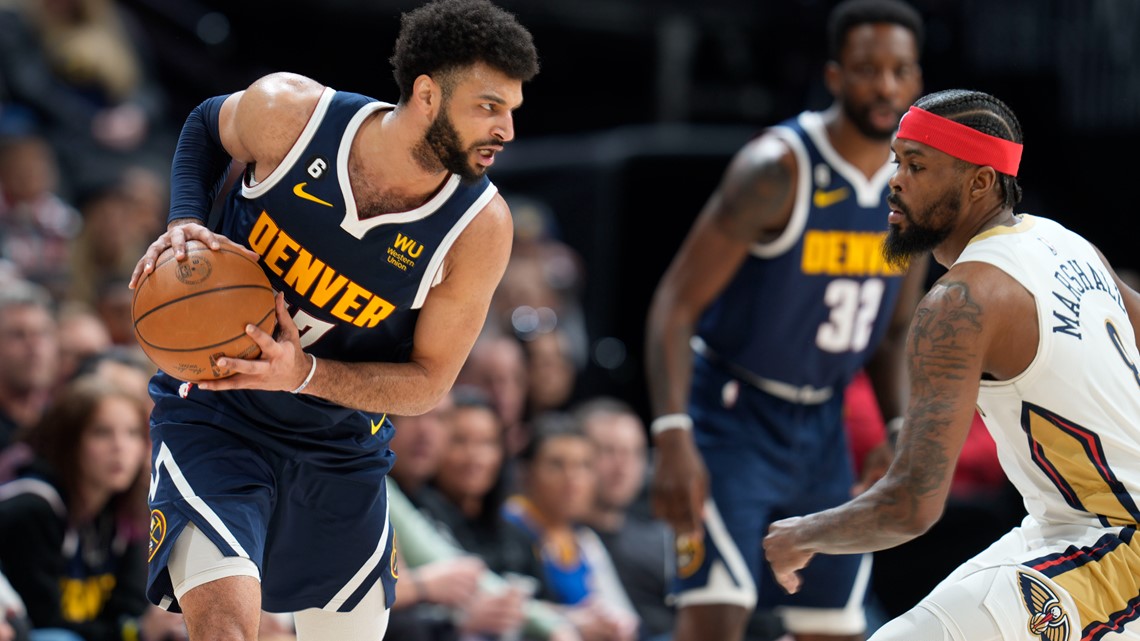 Jokic, who's been dealing with tightness in his left hamstring, had another efficient shooting performance in going 10 of 14 from the floor. It was the 92nd triple-double of his career.
Jokic turned in a nifty play in the first half that drew quite an ovation. The big man saved a ball from going out of bounds on the defensive end, dribbled up the floor, drove in and scored on a finger roll while being fouled.
Pelicans: Williamson is steadily progressing from a strained right hamstring, coach Willie Green said before the game. "He's getting there," Green explained. "It's something we don't want to rush, but we're definitely excited to see him on the floor." ... Brandon Ingram finished with 16 points and nine assists. ... Larry Nance Jr. scored 11 of his 13 points in the fourth quarter.
Nuggets: Rookie guard Collin Gillespie (broken right leg) has been cleared for some shooting and light running. "If he's able to play at some point this season, that would be great. But we're not putting any pressure or a rush on him," coach Michael Malone said. ... G Bones Hyland, mentioned in trade speculation, played 4:43 and scored two points.
Hyland was selected to the NBA's Jordan Rising Stars Challenge. So were Pelicans guard Jose Alvarado and forward Trey Murphy III. The mini-tournament will take place on Feb. 17 in Salt Lake City as part of All-Star weekend.
Pelicans: At Dallas on Thursday to finish a three-game trip.
Nuggets: Host Golden State on Thursday night.