WACO, Texas — The Big 12 released the 2020 football season schedule Wednesday, which includes nine games for the University of Baylor, four at home and five on the road.
"Ultimately, our student-athletes have indicated their desire to compete in the sports they love this season and it is up to all of us to deliver a safe, medically sound and structured academic and athletic environment for accomplishing that outcome," Big 12 Commissioner Bob Bowlsby said in a statement.
A Baylor spokesman said the Bears will also play a non-conference game but the opponent had not been selected. That game would be held Sept. 12.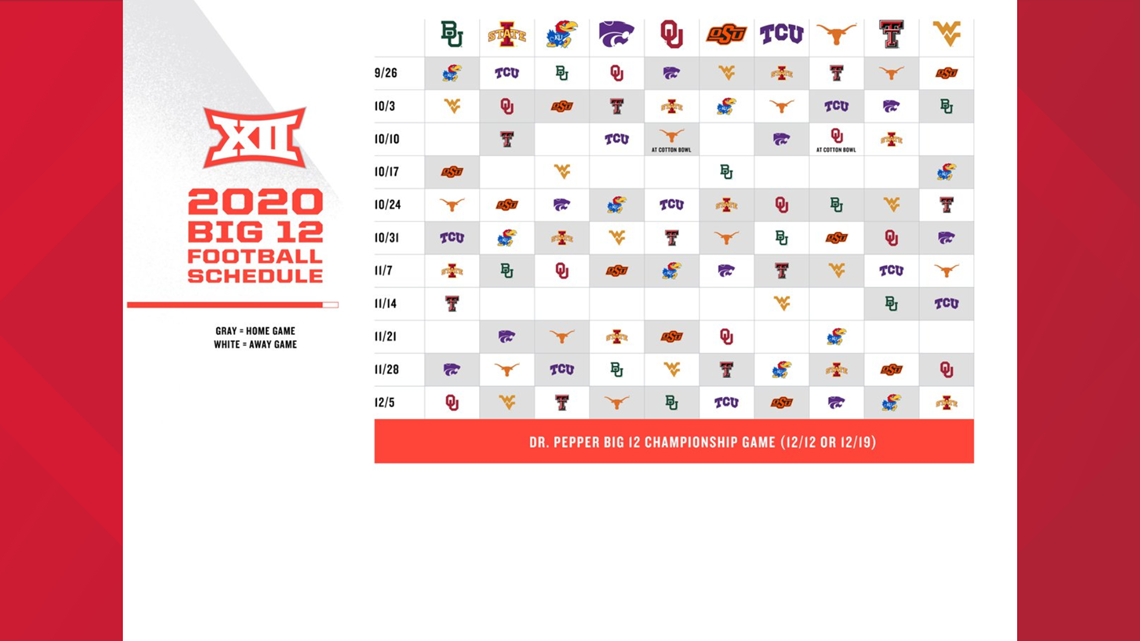 Baylor Athletics also announced it would set stadium capacity at 25 percent to start the season. As the season progresses, capacity will be expanded if permitted, the program said in a press release.
The athletic department also announced that it will defer season tickets to the 2021 campaign due to the ticket reduction. However, priority single-game tickets will be sold to season ticket holders first. Bear Foundation priority ranking will determine order for ticket selection and maximum of six tickets per account, per game will be implemented in the general stadium bowl.
Premium ticket holders, including those in suites and Loge seating, will retain season ticket status and will not be subject to priority single-ticket selection.
Furthermore, the department said all ticket and parking delivery will transition into mobile-only passes, meaning they will be handled via Apple or Android wallet apps. Season parking passes for general bowl seating have also been eliminated and will now be handled on a single-game basis. Bear Foundation priority will be used to allocate parking location and passes will be limited to one pass per five tickets a game.
The Big 10 and Pac-12 canceled their fall seasons on Tuesday in the wake of the COVID-19 pandemic.
Overall, 52 of the 130 programs in college football have canceled their seasons.
The Big 12 joins the Atlantic Coast Conference, Southeastern Conference, American Athletic Conference, Conference USA and the Sun Belt Conference to try to play this fall.