EAST LANSING, Mich. — Just three days after denying he could leave Boulder for East Lansing, Colorado head football coach Mel Tucker is abandoning the Buffaloes for Michigan State.
CU Athletic Director Rick George announced Wednesday that Tucker is resigning as head coach effective immediately.
"Mel Tucker informed us that he is resigning as head football coach," said George. "We're obviously disappointed to see him leave. However, we are excited about the upward trajectory of our program, and we're already at work identifying the next head coach to lead our program and our young men."
"I met with our players and coaching staff this morning. We reassured them that we will match their commitment and do everything in our power to hire a great new head coach that they can all rally behind," said George. "We are confident that the program is on the verge of competing at the highest level and has [had] the resources and support in place to do so for a long time."
An interim coach will be announced Wednesday afternoon and the search process for a permanent replacement is already underway, George said Wednesday. George gave no timetable for when a coach would be hired.
Rumors of a potential move were squashed by Tucker on Saturday afternoon, but that turned out to be nothing more than a ruse.
"While I am flattered to be considered for the head coaching job at Michigan State, I am committed to CU Buffs Football for the build of our program, its great athletes, coaches and supporters," Tucker tweeted Saturday.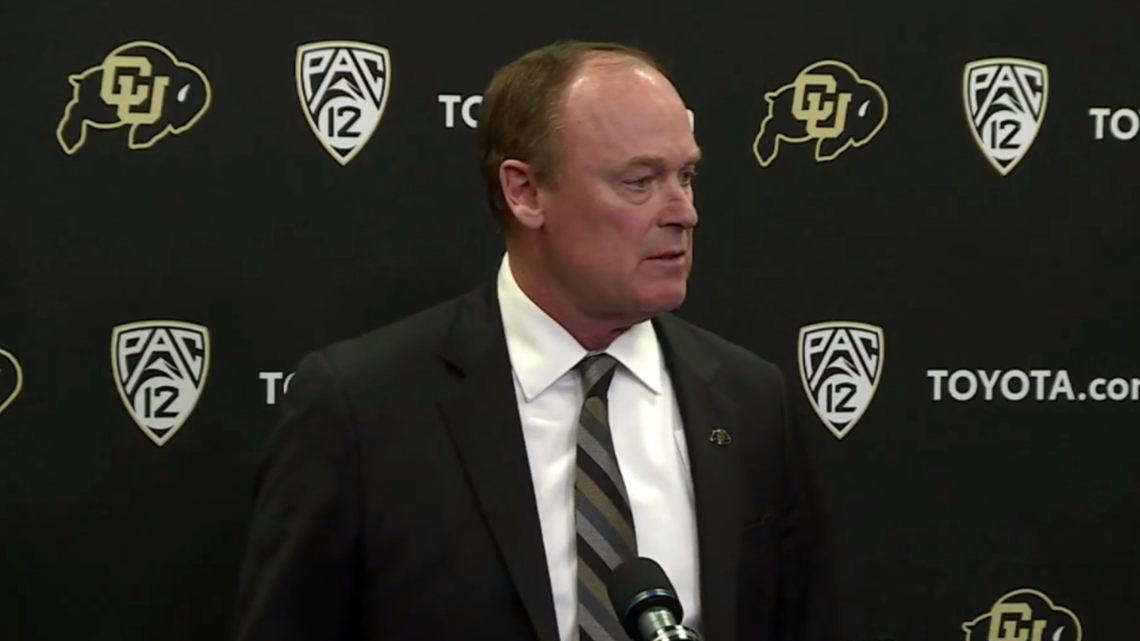 Reports surfaced Monday night that Michigan State caught Tucker's attention by offering to double his $2.7 million annual salary he received from Colorado.
When asked if CU could have countered Michigan State's offer for Tucker, George said the athletic department discussed it.
"Coach is going to do what's best for he and his family and I support that, and he made that decision," said George. "My focus now is moving forward with this program and where we're headed."
Tucker spent only one season at Colorado, posting a 5-7 record.
"I have every belief that our program is [in] a better position today than it was 14 months ago, and we're going to go out and hire somebody that shares the same expectations that I do that we're going to win a championship, and we can do that at Colorado with the resources we have," added George.
"We have a great program and incredible student athletes. This is a destination at Colorado. This is where we think people can lay down their roots. It's an incredible community. It's a great state and we play in a terrific conference," said George. "We just have to get the right person in here that's committed to the same things that I am and my staff are."
Tucker's departure from the Pac-12 is another blow to a conference that has lost Washington's Chris Petersen and Washington State's Mike Leach this offseason.
The Colorado Buffaloes open the 2020 season on Saturday, Sept. 5 against Colorado State at Fort Collins' Canvas Stadium.