DENVER — Forced to lead his first head coach search much earlier than anticipated, Broncos CEO Greg Penner has been methodical without deliberation.
To date, 9NEWS has confirmed four candidates have been interviewed for the Broncos' head coach position – one each day since the interviewing window opened Monday -- which is vacant for the fifth time in eight years. Jim Harbaugh, the Michigan head coach and perhaps the man to beat, interviewed with Penner, general manager George Paton and other owners via Zoom on Monday.
The other owners involved in the search process are controlling owner Rob Walton, Greg Penner's wife Carrie and Condoleezza Rice. But Greg Penner is running the show with right-hand assist from George Paton.
Denver defensive coordinator Ejiro Evero walked out of his upstairs office at Broncos' headquarters Tuesday to interview in person for the head job.
Former Colts and Lions head coach Jim Caldwell and recently resigned Stanford head coach David Shaw held in-person interviews Wednesday with the Broncos' brain trust.
More interviews are to come. 9NEWS has confirmed the Broncos plan to hold in-person interviews next week with Rams' defensive coordinator Raheem Morris, Cowboys' defensive coordinator Dan Quinn, 49ers defensive coordinator DeMeco Ryans and former New Orleans Saints head coach Sean Payton, the other co-favorite as the Broncos' top choice.
All eight have impressive resumes. The trick is to pick the one who will lead the Broncos out of their seven-year playoff drought. A closer look at the four candidates who the Broncos have interviewed, in inverse order: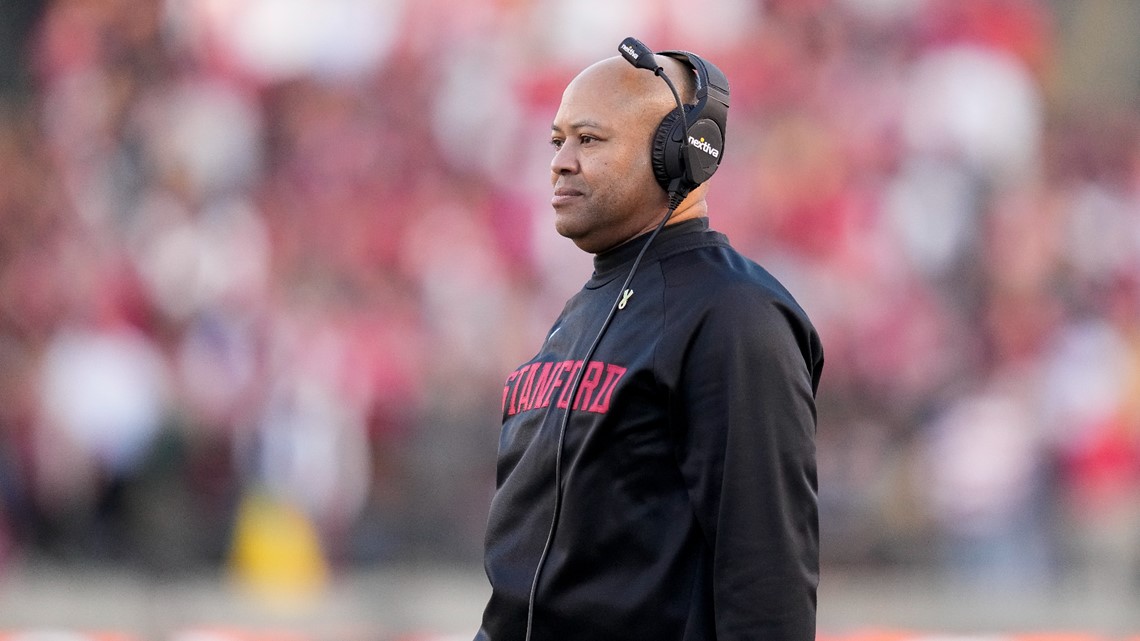 David Shaw
Let there be no doubt Condoleezza Rice is wielding influence in the Broncos' head coach search. She has been a Stanford professor and academic administrator since her term as U.S. Secretary of State expired in January 2009.
Shaw, 50, was an assistant NFL coach from 1997-2005 with the Oakland Raiders, then Baltimore Ravens, before he became attached to Jim Harbaugh as his top offensive assistant for five years.
Shaw was Harbaugh's passing-game coordinator and receivers coach at the University of San Diego in 2006, then followed Harbaugh to Stanford where he was the Cardinal's offensive coordinator from 2007-10.
When Harbaugh left for the NFL and the 49ers, Shaw took over as Stanford's head coach, a position he kept for 12 seasons until he resigned last month. Shaw's first eight seasons at Stanford were exceptional -- an average of 10.25 wins per year and eight bowl appearances.
In his last four seasons, though, Stanford combined for a 14-28 record. After he resigned, Rice was part of Stanford's head coach search committee that hired Sacramento State's Troy Taylor.
Rice isn't the only one with a Stanford connection. Greg and Carrie Penner both earned their MBAs from Stanford's Graduate School of Business and have been heavily involved alums ever since.
Could Penner be thinking about getting the Harbaugh-Shaw band back together as a package deal for the Broncos?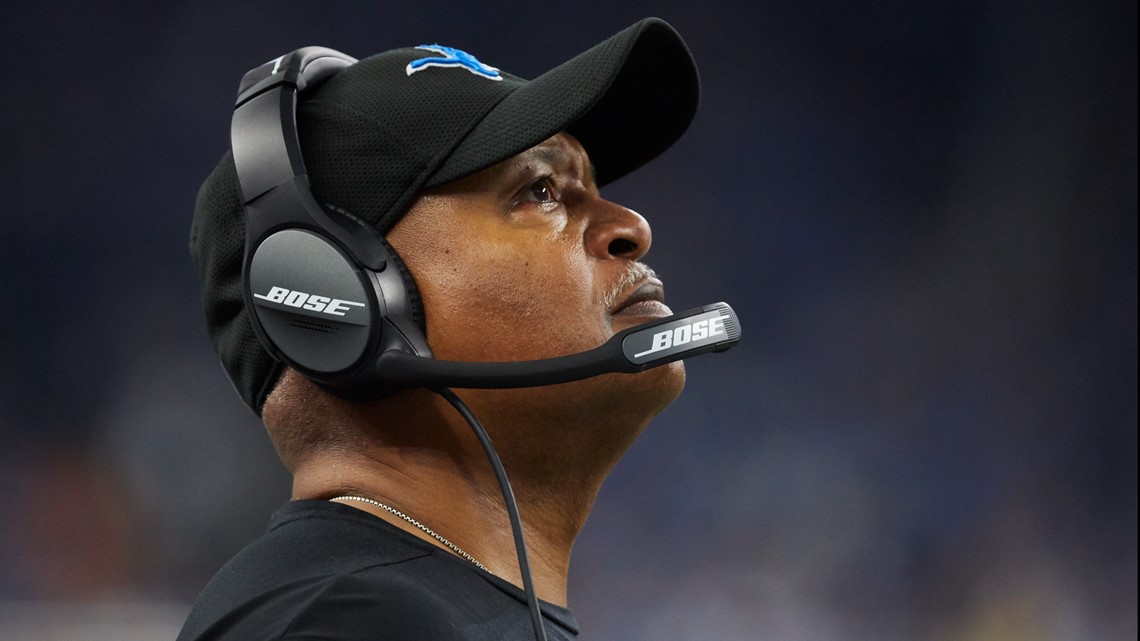 Jim Caldwell
Never understood why he hasn't received stronger consideration for head coach jobs the past five years. He's been interviewed for top jobs nearly every year, but he hasn't landed one since he averaged a 9-7 record in his four seasons with the Detroit Lions from 2014-17.
Especially when the Lions were 7-9 the season before he took control and 6-10 the year after he was dismissed.
Two of Caldwell's four seasons in Detroit ended with postseason appearances. The Lions haven't been there since.
His first head coaching gig came with the Indianapolis Colts. In his first year in 2009, Caldwell, with quarterback Peyton Manning, went 14-2 and cruised through two AFC playoff games to reach Super Bowl 44, where they lost to the Sean Payton-Drew Brees Saints.
Caldwell's Colts went 10-6 and reached the playoffs the next year, too, but then Manning's season-missing neck injury led to a 2-14 record, and owner Jim Irsay didn't give his head coach a mulligan.
That Caldwell is about to turn 68 and has mostly been out of coaching the past five years (he was an assistant in Miami in 2019) won't help his candidacy for the head job, but the Broncos want an experienced head coach with past success, and Caldwell meets that criteria and then some.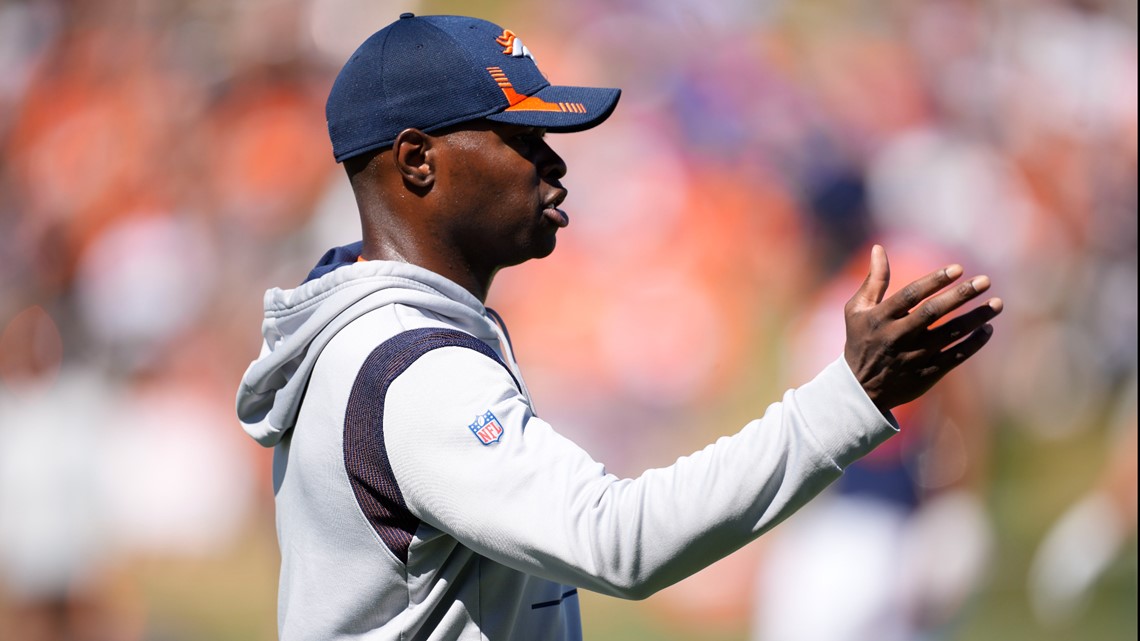 Ejiro Evero
Had to pay way more dues than most coaches, as he was either a quality control coach or lower-level assistant his first eight seasons in the NFL before he finally got his chance as a position coach in 2017, when the Rams' Sean McVay put Evero in charge of safeties. After four years in that position, Evero was put in charge of the entire secondary in 2021, when the Rams won the Super Bowl.
This year, his close friend Nathaniel Hackett made Evero the Broncos' defensive coordinator.
Evero was ready for his first NFL coordinator role. He used the Vic Fangio-type defensive system of two high safeties, although Evero was far more aggressive bringing a fifth rusher on passing downs than Fangio was in three previous seasons. The Denver D ranked No. 2 in scoring (17.0) and No. 3 in total yards (304.6) through week 13 before late-season injuries and a run of prolific offensive opponents dropped them to No. 7 in yards per game (320.0) and tied for 14th in points allowed (21.1).
Evero has the type of no-nonsense personality and unflappable demeanor that suits well for a man in charge. He also has head coach interview opportunities this month with the Houston Texans and Indianapolis Colts.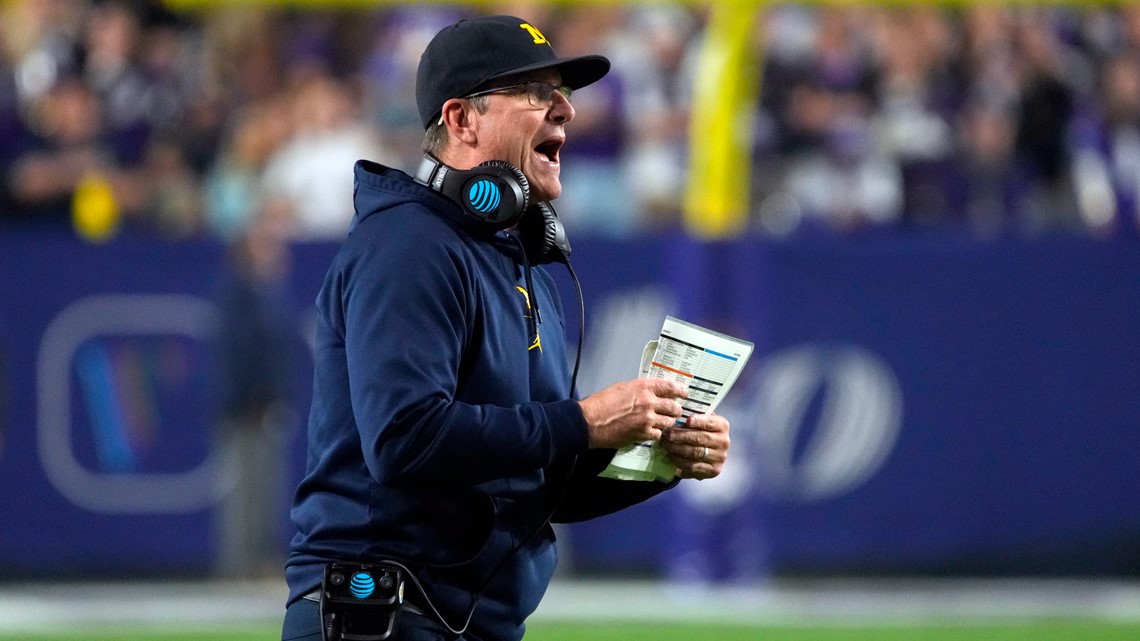 Jim Harbaugh
No one, not even Sean Payton, has a better coaching resume than Jim Harbaugh's. A 15-year NFL quarterback, Harbaugh learned coaching from his dad, Jack Harbaugh, who had a long head coach college run at Western Michigan and Western Kentucky.
Jim Harbaugh got his first head coaching job at the University of San Diego, where he went 11-1, 11-1 and 7-4 from 2004-06, before he took over the moribund Stanford program in 2007. Stanford was 1-11 the year before he got there, but Harbaugh in four years made the Cardinals a 12-1 team that won the Orange Bowl.
He then took charge of the NFL San Francisco 49ers in 2011. Again he inherited a downtrodden team, as it was 6-10 the year before he got there. In his first season, Harbaugh's 49ers went 13-3 and won a playoff game before losing the NFC Championship Game to the Giants in overtime.
Alex Smith was Harbaugh's quarterback in his first year. The next year when Smith suffered a serious concussion in a midseason game of 2013, he did not have his job waiting for him upon his return. Harbaugh made the bold move of going with the raw, untested Colin Kaepernick at quarterback.
Harbaugh and Kaepernick led the 49ers to the Super Bowl, where they fell behind 28-6, only to rally before falling short to brother John Harbaugh's Baltimore Ravens, 34-31. The 49ers were in position to win it, trailing 34-29 at the 2-minute warning, but had second and goal from the 5. Kaepernick threw three incompletions, however, on the other side of the break.
Harbaugh's 49ers went 12-4 the next season and won two more playoff games before losing another NFC Championship Game heartbreaker to the Russell Wilson-led Seattle Seahawks, who went on to crush the Broncos in Super Bowl 48.
Then came a fallout with GM Trent Baalke and owner Jed York in 2014, and after an 8-8 season, Harbaugh moved on to his alma mater, Michigan.
Harbaugh averaged better than nine wins in his first five seasons with five bowl appearances before he suffered through a 2-4 COVID season of 2020. But with his job on the line, Harbaugh bounced back to go 12-1 and 13-0 and reach the NCAA Final Four playoffs these past two seasons of 2021-22.
Harbaugh is due to make $7.2 million with Michigan next season, so the Broncos may have to at least double that to lure him back to the NFL. But it's unlikely Harbaugh would have interviewed with the Broncos if he wasn't serious about their job.