DENVER — Legendary owner Pat Bowlen had an indelible impact on the Denver Broncos … and the Mile High City itself.
The team has only had seven losing seasons in 35 years and won the second-most games in the NFL during that span (354). He has been to seven Super Bowls, and the Broncos have won three of them.
Bowlen died Thursday night at his Denver-area home, surrounded by family and friends. The 75-year-old had given up control of the team after publicly revealing his Alzheimer's diagnosis in 2014.
His legacy is one that won't be forgotten. Here's a look at 9 memorable moments from Bowlen's time with the Denver Broncos.
PHOTOS | Legendary Denver Broncos owner Pat Bowlen through the years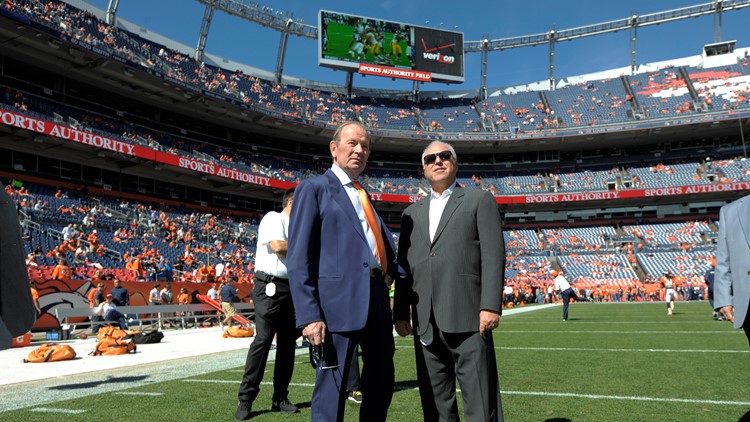 1984: Pat Bowlen and his family buy the Broncos for $71 million
The team is now worth $2.7 billion … talk about a good investment.
1987: The Drive
Wikipedia refers to the 98-yard game-winning John Elway Drive as "pro football's prototypical clutch performance." Broncos fans already know this.
Bowlen is featured wearing a now-iconic fur coat in videos of the legendary 15-play, 1986 AFC Championship winning Elway masterpiece.
1990: The Denver Broncos move their headquarters to Dove Valley in Arapahoe County
This was quite the upgrade. The first Denver Broncos headquarters was in a converted Quonset hut. They were on a tight budget back in 1960, but later expanded and moved to a facility East 58th Avenue and Interstate 25.
Bowlen spearheaded the move to Dove Valley, which has gotten some serious upgrades over the years.
1997: "This one's for John!"
After the Denver Broncos won their first Super Bowl – beating the heavily-favored Green Bay Packers – Pat Bowlen handed the trophy over to the real star of the show: quarterback John Elway.
"There's one thing I want to say here tonight and it's only four words: this … one's … for … John," Bowlen said to uproarious applause.
The Denver Broncos won the Super Bowl again the next year.
2001: The Denver Broncos move into what's now called Broncos Stadium at Mile High
On the heels of back-to-back Super Bowls, Bowlen helped persuade Denver voters to fund 75% of the $400 million new stadium – now Broncos Stadium at Mile High.
Then-Invesco Field at Mile High opened on Sept. 10, 2001. It was one of eight new NFL stadiums built in a three-year span. It became Sports Authority Field, and now is waiting for a new business to buy naming rights.
2008: Bowlen fires his close friend and Broncos head coach Mike Shanahan
Bowlen once referred to Mike Shanahan as the Broncos' "coach for life" but decided to take the team in another direction follow a third straight shutout from the playoffs.

2012: Peyton Manning joins the Denver Broncos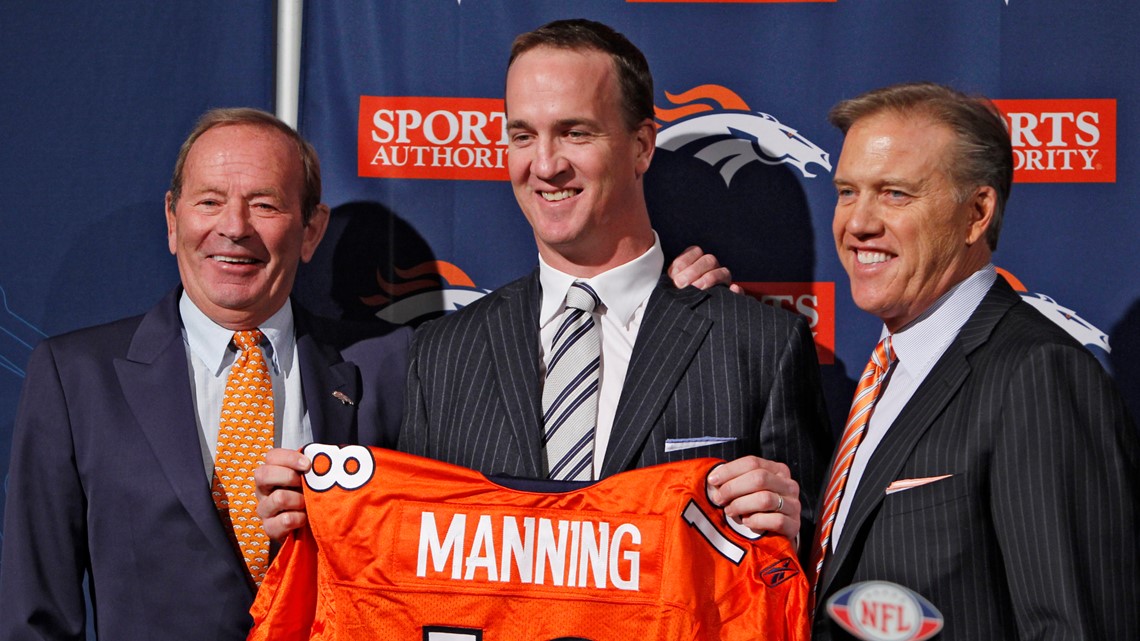 A little more than a year after John Elway was named the general manager and executive vice president of football operations for the Denver Broncos, the former superstar helped usher in a new era involving another future Hall of Famer.
During his four seasons with the Denver Broncos, Manning led the team to two playoff appearances and two Super Bowls – one of which allowed him to end his career on a high note with a win.
2016: "This one's for Pat!"
Following the Denver Broncos' Super Bowl win in 2016 – two years after Bowlen stepped down from day-to-day operations – Elway had a message for his friend and mentor.
"This one's for Pat!" Elway said.
It felt like it was inevitable, but it was still a huge moment of celebration. It was especially special because he was chosen for the Pro Football Hall of Fame the same year as cornerback Champ Bailey.
"Great day for the Broncos,'' said Broncos' chief executive officer Joe Ellis, who attended the Hall of Fame press conference. "Great day for Pat and the Bowlen family. Great day for Champ and all his family.''