9NEWS has reported 9 of the Broncos' pre-draft visits so far.
Pre-draft visits are held at the Broncos' UCHealth Training Center headquarters. Visits include breakfast, a one-on-one meeting with general manager John Elway, a one-on-one meeting with head coach Vic Fangio, a tour of the facility, lunch, and skull sessions with the position coaches in which plays are diagrammed on a white board.
Many visits also include a dinner the night before and an overnight hotel stay.
Here's a closer at each player who was known to visit with the Broncos in the order they were reported by 9NEWS: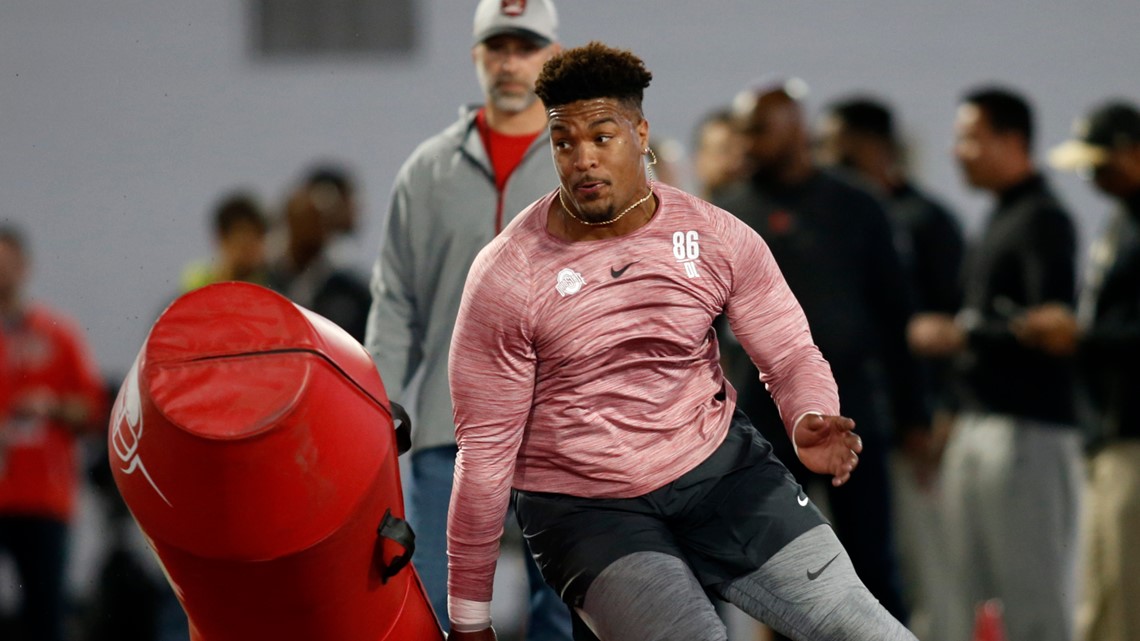 Dre'Mont Jones
3-4 DE, 6-2 ½, 281, Ohio State
You always try to find those late-bloomers in the middle to late rounds of the draft. Jones came on last season as a junior after Nick Bosa suffered a season-ending abdomen injury.
Jones had 1.0 sacks and 9.0 tackles for loss combined in his first two seasons. He 8.5 sacks, 13.0 tackles for loss and a 28-yard, pick-six return as a junior.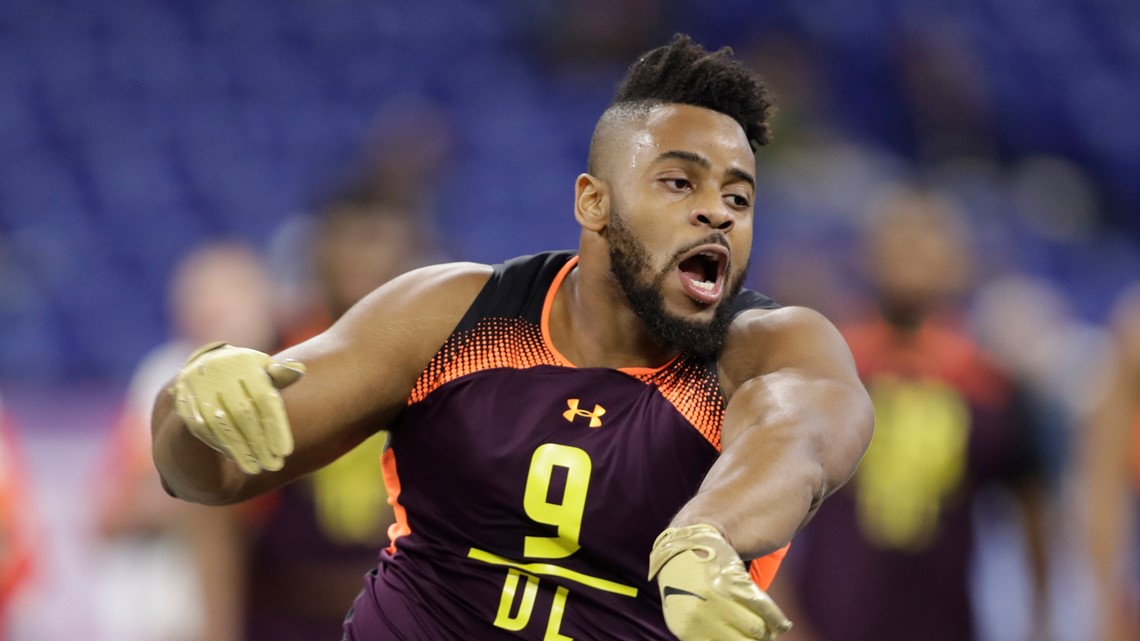 Kingsley Keke
3-4 DE, 6-2 ½, 288, Texas A&M
You always try to find those late-bloomers in the middle to late rounds of the draft. Keke had a combined 10.0 tackles for loss and 5.0 sacks in his first three seasons with the Aggies, then 11.0 tackles for loss and 7.0 sacks as a senior. Has a fourth-round projection by NFL Draft Bible.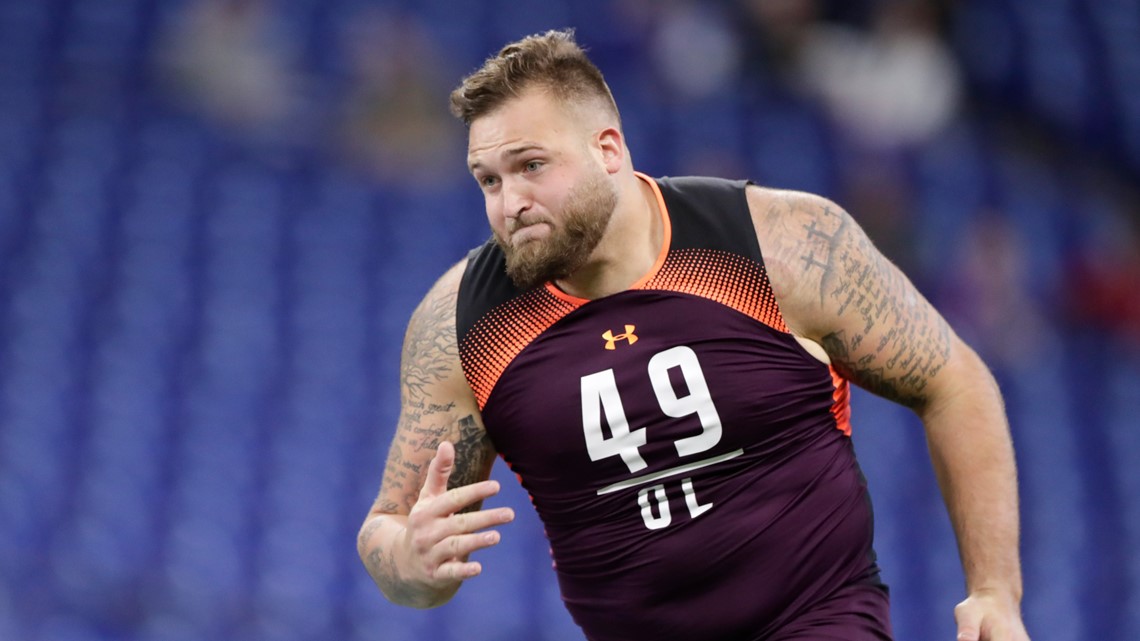 Dalton Risner
OG, 6-4 ½, 310, Kansas State
The native of Wiggins along our state's eastern plains was a starting center as a freshman, then a three-year starter at right tackle. Should he wind up with the Broncos he'd play a guard position as the Broncos are set at right tackle with Ja'Wuan James, and will probably play Connor McGovern at center.
A three-year captain and the Broncos had success drafting team captains last year.

Drew Lock
In his first start as a freshman, with future Bronco Connor McGovern starting at left tackle, Lock completed 21 of 28 with two touchdown passes and no interceptions in a 24-10 win against South Carolina.
Lock got roughed up the rest of the season but finished strong last year as a senior, throwing for a combined 7 touchdowns with 0 interceptions in games against Tennessee, Arkansas (with Elway in attendance) and Oklahoma State in the Liberty Bowl.
It would be a surprise if after trading for Joe Flacco the Broncos take a QB with their No. 10 overall pick but Elway is not closed-minded about it.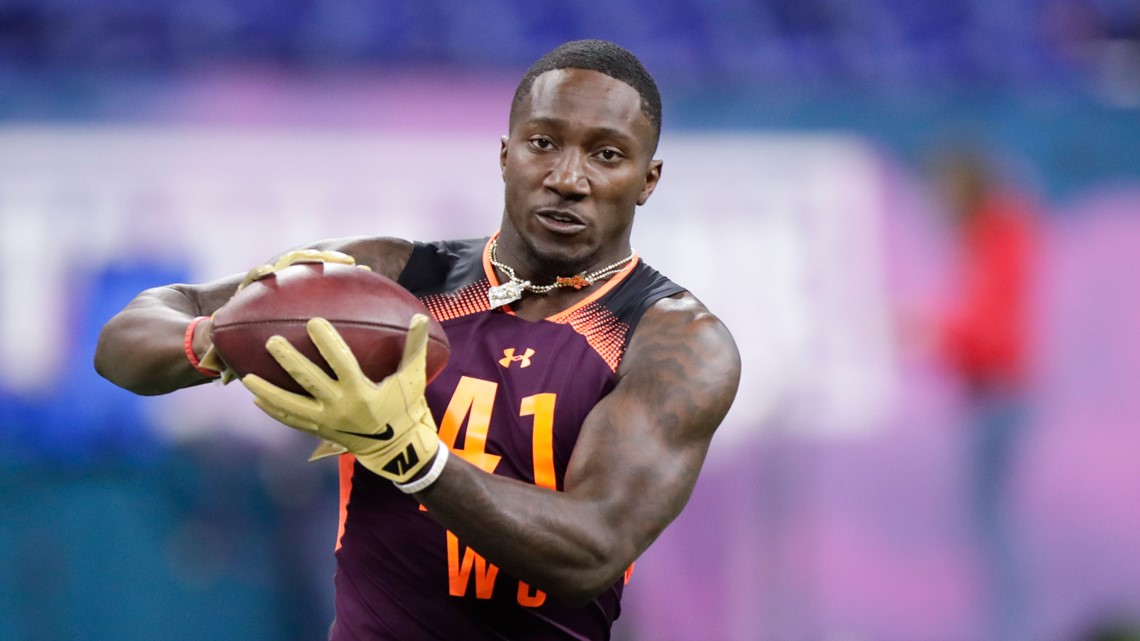 Deebo Samuel
WR, 5-11, 214, South Carolina
Dee-bo! The Broncos need a player like this to partner with running back Phillip Lindsay. Samuel is small but electric. He caught 11 touchdown passes as a senior, rushed for six touchdowns as a sophomore and had four kickoff returns for touchdowns in his final three years.
He's expected to go in the second or third rounds.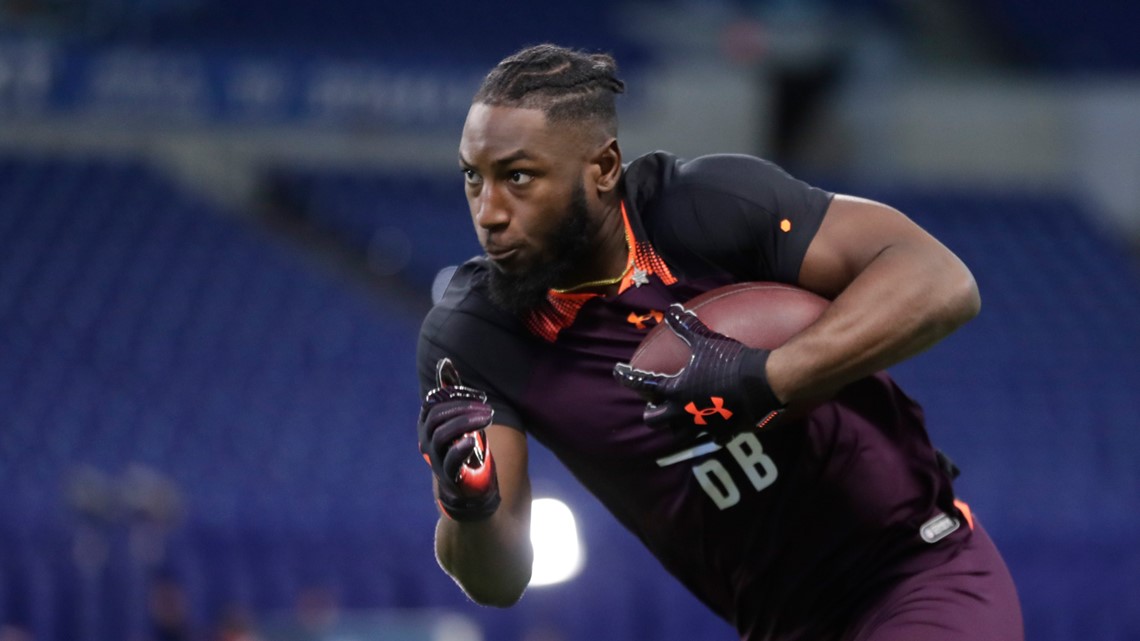 Kris Boyd
A good tackler which is why Fangio and defensive coordinator Ed Donatell wanted to take a look at him. Ran his 40 in 4.45 at the NFL Combine.
The Broncos would seem fine at cornerback after signing free agents Kareem Jackson and Bryce Callahan. But then again Chris Harris Jr. is essentially a contract holdout from the offseason program and Isaac Yiadom is coming off shoulder surgery.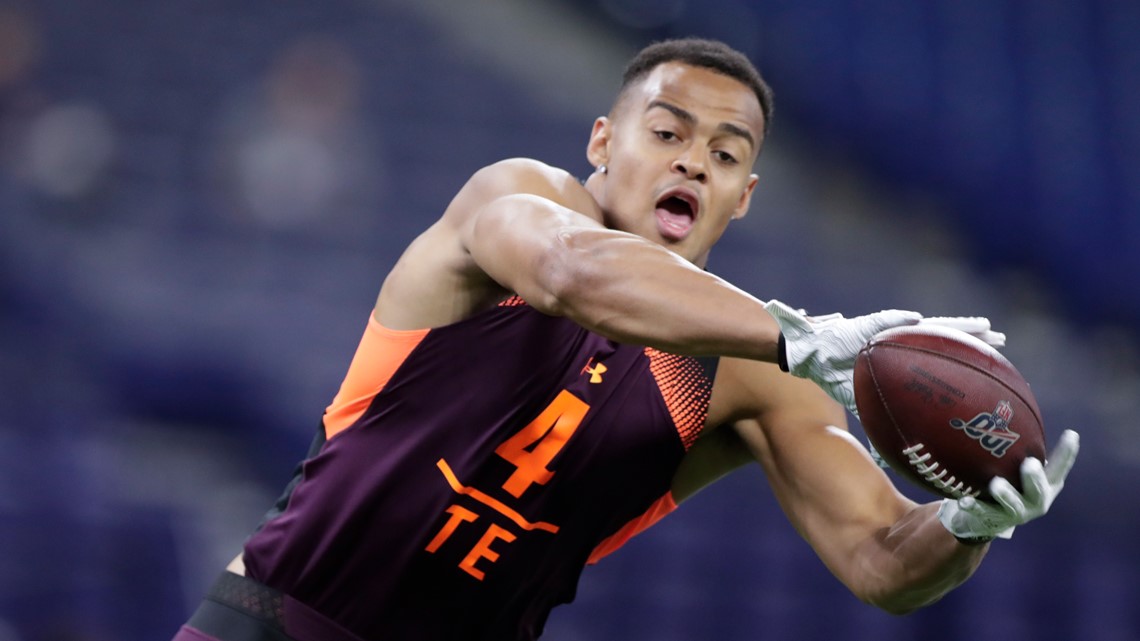 Noah Fant
Not much of a blocker but a George Kittle-like receiving threat. And Bronco fans know how much new offensive coordinator Rich Scangarello must like his tight end in the receiving game after his previous team, the 49ers, torched Denver's D with Kittle in a December game last year.
Fant could be in play with the Broncos' No. 41 overall selection in the second round, although he is widely projected to go sooner. Remember, Courtland Sutton was supposed to go No. 19 overall to the Cowboys last year, but the Broncos got him with their No. 40 pick in the second round.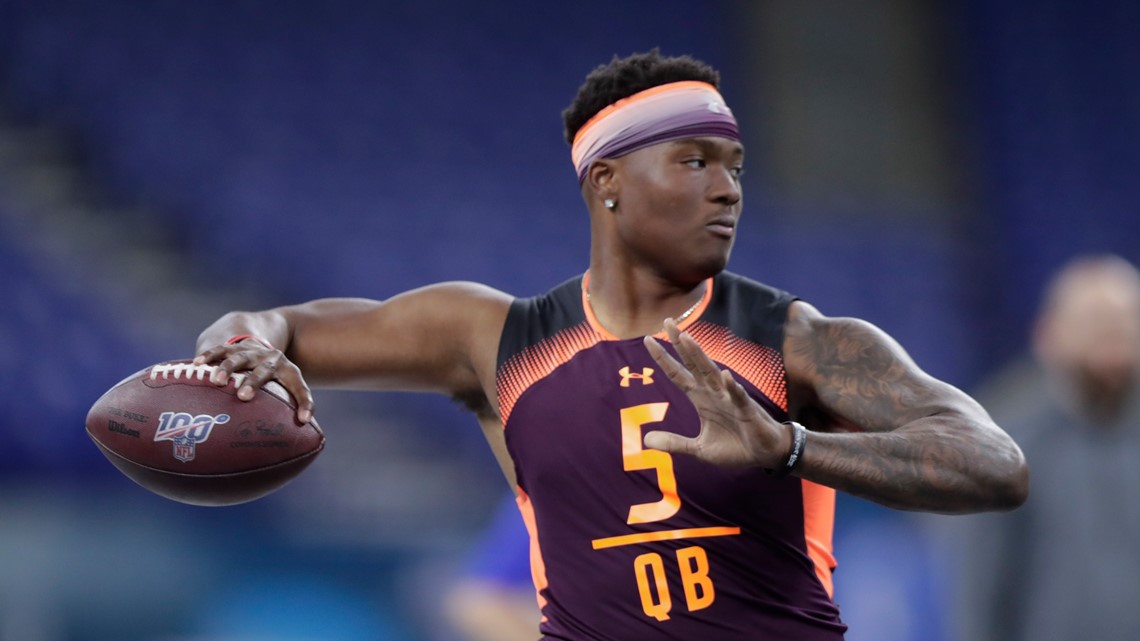 Dwayne Haskins
Check this out: For his visit to Broncos' headquarters? Haskins wore a Broncos retro No. 7 Elway jersey. Talk about a thinking-man's quarterback prospect.
Haskins was only a one-year starter – but it was so good, there was no reason for him to come back and be a two-year starter. As a redshirt sophomore, he completed 70.0 percent of his passes for 4,831 yards and 50 touchdowns against just 8 interceptions. Posted a 13-1 record.
Went down slinging in his only loss, completing 49 of 73 for 470 yards against Purdue.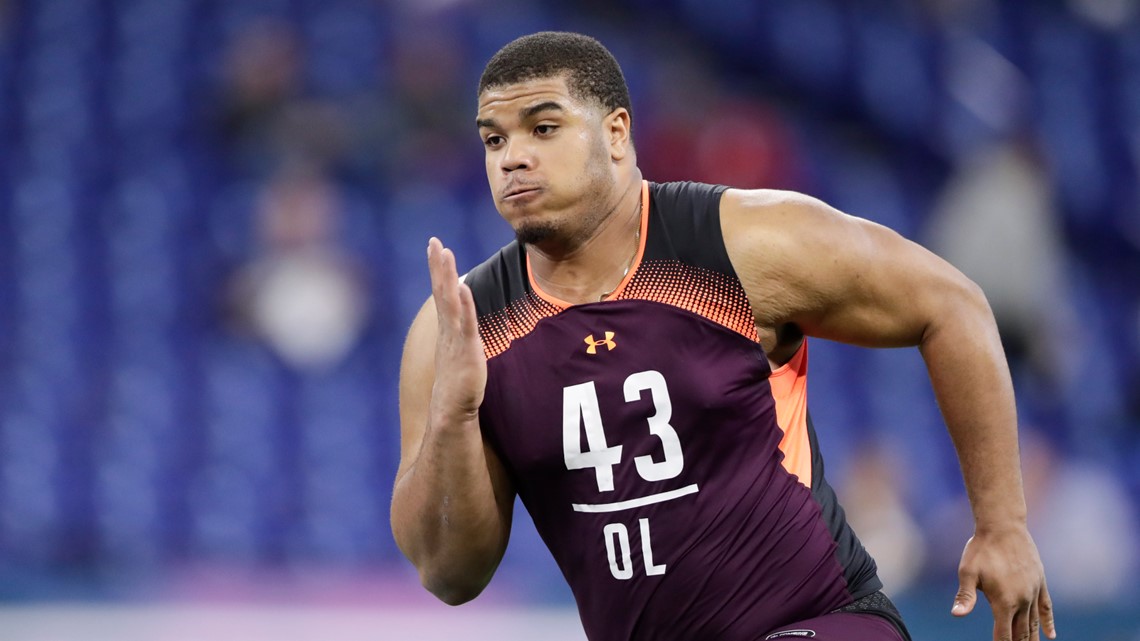 Javon Patterson
OG, 6-2 ½, 307, Mississippi
A 3 ½-year starter who had starts at left guard, right guard and even three games at center during his sophomore season. Extremely strong in the arms and hands and thick in the legs.
The Broncos currently have Ron Leary/Sam Jones at left guard, Connor McGovern at center and Elijah Wilkinson at right guard. All are capable but all must prove themselves – even the veteran Leary, who is coming off an Achilles surgery as the Broncos switch to the zone blocking scheme.