ENGLEWOOD – In a matter of weeks, Garett Bolles may well become the team's most experienced offensive lineman.
Bolles was the Broncos' first-round draft pick just last year.
Once this season ends, four of the Broncos' top seven offensive linemen will become unrestricted free agents. The blockers who are about to hit the offensive line market: Matt Paradis, Jared Veldheer, Max Garcia and Billy Turner.
Besides these four free agents, another top offensive lineman, Ron Leary, has an uncertain future after injuries caused him to miss 15 of 32 games the past two seasons and he is due to make a non-guaranteed, $8.5 million next year.
Bolles has started all 25 games at left tackle since the Broncos selected him with their No. 20 overall pick in the 2017 draft. Connor McGovern, a fifth-round draft pick in 2016 who has 13 starts at right guard and is scheduled to get seven more at center, is the only other top 7 Bronco blocker who is assured of returning next year.
As if a second consecutive 3-6 start doesn't give John Elway enough stress, the Broncos' general manager is about to confront some critical decisions with his manly men up front. Besides so many departing parts with their offensive line, the Broncos also have two of their top five defensive linemen – Domata Peko Sr. and Zach Kerr – hitting free agency.
The offensive and defensive fronts aren't the only position groups Elway will have to rebuild after this season. A look at the Broncos' players who become eligible for unrestricted free agency after this season and therefore may be winding down their stay in Denver:
The Broncos gave him a second-round, $2.914 million restricted free agent tender with hopes of signing him to a multiyear contract extension.
Before undergoing season-ending surgery last week that inserted a plate into his fractured fibula, Paradis was in line to exceed the $10.5 million annual average Tampa Bay's Ryan Jensen draws as the NFL's highest-paid center.
At this point, the Broncos would like to bring Paradis back, but he will likely first test the free-agent market.
He's not the first NFL player who didn't break out until the fourth and final season of his rookie contract.
Injuries took away his entire rookie season and limited his effectiveness in year two. He showed promise as a backup to Virgil Green in year three and blossomed as a starter this year after Green left for free agency and the Los Angeles Chargers.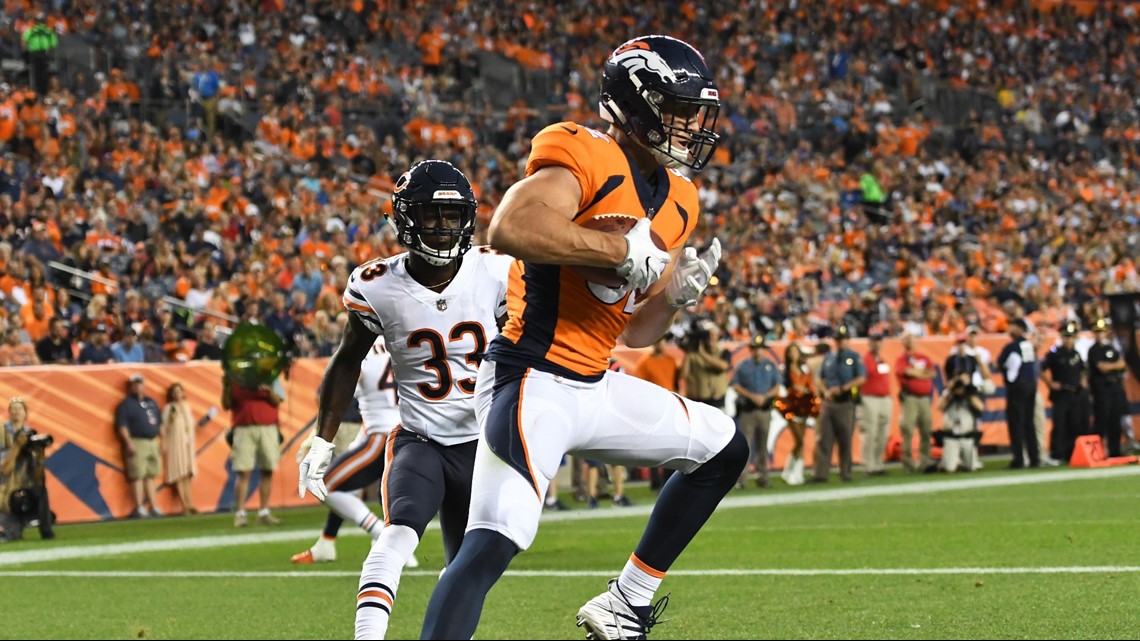 Heuerman was the Broncos' in-line, "blocking'' tight end early this season, then became an effective receiving target after Jake Butt went down with a knee injury following week three.
One-year starters are always difficult for any team to evaluate in an impending free agent's market, but it would be a surprise if the Broncos didn't make a strong offer to bring Heuerman back.
"I like Denver,'' Heuerman said. "I'm getting married here (in February).''
When the Broncos picked up his $8.526 million fifth-year option for this season, the chances appeared good he and the team would work out a contract extension.
But the going rate for free agent starting cornerbacks is $10 million to $12 million a year. Roby will have to finish strong in the Broncos' final seven games to get that kind of deal.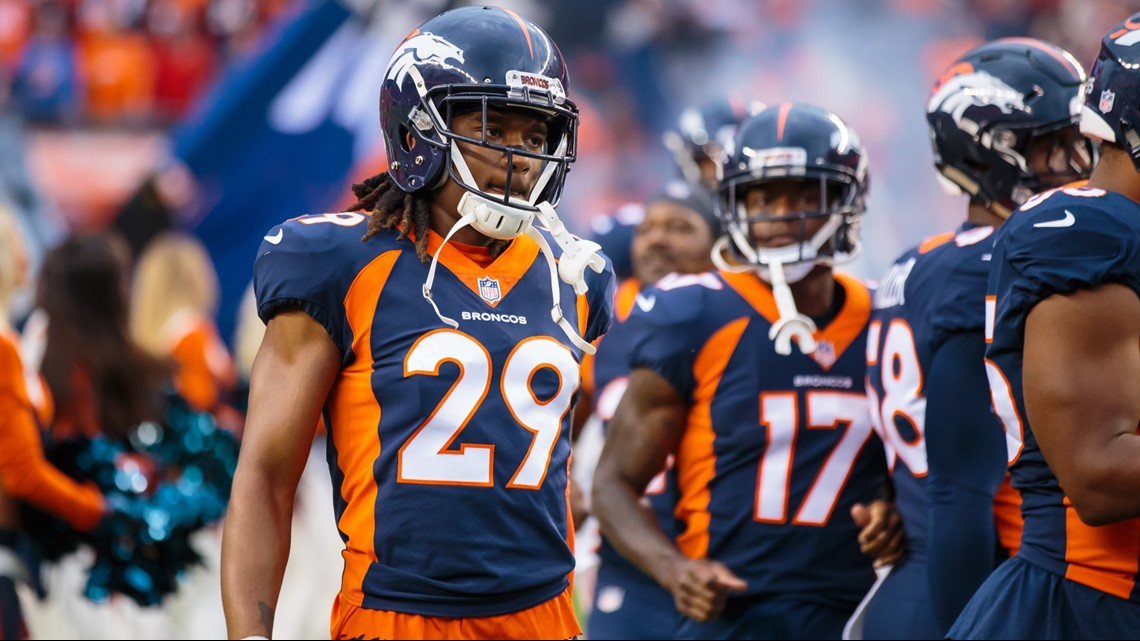 He did bounce back nicely from his rough game against the Jets, but he then missed the previous game against Houston because of an ankle injury. He should return to play this Sunday against the Chargers in Los Angeles.
"I want to hold my tongue this week,'' Roby said.
Roby could well have a considerable financial stake in these final seven games.
Shaq Barrett, outside linebacker
The Broncos proved they value Barrett when they gave him a second-round, $2.916 million tender as a restricted free agent.
During the trade deadline, multiple teams inquired about Barrett, but the Broncos weren't willing to part with him.
Stuck behind rookie Bradley Chubb and perennial Pro Bowler Von Miller, Barrett has only averaged 21.2 defensive snaps a game. He does have 2 sacks and 4 tackles for loss.
The Broncos will try to bring him back, but Barrett wouldn't be blamed if he looked for a team where he could get more playing time.
Shane Ray, outside linebacker
He put off wrist surgery in training camp, so he could play through this season. Does his impending free agency enhance his motivation to play well in these final seven games?
"I'm not looking at these last seven games as I've got to get my name out there,'' Ray said. "My name's out there. My tape's out there. I'm not worried about any of that. My focus is to play the best football I can possibly play, continue to put great tape out there and get healthy. Once I get my wrist 100 percent, sky's the limit. I'm not worried one bit. The key is to take it a day at a time.''
The chances of Ray returning diminished in May when the Broncos declined to pick up his fifth-year, $9.23 million option for the 2019 season.
"I looked at that as business,'' he said. "If I get emotional and thought about it, I would feel that I was wronged. And I'd rather not come to work every day feeling I was wronged. Instead, I'd rather look at it as, this is business. And in business there's no feelings, there's no friendships. If the Denver Broncos want me back here, they'll make their business decision with their offer and I'll do what I do as a businessman and make my decision.''
Ray was available for trade last month but a high ankle sprain that caused him to miss the two games leading into the deadline damaged his immediate value.
Jared Veldheer, right tackle
The Broncos acquired him from Arizona and are paying him $6.9 million in this, the final year of the contract he received from the Cardinals.
When healthy, Veldheer has been worth the money. He missed four games with a serious knee injury and he'll be 32 next year.
The Broncos could do worse than try to bring him back on a short-term deal.
Domata Peko Sr., nose tackle
He's less than two weeks from turning 34 but has the spirit and soul of a 21-year-old. Played in his 200th game, counting playoffs, against Houston two weeks ago. He's been a great value to the Broncos at $3.875 million a year the past two seasons, but he'll likely seek a better deal in the market.
A 2 ½ year starter his first three seasons, he hung tough after getting dropped to second string to begin this season – and he's about to get rewarded. Garcia has started the past four games in place of the injured Leary and is scheduled to start the final seven. He won't break the bank in free agency but it's not unreasonable to believe he can get a multiyear deal worth at least $5 million a year, providing he finds a team in need of a left guard.
Tramaine Brock, cornerback
A one-year, rent-a-player at $3 million a year. He's still a very good cover guy when healthy, and he's been healthy the past four games. Will play at 31 next year. Will hit the market as the Broncos have to get younger overall at the cornerback position.
Billy Turner, offensive lineman
A free agent last year, he signed back with the Broncos on a one-year, $2 million "make-good" deal. He made good as he played well at right tackle in relief of Veldheer. It would make sense for the Broncos to try and bring him back, although his price has likely gone up.
An emergency fill-in when it was determined young corners Isaac Yiadom and Brendan Langley weren't ready for the No. 3 cornerback role. Yiadom must step up next year and the Broncos absolutely must get a corner within the first two rounds of the draft.
Others: Shamarko Thomas, Gino Gradkowski, Deiontrez Mount