ENGLEWOOD, Colo. — Almost all players, regardless of sport, are left with mixed feelings when they are traded.
It's difficult to leave home and so many friends. There can be a sense of betrayal. But at least you're wanted by someone else.
There were no mixed feelings for tight end Adam Trautman when he was traded Saturday from the New Orleans Saints to the Denver Broncos. He was pumped about it.
"Oh yeah, absolutely,'' Trautman said Sunday in a phone interview with 9NEWS. "I was actually hoping to get moved. This was initiated by me personally. I've been waiting for a little bit for something to materialize and it just happened to be the Broncos, obviously."
Really. Why? Drafted out of Dayton by the Saints in the third round of the 2020 NFL Draft, the 6-foot-5, 253-pound Trautman was a part-time starter as a rookie, then a full-time starter in 2021 and 2022. So, why?
"I feel like I was placed somewhat in a box,'' he said. "They put a limit on what I could contribute and I felt like I could contribute a lot more. I was primarily used as a blocker. I thought I could do more and I didn't want to get to the end of my career and think I could have done it, caught the ball a little more.
"Whatever the case was, the team I was playing for just didn't let me do it. I want a chance to prove I can do it because I believe I can and I have in the past.''
Conversion from quarterback
The trade to the Broncos wasn't the first time Trautman initiated a major career move. Growing up in Michigan, Trautman was a quarterback through and through. He set all his high school passing records and was voted conference player of the year as a senior.
"I went to college expecting to play quarterback,'' he said. "That lasted about nine days.''
He went to Dayton, whose football program plays in the NCAA subdivision Pioneer League.
"There were two veteran quarterbacks ahead of me, but more than that, in high school we didn't have the greatest culture and when I got to Dayton we were non-scholarship team,'' Trautman said. "All these dudes play because you love to play football and you want to be around your buddies and play with friends. The culture was so strong there I was like, I want to be a part of this. I want to get on the field and play.''
He went to his offensive coordinator with the suggestion he would be willing to switch to tight end.
"He was like, are you serious? You know you're just a few days into your freshman camp?'' Trautman said. "I told him, 'I'm just offering it up. You don't have to do it. I'm willing to do it for the team.' He told me, OK, we'll see. And a couple days later he put me there in practice, told me to get rid of my green jersey and go put a white one on."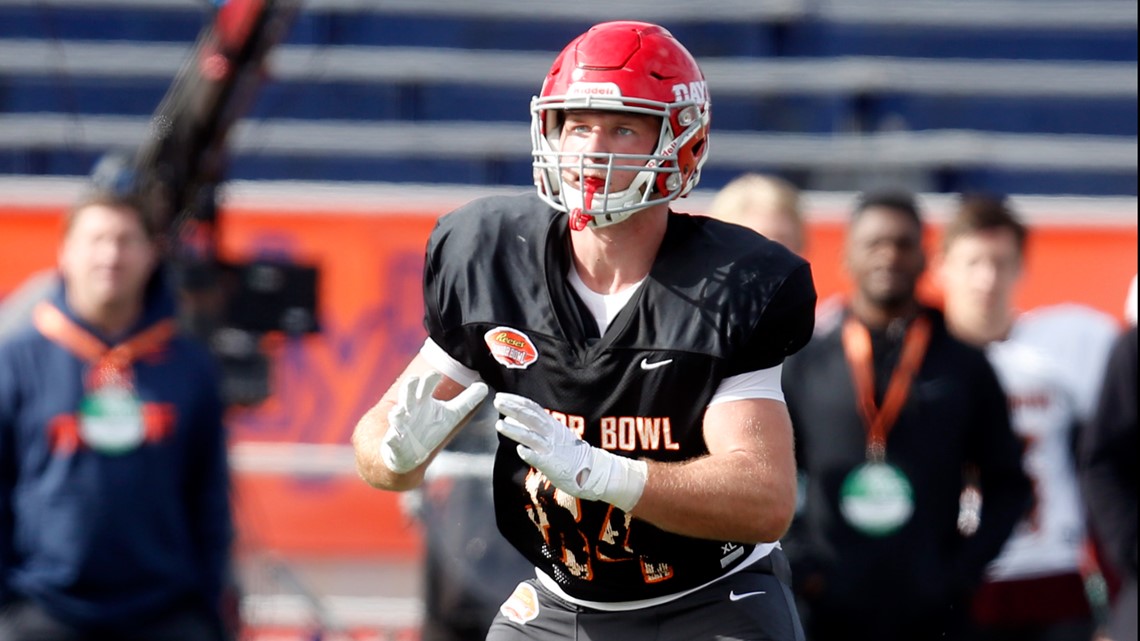 What a great move. Trautman, 26, played sparingly as a freshman, then became the Flyers' leading receiver each of his final three seasons. As a senior, he had a whopping 70 catches for 916 yards and 14 touchdowns. (And the Saints only wanted him to block?) Three years ago, the Saints and their coach Sean Payton took Trautman in the third round of the 2020 draft.
He learned as a rookie behind veteran tight ends Jared Cook and Garrett Griffin, although Trautman did start against the Broncos in the infamous game when all four Broncos quarterbacks were declared ineligible for COVID and COVID protocol violations. Practice squad receiver Kendall Hinton became the Broncos' emergency quarterback, and while he got an A for effort and his wristband play sheet on display in the Pro Football Hall of Fame, the results were disastrous.
Payton went to the four-corners game plan, rushing the ball 44 times against just 16 passes, yet the Saints still romped, 31-3 against the hopeless Broncos. Trautman remembers.
"Do I. We were about to touch down and that's when you get your cell service back,'' he said. "When we were landing and saw they didn't have a quarterback we were like, are we going to turn around and go back home?
"Once we got ahead we were like, let's control the clock and honestly, let's get this over with. You don't feel bad but you actually do a little bit. We were like, let's get this game over with. It was ridiculous we played it, honestly."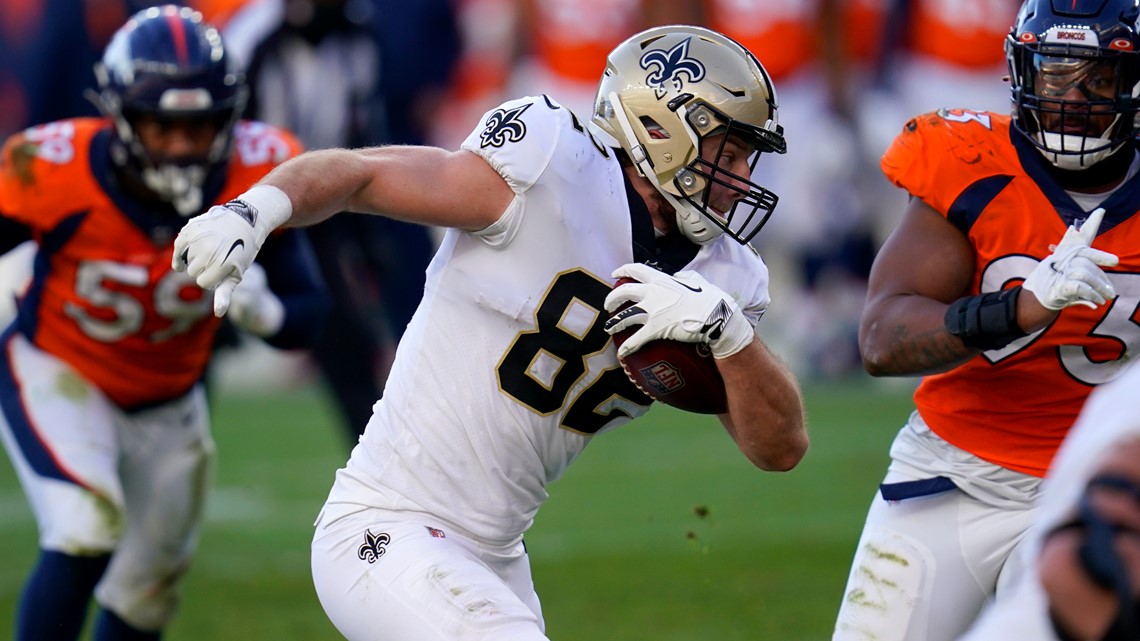 In games 5 and 6 of his second season in 2021, Trautman started getting more involved in the passing aspect of Payton's offense. Trautman had two catches for 43 yards in a 33-22 win at Washington and three catches for 36 yards the next week in a 13-10 win against Russell Wilson's Seahawks in Seattle. Trautman finished that season with 27 catches for 263 yards and two touchdowns in just 13 games.
But then Payton took a year off from coaching last season and the Saints turned to Juwan Johnson as their primary pass-catching tight end. Johnson's a good one, too, as he had 57 catches last year with 7 touchdowns. Trautman's receiving production dipped to 18 catches for 207 yards in 15 games.
The two-way tight end was suddenly one-trick Trautman.
"I didn't feel like I was reaching my potential as a player,'' Trautman said. "All you want to do after you've busted your tail for 20-something years to get to this point, you want to exhaust everything you can so someone doesn't put a cap or a limit on your abilities. And I feel like that was happening back in New Orleans. I talked to my agent (Chase Callahan) and we determined it was best to move on and get to a new place and fresh start."
The trade
The Broncos, who now have Payton as their head coach, and the Detroit Lions, whose head coach Dan Campbell was New Orleans' tight ends coach in 2020, were Trautman's preferred teams this offseason. The Saints didn't want to lose him but agreed to move him if a deal could be worked out. There were talks with the Broncos around the start of the free-agent period, but those fizzled out.
Talks remained dormant through the first two days of the draft this weekend. Among the circle of potential players the Broncos had hoped to be available as the draft fell close to their No. 67 and 68 overall picks in the third round were tight ends Sam LaPorta of Iowa, Oregon State's Luke Musgrave and Michigan's Luke Schoonmaker. All three tight ends were drafted in the second round, too far away from the Broncos.
On Saturday morning, Payton and general manager George Paton started thinking again about Trautman. It was sometime during the fifth round, when four more tight ends went off the board before the Broncos' next pick in the sixth round, that Denver called the Saints to try and strike a deal. The Lions were also in it for Trautman, but he wound up going to the Broncos, along with the Saints' No. 257 pick near the end of the 7th round, in exchange for their No. 195 overall pick in the sixth round. The No. 257 pick the Broncos got as a throw-in with Trautman turned out to be Oregon center Alex Forsyth.
"Literally an hour before it happened, my agent called me and said this is real,'' Trautman said. "These guys want to do it. We talked some more about the situation, what was best for me and we ultimately said, 'Yeah, absolutely. If they're willing to go through with it, then let's do it.'"
Trautman was to fly Sunday night to Denver and take his physical exam Monday morning, which would clear the way for the trade to become official. He will then work out in Dan Dalrymple's weight-lifting center and run a bit Monday. Dalrymple was the Saints' strength-and-conditioning coach for two or the three years Trautman was in New Orleans. Broncos' tight ends coach Declan Doyle was the Saints' assistant tight ends coach all three years Trautman was there.
"He's super, super impressive,'' Trautman said of Doyle. "I'm sure you can count maybe two position coaches in the NFL who are 26, 27. There's a reason for that. It's not by mistake."
Trautman will also be reunited with five former Saints teammates who came to Denver earlier this offseason: Receivers Marquez Callaway and Lil'Jordan Humphrey, fullback Michael Burton, running back Tony Jones Jr. and defensive tackle Jordan Jackson. Fellow tight end Chris Manhertz played for New Orleans in 2016 but was gone by the time Trautman arrived.
A few of those Saints-Broncos teammates have texted Trautman to welcome him. With the Broncos, Manhertz will be the blocking tight end, Greg Dulcich will be the receiving tight end and Trautman will do both. As he knows Sean Payton will arrange for him.
"Sean is obviously one of the best coaches in modern-era football,'' Trautman said. "What always impressed me most about Sean was attention to detail. He leaves absolutely zero stones unturned related to game day. It is so impressive. He knows how to tap into his players. Players respect the hell out of him. He takes care of the guys with recovery and everything like that. But we also get after it. Sean's that mix of old school-new school.
"To get free agents to go to New Orleans, he was the reason why. People wanted to play for him. The reason you went to New Orleans was to play for Sean Payton. And obviously Drew Brees, too. Those two were incredible to watch.''
With the Broncos, Trautman knows the boss better than the holdover Broncos players.
"Sean controls the room,'' he said. "He's the decision-maker. He lives and dies with his decisions. Everyone trusts him and has so much belief in him. So when I thought I needed a change in scenery, there were two spots I thought would be great for me, and that was Denver and Detroit. Because I'm familiar with Dan Campbell, he was my tight ends coach my rookie year. And then obviously it was Denver because of Sean. I believe in Sean and they have a lot of coaches I'm familiar with.''
Soon enough, Trautman will become familiar with quarterback Russell Wilson. And not just when Wilson is handing off.