ENGLEWOOD, Colo. — It was past time for Alex Singleton to get paid commiserate with his performance.
The Broncos finally made it right with the inside linebacker by reaching agreement on a three-year contract that will pay Singleton an average of $6 million a year, a source told 9NEWS. The three-year, $18 million deal includes $9 million in guarantees and a $4 million signing bonus.
Singleton, 29, led his team in tackles each of the past three years – 120 stops for the Eagles in 2020 while making the first-year minimum $675,000; 137 tackles in 2021 for Philadelphia, when he again made the second-year minimum $850,000; and a remarkable 163 tackles in his first season with the Broncos in 2022 when he made $1.12 million.
That's an average of 139 tackles over the past three years even though he's never played more than 68 percent of the defensive snaps.
Singleton's new contract – which was the result of multiple teams bidding for his services, and the smart negotiating skills of his Denver-based agent Paul Sheehy – exceeds the two-year, $11 million deal the Broncos' other starting inside linebacker, Josey Jewell, received to re-sign with the team at this time last year.
The biggest reason it took Singleton a while to get a decent contract is it took a while for the NFL to realize he could play. This was not the typical journey. After going undrafted in 2015 out of Montana State, Singleton signed with the Seattle Seahawks – where he was cut three times before the start of the regular season.
He spent his rookie year on practice squads with the Seahawks, Patriots and Vikings but he kept getting cut without getting a chance to show his off-the-charts instincts and sideline-to-sideline tackle range.
At 6-foot-2, 235 pounds, Singleton is a little taller and leaner than most inside linebackers but he runs the 40 in a relatively swift 4.65 seconds. So why was he so often dismissed early in his career?
"I guess, I just don't ask,'' Singleton said in a sit-down interview last November with 9NEWS. "I keep my head down and do everything I can. I know how hard it was in 2015 to even be in a building. For me to be in a building, I take advantage of every opportunity. I think I learned that.''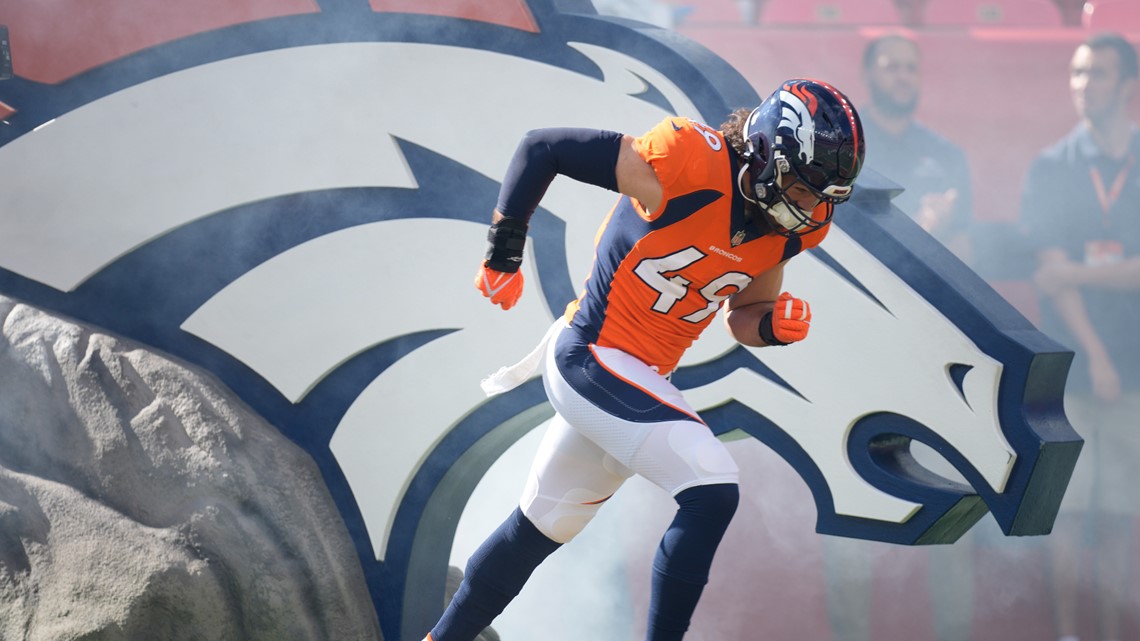 He went to a couple rookie minicamps on a tryout basis in 2016 but then came the Canadian Football League draft in May 2016. Singleton was selected in the first round, No. 6 overall, by the Calgary Stampeders. He flourished there, making 311 tackles in three seasons, plus another 17 on special teams and was twice named to the CFL All Star team.
"I think I learned and grew as a football player,'' Singleton said of his CFL stint. "How to become a better pro. I took things I learned in the NFL and took them up there and continued to use those with my schedule and by the time 2019 came around, came back down, had some workouts and ended up signing with Philly.''
Though a backup linebacker with the Eagles, enough guys got hurt for Singleton to lead the team in tackles in both the 2020 and 2021 seasons.
Yet, anchoring the Philly defense wasn't enough to sell his own Eagles' management and he was non-tendered as a restricted free agent last year. That made him an unrestricted free agent and after drawing a couple vet-minimum offers, he chose to play for the Broncos.
Still, it took a while for the Broncos' coaching staff to realize what they had. During training camp last summer, Singleton barely got a first-team rep as the Broncos gave up extra time to raw but athletically talented Jonas Griffith to work alongside Jewell. Griffith and Jewell eventually would each miss time with various injuries and Singleton did not fail to take advantage of his opportunity as a fill-in – particularly in a 16-13 overtime loss in a road game against the Los Angeles Chargers in mid-October when he had a whopping 19 solo tackles, 21 overall. Singleton had another 20-tackle game on Christmas Day, when he was forced to stay busier than he would have liked during a 51-14 shellacking from the Los Angeles Rams.
Even though he didn't receive one snap as he sat behind a healthy Jewell and Griffith in games 3 and 4 against the 49ers and Raiders, and played sparingly in three other games, Singleton finished with the second-most tackles (163) in a single-season in Broncos history (Michael Brooks had 170 in 1992).
Singleton is now a full-time starter alongside Jewell as Griffith missed the second half of the season with a foot injury. At season's end, Singleton confronted the uncertainty, and excitement, of free agency by hoping to stay right where he was.
"I love Denver,'' Singleton said. "It's been a great place. Yeah, hopefully it's an easy decision and … don't hit the market."
He actually hit the tampering period market for a few hours Monday before re-signing with the Broncos -- for a deal that better represents his value.