CHERRY HILLS VILLAGE, Colo. — From notable to common, Pat Bowlen impacted the lives of many.
Perhaps no relationship meant more to the success of the Denver Broncos, though, than the one between Bowlen and Mike Shanahan.
They became close soon after both joined the Broncos weeks apart in 1984 -- Shanahan as head coach Dan Reeves' new receivers coach and Bowlen as the franchise's new owner.
"I talked to him almost every day,'' Shanahan said in a sit-down interview with 9NEWS on Friday afternoon from the resplendent foyer of his luxurious home. "Throughout my whole career as an assistant coach and as a head coach, Pat would come in and we'd sit down and talk. We had that type of relationship, which was fun.
"Pat wasn't a guy who tried to interfere. He just wanted to make sure he was on top of everything that was going on. We talked about the players, how they practiced. What you saw about their potential. I don't care if it was the quarterback position, or running back position, defensive line, he was inquisitive on, 'Hey, tell me what you think.'
"Draft choices, free agents -- 'Did we waste our money here?' Or if you did make a mistake – 'Hey Pat, we made a mistake on this free agent. It's not the character we wanted. We might have to make a change.' Or a draft choice.
"But as long as you were real with Pat, or honest with Pat, you had no problem at all because he just wanted to be informed. That's why he was such a great owner.''
Bowlen, who had been suffering from Alzheimer's since the end of the 2013 season, died Thursday night at his Denver home with his family at his side.
"I had talked to somebody the day before and he said Pat was not in very good condition,'' Shanahan said. "Woke up the next morning and found out he had passed away. I just started thinking about the great times and what he's meant to this organization and this town. And what a special man he was.''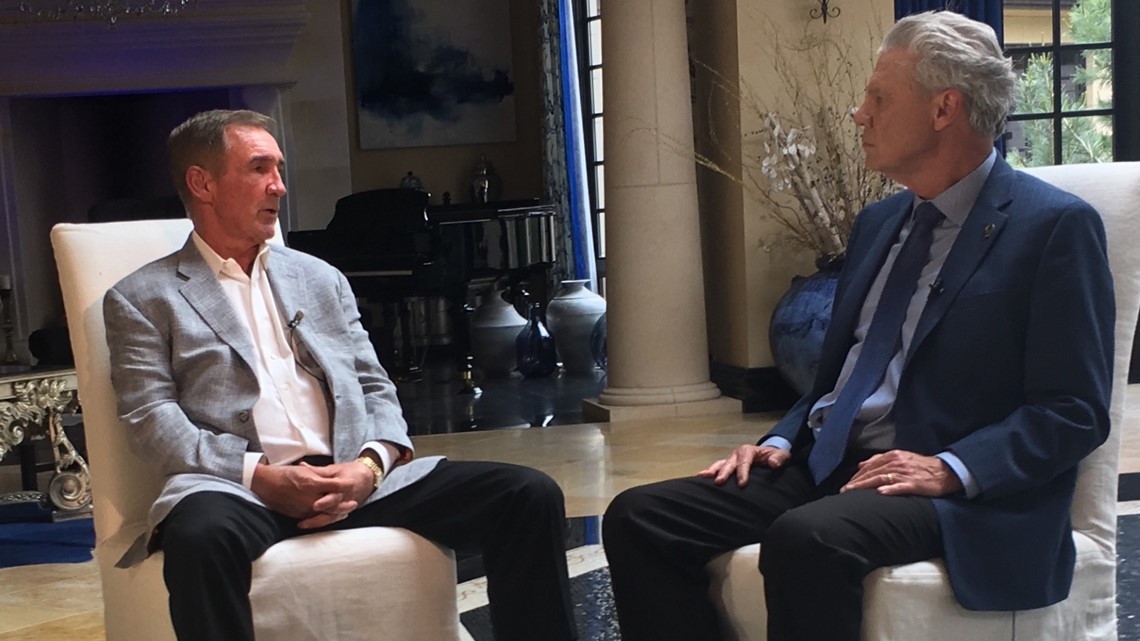 Bowlen's pursuit of Shanahan as head coach
Bowlen had a unique owner-quarterback relationship with John Elway, yes. But it wasn't until Bowlen finally got his close friend to run the Broncos' football team that Denver didn't just reach the NFL summit, but got over the top.
Shanahan made Bowlen work for it. When Bowlen fired Reeves after the Broncos finished 8-8 in 1992, he wanted Shanahan to become his next head coach.
But Shanahan had just spent the previous year working as offensive coordinator with Steve Young, Jerry Rice, Ricky Watters and the San Francisco 49ers' machine. The 49ers went 14-2 in 1992 before losing to the Dallas Cowboys in the NFC Championship Game.
The 49ers were a program built by Eddie DeBartolo Jr. and Bill Walsh and were now led by George Seifert. Everything was first class from travel to single-room hotel accommodations for players to top-end meals served daily at the facilities.
"He talked to me and I said 'Pat, I'd love to come back and be your head coach,' " Shanahan said. "But I said 'we (the 49ers) just went 14-2 and if I have a chance to come back to Denver, I want to make sure we do things a little bit differently than we have in the past. There's a few things I would like to do differently.' I wasn't able to get it that year, but I was two years later.''
Shanahan wanted his upgrade request put in writing. Bowlen said he couldn't do that, but he did offer Shanahan an enormous head coaching salary. Not enough.
Shanahan returned to San Francisco for two more years, his term there reaching its apex with a then-league record 505 points and a Super Bowl blowout of San Diego to cap the 1994 season. Bowlen, meanwhile, hired his backup choice, Wade Phillips, to replace Reeves as head coach. The Broncos went 9-7 and 7-9 in Phillips' two seasons – nowhere near good enough for Bowlen.
Following the 49ers' Super Bowl win, Bowlen went back to Shanahan, wearing a disguise to meet him at the team's hotel.
"When I talked to him again after the 49ers (1994-season) Super Bowl, Pat said, 'We're going to make sure you get all that and more.'
"It made me feel pretty good, and I knew we had a chance to be successful. I had just been to three Super Bowls from the AFC Championship Game (with the Broncos in the 1980s) where we kind of got embarrassed. So if you are going to come back, you want to make sure you have at least a chance to win it all. Luckily, Pat gave us everything we needed when I came back.''
It took Shanahan one year to rebuild the Broncos into the best team in the NFL. Although they were stunned in the 1996 playoffs by Jacksonville, the Broncos won back-to-back Super Bowl titles in 1997-98.
Bowlen's legacy was secure, and the Broncos became the NFL's crown jewel franchise. During that time and for years afterward, the Bowlen-Shanahan bond continued to strengthen.
"We got to be best of friends,'' Shanahan said. "We're talking, we did everything together. Dinners, vacations, golf. I considered him one of my best friends. We did everything together.''
After the 1998 season, the Broncos suffered the dual blows of Elway's retirement and running back Terrell Davis' devastating knee injury. Not even the Mastermind, as Shanahan was dubbed during the team's Super Bowl run, could overcome the losses of two superstars.
Shanahan got close in 2005. With a balanced offense led by quarterback Jake Plummer and a hyper-blitzing defense protected by sublime cornerback Champ Bailey, the Broncos beat New England in a home playoff game to earn home-field advantage in the following week's AFC Championship Game. But a young Pittsburgh quarterback named Ben Roethlisberger kept converting third-and-longs and the Steelers whipped the favored Broncos.
When the Broncos followed with a three-year run of mediocrity of 9-7, 7-9 and 8-8, Bowlen fired his good friend to end Shanahan's 14-year run as Broncos' head coach.
"Even at that time, we were very close,'' Shanahan said. "Very close. I know the situation better than anybody, so I know exactly what did happen, so I always considered Pat one of my best friends even when I got fired there. You understand the profession, and at the same time, I felt close enough to Pat that I knew what direction he was going and why he did it.''
Elway nearly brings back Shanahan
For a fleeting moment, there was the thought of bringing Shanahan back to lead the Broncos' coaching staff.
Bowlen, in one of his final decisions as owner, had hired Elway in 2011 to run the Broncos' football department. Elway, the general manager, had strongly considered replacing his head coach Vance Joseph with Shanahan after the Broncos went 5-11 in 2017.
It didn't happen and Shanahan said that while he still follows the NFL closely – in particular his head coaching son Kyle's team in San Francisco and the Broncos – he has put aside his desire to coach again.
"I'm retired from the game,'' he said. "Yeah, I had a chance to talk with John. We had a great conversation. I don't want to go into detail. But that's something where we always had a special relationship.
"He did call me, and we did talk. That's one of those things you think about. We had a great conversation at the time. It didn't work out. Probably in the best interest of everybody concerned, but with John Elway, you're going to win games.''
Shanahan will attend Bowlen's private funeral June 24 in Denver, and he and his wife Peggy are planning a vacation in Coeur d'Alene, Idaho, where Elway and his wife Paige will also be vacationing. There are golf plans together. Bowlen's circle of life continues.
And then Shanahan, Elway and the spirit of Bowlen will meet again during the induction ceremony for the Broncos owner on Aug. 3 in Canton, Ohio.
"For sure, yeah,'' Shanahan said when asked whether he would attend. "No. 1, he was the person that hired me to be the head football coach. … I think me, John and Pat were probably as close as an owner, head coach and quarterback as you could possibly get. All those days are not the highest highs, a lot of times it's the lowest lows. And when you go through those times with people, and you understand how they act and you're impressed with how they handle themselves in the tough times, when you do experience those good times you feel pretty good that they finally get their due.''
> Join us on KTVD Ch. 20 on Tuesday, June 18 at 7 p.m. for a special look back at Pat Bowlen's legacy.