PHOENIX — Even if takes a telescope to see the Broncos' first selection, Paton and Payton -- George and Sean – are now focusing on the NFL Draft that will be held next month.
The Broncos don't pick until the No. 67 selection overall, or fourth in the third round. Then they pick again with the No. 68 selection. Their first and second round picks were surrendered in exchange for head coach Sean Payton and quarterback Russell Wilson.
"We certainly have to make some hay,'' George Paton, the Broncos' general manager, said Monday at the NFL owners meetings held here at the Arizona Biltmore resort. "Really since free agency finished, Sean, myself and a couple of our scouts, we've sat in a dark room and we've hit the draft. I didn't go to any Pro Days. We just focused on the draft, specifically those top 3s, so we're really going to have to make hay."
For all you diehard mocksters out there, don't bother with the Broncos packaging their 67 and 68 picks to move up into the second round.
"It's hard to move up when you only have five picks,'' George Paton said. "We won't rule anything out, but it's hard. I would say we would be more inclined to move back to get some more picks."
Sean Payton said this draft doesn't have many quality receivers, so the Broncos are expected to go somewhere else with their No. 67 and 68 picks. Drafting that late means it's more fact than cliché to strategize taking the best available player regardless of need.
Whether through low-budget deals in free agency, or the third round in the draft, the Broncos do still have a few positions of need.
"We could use more depth in the secondary,'' George Paton said. "You can always use more depth in the offensive line. But I would say more depth overall."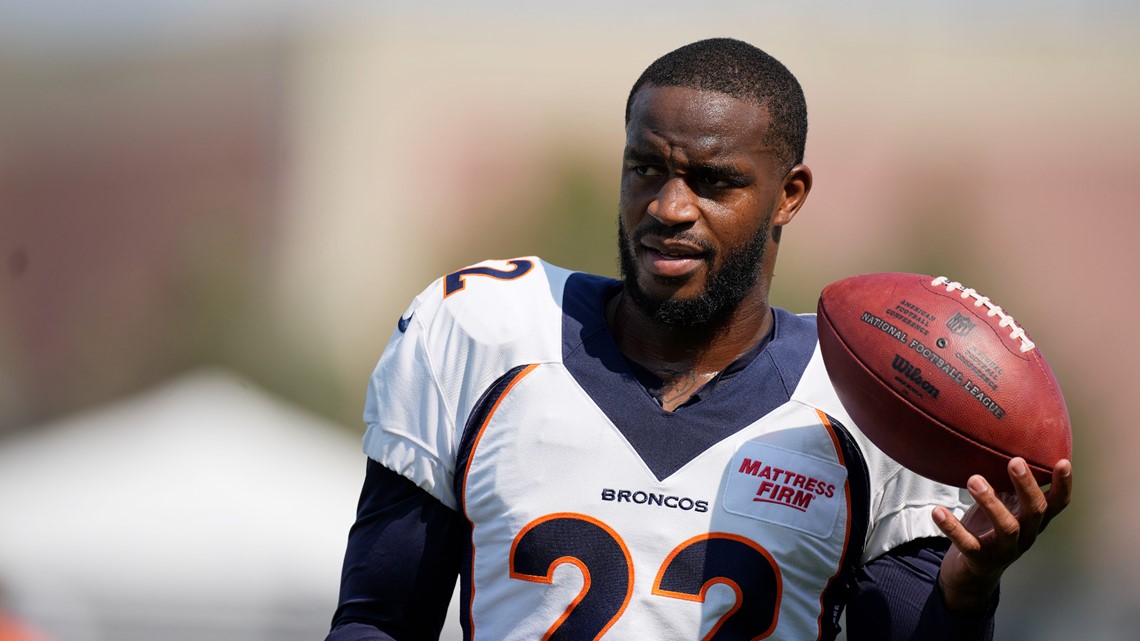 Kareem still in mix
Don't count out Kareem Jackson for a fifth season, at age 35, as the Broncos' starting safety. He is a free agent now, as he was at this time last season. He returned last year and has a chance to return this year.
"He does. He's still in the mix,'' said Broncos general manager George Paton in an interview with 9NEWS. "We have some things to work out, but we're talking to his people.''
The Broncos have one starting safety in Justin Simmons. Jackson, who turns 35 in two weeks, has been the other since first signing with the Broncos in 2019. Third-year backup Caden Sterns is coming off hip surgery and Delarrin Turner-Yell played mostly special teams last year as a rookie.
Broncos to Courtland, Jeudy: Pay no attention to trade takes behind the curtain
Courtland Sutton and Jerry Jeudy are going nowhere but staying put as the Broncos' two top receivers in 2023. So how did all those trade reports start?
"I think it's pretty common every offseason,'' Sean Payton said here Monday at the AFC Coaches Breakfast. "New coach. Not a real deep receiver draft. I would say a number of teams have called on those players. But it's not something we're interested in doing. You can do your homework and figure out how it all got started. It'll continue I'm sure as we get closer to the draft. If you look at the draft and the receiver depth in the draft, it's not a real deep draft.''
For the past month, word circulated the Broncos would listen to trade offers for Sutton and Jeudy but would not actively shop them. One NFL coach told 9NEWS here at the NFL owners meetings the Broncos wouldn't talk unless they got a second-round draft pick for Sutton, first-rounder for Jeudy.
The teams who had been interested in Sutton and Jeudy moved on to fill receiver needs elsewhere through trade or free-agent signings. And so the Broncos are counting on Sutton and Jeudy.
"We're excited to have them on our football team," George Paton said. "Two young players in their prime. I think Sean said it best -- we're not interested in trading them. When you're in my position you get a lot of calls. We've gotten calls on those players. So we anticipate them being here.
"Can't wait to see them in Sean's offense with these coaches. I mean Jerry's 23 years old, 24 years old (next month) and the way he finished the season, the five games. Courtland played 15 games and had close to 900 yards.
"The offense was broke last year. So to see these two receivers with Tim Patrick with the others we've added, we're excited."
Stidham is No. 2
There are pure backup quarterbacks and nothing but.
Broncos head coach Sean Payton has those types of No. 2 quarterbacks before. A young Chase Daniel. An older Mark Brunell and Luke McCown. The do-everything-but-pass-well Taysom Hill.
And Payton could have gone after the likes of Andy Dalton, Teddy Bridgewater, maybe even Jameis Winston a couple weeks ago for the opening of free agency. Instead, he went for an up-and-comer in Jarrett Stidham on a two-year, $10 million contract.
"I think he's young but someone we had a good grade on coming out. We like the player. I think he played well in the two starts he had this year. If you studied closely the San Francisco game, he was smart at the line of scrimmage. There were a couple of No. 2s I either worked with or felt comfortable with. But in this case I think it's a No. 2 where his arrow is moving in a direction where we feel he can become an NFL starter in our league. … Quietly that was an important sign for us."
No worries
George Paton on quarterback Russell Wilson's knee scope last month: "It was a minor procedure right after the season. No concern on our part."
Breaking in
It's the first NFL owners meetings for the Broncos' Walton-Penner group, and Carrie Penner arrived here a day early as she serves on two league committees -- the NFL Foundation Committee, which is the NFL's charitable arm, and the Diversity, Equity and Inclusion (DE&I) committee.