ENGLEWOOD, Colo. — Maybe, Sean Payton's solution to dramatically improving the Broncos' offense is to frequently line up in three tight end sets.
Greg Dulcich, a third-round rookie last year, is a terrific receiver as evidenced by his 33 catches for 411 yards in just 10 games last season. The Broncos somewhat surprisingly gave Chris Manhertz -- a blocking tight end who has matched his career-best with 6 catches each of the past three seasons -- a two-year contract that will pay him $3.35 million this season. And the Broncos traded for Adam Trautman, a former Payton starter in New Orleans because he can catch and block, in exchange for a late, one-round improvement in the draft.
All three figure to play plenty in 2023, even if rotating out of two tight-end sets is more likely.
Dulcich missed seven games as a rookie with a hamstring injury but played 75 percent of the offensive snaps when healthy. Trautman played in 67 percent of the snaps during the past two seasons with the Saints. And Manhertz averaged 41 percent of the snaps and 11 starts the previous three seasons for Carolina and Jacksonville.
And then there's fullback Michael Burton, who was signed as a free agent.
Running the ball, and completing passes to the tight end off the fake run, figures to complement quarterback Russell Wilson this year in the Broncos' quest to finish in the NFL's top 18 in scoring for the first time since 2014. That's right, long ago as Super Bowl 50 seems, it was the year before that when the Broncos last finished in the league's top half in scoring.
Since then, the Broncos have ranked 19th in points scored (2015), 22nd (2016), 27th (2017), 24th (2018), 28th (2019), 28th (2020), 23rd (2021) and 32nd (2022). An average NFL scoring rank of 25th during the Broncos' ongoing eight-year scoring slump.
Ugh. Sean Payton is here to save the Broncos' offense. Here's a look at the Broncos' tight end position as they prepare for their 2023 season:

Starter
Greg Dulcich (or Adam Trautman and Chris Manhertz)
The Southern California dude with the long, curly locks, mustache and sculpted quads (as exhibited by his short shorts practice attire) is quite good at playing the rough-and-tough tumble game of football. Unfortunately, he became the Poster Boy for the Broncos' hamstring epidemic last season. The 6-foot-3, 245-pound Dulcich missed virtually all of training camp and the first 5 games of the season with a bum hammy, returned for game 6 against the Chargers to catch a 39-yard touchdown pass from Wilson in his NFL debut, and later missed the final two regular-season games against the Chiefs and Chargers because the hamstring tightened back up.
Dulcich gets high marks from George Paton, the Broncos' general manager who drafted him in 2021. But Dulcich will have to prove himself to the new head coach Payton and tight ends coach Declan Doyle.

Backups
Adam Trautman, Chris Manhertz (or Greg Dulcich)
Before going further, it could be Trautman and Manhertz will be the starters in a two, tight-end set with Dulcich coming in on the passing downs. But for now, Dulcich is listed first because he's the incumbent starter, at least when he was healthy in 2022.
Trautman is the team's best two-way tight end. He had a career-best 27 catches for 263 yards and 2 touchdowns in just 13 games for Payton in 2021. Without Payton as his head coach last year, Trautman's receiving production slipped to 18 catches for 207 yards in 15 games as he became used more as a blocker. Trautman, 26, is bigger than Dulcich at 6-foot-5, 253 pounds.
And Manhertz, a former three-year power forward starter for the Canisius College basketball team, is bigger than both at 6-6, 255. While Trautman took a pay cut from $2.7 million to $1.5 million to facilitate the trade, Manhertz got starter money at $3.35 million.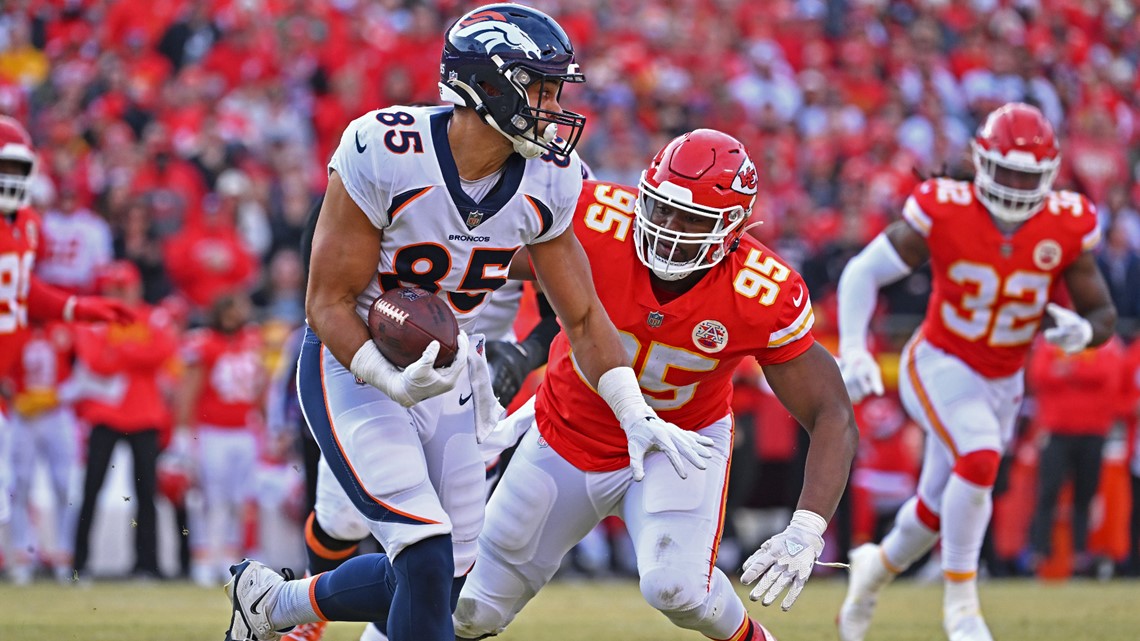 Others
Albert Okwuegbunam, Kris Leach, Nate Adkins
The oft-stated question, "What about Albert O?" carries over for a second year. Despite his athleticism and skill ideally suited for the red zone – and the Broncos' struggles to score touchdowns – Okwuegbunam was essentially benched for 14 games last year. He had five catches in the season opener at Seattle and three catches for 45 yards in the Broncos' second-to-last game at Kansas City.
He had just 2 catches otherwise. Albert O is running No. 4 in the tight end room again this year but he's a decent insurance player for an affordable $1.01 million in the final year of his rookie contract.
The 6-6, 248-pound Leach is an undrafted rookie from Kent State and Adkins is an undrafted rookie from South Carolina. Leach and Adkins will report Thursday to Dove Valley for the start of Broncos' rookie minicamp.
Gone but not forgotten
Eric Saubert, Eric Tomlinson
Trautman replaces Saubert, who was one of two offensive players to play in all 17 games for the Broncos last season. Manhertz replaces Tomlinson, who was the other offensive player to play in all 17 Broncos games last season.
Saubert, who is now with the Miami Dolphins, was a top special teamer for two years with the Broncos and had a game-winning touchdown catch against Houston in game 2 last season.
Tomlinson, who is now with the Texans, caught two touchdown passes last season.
On the way up
If he can stay healthy and play in, say, six more games this season, Dulcich could become one of the league's 70-catch tight ends. There were five last year with the Chiefs' Travis Kelce leading with 110 catches, 1,338 yards and 12 touchdowns. No one is expecting that much from Dulcich but the Broncos need a tight end answer to the Chiefs.
Key to 2023
If he does, the Broncos could have one of the league's better receiving tight ends.