ENGLEWOOD, Colo. — It's not just a new or renovated stadium the Broncos currently have in the initial stages of planning.
That's for enhancing the fans' experience on game-day Sundays.
9NEWS has learned that in recent weeks team owners Greg Penner and Carrie Walton Penner along with President Damani Leech were among a contingent who toured the headquarters of the Chicago Bears, Miami Dolphins and Las Vegas Raiders. The visits were part of the early stages of the Broncos' exploration of a possible renovated or new training facility on the current campus in Arapahoe County.
The Bears completed a $100 million-plus renovation project on Halas Hall in 2019. The Dolphins and Raiders have completed new facility projects within the last three years.
Broncos president Damani Leech confirmed the tours to 9NEWS.
At the corner of Broncos Parkway and Potomac, Greg and Carrie Penner are giving some early thought to either building a new headquarters on their current plot of land or dramatically expanding and renovating their current structures.
That's for enhancing the players' and coaches' experience on an everyday basis.
No determinations have been made on what is expected to be a lengthy analysis.
"The process really started during the season,'' Leech said when asked by 9NEWS about the practice facility tours. "As ownership came in they started looking at all parts of the business. One was our facility here. It's over 30 years old and we have gone through all the improvements that have been made and some of the improvements that need to happen over the next several years.
"As you would expect, as you start doing that you ask, 'OK, rather than making cosmetic changes on an annual basis, let's step back and take a more longitudinal look at our overall situation."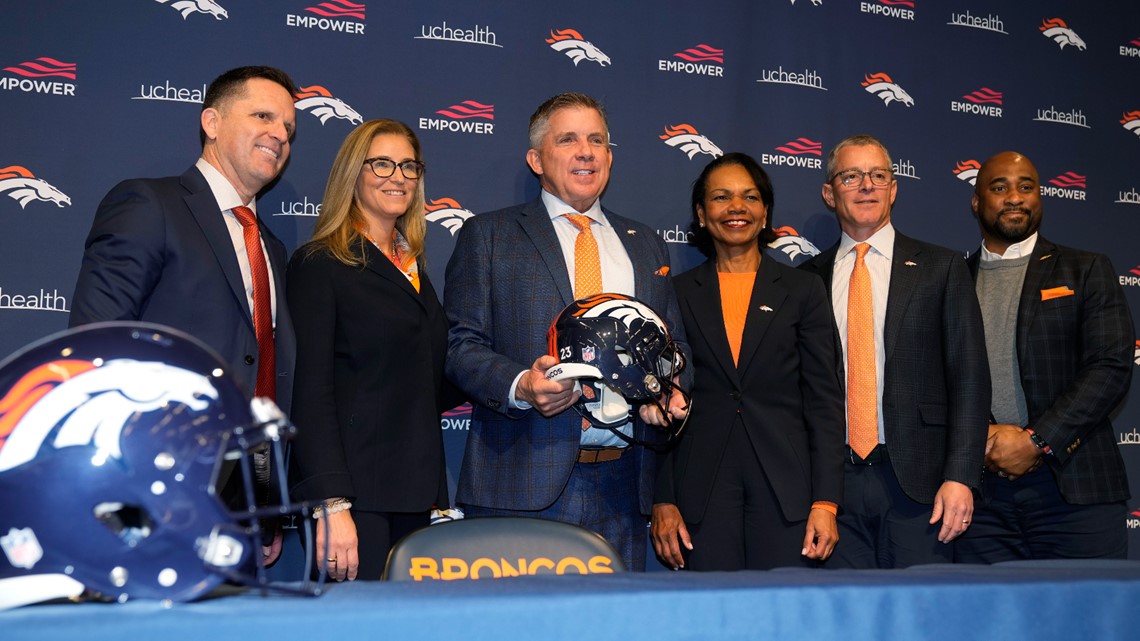 By now it's become apparent the Walton-Penner ownership group's investment in the Broncos did not end with their $4.65 billion purchase of the team last August.
Since then they have poured $400,000 into a new playing surface for one game – one final game – at Empower Field and Mile High so their then 4-12 team could take on the playoff-bound Chargers on safe footing. They then allocated $100 million for a stadium enhancement project that is ongoing with the expectation it will be completed by the start of the 2023 preseason. Ownership spending also didn't overlook the smaller things as it gave $100,000 to the Colorado School of Mines football team last December to help cover expenses for the trip to Texas for the NCAA Division II championship game.
"You can keep the tally,'' Leech said of the team's owners. "They've been investing since they hit the ground. It's been impressive. What it ends up being for us is a really good challenge of identifying what "really good" looks like and doing the research to identify what that looks like and how we can bring it to life here."
Simultaneously, Broncos owners are looking to enhance their headquarters, training and practice facilities. The Broncos training facilities was initially built in 1990, with the formal address of 13655 E. Broncos Parkway. In its 33 years, the Broncos believe they have maximized every inch of their facility. In 2004 the team added a strength-and-conditioning center and in 2014 there was a $60 million expansion project that included the new Pat Bowlen Fieldhouse. In 2018 there was a 30,000-square foot expansion of their current office and locker room headquarters.
While the Broncos have always owned their buildings, for 32 years they leased the land beneath those buildings from Dove Valley Business Park Associates. Within a few weeks of buying the Broncos' franchise in August, the Walton-Penner group purchased the land beneath their team headquarter buildings for $9 million.
If it's a new structure, it could go in the berm area where fans have been able to watch training camp practices for the past 21 years.
The Broncos' leadership contingent observed unique fan-friendly layouts at the practice facilities they toured.
"We tried to get an understanding of a few things: The size and spaces, the layout and flow, particularly on football levels,'' Leech said. "All of those things have been really interesting to see. We'll continue to look at others over the course of this spring and summer and probably not just the NFL. It could be collegiate, it could be NBA. There's a number of new facilities that have been renovated or built over the last several years.''
Simply put, the Broncos believe they need more space in which to operate. Unlike some teams, the Broncos did not cavalierly dismiss the NFLPA survey that was critical of various aspects of its facility and football operation.
"What it did is it reaffirmed the work we were already doing was important and necessary,'' Leech said. "Ownership broadly committed to providing the best facilities not only the play-in but the train-in so we already started that work but it really did just reaffirm we're on the right path and let's continue to do our work here."
And have you seen pictures of some of the football training centers at such places like the University of Alabama, Georgia, Oklahoma and Ohio State?
Like the Broncos' stadium research project, a decision whether to build anew or renovate on the team's current headquarters and practice facilities have not been made. And completion of the project, whether it's renovation or new build, would be a few years away from completion.