ENGLEWOOD, Colo. — Apparently, a spectacular performance in the Denver Broncos' final preseason game Saturday was too little, too late for tight end Albert Okwuegbunam.
The fourth-year Bronco was told to drive into team headquarters Tuesday where Albert O., as he was known, was told he would be waived.
But about a half hour before the 2 p.m. Tuesday deadline for all 32 NFL teams to reduce their roster to 53 players, Okwuegbunam was traded to the Philadelphia Eagles. It was Albert O., plus a 7th-round pick in the 2025 draft in exchange for the Eagles' 6th round pick in the 2025 draft.
There's a lot of reasons for the Eagles to like Okwuegbunam, especially after he had seven catches for 109 yards – including a diving, one-handed grab for 19 yards midway through the fourth quarter – in the Broncos' 41-0 rout of the Los Angeles Rams on Saturday night at Empower Field at Mile High.
Connecting the dots here but one person who would not have been surprised by Albert O's performance was Matt Russell, He was John Elway's right-hand man who ran the Broncos' draft in 2020 when Okwuegbunam was a fourth-round draft pick -- even though Denver already a tight end in Noah Fant with a similar skill set. Russell is now a senior personnel executive with the Philadelphia Eagles.
Not that Russell made the trade -- Eagles' GM Howie Roseman would have done that. But Russell may told Roseman, "It might be worth looking at this guy."
"Teams like Philly that are not in a claiming position (No. 31 in waiver priority) and would (not) be able to get the player—go ahead and make a trade for the player,'' said Broncos head coach Sean Payton.
The Broncos held a noon practice with 60 players accounted for so at least five weren't on the 53-man roster that was set at 2 p.m. Several players were cut right after practice - receivers Michael Bandy, Lil'Jordan Humphrey and Marquez Callaway and defensive tackle Tomasi Lalaulie. There were also three veterans released for procedural reasons with the promise of signing back the next day -- nose tackle Mike Purcell, cornerback Fabian Moreau and offensive lineman Quinn Bailey.
"I don't love this time of year,'' said general manager George Paton. "It's hard, but it is what it is. We cut a lot of good players. We feel like we'll get some of them back on the practice squad. We feel like a lot of these jobs will get jobs at other places, as well. We feel good about our 53.''
Here is the Broncos' 53-man roster:
OFFENSE (23):
QBs: Russell Wilson, Jarrett Stidham
No. 3 QB Ben DiNucci was cut.
RB: Javonte Williams, Samaje Perine, Jaleel McLaughlin
Tyler Badie and Tony Jones Jr. were cut. How 'bout Javonte? How 'bout Jaleel? Sean Payton said after McLaughlin's preseason performance at San Francisco (7 carries, 45 yards, a touchdown; a 9-yard receiving touchdown; a 44-yard kickoff return) that if the Broncos didn't keep him on their roster, the undrafted rookie would be snatched up by another team.
"We were recruiting him,'' George Paton said. "We were hoping he would be undrafted. We thought he was a good player. We didn't quite know what we were getting. You never know with (college) free agents and what you're quite getting. He went to two schools, obviously. The tape was good, but we've had a lot of those guys over the years when they come in here.
"He passed every test. From the minute he showed up in rookie minicamp, it wasn't too big. Then he's working out with the big boys on varsity. It wasn't too big. Then we get the pads on, and he makes plays every day. We were really not surprised. We were all looking forward to the first game to see what he could do, and he made plays every game."
WR: Courtland Sutton, Jerry Jeudy*, Marvin Mims Jr., Brandon Johnson
General manager George Paton said Jeudy would not go on short-term IR (4 games minimum missed) on Wednesday. A very good sign given Jeudy was carted off the practice field last week with a hamstring strain. Michael Bandy, Lil'Jordan Humphrey and Marquez Callaway practiced Tuesday and were cut right after the practice.
Broncos are expected to re-sign Lil'Jordan Humphrey and possibly Marquez Callaway to their practice squad on Wednesday. It's very unusual for the Broncos to only keep 4 receivers -- one or two fewer than normal, an indication they will be looking at the waiver wire.
TE: Adam Trautman, Greg Dulcich, Nate Adkins*, Chris Manhertz
Adkins an undrafted rookie, made it over Albert O because of his ability to block and catch.
"The versatility, the toughness, the smarts,'' general manager George Paton said of Adkins. "He's a football player. He's a guy we had targeted throughout the (undrafted, college-free-agent) process just like Jaleel. We almost drafted him. It just didn't fall. We didn't have a lot of picks. We were really fortunate to get him as an undrafted free agent.
"He's been everything we thought. We had him in on a Top-30 (visit). Loved the visit. He's got a great mind, and he can do a lot of different things. He's a coach's dream because he can do so many different things -- play special teams, as well."
Manhertz has been sidelined the past couple weeks with an undisclosed injury.
OL: Garett Bolles, Ben Powers, Lloyd Cushenberry III, Quinn Meinerz, Mike McGlinchey, Cam Fleming, Alex Palczewski*, Luke Wattenberg, Alex Forsyth
Palczewski, an undrafted rookie from Illinois, is expected to be on the Broncos' 53-man roster Tuesday but placed on short-term injured reserve on Wednesday with a hand injury. Quinn Bailey, released Tuesday, will sign back to 53man roster, per source.
DEFENSE (27):
Cornerback: Pat Surtain II, Damarri Mathis, Ja'Quan McMillian, Riley Moss, Tremon Smith, Essang Bassey, K'Waun Williams*
Williams is expected to be placed on short-term IR on Wednesday after he underwent ankle surgery Monday. When Williams goes on short-term IR, the Broncos are expected to sign back veteran Fabian Moreau. Moss might have to be floated for a game or two as he missed most of training camp and the entire preseason with a core injury that required surgery four weeks ago.
Safety: Justin Simmons, Kareem Jackson, Caden Sterns, Delarrin Turner-Yell, JL Skinner, P.J. Locke*
Locke is expected to go on short-term IR Wednesday. Even if Williams and Locke do go on short-term IR as expected, 12 defensive backs (safeties and corners) is one or two more than usual.
ILB: Josey Jewell, Alex Singleton, Drew Sanders, Justin Strnad
DL: D.J. Jones, Zach Allen, Elijah Garcia, Matt Henningsen, Jonathan Harris
Mike Purcell agreed to be released with understanding he will be brought back Wednesday. See Lil'Jordan Humphrey. Tomasi Laulile, signed last week, was a surprise participant in practice Tuesday but he was cut minutes afterwards.
OLB: Randy Gregory, Jonathon Cooper, Frank Clark, Nik Bonitto, Thomas Incoom
The undrafted rookie Incoom was picked over the veteran Aaron Patrick. The Broncos gave Incoom $200,000 in guarantee, the most among its undrafted rookie class. Teams often carry six outside linebackers but Paton said they would add two more to the practice squad that will be set at 10 a.m. Wednesday.
Specialists (3):
In addition, the Broncos transferred outside linebacker Baron Browning from the offseason physically unable to perform (PUP) list to the regular-season PUP which means he will miss at least four games. Browning does not count against the 53-man roster.
The Broncos began cutting their roster 90 to 53 players on Sunday with receiver Kendall Hinton among the first to be waived since Sunday. Not including Albert O, who was traded off the roster, the Broncos' players known to be cut from the Broncos roster:
Broncos cuts (37):
QB: Ben DiNucci
K: Brett Maher
RB: Tyler Badie, Dwayne Washington, Tony Jones Jr.
WR: Marquez Callaway, Lil'Jordan Humphrey*, Josh Hammond, Tayler Grimes, Montrell Washington, Michael Bandy, Kendall Hinton, Nick Williams, J.J. Koski
TE: Tommy Hudson
OL: Quinn Bailey, Will Sherman, Demontrey Jacobs, Kyle Fuller, Henry Byrd, Isaiah Prince
OLB: Aaron Patrick, Christopher Allen (waive/injured), Marcus Haynes
ILB: Seth Benson, Austin Ajiake
DT: Mike Purcell, Haggai Ndubuisi, Jordan Jackson, P.J. Mustipher, Tyler Lancaster, Tomasi Lalaulie
CB: Fabian Moreau, Faion Hicks, Art Green, Delonte Hood
Safety: Devon Key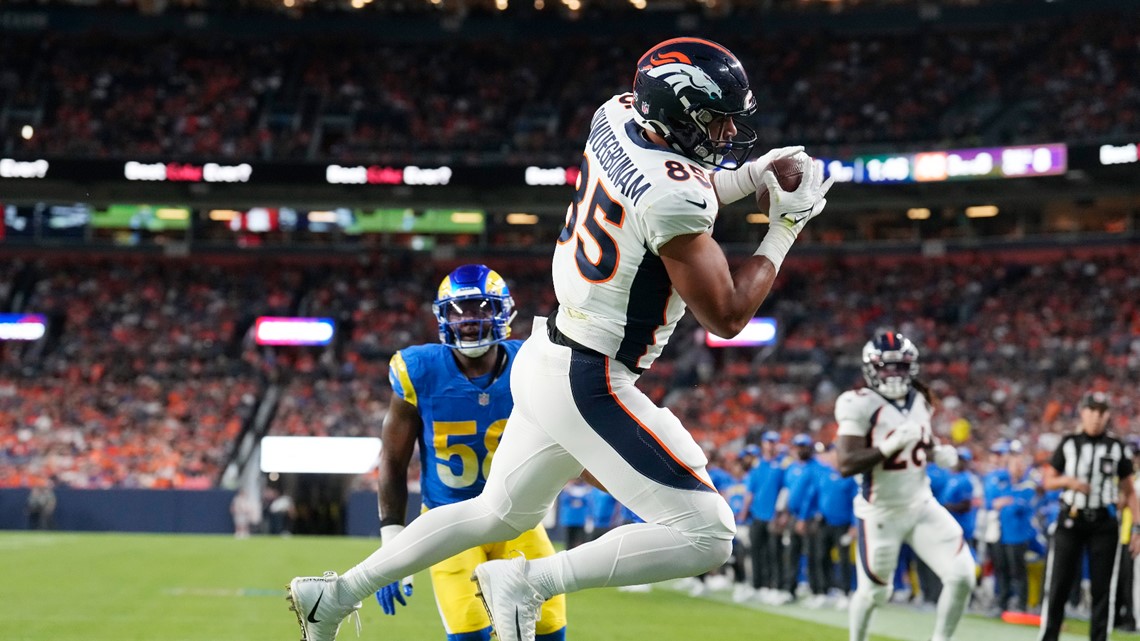 Kendall Hinton, a receiver who had a combined 39 catches the past two years for the Broncos, was among the Broncos' five cuts Sunday.
The Broncos also waived receivers J.J. Koski and Nick Williams and defensive back Delonte Hood. Veteran offensive tackle Isaiah Prince was released.
Hinton famously filled in at quarterback for the Broncos in a 2020 game against Sean Payton's New Orleans Saints. Hinton was a rookie receiver on the practice squad that year but because he played some quarterback in his early years at Wake Forest, he was picked as an emergency quarterback when the Broncos' four quarterbacks -- Drew Lock, Brett Rypien, Jeff Driskel and Blake Bortless -- were prevented from playing in the game because of COVID protocols.
Hinton would seem to be a logical practice-squad candidate for the Broncos but don't be surprised if the New York Jets also make a play. Hinton's receivers coach his first three years in Denver was Zach Azzanni who now holds the same position with the Jets. And the Broncos' head coach last year, Nathaniel Hackett, is now the Jets' offensive coordinator. Hinton had a career-best 24 catches for 311 yards in Hackett's system last year.
Prince started the Broncos' first preseason game at right tackle in place of the injured Mike McGlinchey but struggled in that game to the point veteran Cam Fleming and undrafted rookie Alex Palczewski moved ahead of him on the unofficial depth chart.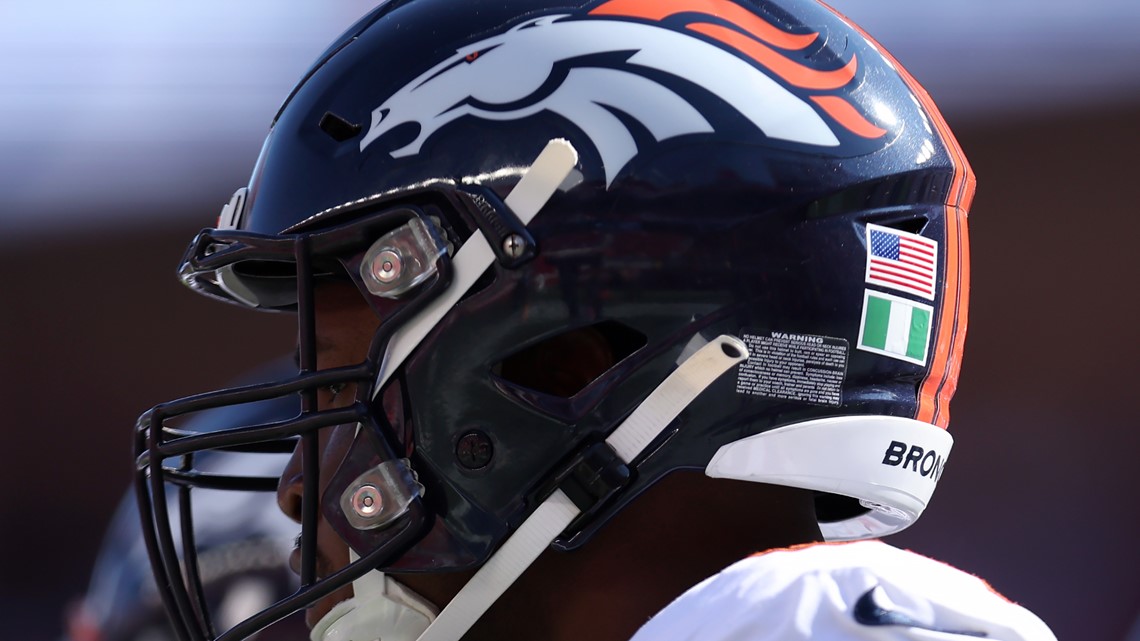 MORE WAYS TO GET 9NEWS
ADD THE 9NEWS+ APP TO YOUR STREAMING DEVICE
ROKU: add the channel from the ROKU store or by searching for KUSA.
For both Apple TV and Fire TV, search for "9news" to find the free app to add to your account. Another option for Fire TV is to have the app delivered directly to your Fire TV through Amazon.