Look closely at the two teams that made the Super Bowl.
Now look back at what Philadelphia and New England did against the Broncos this season.
Quick summation: The Broncos are a lo-o-ong way from Super Bowl contention.
The Broncos played the Eagles and Patriots in back-to-back weeks. They got blown out both times by a combined score of 92-39.
Those two losses run counter to what the Broncos believe is their problem. Brock Osweiler was the Broncos quarterback against both the Eagles and Patriots. And he played pretty well.
When you lose to the Eagles and Patriots by a combined 53 points, the problems go well beyond the quarterback. Let's start with the Denver defense isn't as great as it thinks it is. Allowing 92 points in two games is not great.
The Broncos this offseason need an inside linebacker, interior defensive lineman who can get to the quarterback (Malik Jackson, in other words) and a cornerback on defense.
And they need a tight end, right tackle and more speed on offense, whether that comes from the receiver or running back position, or both.
The Broncos coaches are in Mobile, Alabama this week, lending hands-on instruction to rookie prospects in the Senior Bowl. If general manager John Elway and head Vance Joseph are going to lead the Broncos back to Super Bowl contention, they need to check out far more players than quarterbacks Baker Mayfield and Josh Allen.
Here are 12 players the Broncos should pay close attention to at the Senior Bowl (Name, position, college, Senior Bowl roster):
1. Baker Mayfield, QB, Oklahoma, North
A fierce competitor who loves football. He can move and throw on the run, but is he too small to consistently operate from the pocket?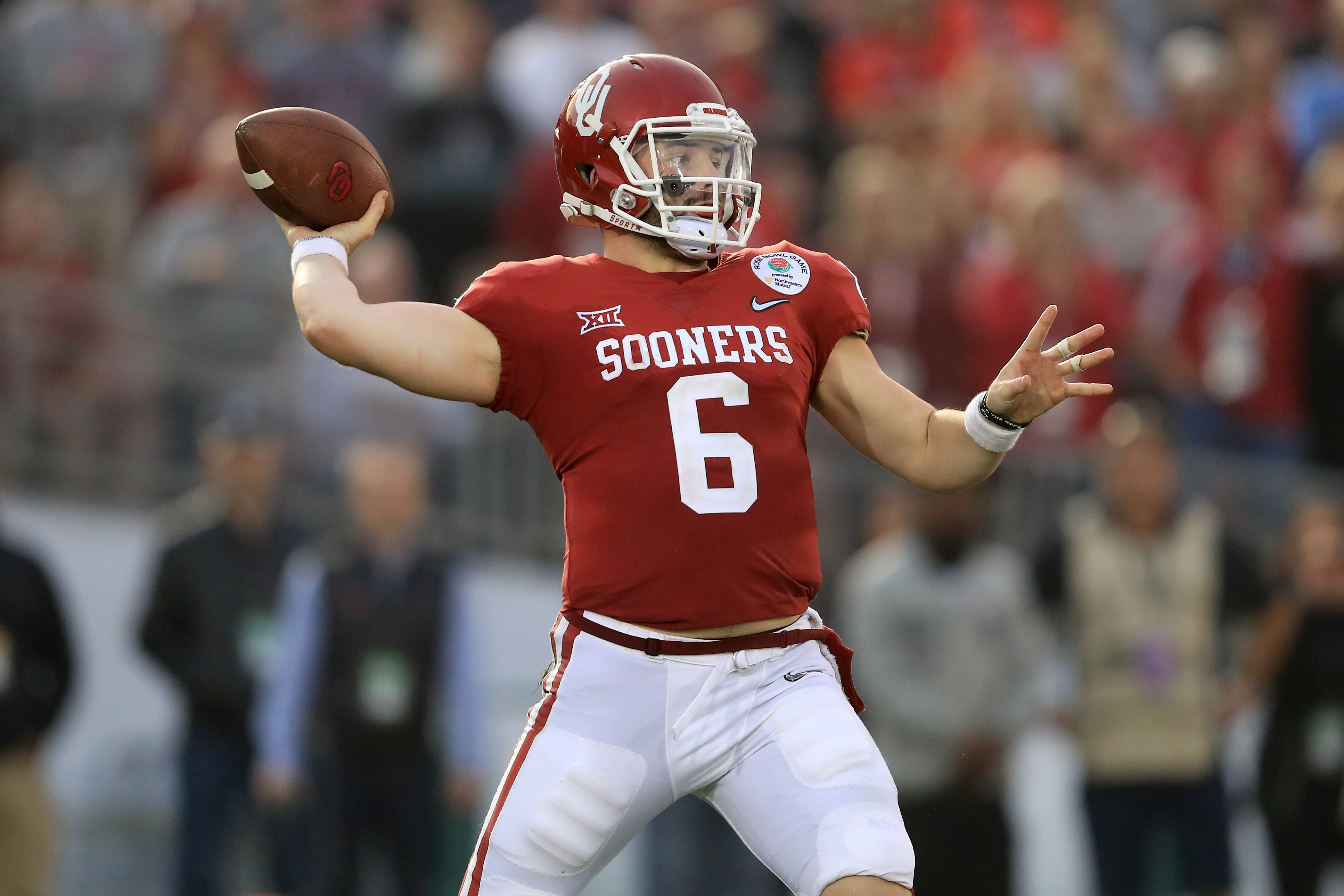 2. Josh Allen, QB, Wyoming, North
He's big, athletic and has a great, high-velocity arm. Accuracy, footwork and decision-making are under inspection.
3. Will Hernandez, G, UTEP, North
His college head coach was Sean Kugler, who is now the Broncos' offensive line coach. Hernandez is one of the three-best guards in this draft.
4. James Washington, WR, Oklahoma State, South
He's got a chance to become a deep-ball threat.
5. Harris Phillips, DE/DT, Stanford, North
A 295-pounder who had 7.5 sacks as a senior. He'd be an ideal 5-technique defensive end in the Broncos' 3-4 system.
6. Marcus Davenport, DE, Texas-San Antonio, South
May be difficult finding a position for the 6-7, 256-pound tweener but he can rush the passer.
7. Micah Kiser, ILB, Virginia, South
A tackling machine who could replace Todd Davis, but probably not Brandon Marshall.
8. Dorian O'Daniel, ILB, Clemson, South
A smaller inside linebacker who has the versatility who might be able to replace Marshall in another year or two.
9. Kameron Kelly, CB, San Diego State, South
He's 6-foot-2, 200 who switched from safety to corner as a senior. He was a receiver as a freshman.
10. Danny Johnson, CB, Southern, South
Runs a 4.4, 40 and had 7 interceptions this season. He could be a Broncos' nickelback if Chris Harris Jr. stays outside.
11. Durham Smythe, TE, Notre Dame, North
Little receiving production but can block and catch.
12. Rashaad Penny, RB, San Diego State, South
A one-cut, 220-pound, downhill runner who rushed for 2,248 yards on 7.8 yards per carry and 23 touchdowns.