ENGLEWOOD, Colo. — They will need their badges to get through the gated parking lot.
But John Elway and his kitchen cabinet will be at UCHealth Training Center Monday, ready to call agents representing unrestricted free-agent players by 10 a.m.
The rest of the building is on mandatory shutdown. Even the weight room is off limits. But with player union leaders insisting the non-public event that is free agency must go on, the show will begin as scheduled this week. The soft opening negotiating window between teams and agents begins today and runs until the league year officially begins at 2 p.m. Wednesday.
It's Elway's time of year.
"John Elway, Vic Fangio and the rest of our football operations have a plan in place for the start of free agency, and we will be ready to improve our team as soon as the league year begins,'' Broncos chief executive officer Joe Ellis said in a memo to his employees Sunday afternoon that otherwise announced a mandatory shutdown to all other non-Elway-related employees -- but also a payment plan to part-time, hourly and intern workers who will have shifts canceled because of the coronavirus pandemic.

The Elway free-agent plan for 2020 will concentrate initially on defensive linemen, a guard or center, and cornerback.
A splash play for a running back or receiver is possible if not probable. The Broncos also have a need for a veteran backup quarterback and a rangy inside linebacker.
Here is 9NEWS updated list of free agent players the Broncos may target, in no particular order (but maybe):
DEFENSIVE LINEMEN
D.J. Reader, 6-3, 347, Texans
The Broncos figure to be one of five teams in on the athletic run staffer who can get in the backfield.
Jordan Phillips, 6-6, 341, Bills
The definition of a late-bloomer as he had just 5.5 sacks in his first four seasons with Miami and Buffalo, then broke out for 9.5 sacks last year.
One-year production, though, is buyer beware.
Quinton Jefferson, 6-4, 291, Seahawks
A new addition to the 9NEWS list of possibilities. Another late-bloomer who has the length Fangio likes in his 3-4 defensive ends. Had 3.0 and 3.5 sacks from his 4-3 defensive tackle position the past two years.
Derek Wolfe, 6-5, 290/Shelby Harris, 6-2, 289, Broncos
There are so many quality interior defensive linemen in the free-agent pool, one of these Broncos' quality 3-4 defensive ends may wind up with a disappointing market. If so, the Broncos would be interested in bringing either Wolfe or Harris back.

GUARD/CENTER
Joe Thuney, 6-5, 308, Patriots
He started in three Super Bowls in his first three years and 74 games overall at left guard in his four seasons. The Broncos need is at right guard but Thuney (pronounced Too-ney) would work if left guard Dalton Risner, who played right tackle in college, can switch to the other side.
Graham Glasgow, 6-6, 308, Lions
Like Broncos free-agent Connor McGovern, Glasgow is a center and guard.
Connor McGovern, 6-4, 306, Broncos
Started 36 of the team's past 37 games at center and right guard. His agent is Tom Condon, who is not known for taking discounts.

CORNERBACK
Logan Ryan, 5-11, 195, Titans
He's going into this third contract at 29, but he's coming off a four interception-four forced fumble season. Starts outside but then moves into the slot – as Chris Harris Jr. did for so many years with the Broncos.
Prince Amukamara, CB, Bears
Played well for Fangio and Broncos' defensive coordinator Ed Donatell in 2017-18 in Chicago. Turns 31 in June. It was speculated from the moment he was released by Bears last month he would wind up with the Broncos because of Fangio/Donatell connection.
Kevin Johnson, CB, Bills
There is an abundance of solid slot corners in the free-agent market – probably because teams don't like to overpay slot corners. The Broncos have already invested a combined $20 million in 2020 dollars into A.J. Bouye ($13.5 million) and Bryce Callahan ($6.5 million), so they could a nice slot corner at a slot-corner price.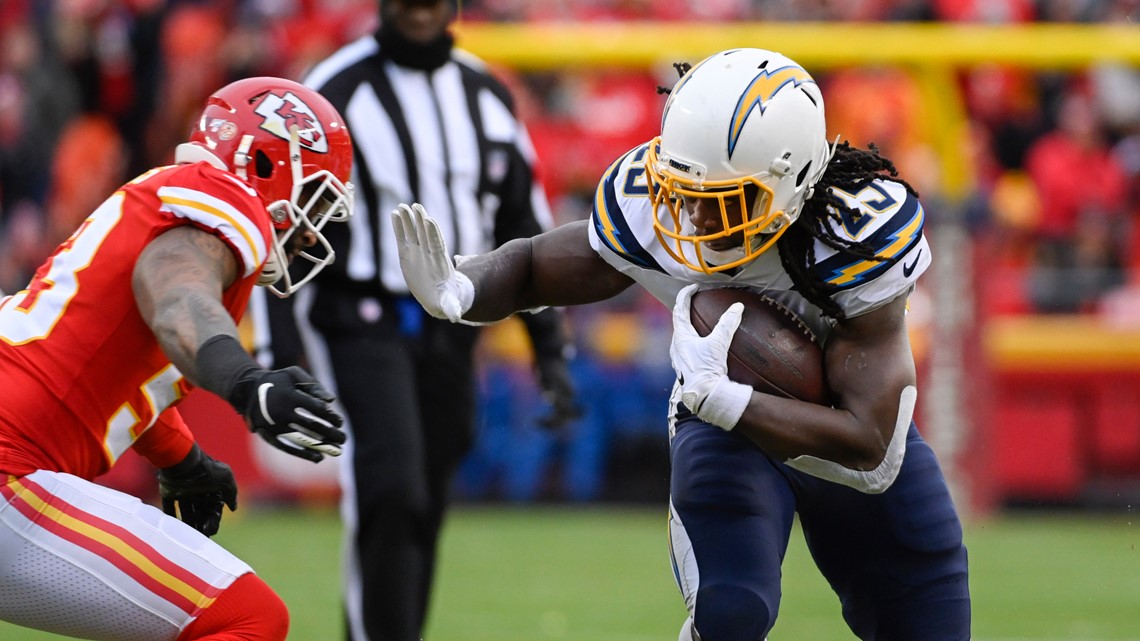 OFFENSIVE SKILL POSITIONS
These areas may not be addressed in Day 1 of free agency, although Elway has said acquiring weapons for second-year quarterback Drew Lock is his top offseason priority overall.
Melvin Gordon, RB, Chargers
Two other teams are ready to move on the bell cow-type back, per source, but the Broncos will monitor.
Amari Cooper, WR, Cowboys
Likely too expensive with contract expectations between $15 million and $20 million per year.
Chase Daniel, QB, Bears
Longtime backup has history with Fangio. Knows how to come off the bench and move his team.
Blake Bortles, QB, Rams
The Broncos were interested in the former Jaguars' starter last year, although they never made an offer as Bortles made it clear he wanted to rehab his career with Sean McVay. Too bad for him because he sat all year behind Jared Goff and he would have played plenty for the Broncos.
Austin Hopper, TE, Falcons
His position coach through the first three years of his four-year career was now Broncos' tight end coach Wade Harman.