A postman after a three-day holiday doesn't sort through as big a bundle of letters as 9NEWS did for its latest Broncos mailbag.
The first 9 letters received were answered here:
Mike — Does Phil Lindsay qualify for the rookie post-year bonus pool to players who outperform their draft position substantially?
If no, there should be an amendment fixing that obvious problem and it should be named after Phil. If yes, I'm guessing he more than doubled his salary with the bonus going from undrafted free agent to Pro Bowl and 1,000 yards. —Tom Boyer, Centennial
Tom — Lindsay did get a $201,592 performance bonus, although it was based on playing time, not his 1,000-yard season. All players, not just rookies, get a performance bonus at season's end that is based on a formula that weighs scheduled pay out vs. playing time.
The less you make and the more you play, the greater the bonus.
Guard-center Connor McGovern got the largest bonus among Broncos at $445,424. Chad Kelly got the smallest at $354 – not bad for a one-snap kneel-down.
Lindsay otherwise got a $480,000 rookie minimum salary and a $15,000 signing bonus that was tied with Jeff Holland for the largest among the Broncos' undrafted rookies in 2018.
So Lindsay's performance bonus bumped his pay 41 percent. Lindsay did set a precedent by becoming the first undrafted offensive rookie to be named to the Pro Bowl.
He is scheduled to make a first-year minimum salary of $570,000 this year. He and the Broncos are not allowed to renegotiate his rookie contract until after this season. If he has another 1,000-yard season, you can bet they will.

Matt — Three questions. Here goes:
1) Yes, the Broncos look at Lock as their franchise quarterback of the future. If all goes well, he will be their season-opening starter in 2021. Which could be a watershed season for the Broncos as it currently stands as the final contract year for both CEO/president Joe Ellis and general manager John Elway.
Lock in 2021 is the best-case scenario because that would mean Joe Flacco plays well and leads the Broncos to the playoffs these next two seasons.
2) As for the Lock plan vs. strategy used for Paxton Lynch, I remember Gary Kubiak coaching Lynch up hard in Lynch's first season of 2016. The idea at the time was for Lynch to start at some point in his rookie season. There was never a plan for Trevor Siemian to become the starter.
Plans changed when Lynch didn't come along as hoped and Siemian far outperformed his seventh-round status.
With Lock, the plan is for him to observe and absorb this season. And then see how Flacco plays, how Lock is developing, and take it from there.
3) As for not waiting until next year to take a first-round quarterback, the Broncos plan to be drafting in the 20s in 2020. The highest pick among playoff teams is No. 20. The top three or four quarterbacks should be gone by then.
Elway and his top personnel assistant Matt Russell liked Lock from the get-go last season. They did consider him a first-round talent who dropped to the second round. Why wait till next year, when a quarterback you like is there now at No. 42?

When will the Broncos update their uniforms? Like many in Broncos Country, I'm a diehard and a fan for life but our jersey shells and pants are dated. I love our logo and helmets but really feel we need a more traditional look. When will we make an update to our unis? — Michael Caden Los Angeles CA. Originally from Denver
Michael – I have a different take. As soon as you go to a new uniform, those $319.99 authentic Von Miller jerseys at the Broncos' Team Stores become outdated. An authentic, custom Phillip Lindsay jersey is $399. Hate to hang it in the mothball section of the closet after a year or two.
The Broncos changed their uniforms from the dark-blue home jerseys to predominantly orange in 2012. Just in time for the arrival of Peyton Manning.
It was only their third major uniform re-design in the past 51 years. They wore those pumpkin-orange tops, white pants, straight stripes and light blue helmets from 1968-96, or 29 seasons.
Then they went with the Chicago Bears-like navy blue tops, white pants, Nike swoosh stripes and darker-blue helmets with the meaner Bronco logo in 1997, which held through 2011, or 15 years.
They then went back to the orange top -- if darker orange -- in 2012, which they will use for going on their eighth season.
I say no uniform changes until 2021 when there could be all kinds of changes at Dove Valley.

Mike, enjoy your Broncos coverage and insight. 14 years for Broncos? Let's go 14 more years.
Any chance the Broncos inquire about a trade with the Jets for ILB? Also, although we hear Josey Jewell is physically limited are we missing something? Is it possible Vic Fangio believes Jewell can get the job done — Steve Buerge, Highlands Ranch
Steve — Yes, it's been 14 years on the Broncos' beat, starting my 15th season. I assume you are talking about acquiring Jets' inside linebacker Darron Lee, who apparently has not played up to expectations since he was the No. 20 overall pick in the first round of the 2016 draft.
The Jets did not pick up his fifth-year, $9.501 million option for 2020. The Jets also signed inside linebacker C.J. Mosley to a huge contract in free agency.
Lee did seem to be playing well until he was suspended from the final four games of last season for violating the league's substance abuse policy.
All this seems to put Lee on borrowed time with the Jets. But the Broncos had a chance to take speedy inside linebacker Devin Bush with the No. 10 pick a few days ago and passed in favor of a trade back that resulted in tight end Noah Fant and Drew Lock.
In part, this decision was made because the Broncos do think Todd Davis and Josey Jewell are pretty good players. They may not have the speed you'd like on third downs, but still they're too good to ride the bench.

Mike is there any chance the Broncos bring back Shane Ray? — Shane Ellis
Shane -- That would be a longshot in part because Ray would rather not return after his fifth-year option wasn't picked up by the team last year and he was benched, along with safety Su'a Cravens, from the final four games last season. Ray did visit with the Indianapolis Colts and Seattle Seahawks this offseason but left each place without signing. This would be an indication he got a low offer that he's not ready to accept.
Do you think Su'a Cravens has a role in this year's defense? — Justin Majka
Justin – After a rough 2018 season, Cravens is getting a second chance this year. He is competing for the dime-linebacker/strong safety position. Will Parks held that spot last year. Some of the decision to keep Cravens figures to involve the comeback of strong safety Jamal Carter, who missed all of last season with a torn hamstring.
Cravens must re-impress his new defensive coaches, Vic Fangio and Ed Donatell.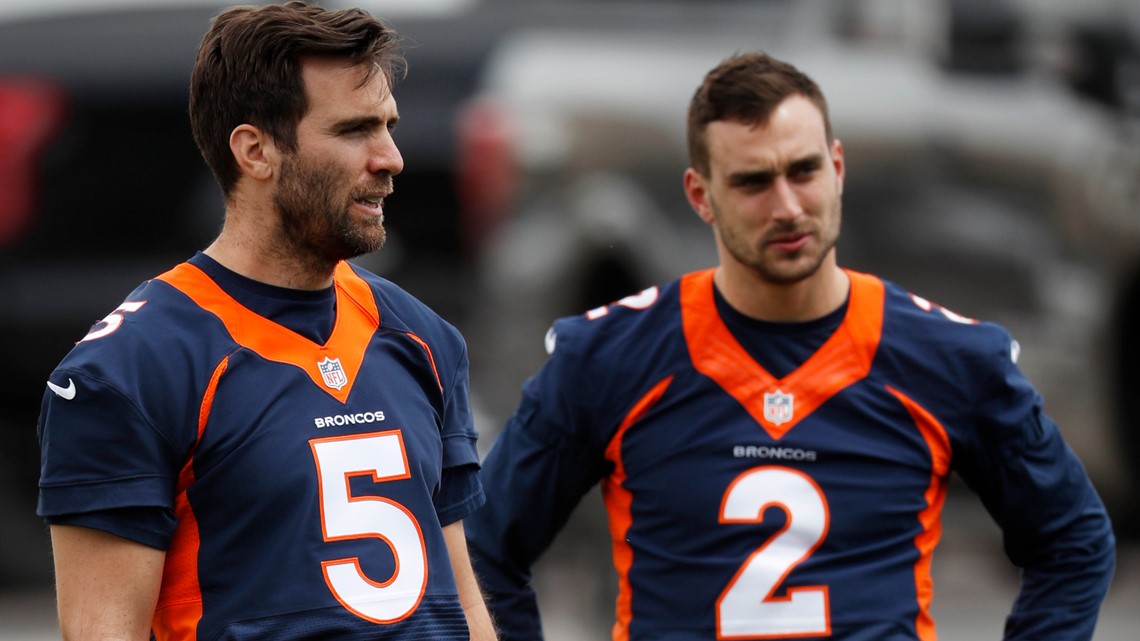 Hey Mike, do you believe the plan at QB for this draft was always to come away with multiple players? It just seems that we were either planning for Flacco not being around long or they really liked Brett Rypien. He got a rather healthy undrafted free-agent deal. —Adrian Watson
Adrian — They went into the draft knowing they had to take one quarterback. It was a must because they didn't have one after losing Paxton Lynch to performance and Chad Kelly to behavioral issues last year.
Rypien was similar to Lock in that he fell past where the Broncos had him rated. Broncos' offensive coordinator Rich Scangarello liked Rypien enough to draft him in the mid- to late-rounds.
When he fell out of the draft, the Broncos felt he held too much value as an undrafted rookie not to make a run at signing him, even if they did give him an unusually large $146,000 guarantee.The Lock-Rypien pickups with Flacco as the first-year starter is somewhat like the Green Bay Packers' draft strategy in 2008. Aaron Rodgers was going to replace Brett Favre and become a first-year starter, but that same year the Packers took quarterbacks Brian Brohm in the second round and Matt Flynn in the seventh.
Brohm was waived after just one season and Flynn only made two starts in four years with the Packers. Rodgers never gave them a chance. No one is looking at it this way but it could turn out that Flacco plays so well, Lock and Rypien never get a chance here. But Elway finally has his quarterback room the way he drew it up – a proven starter (Flacco), a proven backup (Kevin Hogan) and two young developmental prospects (Lock, Rypien).
Do you see anyway Drew Lock starts this year barring a Flacco injury? Are the Broncos willing to stick with Flacco if he struggles?
If he has two bad games in a row, the Broncos will still stick with him, even if there will be mounting public pressure to "put in Lock!"
But Flacco knows the NFL is a week-to-week business. He went 10 and a half seasons without getting replaced and only a series of events – his injury coupled his replacement Lamar Jackson sparking the Ravens – dropped him to No. 2 late last season.
I'd bet on Flacco remaining as the Broncos' starter through the 2019 season. But that's no guarantee. Like every NFL starting quarterback, Flacco will either have to play well, or his Broncos will have to win.
What area do you still see as the Bronco's most glaring weakness after the draft and free agency?
I still think that inside linebacker remains a concern. I like Jewell and Davis, but neither has the speed to go sideline to sideline and be a true cover guy and the Broncos have been fairly weak vs. tight ends over the years because of this. Their coverage of tight ends has come back to haunt them time and time again.
I also do not see a true nose tackle on the roster. Shelby Harris is more suited for passing downs that being that early down run stopper type and I do not think that they have truly replaced Domata Peko.
I think that they could use a little depth at receiver and Flacco has had a lot of success with a burner.
Jon – You pretty much nailed it. Not having a third-down inside linebacker can be compensated with an extra safety. More teams are doing that anyway.
This is a big year for Shelby Harris, just as last season was for Bradley Roby. Both were exceptional backup players. But how would they do in their first year as a true starter? The reviews were mixed on Roby as he was allowed to leave -- only to land a $10 million, one-year contract with the Texans.
Also keep in mind that while new head coach Vic Fangio employ the nose tackle in his base defense, he usually doesn't use the stereotypical 330-pound guy. He likes to defensive tackles to be move better than the typical nose. Not that Peko couldn't move. He actually was quite agile.
I do think the Broncos needed a veteran receiver as protection against Emmanuel Sanders' recovery from Achilles surgery. But the team is optimistic Sanders will make a full recovery and it also believes Courtland Sutton and DaeSean Hamilton will make sizeable steps up from their rookie years.
One more possible area of concern: The offensive line. Dalton Risner takes care of one guard spot, but Ron Leary needs to make an adequate recovery from his Achilles surgery to regain his left guard spot. Otherwise, the team is counting on Sam Jones or Don Barclay to step up.