ENGLEWOOD, Colo. — Monday is the first day NFL teams can formally issue permission requests to interview head coaching candidates employed by other teams.
The Denver Broncos aren't wasting time as they have already sent out multiple requests today.
Three defensive coordinators — Raheem Morris of the Los Angeles Rams, DeMeco Ryans of the San Francisco 49ers and the Cowboys' Dan Quinn — received permission requests from the Broncos to interview for Denver's head coach position, sources tell 9NEWS.
Morris and Quinn have previous head coach experience, which the Broncos' Greg Penner-led search group prefers, while Ryans does not, which means the search committee is not narrowing its scope.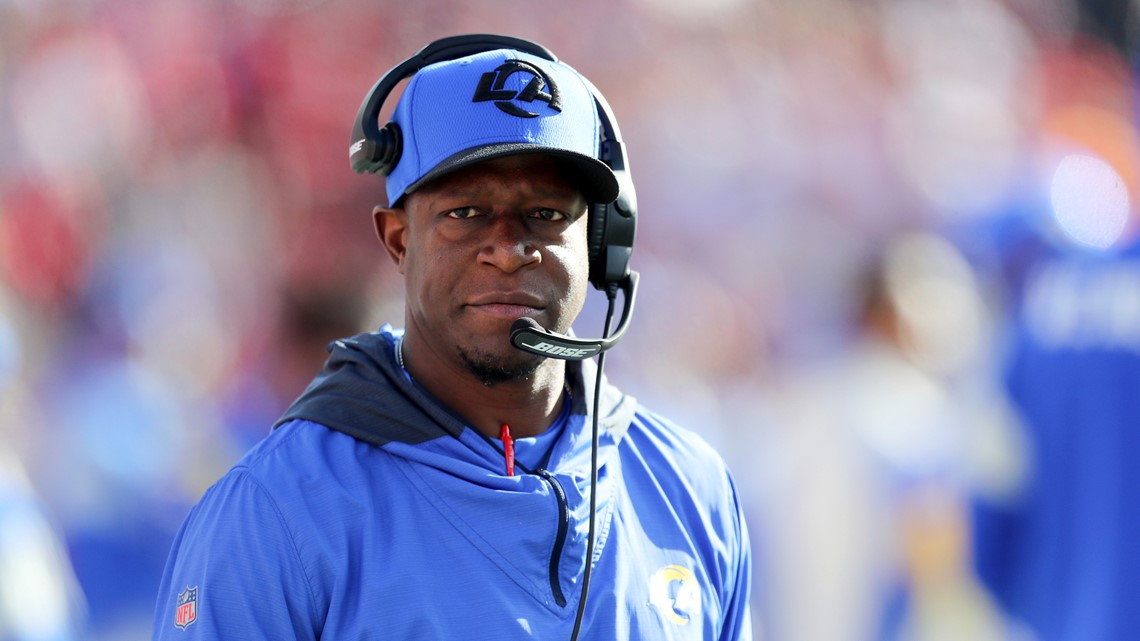 Raheem Morris
Morris, 46, has 19 years of NFL coaching experience, mostly on the defensive side although he did have four years as a receivers/assistant head coach with Atlanta Falcons from 2016-19.
He had two stints as a head coach and there was success each time. His first was with Tampa Bay from 2009-11, as the Bucs transitioned from Jon Gruden. After going 3-13 in a rebuilding first year, Morris guided the Bucs to a 10-6 record in 2010 (where recent Broncos' practice squad quarterback Josh Johnson was his backup to starter Josh Freeman).
After he was let go by Tampa Bay, Morris continued to find NFL jobs as a defensive backs coach and coordinator. He became the Falcons' interim head coach in 2020, replacing Quinn who was fired after an 0-5 start. Morris immediately had the Falcons playing better, winning three of his first four, including a 34-27 victory against the Broncos.
Morris was the defensive coordinator for the Super Bowl Rams last season and their defense was still playing tough this year, as was evident in Los Angeles' 51-14 Christmas Day whipping of the Broncos. The day after Christmas, Penner, the Broncos' CEO and owner, fired head coach Nathaniel Hackett.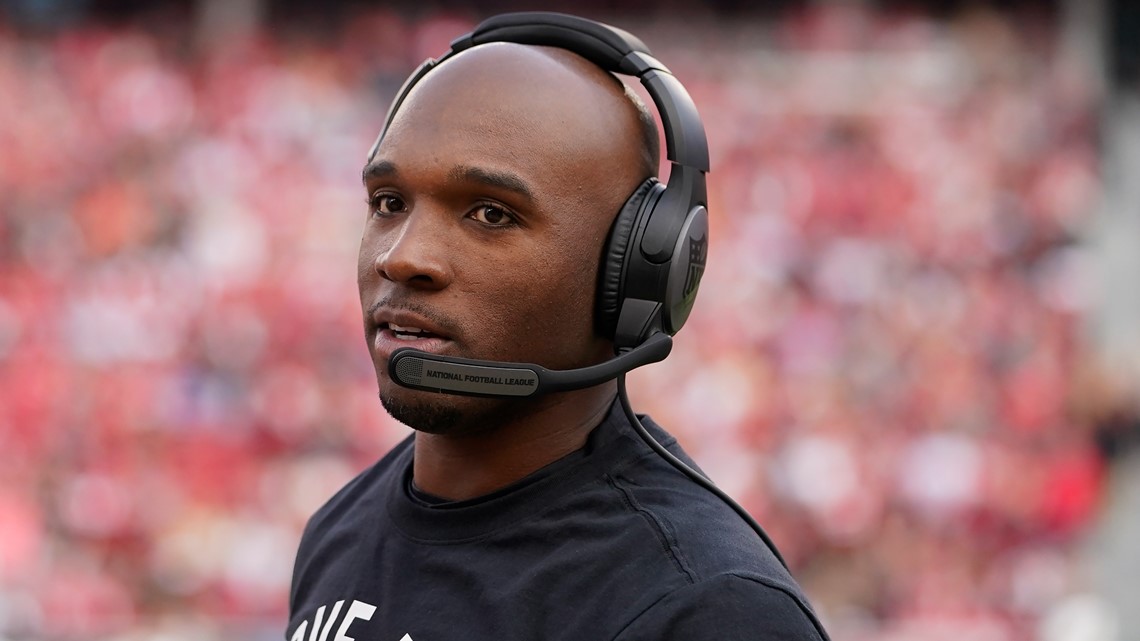 DeMeco Ryans
Ryans, 38, will be this year's hot new candidate as his 49ers finished No. 1 in both scoring defense (16.3 points per game) and yards allowed (300.6 yards per game). He had an impressive 10-year playing career as an inside linebacker with Houston and Philadelphia before starting his coaching career on the bottom rung as a quality control coach in 2017. He was bumped up to inside linebackers coach in 2018 and replaced Robert Saleh as the 49ers' defensive coordinator in 2021.
The 49ers ranked No. 3 in total defense and No. 10 in points allowed in Ryans' first season, when San Francisco reached the NFC Championship Game, then improved all the way to No. 1 in each category this year. Two of the Broncos' best defensive players, nickel corner K'Waun Williams and defensive tackle D.J. Jones, played for San Francisco and Ryans.

Dan Quinn
Quinn, a finalist for the Broncos' head coaching job that went to Nathaniel Hackett last year, is likely to be ranked among the Broncos' top three choices again this year, along with Michigan head coach Jim Harbaugh and former New Orleans Saints head coach Sean Payton.
As defensive coordinator for a Cowboys team that plays Tampa Bay next Monday night in a first-round NFC playoff game, Quinn probably wouldn't be available to interview until next Wednesday, Jan. 18, at the earliest.
Quinn was supposed to get a second interview with the Broncos last January, but it was cancelled after general manager George Paton decided to hire Hackett, who was fired the day after Christmas with a 4-11 record.
Quinn has two things going for him: One, he was Seattle's defensive coordinator in 2013-14 when the Seahawks went to back-to-back Super Bowls with Russell Wilson as their quarterback. So he knows Russ.
"I know him personally, too,'' Wilson said of Quinn after the Broncos beat the Chargers, 31-28 in their season finale Sunday. "He's an amazing coach as well, an amazing person, an amazing soul, great leader."
Quinn, 52, also has previous head coaching experience as he led the Atlanta Falcons to an 11-5 record and Super Bowl appearance in 2016. His Falcons were leading the New England Patriots, 28-3 midway through the third quarter in Super Bowl LI but lost in overtime, 34-28, as Tom Brady overcame a pick six to throw for 466 yards in the comeback.
The Broncos will also hold an in-person head coach interview this week with their own defensive coordinator Ejiro Evero. The Houston Texans also put in a request Monday to interview Evero for their head coach position, a source confirmed. A virtual interview with Harbaugh has also been scheduled for this week and the Broncos' head coach search committee also plans to interview Sean Payton when he becomes available next Tuesday, Jan. 17.
Sean Payton remains under contract with the Saints through 2024 and would require draft pick/player compensation from a team that wants to hire him as head coach.
9NEWS+
9NEWS+ has multiple live daily shows including 9NEWS Mornings, Next with Kyle Clark and 9NEWS+ Daily, an original streaming program. 9NEWS+ is where you can watch live breaking news, weather updates, and press conferences. You can also replay recent newscasts and find videos on demand of our top stories, local politics, investigations and Colorado specific features.
PHOTOS | Broncos vs. Chargers