ENGLEWOOD, Colo. — The Broncos filled their void at right guard in a big way Monday by reaching agreement with former Detroit Lion Graham Glasgow on a four-year, $44 million contract, multiple sources told 9NEWS, which was the first to report on the transaction.
The 6-foot-6, 308-pound Glasgow was a four-year starter for the Lions at left guard, right guard and center – he will be the Broncos' starting right guard and backup center – who was the top offensive lineman on the free-agent market after New England surprisingly placed the $14.78 million franchise tag on left guard Joe Thuney.
Thuney, though, figured to be too expensive and general manager John Elway had zeroed in on Glasgow as his top target in large part because of his center-guard versatility.
Glasgow was asked to tell Broncos fans what he's going to bring the team.
"I work extremely hard and I make sure that I give it my all all the time,'' Glasgow said in a phone interview with 9News. "I'm extremely versatile and I feel like I can give the team a lot of options of what I can play. I feel like I can play at a very high level.I'm just really excited to come to Denver and get to work.''
The New York Jets, Miami Dolphins and at least one other team were in on Glasgow, but the Broncos got him for two reasons.
One, Glasgow is a Midwest guy who immediately fell for Denver and Colorado when his Lions played a late-December game -- just another sunny, 67 degree, December 22nd day in Colorado -- against the Broncos. Glasgow thought it would be a great place for he and his new wife Ally and dog Gordy to live.
"When I came to Denver this past season and got to see the stadium, I liked the area around it and I thought the energy there was awesome,'' Glasgow said. "And when (agent Jim Ivler) told me it was a possibility to end up in Denver, I was super excited. It was definitely the top place I wanted to go.''
And two, the Broncos guaranteed $26 million of his $44 million with $24 million coming in his first two years.
Glasgow, 27, grew up with two younger brothers in the rural, Chicagoland area of DeKalb, Ill. and made a 29-mile, one-way communte to Aurora, Ill. and Marmion High School -- the same all boys Catholic school as longtime NFL coach Brad Childress.
"I really enjoyed the all-boys atmosphere and I feel like I get a lot of that in an NFL locker room,'' Glasgow said. "That's one of the reasons why I really enjoy playing football.''
Both his parents, Dr. Steven Glasgow and Dr. Michelle Glasgow, are orthopedic surgeons in the DeKalb area. So, what do your parents do?
Graham was the first of the Glasgow boys to attend and play football at the University of Michigan – he and his next younger brother, the Bengals' Ryan Glasgow, played together for the Wolverines and their youngest brother Jordan is still playing for Michigan.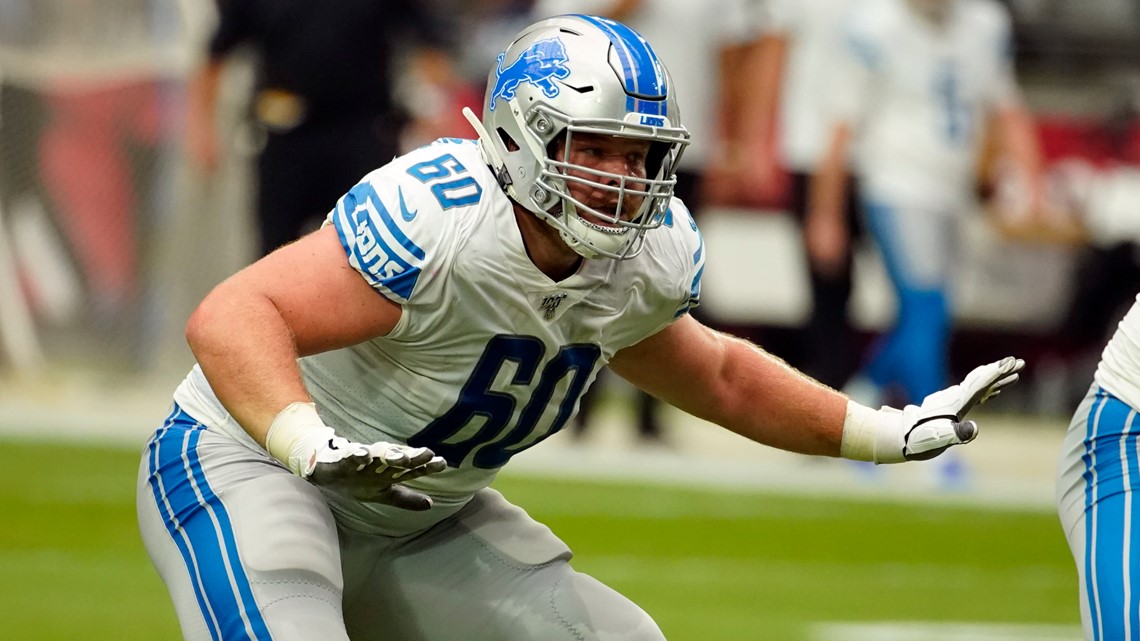 After playing four more years with the Lions in Detroit, Glasgow was becoming a Michigan man until free agency and his blocking ability led him to a lifestyle chance in Denver and the Broncos.
"I know their head coach is Vic Fangio who was in Chicago (as the Bears' defensive coordinator) for quite a while,'' Glasgow said. "I had quite a bit of experience against him. I know you have Elway there and he's a really big part of what you guys are doing and you guys just won a Super Bowl, when was that in 2015. I had an old teammate in college that was in Denver for that and that was Mike Schofield. He spoke very highly about the place when I was coming out of college and I'm really excited to see it for myself.''
As for that Lions game in Denver back in late-December, the Broncos rallied from a 17-13 fourth quarter deficit behind rookie Drew Lock to beat Detroit, 27-17. And now Glasgow's primary responsibility will be helping the Broncos' offensive line protect Lock.
"I knew that last year the Broncos did not start the year off well,'' said Glasgow. "And I thought that when he came in he ended up giving them a bit of a spark. Just seeing his swagger and the way he goes about playing the game, it's pretty exciting."
The Broncos also brought back restricted free-agent Elijah Wilkinson, a 17-game starter at right guard and right tackle the past two seasons, on a second-round, $3.25 million tender.
The team is also in the hunt for one or two of the free agent market's top defensive linemen, including Houston's D.J. Reader and Seattle's Quinton Jefferson among others. They are also targeting slot corners including Buffalo's Kevin Johnson among others, sources tell 9News.