ENGLEWOOD, Colo. — It had been a free agency more about substance than splash.
But now the Broncos have added plenty of splash in the form of a Flash – former Los Angeles Chargers' running back Melvin "Flash" Gordon.
Sources told 9NEWS the Broncos and Gordon reach agreement on a two-year, $16 million deal that will guarantee $13.5 million.
"It's crazy. I'm excited,'' Gordon said in a phone interview Friday afternoon with 9News. "I don't know too many people there but I'm really cool with Von (Miller). Know he's a great player I've been going up against.
"I haven't really watched too much of the offense of Denver. I know Phillip Lindsay. But when I've watched film, I watched the defense. And I know how special they are.
"But I'm excited. I watched a little film of them last night. I'm familiar with Lindsay, watching highlights. Excited to team up with him for another 1-2 punch. I'm excited to get rolling. I think they have good balance. They run the ball well. I think the scheme fits me. I'm excited to see what I can do."
The Broncos still plan on using Lindsay, who started his career with back-to-back 1,000-yard seasons for his hometown team. But Gordon, who is the superior pass-catching back that new offensive coordinator Pat Shurmur prefers in his system, will likely be the 1A back to Lindsay's 1B.
"I can't tell you how he feels right now,'' Gordon said of Lindsay. "I was just a one-two punch with Austin Ekeler so it's a little different for me. I don't want to say the wrong thing. I've got new teammates now, I'm trying to be all good. But I think he's going to continue to be a phenomenal player. The people in Denver are going to continue to love him. I know for sure he's going to keep rolling.
"He was at the Pro Bowl, we were there together (after 2018 season). Cool dude. I'm just excited to team up with him and see what we can do."
Broncos general manager John Elway has also added Pro Bowl cornerback A.J. Bouye and defensive tackle Jurrell Casey in exchange for Day 3 draft picks, and signed starting right guard Graham Glasgow and backup quarterback Jeff Driskel. Between the contracts assumed from Bouye ($26.94 million) and Casey ($37.92 million), and new deals to Glasgow ($44 million), Gordon ($16 million) and Driskel ($5 million), the Broncos have committed $129.86 million to start the league year.
Not bad for a skeleton personnel crew of Elway, Hurtado, top personnel assistant Matt Russell, head coach Vic Fangio, pro personnel director A.J. Durso, administrator Mark Thewes and public relations guru Patrick Smyth -- at otherwise shutdown Broncos headquarters that lunched on Snarf's sandwiches on Wednesday, local burritos Thursday and local barbecue Friday.
Gordon, who turns 27 on April 13, was sensational at the University of Wisconsin, rushing for 1,609 yards as a junior and 2,587 yards as a senior that ranks second all-time in NCAA Division I single-season history to Barry Sanders' 2,628 yards at Oklahoma State in 1988.
The No. 15 overall pick by the Los Angeles Chargers in 2015, Gordon had a star-crossed five seasons with the team. He had fumble problems as a rookie, then rushed for 997 yards in 13 games before an injury in his second season of 2016. He rushed 1,105 yards and caught another 58 passes for 476 yards and scored a combined 12 touchdowns in 2017.
After scoring zero touchdowns as a rookie, Gordon has been one of the league's most prolific scorers the past four seasons, scoring a combined 47 touchdowns rushing (36) and receiving (11). Gordon's receiving ability is a big reason why the Broncos targeted him instead of, say, Todd Gurley, who was also available.
"Definitely like it,'' Gordon said of catching the ball. "I want to get on the phone with someone so I can pinpoint exactly how they want to use me. And how they're going to use me and Lindsay together. I'm excited to see how this is going to go."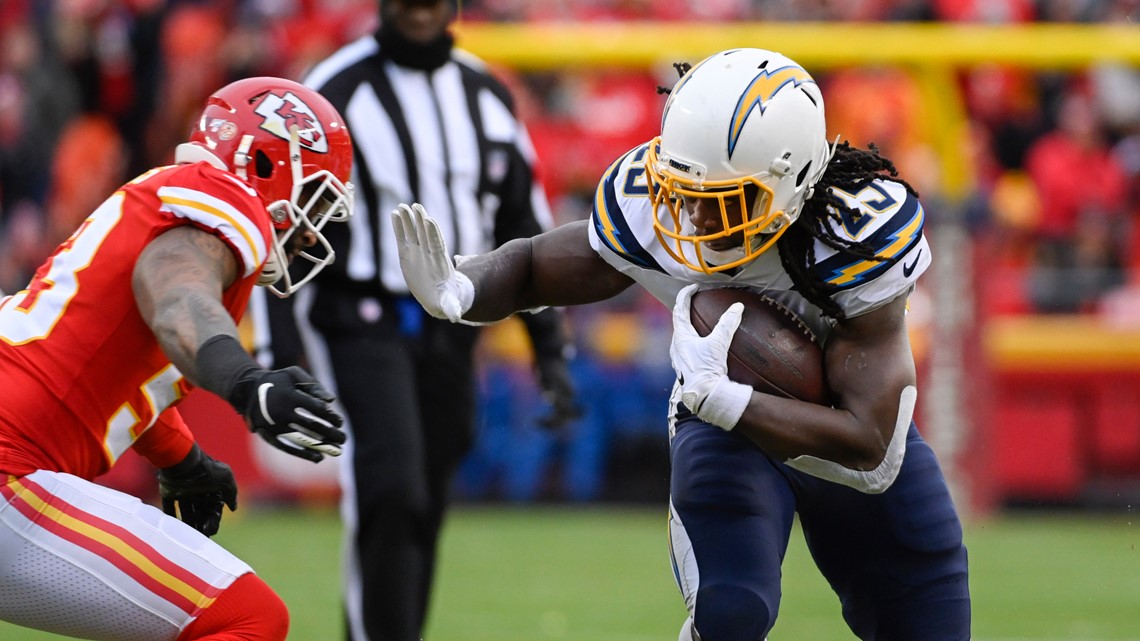 After playing his entire NFL career with veteran quarterback Philip Rivers, Gordon will now serve as a mentor to Drew Lock, who beat the Chargers last season in his NFL debut on December 1.
"I saw him up close,'' Gordon said. "They beat us that game, I believe (23-20). Young player. I haven't watched much on him but I know the game he played against us, he made some elite throws out there. Just hearing Von and hearing guys praise him in the media, it sounds like he's a great guy and he's going to be a helluva player. I'm excited to meet him."
The Broncos had put Gordon on their radar pretty much from their initial free-agent meetings as they sought a 20-carry-a-game running back who could do damage in the passing game. They were also interested in Arizona's David Johnson, but dropped out early in trade talks when the Broncos felt the Cards' asking price was a bit rich. (Johnson wound up going to Houston in a deal that brought superstar receiver DeAndre Hopkins to the desert).
At the onset of the NFL's negotiating period Monday, Rich Hurtado notified Gordon's agent Damarius Bilbo that the Broncos would not be in the $10 million a year range. Bilbo went shopping but wound up coming back to the Broncos for $8 million a year.
Talks really heated up late Thursday afternoon and it got done Friday morning.
The detailed breakdown of Gordon's two-year, $16 million deal:
2020: $4 million signing bonus; $4 million roster bonus; $1 million salary. Total: $9 million, fully guaranteed.
2021: $2.5 million roster camp roster bonus (non-guaranteed); $4.5 million (fully guaranteed); up to $500,000 in game-day active roster bonuses. Total: $7 million with $4.5 million fully guaranteed.
"In a difficult running back market they definitely – starting with Elway and Rich Hurtado – worked to show the guy's value and reward a running back,'' Bilbo said. "It's hard for people to look at a team signing a running back at that price after having a two-time 1,000-yard rusher (in Lindsay) but it says a lot about Melvin as a talent.
"A lot of appreciation for Broncos who in a difficult running back market where three of the top 5 guys had adjustments (Todd Gurley, Devonatae Freeman and Johnson) it was a tough deal but we got it done."