ENGLEWOOD, Colo. — It was April 2nd, the Broncos' first day of offseason conditioning, a day that traditionally brings out the No. 1 star from offense and top man on defense for press interviews.
Von Miller started it off as the defensive representative. The only choice.
Leading off the offensive side of the ball? Courtland Sutton.
Not only was the second-year receiver the offensive leadoff man to the start of the 2019 season, Sutton unprompted by the question used his first answer to immediately place enormous expectations upon himself.
"I'm excited going into this season knowing that I am going to get to be the No. 1 and I'll get all of the looks and all of the pressure,'' he said.
Yeah, man. Take your time healing up, Emmanuel Sanders.
It may be worth noting that leading into the April 2nd start, quarterback Joe Flacco and right tackle Ja'Wuan James had recently held their introductory press conferences and tight end Jeff Heuerman had just had his new contract presser.
In addition, head coach Vic Fangio doesn't like injured players to field questions about their injuries so that crossed off Emmanuel Sanders, Phillip Lindsay and Ron Leary.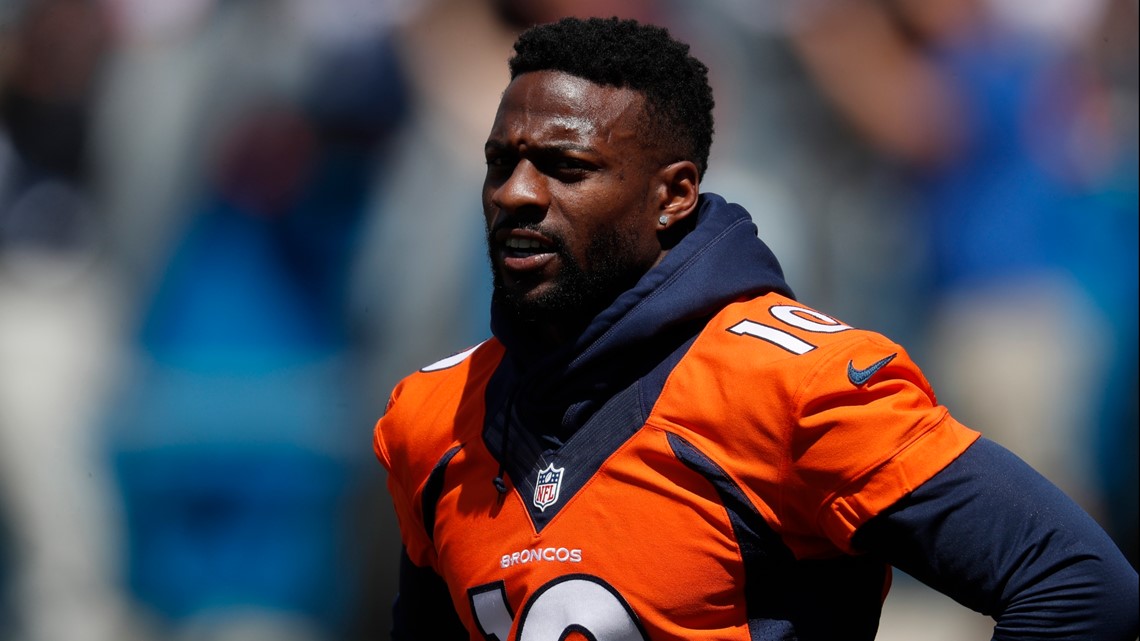 Still, the leadoff selection of Sutton may have been as much about 2019 expectation as 2018 accomplishment. Not that Sutton, a second-round draft pick a year ago, had to apologize for his rookie season. Only Atlanta's Calvin Ridley and Carolina's D.J. Moore had more productive seasons than Sutton's 704 yards (off 42 catches for an impressive 16.8-yard average) among NFL rookie receivers.
But if new passer Flacco and the Broncos' offense under new coordinator Rich Scangarello are to make an immediate positive impact in 2019, Sutton must do more in year two.
Sanders, who was the team's No. 1 receiver last year until he suffered a late-season Achilles injury, is not expected to be full-go for team drills until mid- to late-August.
Despite the uncertainty of Sanders' injury, Broncos' general manager John Elway did not reinforce the receiver position by bringing in a proven veteran or two. Why? Elway wanted to give his young core receivers – Sutton, DaeSean Hamilton and Tim Patrick – room to grow.
Sutton, as the most talented of the young trio, is the key. Based on his offseason work with Flacco, Sutton does have a great chance to meet his own expectations and become the team's No. 1 receiver.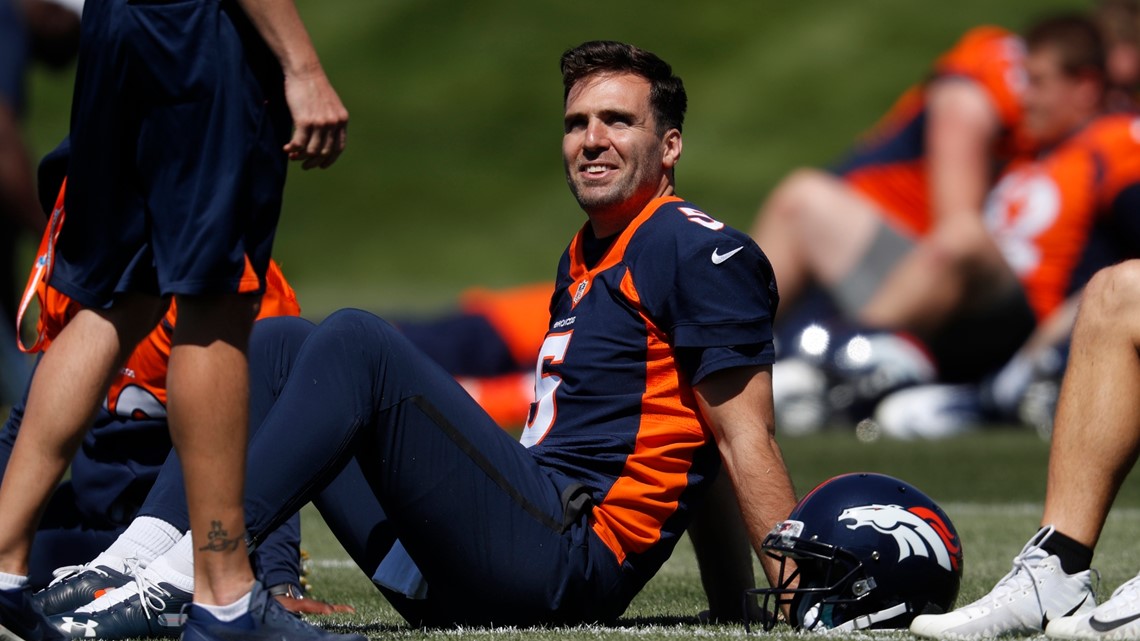 With the Broncos reporting to training camp in eight days, July 17, and the first practice next Thursday, July 18, here's a look at the Broncos' receiver position:
Overview
Entering the NFL's roster-tweaking season, I thought this was the Broncos' third most significant position of need, behind only quarterback and cornerback.
Sanders' Achilles injury at 32 years old and the unproven youngsters behind him left the Broncos vulnerable at this position, in my opinion.
But you can't fix everything about a 6-10 team in one offseason. Elway did significantly upgrade his quarterback (Flacco and Drew Lock) and cornerback (Bryce Callahan, Kareem Jackson) positions. And he prioritized the offensive line as a position of need by compensating for the departures of Matt Paradis and Billy Turner with the additions of Ja'Wuan James and Dalton Risner.
There wasn't enough remaining resources to address the receiver position. And so the Broncos' receiver group must count on the healthy return of Sanders and the continued improvement of Sutton, Hamilton and Patrick in year two.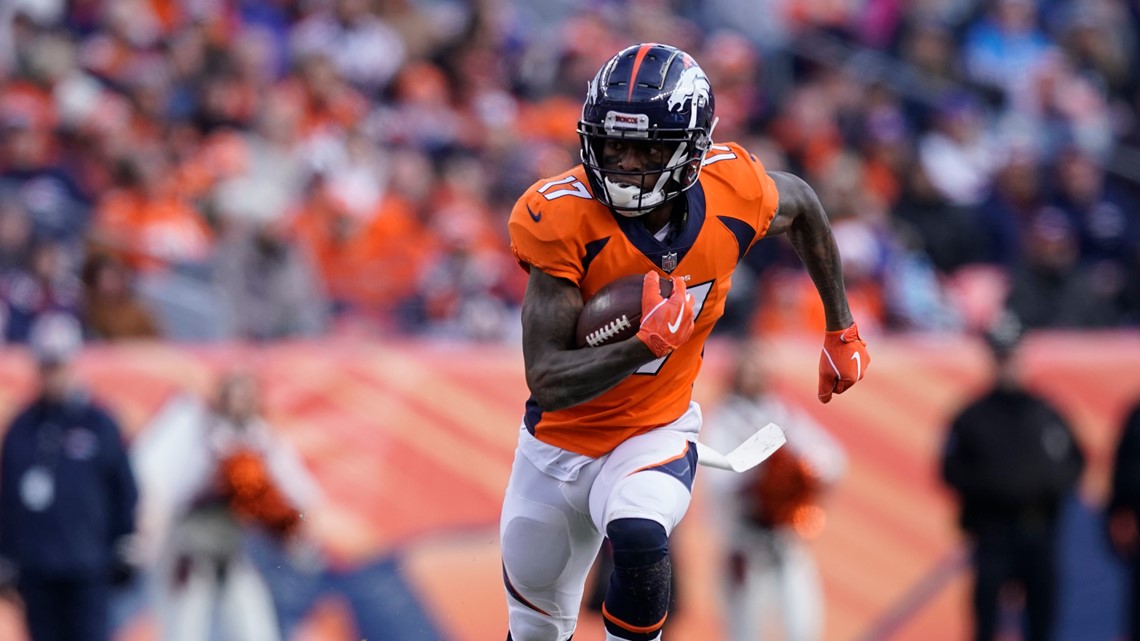 Starting three
Emmanuel Sanders
Courtland Sutton
DaeSean Hamilton
Sanders did most of his damage on first-and-10 last year (33 catches, 458 yards). Sutton had 13 catches for 204 yards on first down, 13 catches for 255 yards on second down and 15 catches for 217 yards on third down. Hamilton, the projected No. 3 receiver who will primarily work in the slot, had similar balance.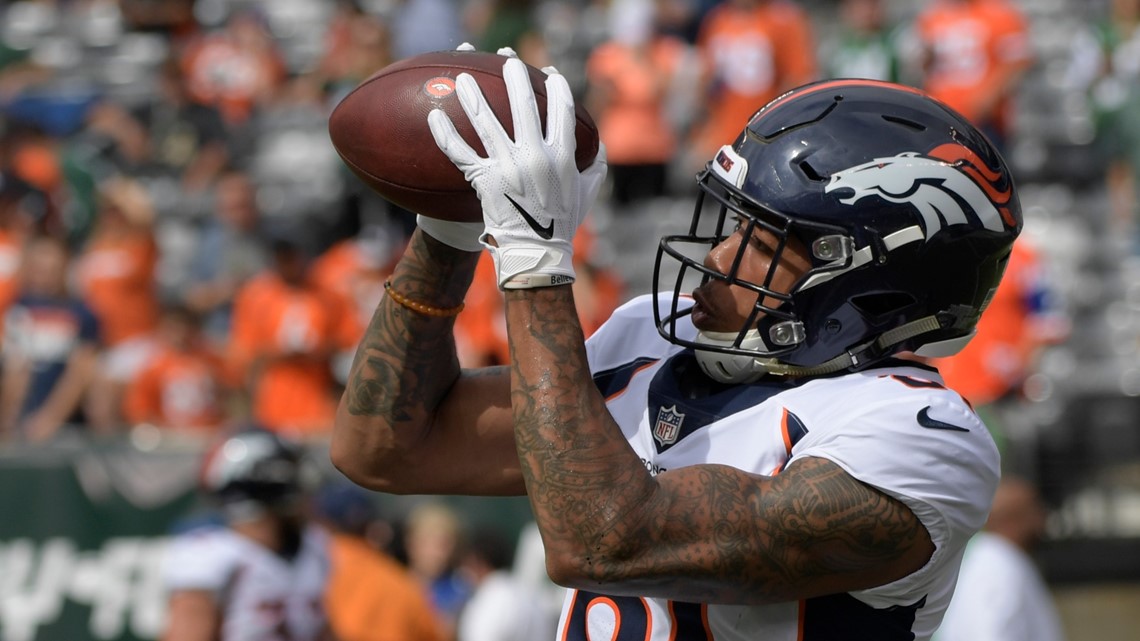 Backups
Tim Patrick may be listed as a No. 4 receiver, but he the lead the team with 242 receiving yards in the final four games last season after Sanders went down.
The No. 5 and 6 receiver spots are wide open. It would be a great story if Brendan Langley could successfully convert from cornerback, where he was drafted in the third round two years ago. But one reason it would be a great story is the odds are against him.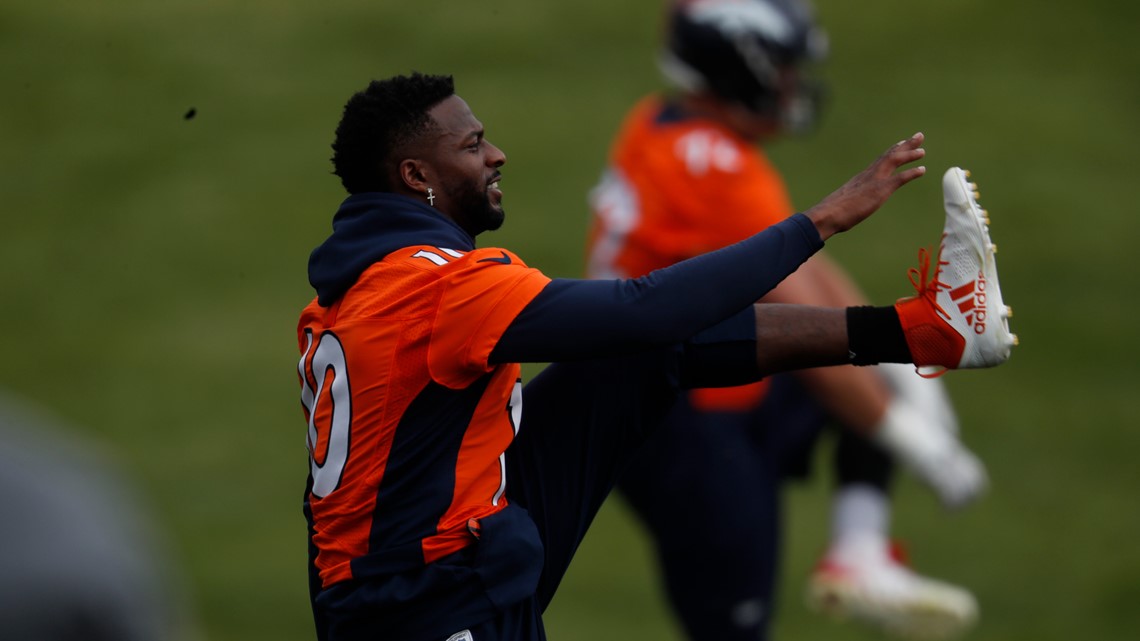 Camp watch
Sanders. There were times last year when quarterback Case Keenum would scan the field and see Demaryius Thomas and Sutton struggling to get away from their cornerbacks while Sanders would be open by 10 yards in the middle of the field.
There isn't much doubt the Broncos need not only Sanders to return, but return to form.
"Emmanuel he just has another … he's just very good,'' Broncos cornerback Chris Harris Jr. said in a sit-down interview with 9NEWS in June. "I think he's faster. He's one of the faster receivers that we've got. We got the big physical guys in Sutton and Tim Patrick but none of them have the kind of speed like Emmanuel does.
"So if he's able to get back to where he was with his route-running and his hands, Flacco is going to love him.''
Sanders is expected to participate in individual and position drills at some point in training camp, but it would make sense if he's not cleared for game competition until the week of the Broncos' preseason game at Los Angeles on August 24.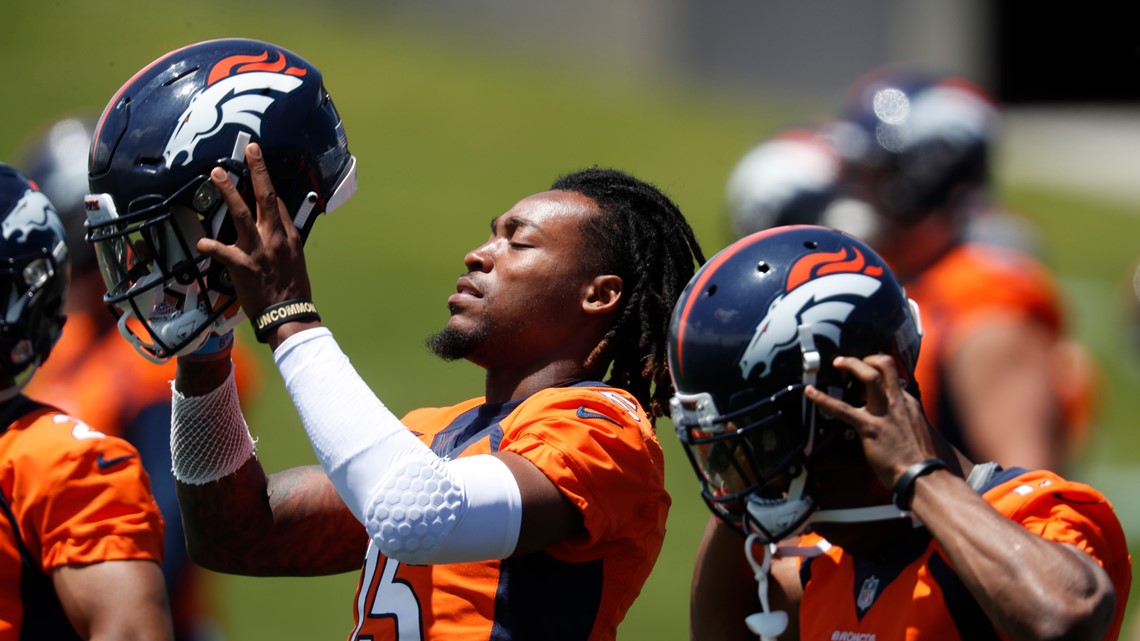 Camp competition
It would be a surprise if 5th-round rookie Juwann Winfree doesn't make the 53-man roster, although the jump to the 46-man, game day roster will be a tougher challenge for the former Colorado Buff.
Aaron Burbridge, who practiced for Scangarello in San Francisco, may have had the best offseason among the receivers not named Sanders, Sutton, Hamilton and Patrick. Then again, Burbridge had the advantage of knowing how to play within Scangarello's system.
Undrafted rookies Kelvin McKnight and Trinity Benson have a chance because they would bring a much-needed speed element to the room. Langley can run, too, and he also has special teams gunner experience.