ENGLEWOOD, Colo. — The first round of the NFL Draft went by Thursday without the Broncos suffering too much damage at their positions of need.
The Broncos did not have a first-round draft pick after they traded one to Seattle last year for quarterback Russell Wilson and another to New Orleans for the rights to sign head coach Sean Payton.
The Seahawks used the No. 5 overall selection they received from the Broncos to take Illinois cornerback Devon Witherspoon. New Orleans used its No. 29 pick from Denver to take Clemson defensive tackle Bryan Bresee.
The Broncos don't have a second-round draft pick either, again because of last year's Wilson trade. They do have the No. 67 and 68 picks early in the third round. The second and third rounds will be held Friday evening.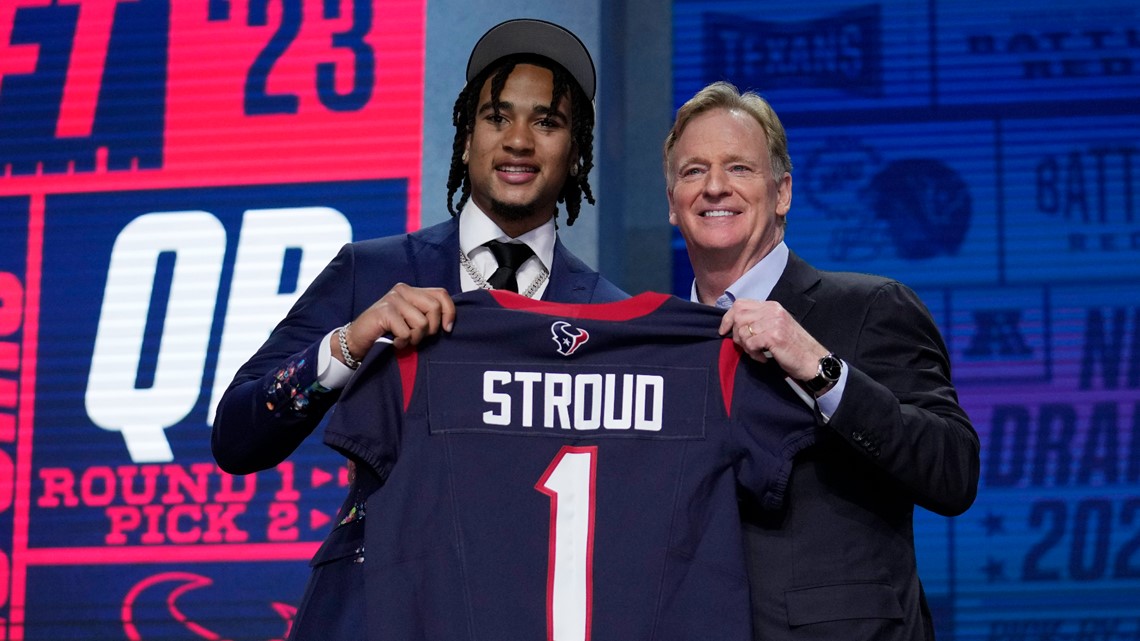 As for the Broncos' most pressing needs, no center or safety was taken in the first round and only one tight end – Utah's Dalton Kincaid. There were four cornerbacks drafted in the first round, however. Here's a look at some of the remaining draft prospects at center and tight end:
Centers
Joe Tippman, Wisconsin, 6-6, 313
Olusegun Oluwatimi, Michigan, 6-2 1/2, 309
Jarrett Patterson, C, Notre Dame, 6-5, 306
Luke Wypler, C, Ohio State, 6-2 ½, 303
Ricky Stromberg, Arkansas, 6-3, 306
John Michael Schmitz, C, Minnesota, 6-3, 301
Steve Avila, C, TCU, 6-3 ½, 332
Tight ends
Luke Musgrave, Oklahoma State, 6-6 ½, 253, 4.61
Sam LaPorta, Iowa, 6-3, 245, 4.59
Cameron Latu, Alabama, 6-4, 242, 4.78
Darnell Washington, Georgia, 6-6 ½, 264, 4.64
Tucker Kraft, South Dakota St., 64 ½, 254, 4.68
Josh Wylie, Cincinnati, 6-6 ½, 248, 4.69
Luke Schoonmaker, Michigan, 6-5, 251, 4.63
Brenton Strange, Penn State, 6-4, 253, 4.70
Safeties
Brian Branch, Alabama, 6-0, 190, 4.58
Jordan Battle, Alabama, 6-1, 209, 4.55
Greg Brooks, LSU, 5-10, 187, 4.55
Jay Ward, LSU, 6-1, 188, 4.55
Sydney Brown, Illinois, 5-10, 211, 4.47
Cornerbacks
Joey Porter Jr., Penn State, 6-3, 193, 4.46
Tyrique Stevenson, Miami, 6-0, 198, 4.45
Julius Brents, Kansas State, 6-3, 198, 4.53
Kelee Ringo, Georgia, 6-2, 207, 4.36
Kei'Trel Clark, Louisville, 5-10, 181, 4.42
Garrett Williams, Syracuse, 5-10, 192, 4.49
Receiver
Rashee Rice, SMU, 6-1, 204, 4.51