Iconic Colorado cartoonist Drew Litton joined the 9NEWS morning show on Friday to give us his take on the Denver Broncos 2018 season opener.
Drew created two brand new cartoons in just 45 minutes!
Like all of Broncos Country, Drew is optimistic about the revamped Broncos offense this year.
KUSA-TV
KUSA-TV
Have you ever wondered how Drew creates his more than 4,000 cartoons?
Check out our Facebook Live Video and Photo Gallery to see Drew in action.
This year, Drew will be creating cartoons for 9NEWS on Sunday nights, The Colorado Sun online newspaper and CUBuffs.com, as well as on his social media pages!
Drew will be at Light Rail Art Gallery in Old Town Arvada on Friday, September 7. He'll have his prints for sale, free Broncos schedules and he'll have a preview of the 2019 Colorado Sports Calendar.
The 2019 Colorado Sports Calendar will have classic cartoons from Drew Litton covering the Broncos, Avalanche, Nuggets, Rockies and Buffs as well as all the season schedules for the Broncos, Nuggets and Avalanche.
The new calendar will be available at Barnes and Noble stores throughout the Denver metro area, Colorado Springs, Pueblo and Cheyenne by October 1st.
Check out DrewLitton.com for all the details!
PHOTOS | How does Drew Litton make a cartoon?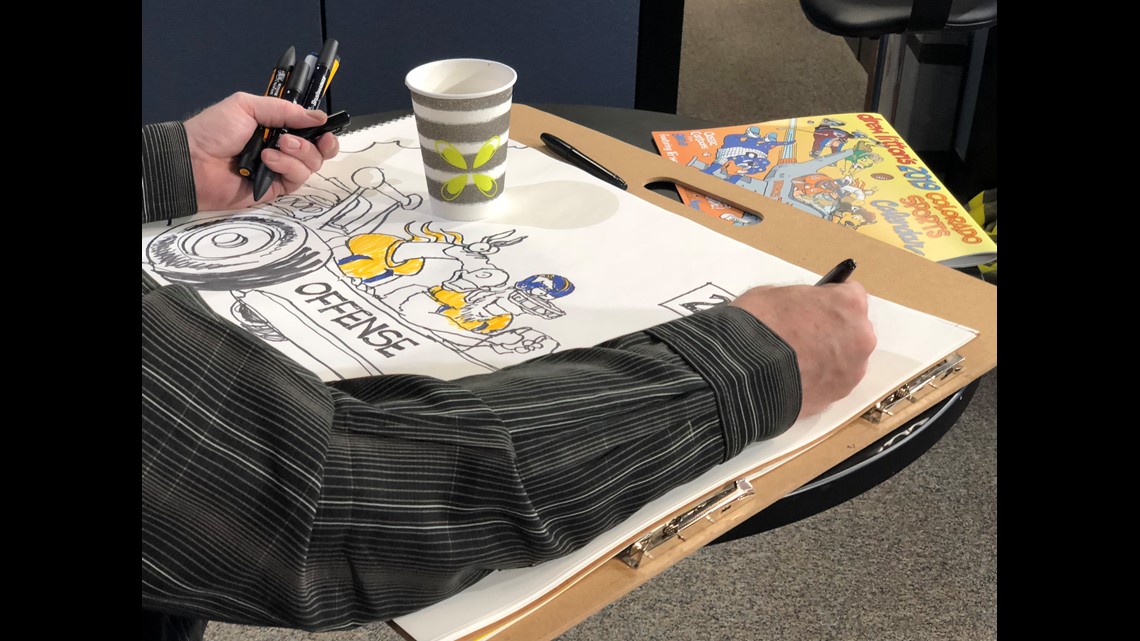 RELATED | Broncos rally towels made from recycled plastic bottles
WATCH | New Denver Broncos gear you'll be getting this season
WATCH | Preview of new food items at Broncos Stadium this season