INDIANAPOLIS — Chris Simms was raised by Phil Simms who was coached, mentored, led and chewed out by Bill Parcells.
Sean Payton, the Broncos' new head coach, was also coached, mentored, led and chewed out by Parcells.
So as someone a degree or two separated from Parcells, the Hall of Fame former Giant/Patriot/Jets/Cowboys' coach, Chris Simms, a former Broncos' backup quarterback and one of Phil's sons, has a pretty good idea at how Payton will coach quarterback Russell Wilson.
"Hard, tough love,'' Simms said this week in an interview with 9NEWS at the NFL Combine. "But also rebuilding Russell's confidence with, 'Hey, if you just listen to everything I say here, this is all going to work out. You're going to hit open people everywhere' and he'll do a good job of not putting it all on Russell Wilson."
"I think people look at Sean Payton and think, "Offense, throws the ball all over the field." No. You're No. 1 is a run-stopping defense. And unbelievable size on the offensive line. The last decade in New Orleans they were able to run the football and protect Drew that way.''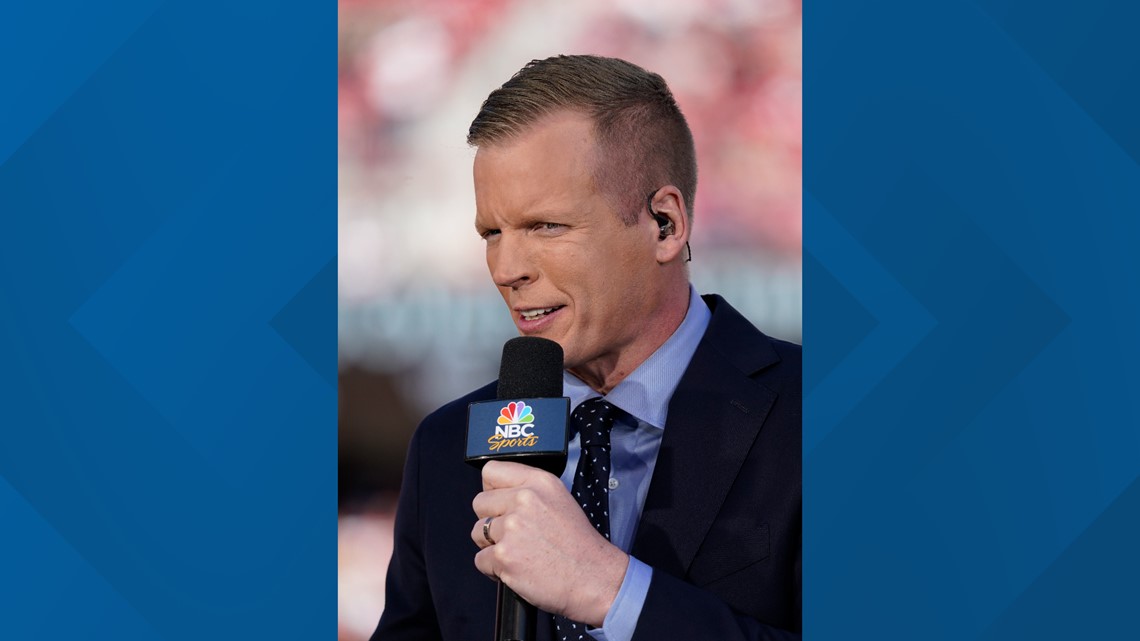 Helping Russ means making sure it's not all about Russ. To date, Payton has answered countless questions about Wilson in a matter-of-fact manner. He has neither gushed praise upon him or criticized him. He has downplayed a few exchanges and a dinner during the Super Bowl he had with Wilson. Otherwise, Payton has mentioned an approximate schedule of get-togethers in the near future. And little else.
Reading into what Payton is not saying, he may be reserving judgment on Wilson like everybody else is for the 2023 season.
"He's from the Bill Parcells School of Coaching,'' Simms said of Payton. "He believes in big people and yeah, he's not going to roll out roses on the floor for Russell Wilson. No more of your own office and your own squad in there. There's a new sheriff in town. So that's why I don't think you're going to see a ton of praise from him right now. He's from the Bill Parcells School of Coaching and my dad is from that school of coaching. I mean, my dad was winning Super Bowls and Bill was still throwing four-letter words at him all the time.''
In other words, Payton's first attempt to remedy a Broncos' team that has suffered through six consecutive losing seasons is not all about Russ.
"If you made me bet, the first thing that goes down in free agency for the Denver Broncos is a big, freakin' offensive lineman to make sure Russell doesn't have to worry about stuff like that,'' Simms said. "'Hey, Russell, look at this:' He's going to do it just like he did with Drew Brees, have this huge O-line. Yeah, you're a smaller quarterback but we're going to protect so good and we're still going to run the ball and be physical and use play-action pass and you won't have people in your face and he'll move him from time to time."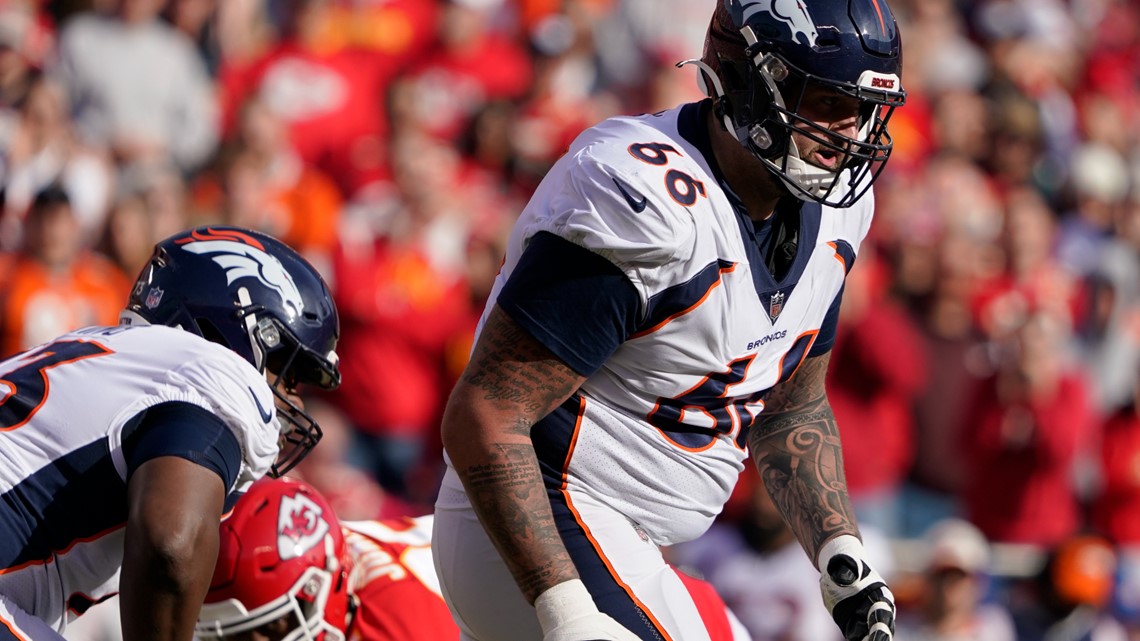 "But I think those days of Russell Wilson scrambling and making magic? I think those are going to be few and far between as he gets up here in age."
For the first time since his rookie year in 2012, the verdict is out on Wilson as a quarterback. As a rookie, the question was whether he could succeed playing NFL quarterback at 5-foot-11 inches tall. After his first 10 seasons in Seattle, 9 of which resulted in Pro Bowl appearances and his average record through his first 9 seasons was 11-5, the answer was a resounding yes.
But after last season, when the Broncos went 4-11 in Wilson starts and he fell to No. 27 from his perennial top 10 passer rankings, the question is did he have the wrong head and offensive coach in Nathaniel Hackett? Or was the vital aspect of Wilson's game -- quickness and speed -- too diminished at age 34?
Simms has guarded faith Payton will be Wilson's elixir.
"Russell struggled last year, there was no question,'' said Simms, who has soared in his second media career as an NFL analyst on Sunday Night Football pregame, halftime and postgame programs shown locally on 9NEWS, as well as Mike Florio's podcast partner on Pro Football Talk. "You know that. It was a little bit eye-popping at times. I won't lie, I had some moments where, 'Did he forget how to play quarterback?'"
"I was one of the first guys who put out on social media, 'Hey, there's guys open everywhere.' But it's not always easy as – (Tom) Brady to Tampa and (Matthew) Stafford to the Rams confused everybody. 'You should be able to do that, go win a Super Bowl.'"
"No, those were special situations. It's not always easy to go to a new place with a new system, have a feel for guys, feel totally comfortable and then just let it go. 'I get paid all this money, I don't want to make any mistakes,' all these things come to mind, let alone with a first-year coach come along with it. It was a double whammy. Not a great offensive line pass-protecting I think that was another aspect there.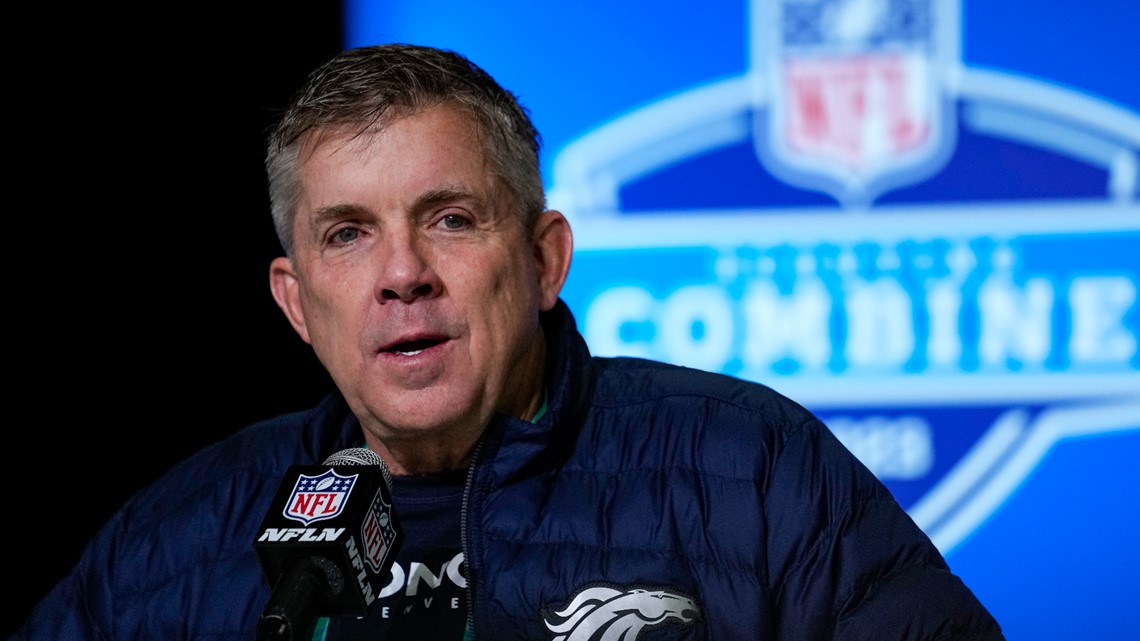 "But Sean Payton, this is a match made in heaven. First off, the team's not that far off. Sean Payton's one of the greatest offensive minds in football. He's been one of the greatest head coaches of the last 20 years. He'll rebuild Russell. He'll rebuild his confidence. Show him old plays of himself. 'Look what you used to do? You're the man still. You can still do that. Look at Drew. You've got a stronger arm than Drew, you can still do this.'''
Stronger arm than Drew. Indeed, Wilson did nail some deep outside passes last year. And Brees' fastball did lose some noticeable zip in his final years.
"He'll give him confidence by giving him confidence in Sean Payton's offense,'' Simms continued. "He'll give him all these lessons and things to look at and Russ is going to go, 'Wow, this is really good.' And I think slowly but surely you're going to see Russell Wilson a lot closer to the old Russell Wilson than the guy we saw last year."
Especially in the first half of last season, Wilson seemingly wanted to transform to a shotgun, pocket passer. He took off running less frequently than in his younger days – he rushed 118 times for 849 yards on 7.2 yards per carry in 2014 when he turned 26 years old; just 55 times for 277 yards on 5.0 yards per carry in his first season with the Broncos. He struggled escaping from pocket pressure as he tied with the Bears' Justin Fields with 55 sacks taken. Fields, though, rushed for 1,143 yards and 8 touchdowns. He loves to play outside the pocket.
The narrative on Wilson is he wanted to stay in the pocket, thereby crimping his strength as a runner and a passer on the run.
"There was definitely some of that,'' Simms said. "There was may be a little too much, Why are you watching the rush here? You're protected. Just hang in there, look down downfield you've got somebody. Hey, I've been there before. I've made those mistakes. I'm not trying to overjudge that.''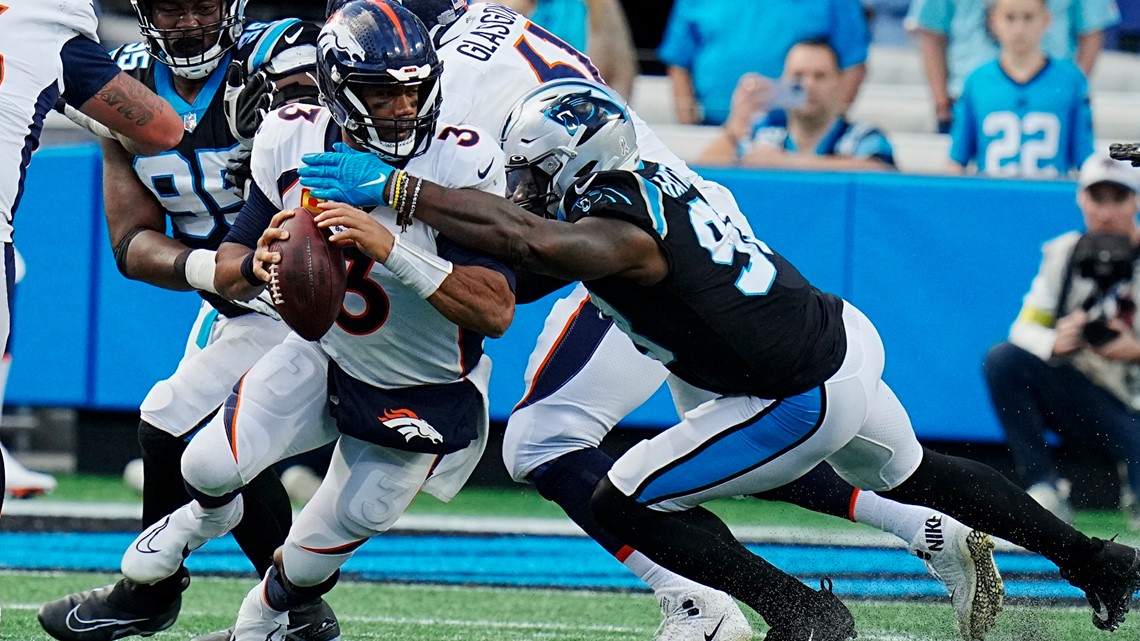 This is where Simms believes those big, freakin' offensive linemen come in. Free-agent guards who may draw the Broncos interest include Ben Powers, Isaac Seumalo and Evan Brown. Free-agent right tackles include Mike McGlinchey, Kaleb McGary, Jawaan Taylor, Orlando Brown Jr. (a right tackle his first three seasons in Baltimore) and Kelvin Beachum.
Another possible free agent? A veteran backup quarterback. Last year's backup, Brett Rypien, may have the kind of moxie Payton likes. We'll find out in the next 10 to 12 days when the Broncos decide whether to place a $2.627 million low tender on Rypien as a restricted free agent.
But another veteran may also come in as even when he had the first-ballot Hall of Famer Brees. Payton carried a veteran backup like Chase Daniel, Luke McCown, Teddy Bridgewater, Jameis Winston and Trevor Siemian.
Bridgewater is a free agent and Winston may be if he's cut in lieu of a $5.8 million option guarantee on March 17. Bridgewater and Winston each played their best ball of their past five or six years under Payton. Andy Dalton, Case Keenum, Baker Mayfield and Marcus Mariota are also free agents.
"A hundred percent agree,'' Simms said. "Sean Payton is not one to put all his eggs into one basket and then if he gets hurt, the season's over. He's too smart to do that. He's going to protect his investment in himself and his team. 'I've got a pretty good thing here and if my quarterback gets hurt, you don't want a see ya next year.' I think that's why he's always kept a pretty competitive backup. A guy he has confidence in to come in and play. I expect him to do something like that."