ENGLEWOOD, Colo. — Once again, George Paton has presented a difficult challenge for Mike's Mystery Mockster.
Even after Paton got a first-round pick back from a 2022 midseason trade of outside linebacker Bradley Chubb that repaired half the second-year draft damage from the Russell Wilson acquisition, Denver Broncos owner Greg Penner later authorized the transfer of that first-round selection to New Orleans as compensation for head coach Sean Payton.
A quarterback and head coach may be worth losing all that draft capital. Still, the aggregate loss was startling – three first-round and three second-round picks. The Broncos' dire situation at the top of this year's draft – for a second consecutive year – has caused the Mystery Mockster to dig deeper than usual in finding gems among the mid- to late-round prospects.
Then again, the Mystery Mockster has a history of finding mid-round gems.
Abraham Lucas with the No. 75 overall pick in the third round and Ryan Stonehouse in the seventh round were near perfect Mystery selections last year that would have locked up the Broncos' right tackle and punter positions for a decade. Unfortunately, Lucas went No. 72 to Seattle, where he started 17 games as a rookie, while Stonehouse went undrafted before he signed with Tennessee and became a second-team All Pro.
Josey Jewell was a mid-rounder the Mystery Mockster and Broncos' staff agreed upon in 2018. Julian Love, Michael Gallup and Hunter Renfrow were mid- to late-round Mystery selections whom the Broncos should have taken.
With that we turn it over to Mike's Mystery Mockster for the Broncos 2023 draft:
With the Broncos not selecting until pick No. 67 and, barring trades, having just 5 picks, every selection is crucial.
The heavy lifting was done during free agency, but the Broncos still have holes to fill and they should focus on the positions where there will be quality prospects still available in the middle rounds.
Round 3: No. 67 (from Colts)
Joe Tippmann, center, Wisconsin, 6-6 313
Sean Payton has said Lloyd Cushenberry III is the Broncos starter but with the revamped offensive line, there are centers available who could upgrade the position.
Tippmann is huge (maybe a little too tall), athletic and super smart.
Like most college centers, Tippmann will need to work on pass blocking but he can contribute immediately in the run game. Joe T. feels like a perfect fit for the Broncos offense in 2023.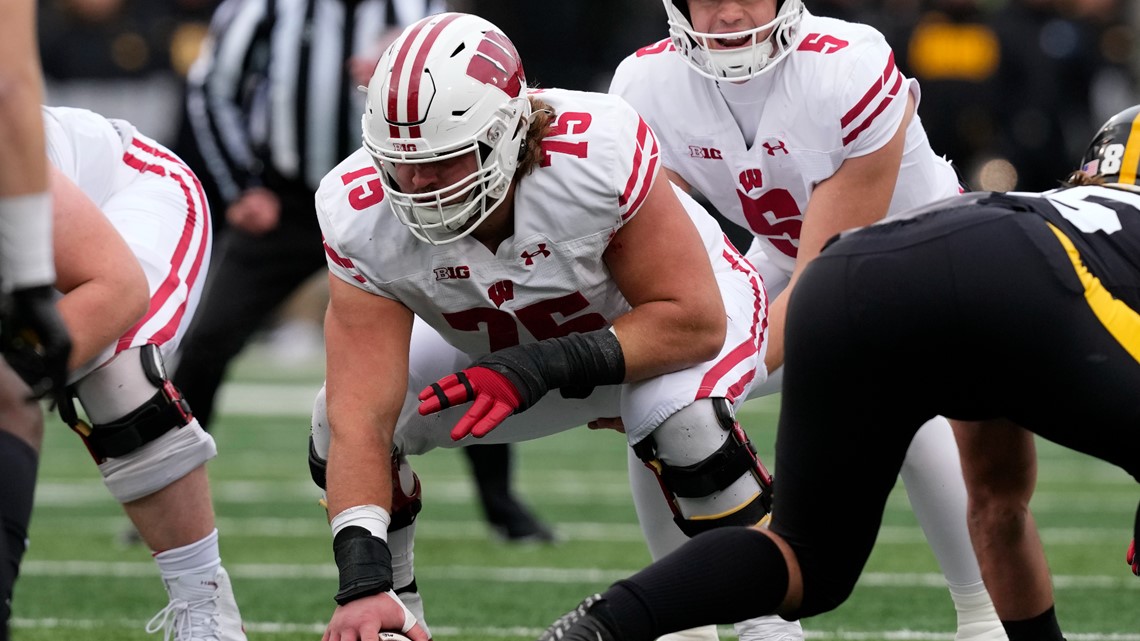 John Michael Schmitz, center, Minnesota, 6-3 301
Another excellent run blocker from the Big Ten. Schmitz will more than likely go off the board mid- to late-second round but if he is still available at 67 the Broncos will be hard pressed not to grab him.
Olusegun Oluwatimi, center, Michigan, 6-2 2 309
Oluwatimi is one of four Big Ten centers who will be drafted in the rounds 2 through 4 this year (Luke Wypler, Ohio State is another excellent center prospect).
Mike's comment: It was peculiar when Cushenberry had healed from his groin injury in time to play the final two games last season but the team decided to keep him on injured reserve. This led to speculation the Broncos were looking for another center this season along with the fact the third round is historically where many of the league's starting centers are drafted. I'm no expert on interior offensive line play but Cushenberry seems fine to me but his $2.74 million, nonguaranteed salary could make him vulnerable.
Besides centers this draft is also deep with cornerbacks and pass rushers so it's possible the Broncos go corner or outside linebacker with this pick.
Back to the Mystery Mockster:
Felix Andudike-Uzomah, DE/OLB, Kansas State, 6-3 255
(I expect the Broncos to trade down here and acquire additional picks but there are some great players available at the top of the third round who will be difficult to pass up.)
As they say, you can never have enough pass rushers. Andudike-Uzomah is a fit for the Broncos and Vance Joseph's 3-4 defense and could contribute as a rotational OLB as a rookie.
Jack Campbell, ILB, Iowa, 6-5 243
It may be wishful thinking that Campbell would still be available at No. 68 but we can dream.
Campbell is one of the best pure football players in this draft and with Jewell in the final year of his contract, Campbell would join Jonas Griffith in providing much needed depth to the ILB room.
Marvin Mims Jr., WR, Oklahoma, 5-11 183
The Broncos top three receivers are set (for now) but with KJ Hamler out at least 4-6 months, the team could be looking for speed at the receiver position in this draft.
Mims is a 4.38 burner who has good hands and can play inside as well as outside and also returns punts.
Kenny McIntosh, RB, Georgia, 6-0 204
One of the Broncos' most underrated signings this offseason was Samaje Perine but with Javonte Williams recovering from ACL surgery and Sean Payton clearly committing to the run, adding a fresh set of legs to the running back room is a must. Georgia football insiders say look out for McIntosh who could have an impactful rookie season as a change of pace, receiver out of the backfield.
Deuce Vaughn RB, Kansas State, 5-5 179
Vaughn is a terrific football player -- tough, durable, shifty and a top-notch receiver.
The issue is obvious, his size. Vaughn is going to make some team happy they took a chance on him. Perhaps he will become Sean Payton's next Darren Sproles.
DeMarvion Overshown LB, Texas, 6-3 229
If the Broncos go offense with each of their 3rd round picks, Overshown would be a nice addition at linebacker. The former safety has the athleticism to get after the quarterback and play both inside and out.
(It's been reported by 9NEWS the Broncos will use a top 30 visit on Overshown).
Kyu Blu Kelly, CB, Stanford, 6-0 191
The Broncos need to find cornerback depth in this draft and the son of former Tampa Bay cornerback Brian Kelly could be the answer. Like Pat Surtain II, whose father also had a long NFL career at corner, Kelly seems born with the instincts and savvy while playing the high-priority position.
Kelly is a solid all-around corner with good ball skills and is tough in run support. He would fit as an outside No. 3 or 4 corner.
Riley Moss, CB, Iowa, 6-1 193
Moss may not be the fastest player on the field, but he is just a really good football player. He competed against top competition and was always around the ball. Moss's role with the Broncos could be as a dime corner/safety.
Ronnie Hickman, safety, Ohio State, 6-0 203
Hickman has the size, speed and credentials for the position. At least until Kareem Jackson's free-agent status is settled, Caden Sterns is penciled in to start next to second-team All-Pro Justin Simmons. And Dellarin Turner-Yell showed during the preseason and regular-season special teams play as a rookie last year he may be ready for a larger role. Still, the Broncos may look at safety in this draft, not only to provide depth and competition, but to bolster the all-important special teams.
Round 6: No. 195 (from Steelers)
Payne Durham, TE, Purdue, 6-5 255
Tight end is one of the positions in this draft that is stacked with quality players. Durham is more quick than fast with good hands and is a willing blocker. If this draft wasn't loaded with tight ends, Durham wouldn't be available on Day 3.
Jahleel Billingsley, TE, Texas, 6-4 230
The epitome of a boom-or-bust player. The Alabama transfer spent more time in the doghouse then on the field but the Broncos have just the coach to finally get the most out of this talented former 4-Star recruit.
Max Duggan, QB, TCU, 6-1 207
Don't be surprised if the Broncos look for a backup QB in this draft. Duggan doesn't have the measurables NFL scouts are looking for but after his stellar college career there is no way he should fall to the 6th round – even if that's where he's projected.
Duggan has a high football IQ and makes plays with both his arm and legs. Broncos QB No. 3?
Mike's comment: So there you go. Let's see if Paton and Payton can come up with a better draft than Mike's Mystery Mockster.