CANTON, Ohio — It took 46 years but the iconic unit known as the Orange Crush, a defense that gave birth to Broncomania and became one of the most famed defenses in NFL history, is about to finally be represented in the Pro Football Hall of Fame.
Randy Gradishar, who as an inside linebacker was considered the best player on the 1977 Orange Crush defense that carried the Denver Broncos to their first-ever Super Bowl appearance, was one of three players from a senior pool nominated by a 12-person Hall of Fame subcommittee, it was announced Wednesday.
The cases for Gradishar, 71, and two other senior players – Bears defensive tackle Steve McMichael and New York Titans (later the Jets) receiver Art Powell – will now go before the 50 voters on the Hall of Fame final selection committee the week prior to Super Bowl LVIII with the HOF class of 2024 announced February 8 during the NFL Honors program.
The last senior nominee to not get elected by the final voting body was Claude Humphrey in 2009, an absurd injustice that was corrected five years later when the former Atlanta Falcons' defensive end was elected into the Hall.
Since then, the 50-person HOF selection committee almost always rubber stamps the subcommittee's recommendation so it's safe for Gradishar and devoted Broncos fans who go back to the Orange Crush era to start celebrating.
"I told my wife I don't think I've done anything really wrong so I should be cleared,'' Gradishar said in a sitdown interview Wednesday with 9NEWS. "But I've still got to wait til next year."
For Gradishar, the nomination was long overdue. He played in 151 of a possible 151 games during his 10-year career with the Broncos that started in 1974 when he was the team's first-round draft pick out of Ohio State, and ended after the 1983 season, the first for a quarterback named John Elway.
In those 10 seasons, Gradishar became the first – and still the only – Broncos player to be named NFL Defensive Player of the Year, an honor he captured in 1978. He was a Pro Bowl selection in seven of his 10 seasons.
Of the 19 HOF eligible players who had at least 7 Pro Bowls with a Defensive Player of the Year honor, Gradishar was the only one who has not yet posed for his bronze bust. Even more outrageous is of the first 74 Super Bowl participating teams – from the 1966 season through 2002 – the 1977 Broncos were the only team to not have a Hall of Famer.
An inexplicable snub for a team that created a frenzied movement among the masses, that's all. There were Orange Crush pop cans carrying photos of Broncos players. Houses and cars in the Denver community were painted orange. There have been sellouts for every home game at Mile High Stadium since 1970 but in 1977 and a few years after, nearly every seat was occupied. No shows could be counted by the dozens, not thousands.
Broncomania became evident to the national football landscape in 1977 and the fan craze carried on for a good 40 years, even it has lost some steam in recent years.
"I can still remember everybody going nuts and taking the goal posts down,'' Gradishar said, referring specifically to the reaction to beating the hated Raiders in the 1977-season AFC Championship Game at Mile High Stadium. "Very, very exciting and for Colorado. And I'll say this quietly, it was because of our defense. The Orange Crush. We really played well. And we got the name Orange Crush and you don't get that kind of a name just playing normal football."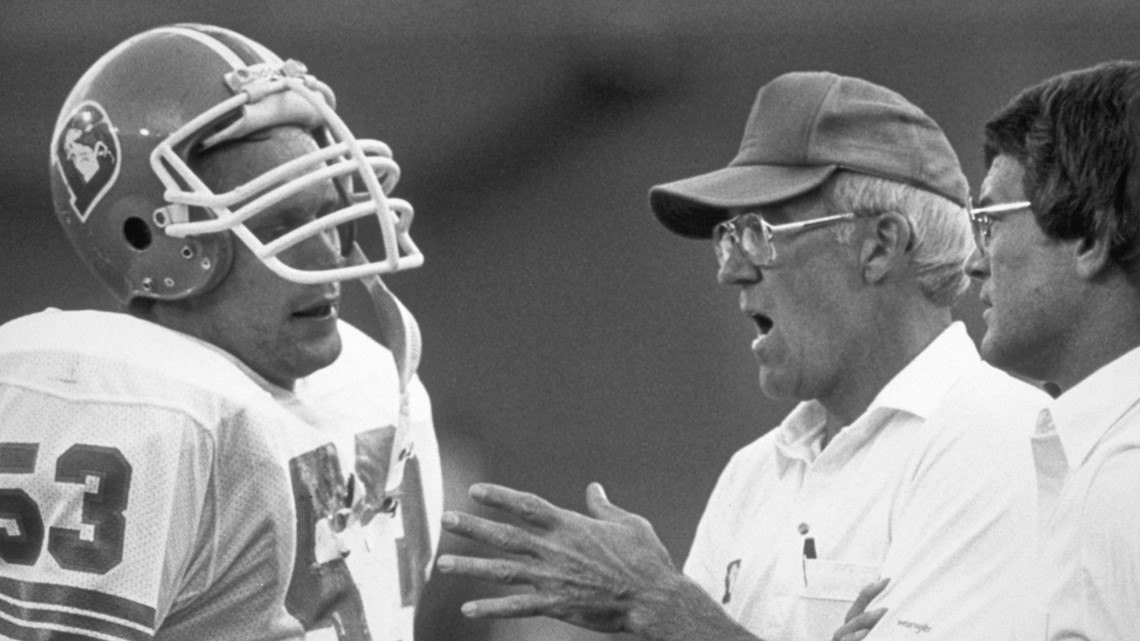 And now through Gradishar, the Orange Crush finally has a piece of NFL immortality. The inside linebacker in Joe Collier's then-innovative 3-4 defense, Gradishar was a top 15 modern-era Hall of Fame finalist in 2003 and 2008, his last year of modern-era eligibility. He seemed sure to be elected in the 10-member senior Centennial Class of 2020 but was surprisingly omitted. He made the cutdown from 12 to 6 senior player finalists last year but was not among the three nominated.
And now, 40 years after he played his last game, Gradishar has finally been nominated to take his place among the NFL greats. If elected as expected in February, Gradishar's formal Hall of Fame induction ceremony would occur in early August in Canton, Ohio.
After all that wait, Gradishar put off notice of his nomination at least an hour more. Jim Porter, president of the Hall of Fame, had tried calling Gradishar four or five times Tuesday with the news -- the subcommittee vote was taken Tuesday but the results were not announced until Wednesday -- but couldn't reach him. Then Broncos' PR guru Patrick Smyth tried calling Gradishar three or four times with no luck.
"I was working,'' Gradishar said. Indeed he was in Colorado Springs at the Phil Long Dealership he had been working with for the past 25 years. He's in corporate communications.
Finally, Smyth got a hold of Gradishar and told him to be by his phone and look for a phone call from the 330 (Canton, Ohio) area code. Porter called and gave him the good news.
Gradishar said the long wait made it that much sweeter when he did get the call. But he admits there were times when he was frustrated, particularly in 2020 and 2022 when he seemed a shoo-in.
"To be honest with you, yeah,'' Gradishar said. "I was encouraging people saying, just be patient. But I'm a human being. too. And it was, 'Why isn't this happening?'''
Gradishar is about to become one of only 9 Broncos who spent at least five seasons with the team to become a Hall of Famer, joining John Elway, Gary Zimmerman, Floyd Little, Shannon Sharpe, Terrell Davis, Champ Bailey, owner Pat Bowlen and Steve Atwater.
Gradishar would like to see some more of his Orange Crush teammates receive consideration.
"Louis Wright, Tom Jackson, Billy Thompson,'' Gradishar said. "And those guys, their names haven't even come up."
That's because everyone was waiting for Gradishar to get in first.
"Hopefully, there will be some following from that era of the Orange Crush,'' Gradishar said. "The reality is, as the people of Colorado know, we were pretty special.''
MORE WAYS TO GET 9NEWS
ADD THE 9NEWS+ APP TO YOUR STREAMING DEVICE
ROKU: add the channel from the ROKU store or by searching for KUSA.
For both Apple TV and Fire TV, search for "9news" to find the free app to add to your account. Another option for Fire TV is to have the app delivered directly to your Fire TV through Amazon.