ENGLEWOOD, Colo. — Now it can be told about Pat Bowlen.
As 9NEWS heard the story from multiple sources over the years, the Broncos had barely missed the playoffs in 2006 and head coach Mike Shanahan thought they were one, elite pass rusher away from returning to the postseason in 2007.
Six days before the start of the season, the Broncos wanted to sign free-agent Simeon Rice, who at the time was No. 2 among active players and No. 12 all time with 121.0 career sacks. The St. Louis Rams also wanted Rice and offered the same one-year, $3 million contract as the Broncos. Fully guarantee the $3 million, Rice said, and I'll sign with the Broncos.
AP

There was only one problem: The Broncos didn't have the $3 million. They had the cap room and a little bit of cash in reserves. But not $3 million in cash reserves. Their payroll budget was near its final-dollar lid.
Problem? Bowlen had a personal line of credit with Guaranty Bank & Trust in Denver and a handshake-promise type of arrangement with the bank's chairman, Ron Moore.
RELATED: Bowlen Notebook: 'Mr. B' honored with helmet decal, but he no doubt would prefer money for players over name on stadium
RELATED: Open-house tribute for Pat Bowlen set for Tuesday at Broncos Stadium at Mile High
Bowlen was able to draw on his personal line of credit. The Broncos signed Rice.
"Pat was the eternal optimist when it came to finances,'' Joe Ellis, the Broncos' chief executive officer and president said Monday in a sit-down interview with 9NEWS. "Me, not so much. But you're right, he always found a way to get it done. And boy, we were charged with getting it done. And you wanted to deliver.''
As it turned out Rice was a Denver bust – zero sacks when he was released halfway through the season – and the Broncos did, too, in 2007, finishing 7-9. But that wasn't the point.
The point: Bowlen would literally take money out of his pocket if it meant helping the Broncos become a better team.
AP
"He wasn't the wealthiest owner in the NFL,'' Broncos general manager John Elway said in his interview Monday with 9NEWS. "He was when it came down to using every resource to try and figure out how to get something done if we needed a player, or whatever we needed. We were able to win a lot of football games because of that mentality.''
It explains how during Bowlen's 30-season term as active owner from 1984-2013, the Broncos had more Super Bowl appearances (6) than losing records (5). Ironically, it was in a losing season of 2007 that Bowlen demonstrated why there were so few of them.
RELATED: Pat Bowlen's unprecedented circumstance could lead to HOF Gold Jacket/ring clarification
RELATED: Pat Bowlen and a Tale of Two very different Quarterbacks
"It was all about putting money back into the team and getting better on the field,'' Ellis said. "Pat wasn't defined by his status as an owner. He was defined by championships and everything he could do to be a corporate citizen in the community. And he felt you're only going to be remembered for winning.
"He was fiercely competitive. He understood athletics. He played sports as a kid. He competed as a triathlete at a high level. He understood the art of competition. Some owners get into it and it's not as clear for them. And for Pat it was very, very clear.''
That personal line of credit taken out for Rice? It was long ago fully paid off. Times are better now for the Broncos and the entire NFL after owners renegotiated their collective bargaining agreement with the players union in 2011 and TV revenues continued to grow.
RELATED: Bowlen's close relationship with Shanahan pivotal to Broncos' success
But for much of Bowlen's ownership term, money was so tight the Broncos had to come up with resourceful ways to keep their team successful. Which they usually were.
"I thought about it, what's the one thing I can say about Pat that people would remember? And I think it's that he ran this team with heart rather his pocketbook,'' Elway said. "Set the standard that we're going to compete for world championships. He was a great competitor. There was not a better owner for a player or general manager to work for than a guy that wants to be successful on the field and wants to win football games. So when the standard is set at the top like that it's much easier as a manager to carry it on throughout the organization.''
> Join us on KTVD Ch. 20 on Tuesday, June 18 at 7 p.m. for a special look back at Pat Bowlen's legacy.
RELATED: Legendary Denver Broncos owner Pat Bowlen dies at 75
RELATED: 'Inspiration for Coloradans:' Alzheimer's Association releases statement after Pat Bowlen's death
PHOTOS | Legendary Denver Broncos owner Pat Bowlen through the years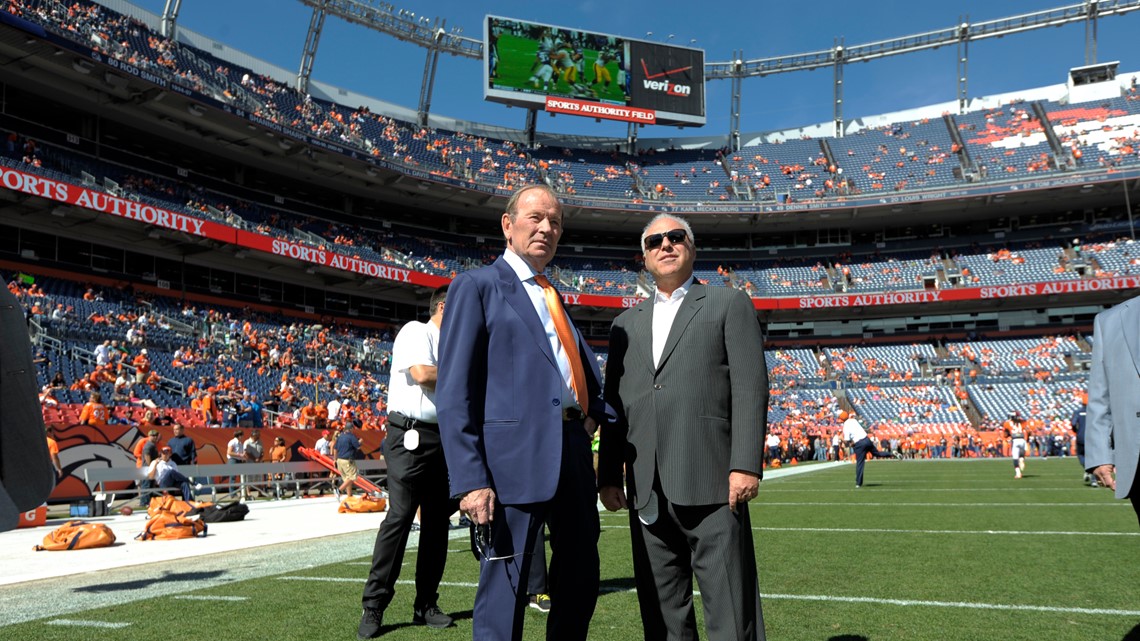 MORE COVERAGE | Remembering Pat Bowlen