DENVER — The Denver Broncos may have cut Melvin Gordon, but the running back got the last laugh after winning a Super Bowl with the Kansas City Chiefs on Sunday night.
Gordon's run with the Broncos came to an early end in his third season with the team. He was released a day after he had a costly fumble, his fifth of the season, in an overtime loss to the Raiders in Week 11.
Even though the eight-year pro didn't record a touch since signing with the Chiefs' practice squad in November, he will get his first championship ring.
Gordon went to Twitter after the victory in Arizona to thank the Chiefs: "Talk about a long year … y'all gave me something to smile about. Forever grateful. I'm a champion."
Gordon also posted a picture of himself holding the Lombardi Trophy and smoking a cigar in response to a Los Angeles Chargers blog article with the caption: "Melvin Gordon really was the kid in the group project who slapped his name on the final assignment but he got a Super Bowl ring out of it. "
Gordon rushed for 2,222 and caught 85 passes for another 594 yards, scoring 22 touchdowns in his two-plus seasons with the Broncos. But the former Wisconsin Badger's relationship with the fans was contentious due to multiple costly fumbles in his final year with the team.
He posted a farewell message on Instagram a day after his release from the Broncos.
"Can't say it's been the easiest 3 years. But thank you anyway @broncos for helping me continue my dream," Gordon wrote. "For my teammates … y'all boys really help me keep my joy with this game and for that I'm forever thankful. Couldn't say bye to everyone on the way out … would've been too emotional for me no cap. But y'all know we forever tied. Made some relationships there imma hold dear forever."
"It was an honor y'all were great teammates but even better men. And I'm gon miss the times."
However, Gordon had a different message for Broncos fans.
"Hahaha, boy y'all fans was hell lmfaoo," Gordon posted to his Instagram Stories with a photo of OJ Simpon's white Ford Bronco with his team photo Photoshopped in. "Thank y'all too broncos country. Let's at least laugh on the way out."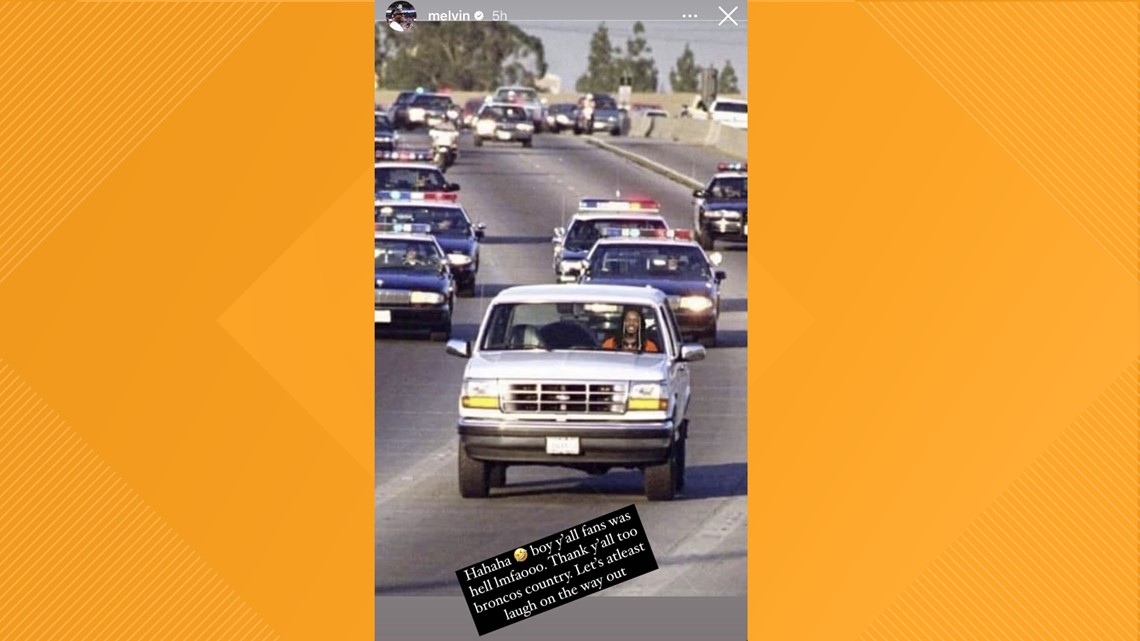 While Gordon had other practice squad offers. He told 9NEWS Broncos Insider Mike Klis that he didn't sign with a division rival to stick it to the Broncos.
"Nah, I'm not thinking about the Broncos at all,'' Gordon said. "They got enough going on. I'm just happy to be playing (bleeping) football again."
9NEWS+ has multiple live daily shows including 9NEWS Mornings, Next with Kyle Clark and 9NEWS+ Daily, an original streaming program. 9NEWS+ is where you can watch live breaking news, weather updates, and press conferences. You can also replay recent newscasts and find videos on demand of our top stories, local politics, investigations and Colorado specific features.