DENVER — It won't be the schedule that prevents the Denver Broncos from making the playoffs this year.
For the most part, the schedule sets up favorably for the Broncos. There is a three-week road trip to start December. But those three road games are at the Houston Texans, at the Los Angeles Chargers and at the Detroit Lions.
If the Broncos are to be a playoff team, they should be capable of winning two of those three games.
Then again, even new with head coach Sean Payton, a proven winner for 15 seasons with the New Orleans Saints, the Broncos are long way from establishing themselves as a playoff team. They were 5-12 last year and have lost 15 in a row going back 8 years to their AFC West rivals Kansas City Chiefs and six in a row to the Raiders.
Speaking of whom, the Raiders are a great early and late test for the Broncos. As in the season opener at Denver's Empower Field at Mile High and the final game 17 at Las Vegas' Allegiant Stadium.
Derek Carr, who always played well against the Broncos, is no longer the Raiders' quarterback. If the Broncos are going to snap their six-year skid of losing seasons, they need to beat Jimmy Garoppolo and the Raiders in week 1.
Other notes about the schedule:
The bye week couldn't be better placed -- week 9 in a 17-game, 18-week schedule.
The Broncos have four primetime games -- against the Chiefs and Bills on the road (gulp) and against the Vikings and Patriots at home. And there is a chance for two more primetime games against the Lions and Raiders later in the season.
The three preseason games against NFC West teams and week 11 home game against the Vikings will be shown on KUSA-TV -- channel 20 for preseason games at Arizona and at San Francisco and home against the Rams; 9NEWS for the Sunday Night Football game against the Vikings.
Preseason
Game 1: at Arizona Cardinals, State Farm Stadium, Friday, Aug. 11, 8 p.m., 9NEWS/9NEWS +
New Broncos head coach Sean Payton has said he is playing his starters.
Game 2: at San Francisco 49ers, Levi's Stadium, Saturday, Aug. 19, 6:30 p.m., 9NEWS/9NEWS +
The Broncos get to meet up with old friends San Francisco GM John Lynch and head coach Kyle Shanahan. Broncos' new right tackle Mike McGlinchey was a first-round draft pick of the 49ers in 2018 and started five seasons for San Francisco.
Game 3: vs. Los Angeles Rams, Empower Field at Mile High, Saturday, Aug. 26, 7 p.m., 9NEWS/9NEWS +
We know Rams coach Sean McVay doesn't play his starters so the Denver D should get tested by former backup QB Brett Rypien.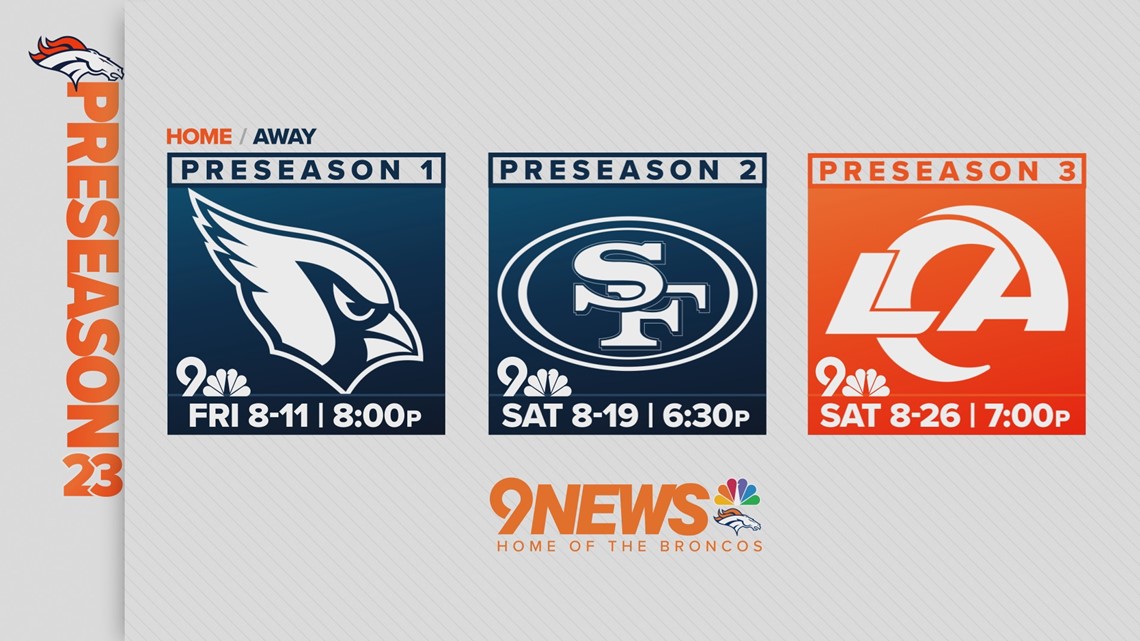 Regular season
Week 1: vs. Raiders, Empower Field at Mile High, 2:25 p.m., Sunday, Sept. 10, CBS
The Broncos have lost six in a row to the Raiders and eight of the past 9 so this will be an early measuring stick on how much Denver has improved under new coach Sean Payton.
Week 2: vs. Washington, Empower Field, 2:25 pm, Sunday, Sept. 17, CBS
Expected new Washington owner Josh Harris lost out on his bid to buy the Broncos last year to the Walton-Penner group.
Week 3 at Miami, Hard Rock Stadium, 11 a.m. Sunday, Sept. 24, CBS
It will likely be hot and humid. Former Broncos' head coach Vic Fangio is the Dolphins' defensive coordinator and one of his players is former Broncos' outside linebacker Bradley Chubb. Mike McDaniel, who prepped at Smoky Hill High School in Aurora, is the Dolphins' second-year head coach. His staff includes former Broncos' assistants/players Butch Barry, Jon Embree, Eric Studesville, Wes Welker, Renaldo Hill and Ryan Slowik.
Week 4: at Chicago, Soldier Field, 11 a.m., Sunday, Oct. 1, CBS
Get the pass rush on. The Bears' Justin Field and Broncos' Russell Wilson tied for the league-lead last season by getting sacked 55 times.
Week 5: vs. NY Jets, Empower Field, 2:25 p.m. Sunday, Oct. 8, CBS
Here we go. A year later than expected but Nathaniel Hackett and Aaron Rodgers will be the featured attraction at the game in Denver -- only with the Jets, not the Broncos.
Week 6 at KC Chiefs, Arrowhead Stadium, 6:15 p.m., Thursday, Oct. 12, Prime Video
Sean Payton's first chance to break the Broncos' 15-game, 8-year losing streak against the Chiefs, who are the defending Super Bowl champs.
Week 7: vs. Green Bay Packers, Empower Field, 2:25 p.m. Sunday, Oct. 22, CBS
Had it worked out a little differently, it would have been Nathaniel Hackett and Aaron Rodgers leading the Broncos against the Pack. Instead, the Broncos were one year off on making it work and it will be Sean Payton and Russell Wilson guiding the Broncos against Jordan Love and the Packers.
Week 8 vs. Chiefs, Empower Field, 2:25 p.m. Sunday, Oct. 29, CBS
Unusual to play a division opponent twice in three weeks. But when going against Patrick Mahomes II and the Chiefs, a change-up might help bring a much-needed different result.
Week 10: at Buffalo, Highmark Stadium, 6:15 p.m., Monday, Nov. 13, ESPN
Second primetime game of season for Broncos and it comes against star QB Josh Allen. Mid-November in Buffalo could be a challenge even for a team from Denver.
Week 11: vs. Minnesota Vikings, Empower Field, 6:20 p.m., Sunday, Nov. 19, 9NEWS, KUSA-TV
Third scheduled primetime game. Had the Broncos not hired Hackett as head coach a year ago, Kevin O'Connell may well have been their next choice. O'Connell became the Vikings' head coach instead and in one year he brought the best out of quarterback Kirk Cousins and lifted Minnesota from 8-9 in 2021 to 13-4 and NFC North Division title in 2022.
Week 12: vs. Cleveland Browns, Empower Field, 2:05 p.m., Sunday, Nov. 26, FOX
Deshaun Watson and the Browns' running game will be a test for Vance Joseph's Denver defense.
Week 13: at Houston Texans, NRG Stadium, 2:05 p.m. Sunday, Dec. 3, CBS
DeMeco Ryans is not the Broncos' head coach. The Broncos should see No. 2 overall pick, QB C.J. Stroud by this game.
Week 14: at L.A. Chargers, SoFi Stadium, 2:25 p.m., Sunday, Dec. 10, CBS
First look at AFC West rival led by quarterback Justin Herbert.
Week 15: at Detroit Lions, Ford Field, TBD, Sat/Sun, Dec. 16/17, TBD
Lions head coach Dan Campbell was Sean Payton's tight ends coach for five years from 2016-'20. Former Broncos head coach John Fox is now the Lions' senior defensive assistant. Lions' offense finished No. 4 in total yards and No. 5 in points score last season, which makes offensive coordinator Ben Johnson an early hot head coach prospect.
Former Broncos players include Graham Glasgow and Kalif Raymond.
Week 16: vs. New England Patriots, Empower Field, 6:15 p.m., NFLN
Fourth scheduled primetime game. May the grouch (Bill Belichick) not be The Grinch who ruins the Broncos' Christmas.
Week 17 vs. L.A. Chargers, Empower Field, 2:25 p.m. Sunday, Dec. 31, CBS
Chargers' third-year head coach Brandon Staley is counting on new offensive coordinator Kellen Moore to get the best out of Herbert as the quarterback moves into his fourth season.
Week 18 at Las Vegas Raiders, Allegiant Stadium, TBD, Saturday/Sunday, Jan. 6/7, TBD
If all goes according to Broncos' plan, this game will have either AFC West title or AFC wild-card implications. At this point, both teams are projected to finish behind the Chiefs and Chargers.