ENGLEWOOD, Colo. — No NFL position requires more re-balancing than the defensive line.
This is not only true year to year, but game to game. Dre'Mont Jones was the Broncos' top defensive lineman last year and he played but 62.6 percent of the defensive snaps. DeShawn Williams was next at 52.2 percent, then D.J. Jones at 49 percent and Mike Purcell at 46.2 percent.
The starting safeties, cornerbacks and at least one inside linebacker played close to 100 percent of the game. The two starting outside linebackers played around 75 percent.
But because the big heavies upfront need a little more intermittent rest from their mano y mano collisions, there is constantly a five-man rotation, and sometimes six defensive linemen are used throughout a game.
Then there's the matter of reshuffling the defensive front from year to year. The Broncos made a major free-agent substitution in March with Zach Allen replacing Dre'Mont Jones. The team then took the out-with-the-old, in-with-new approach by replacing the veteran starter Williams with second-year players Eyioma Uwazurike and Matt Henningsen.
At least there wasn't a shift in upfront alignment. The Denver D has used a 3-4 system since 2015 when Wade Phillips replaced Jack Del Rio as defensive coordinator. The Broncos' defensive bosses since 2015 have been Phillips (2016), Vance Joseph/Joe Woods (2017-18), Vic Fangio/Ed Donatell (2019-21), Ejiro Evero (2022) and now Joseph again starting in 2023.
The 3-4, however, has been constant through that term of changing coordinators.
Joseph's 3-4 is more like Evero's than Fangio's in that he'll frequently bring pass-rush pressure. But the responsibility of the three guys up front is to hold strong against the run, and secondly, help free up the outside linebackers for the pass rush.
From here, it appears the Broncos could use one more proven defensive lineman between now and the start of the regular season. But at least five of their top six defensive linemen are in place. Here's a look at the Broncos' defensive line for 2023:
Starters
D.J. Jones, Zach Allen, Mike Purcell
There is big money invested in this 3-man front. Jones, in his second year with the Broncos, will make $10 million this season. Allen, whom the Broncos signed away from Arizona through free agency this offseason instead of their own Dre'Mont Jones, will draw $17.25 million in 2023. And Purcell is scheduled to make $3.5 million. That's a combined $30.75 million payout this year for their top 3 defensive linemen.
Purcell, 32, is a 328-pound nose tackle who doesn't always start, especially if the Broncos open in their nickel defense. But this is a big-bodied front that figures to be more stout against the run this season. While the Denver D finished 10th against the run last season, they were gouged in several games, most notably in losses to the Raiders (212 rushing yards allowed), Jets (155), Panthers (185) and Rams (158) and also in a narrow win against Jacksonville (191) in London.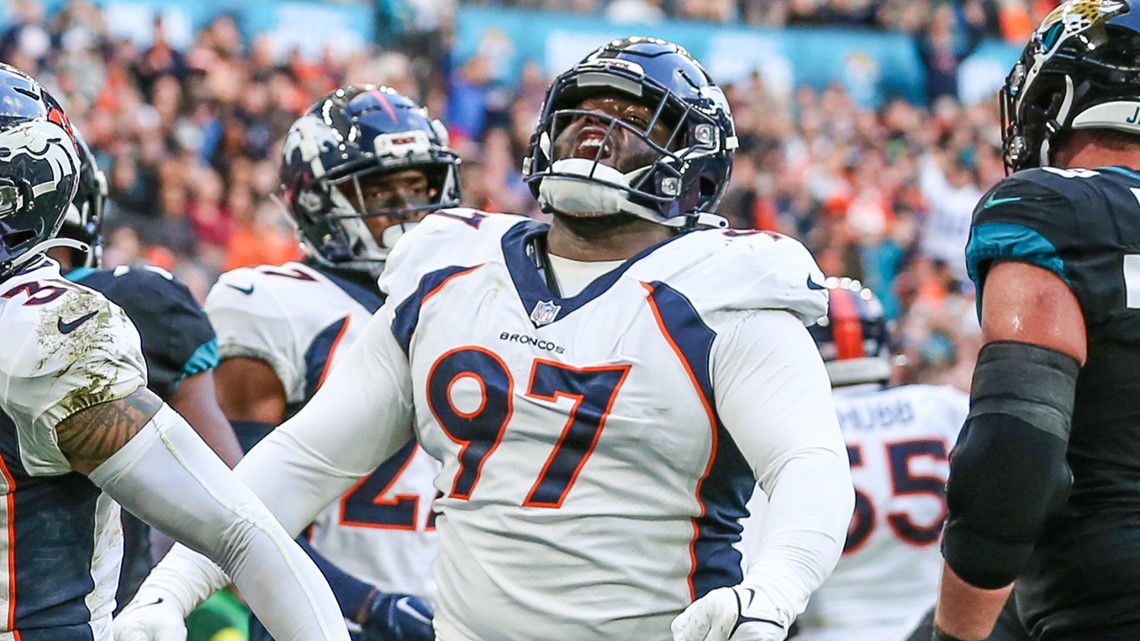 Backups
Eyioma Uwazurike, Matt Henningson, Jonathan Harris
The 6-foot-6, 310-pound Uwazurike, a 4th-round pick out of Iowa State, has high-end potential who took a little longer to develop. He flashed in the second half of last season and with another year of strength training. he should make a quantum leap in year two.
Let there be no doubt this is a big year for Broncos' defensive line coach Marcus Dixon, one of just two position coach holdovers from Nathaniel Hackett's staff last year (Defensive backs coach Christian Parker is the other).
Jonathan Harris, 26, is a bit of a late-bloomer in that he was undrafted out of Lindenwood University in 2019, was cut by the Bears and picked up by the Broncos that year. He emerged in his fourth season last year, starting four games.
Others
Elijah Garcia, Jordan Jackson, Haggai Ndubuisi
The 6-foot-5, 302-pound Garcia, 25, was an undrafted rookie out of Rice last year who spent most of the 2022 season on the Rams' practice squad. The Broncos signed him away to their 53-man roster in December and he played a combined 18 defensive snaps over the final two games.
The 6-foot-4, 294-pound Jackson, 24, spent five years at Air Force – playing regularly for three -- before he was a sixth-round pick of the Saints last year. He spent last season developing on the Saints' practice squad before signing a future's deal with the Broncos in January.
Ndubuisi, 22, was allocated to the Broncos through the NFL's International Player Pathway Program. The Nigerian is 6-foot-7, 323 pounds and competed with the Arizona Cardinals as an offensive tackle during the offseason last year. That he's switching to defensive line this year means he has virtually no chance of making the team's 53-man roster but a practice squad spot is possible, especially when considering head coach Sean Payton helped bring along the inexperienced Chris Manhertz in 2016 with New Orleans.
Gone but not forgotten
Dre'Mont Jones, DeShawn Williams
A series of chained events led to Dre'Mont Jones getting away. The Broncos made him a strong contract offer during the bye week last season, but he decided to test the market. On the first day of free agency, the Broncos made a strong push for Allen but kept Jones as their plan B option. Once the Broncos signed Allen to a $15.25 million a year contract, Jones signed with Seattle for $17.18 million per.
Jones started the first 13 games for the Broncos last season before a hip injury sidelined him for the final four games. Williams, 30, started 15 games up front last season and had a career-most 4.5 sacks, but the Broncos let him go to free agency because they wanted to make room for the up-and-coming Uwazurike and Henningsen. Williams signed a one-year, $1.75 million contract with Carolina that is a $670,000 signing bonus above the vet minimum.
On the way up
He blocked two kicks in college and his long frame came through again in the NFL when he blocked a field goal attempt by the Chiefs' Harrison Butker on the final play of the first half in a Jan. 1 game. He has big-play, pass-rush ability who was inactive for nine games last year, but came on late with impressive games against Carolina, Arizona and the Chargers.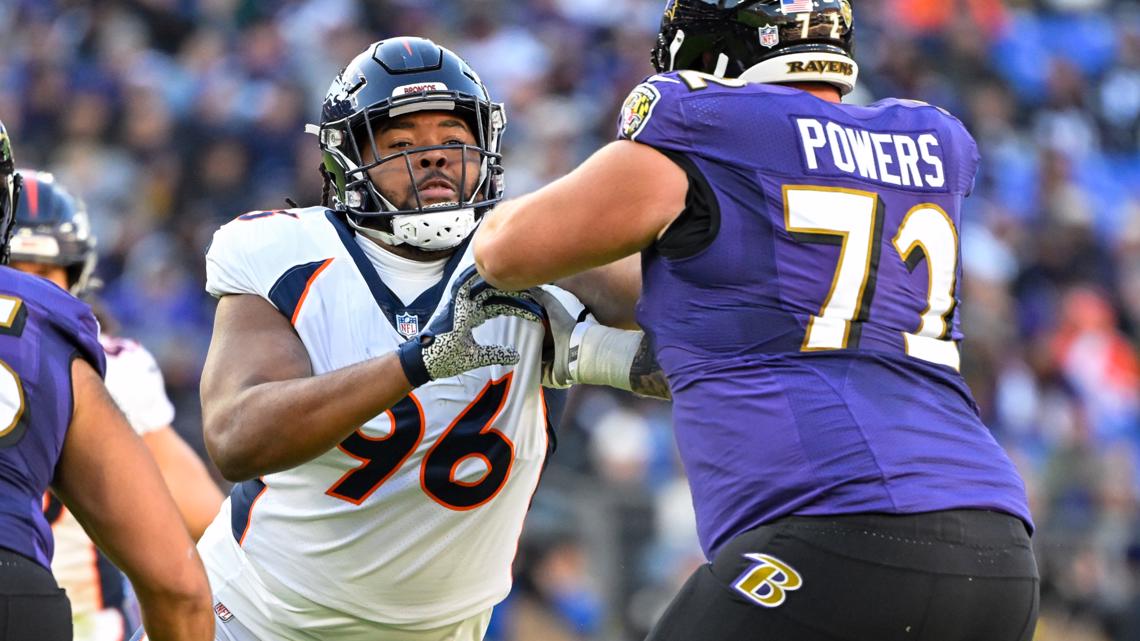 Key to 2023
Big seasons from D.J. Jones and Allen and continued emergence of Uwazurike and Henningsen.
Allen is not the same player as Dre'Mont Jones so don't expect 5.5 sacks through eight games, as Dre'Mont did last year. But Allen can be a two-way force who can quickly become a leader in the locker room. D.J. Jones played well when he was healthy last season, although he was nicked up from time to time. Health is a key to a more productive season in 2023.
And if the Broncos are counting on the kids, then either Uwazurike or Henningsen must come on as regular rotation players.