ENGLEWOOD, Colo. — As Broncos Country becomes better acquainted with new coach Sean Payton, the descriptions of brash and bold came with him from his 15 seasons in New Orleans.
Payton lived up to his reputation in an interview with USA TODAY this week in which he criticized the Broncos' previous coaching regime, the New York Jets' visibility through a behind-the-scenes cable program, and even "the parents" of his own organization for allowing unusual special privileges for the star quarterback.
But Payton is nothing if not a complex individual who in a master class of crisis response on Friday was contrite, humble, reflective, honest – and very human.
"I had one of those moments where I still had my Fox (network) hat on and not my coaching hat on,'' Payton said Friday after the Broncos' first official training camp practice beneath a sweltering sun and up to 3,000 roasted fans at team headquarters.
During a year sabbatical from coaching last year, Payton served as an NFL studio analyst where the more provocative the take, the more interest from viewers.
"I said this to the team in a meeting yesterday, we've had a great offseason relative to that. I've been preaching that message and here I am, the veteran stepping in it.," he said.
Payton's published comments in the newspaper Thursday carried a harsher tone.
"It might have been the worst coaching jobs in the history of the NFL,'' Payton said to USA Today in obvious reference to the Broncos' previous head coach Nathaniel Hackett, who is now offensive coordinator for star quarterback Aaron Rodgers and the New York Jets. The Jets were in the line of fire for another swipe.
"It doesn't happen often where an NFL team or organization gets embarrassed," Payton told USA TODAY. "And that happened here. Part of it was their own fault, relative to spending so much [bleeping] time trying to win the offseason – the PR, the pomp and circumstance, marching people around and all this stuff.
"We're not doing any of that. The Jets did that this year. You watch. 'Hard Knocks,' all of it. I can see it coming. Remember when [Washington owner] Dan Snyder put that Dream Team together? I was at the Giants. I was a young coach. I thought, 'How are we going to compete with them? Deion's [Sanders] there now.' That team won eight games or whatever."
Some blame for the Broncos' disastrous 5-12 season a year ago was pointed at quarterback Russell Wilson, for seeking – and receiving – special privileges like having team headquarters access for his personal coaching staff and his own office upstairs on the second floor – management's floor.
"That wasn't his fault," Payton said of Wilson's perks in the article. "That was the parents who allowed it. That's not an incrimination on him, but an incrimination on the head coach, the GM, the president and everybody else who watched it all happen.''
With a day to reflect, and even before that, Payton wished he could have had a do-over.
"It was a learning experience for me,'' he said. "It was a mistake, obviously. I needed a little bit more filter.''
The intention was solid. He wanted to show support for his embattled quarterback.
"There's a pound of flesh for these guys,'' Payton said. "As a coach you stick up for them. We're past that season last year and I said what I said. Obviously, I needed a little bit more restraint. I regret that.
"That being said, what I told the team is, if that can happen (to me) – and I think I'm pretty good relative to working with the media and pretty savvy and just had one of those moments – Jarrett's (Bell, the reporter) a good friend, real good at his job and two lattes in the morning, first one I see, and 40 minutes later I'm regretting it.''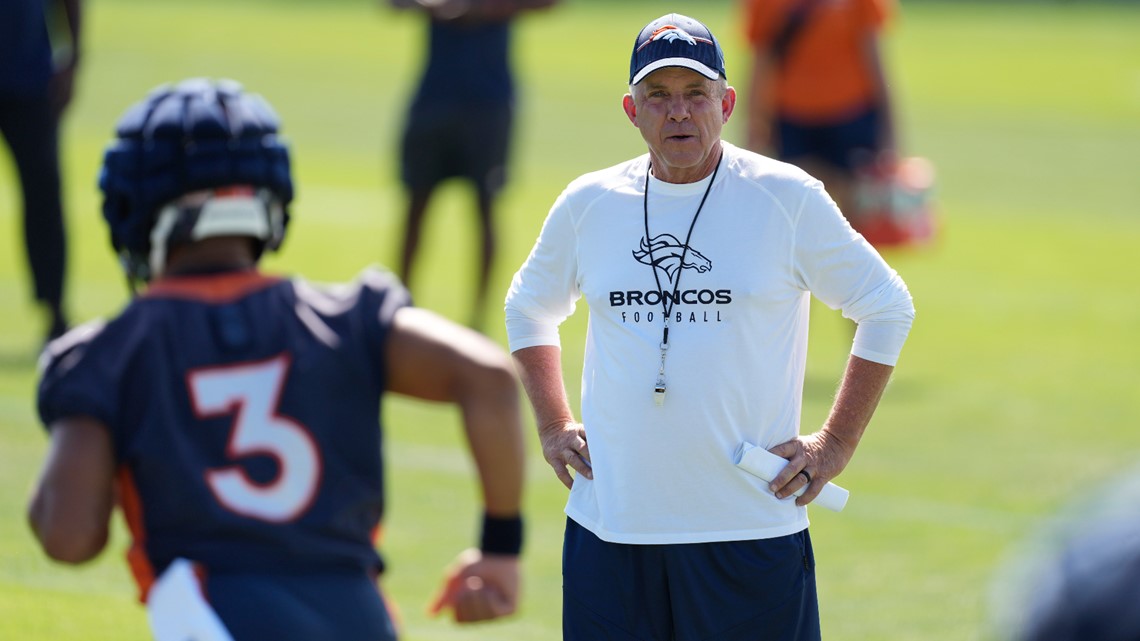 For clarity, supporting Wilson was the intent?
"Absolutely,'' Payton said. "These guys, and I said it [at the meeting] last night, these guys deserve the best teaching in the world and we're going to give it you.''
Now that's the Sean Payton people know and love. (And maybe certain opponents dislike).
Payton also said in the article he was going to be angry if the Broncos didn't make the playoffs this year. Considering the Broncos are coming off six consecutive losing seasons, it was a strong statement.
"I'm not afraid of the expectation,'' Payton said Friday. "I've talked to several people about being used to contending for the postseason. You don't take it for granted but that mindset needs to be present here. So, yeah, I see this as a team that has that ability and it's our job to bring it out of them."
As for throwing some shade on the general manager, who happens to be George Paton, and president, who is Damani Leech, and if "everybody else" refers to the Walton-Penner ownership group, Payton clarified his meaning.
"Both of them, the front office and the ownership are the two reasons I came here,'' Payton said. "So George and I are close. He was one of the big attractions – he and ownership. My point was across the board organizationally. It wasn't one person.''
Payton was asked if he would reach out to Jets' head coach Robert Saleh and Hackett to either apologize or clear up his comments.
"At the right time,'' he said. "I know Robert. I don't know Nathaniel. At the right time. It certainly will bring more interest to the game when we play them (in week 5 on October 8) but that seems like years from now. I'll handle it the right way."