DENVER — There were similarities between an efficient Russell Wilson in the first half and less-efficient Wilson in the second half.
Wilson was 17-of-19 for 125 yards and two touchdowns in the first half. Remarkable accuracy but not many yards. He was 10-of-15 in the second half but for only 52 yards. Still accurate, but disturbingly few yards.
It added up to 13 points in the first half, only three in the second, and a 17-16 Denver Broncos loss to the visiting Las Vegas Raiders.
Broncos head coach Sean Payton, in his weekly day-after-game conference call Monday with the media, said the lack of big plays can be attributed to how the Raiders' defense – and the game – was played.
"It's rare that both teams end up with just six possessions,'' Payton said. (This doesn't include a Raiders' one-play knee at the end of the first half). "In other words, points then become at a premium. Generally speaking, you're between 10 and 12 possessions a game. So part of it was the result of both teams having long, sustained drives. Overcoming some third downs, maybe some penalties that keep drives moving. But it was a little unusual that way.
"The thing offensively that maybe stood out is there weren't any explosive [plays]," Payton said. "We had a couple plays that would measure into the explosive category [a 21-yard reception by Brandon Johnson and a 20-yard catch-and-run by running back Samaje Perine], but it was unique that way where you didn't have the same amount of possessions you were used to and then the margins quickly shift. So if you told me we were going to win the turnover battle, we were going to win the rushing battle against that team, I would have been real happy and said more than likely we were going to win the game. But it wasn't the case."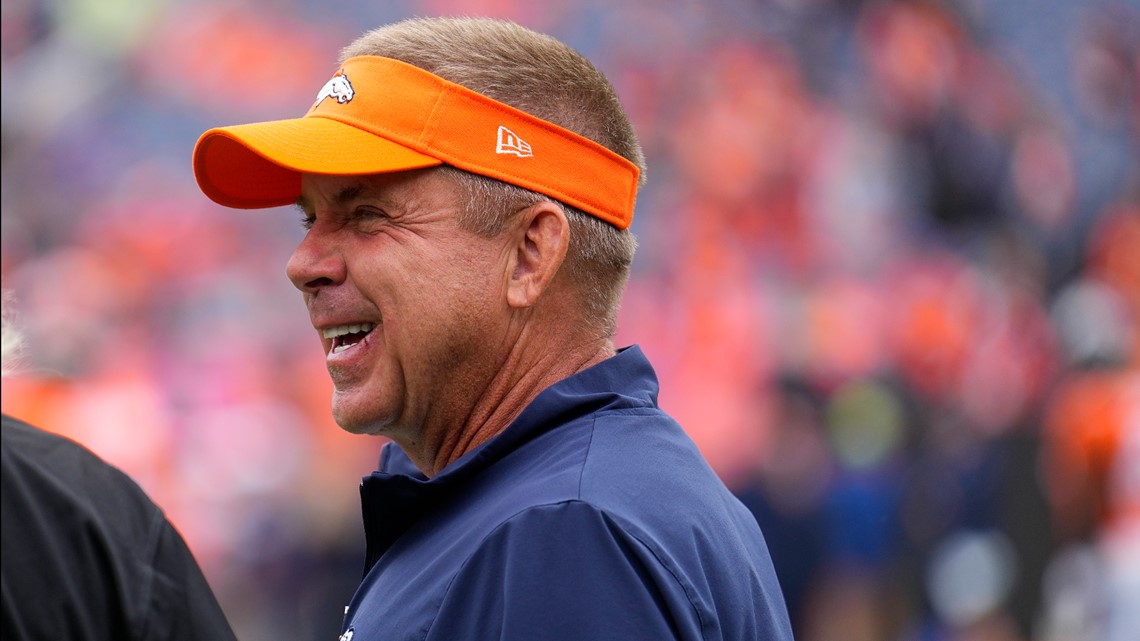 One reason for the lack of big plays was the hamstring injuries to receiver Jerry Jeudy, who was held out of the game, and tight end Greg Dulcich, who went down late in the first half.
"Certainly you miss Jerry, and you miss Greg,'' Payton said. "The other thing was we got a little bit more – a lot more – soft-zone coverage. To Russ' credit, the ball came down underneath a number of times when it needed to. So it's that back-and-forth, you're waiting for the down-safety looks, you're waiting for the opportunities that maybe provide you the chances down the field. But I would say a little bit more shell than expected and forced the throws to come underneath."
Two other glaring issues for the Broncos: Zero sacks from their defense, and 10 penalties for 83 yards overall.
"Well, look, we're all for pressure,'' Payton said. "And obviously it's an important stat line in our league when it comes to hurrying these quarterbacks. The ball does come out quick with Jimmy [Garoppolo, the Raiders' quarterback]. And it comes out quick route design-wise.''
So how to create more heat on the QB?
"There's two things,'' Payton said. "You win your one-on-ones, or you bring more people. … A lot of it is what you're wanting to do coverage-wise within the framework of the scheme. There are times when you want to keep the quarterback in the pocket and play a certain coverage."
Another possible solution: Mix in packages for downhill linebacker Drew Sanders. The third-round rookie didn't play one defensive snap – he was in on 12 special teams plays – against the Raiders. What does he have to do to earn the coaches' trust and get some defensive playing time?
"Look, he's got the trust of the coaches,'' Payton said. "Part of it is just finding the packages and the snaps to play. Both Josey [Jewell] and Alex [Singleton] played well. We'll constantly look at our personnel and see ways where guys can help us not only in the kicking game but also on offense and defense. It's not a trust issue."
As for the penalties, Payton said: "When you watch them all, I would say there's two or three that you're not going to lose sleep over, relative to what your player's doing. But certainly the pre-snap fouls and being smart and understanding how the game is being officiated relative to personal fouls or roughing, that falls on us. And it's something we've got to be better at."
The Broncos drew three 15-yard roughing penalties – safety Justin Simmons for a late hit on the Raider's opening touchdown drive; nickelback Essang Bassey on a roughing the passer penalty during the Raiders' go-ahead touchdown drive in the fourth quarter, and safety Kareem Jackson's blast to the helmet that helped the Raiders run off the final five minutes, eight seconds of game clock and preserve their 1-point lead.
It was surprising the Raiders seemed to have more gas than the Broncos in the fourth quarter. Payton worked his team hard through conditioning and physical contact in training camp. Las Vegas may have 2,001 feet of altitude, but that's a small hill next to Denver's 5,280 feet of altitude.
Payton indicated finishing out a game strong is more about a mindset than anything physical.
"I told them afterwards our league, most of these games finish within a touchdown of each other,'' Payton said. "Those are just the facts in our league. But when you get into the fourth quarter, we watch the end of all these games, somebody's in the two minute to win or somebody's defending a two minute to win.
"I think it's important to understand we're going to be in a lot of these close games, and the fine line of winning and losing is critical," he said. "Penalties come into it, big plays, all these things. The game yesterday was unique in that it was a low-scoring game but not a lot of possessions. Obviously the margins change when that happens … how do we win this game?"
The Broncos host the Washington Commanders for Game 2 of the 2023 season with kickoff at 2:25 p.m. Sunday at Empower Field at Mile High.
More 9NEWS stories by Mike Klis: