ENGLEWOOD, Colo. — All that work, a year's worth of pain and sweat and worry, to rehabilitate a knee injury and for what?
For Tim Patrick, it may futile as the veteran receiver went down again nearly a year later, this time with a complete tear in his left Achilles, a source told 9NEWS. Patrick will again be sidelined for the season.
"It (stinks) a lot of people don't understand the game of football that we play is very dangerous,'' said second-year cornerback Damarri Matthis. "For a guy like Tim to be coming off that big knee injury and then going back down ... hopefully it's not that bad but it's a sight you don't want to see, obviously."
Patrick seemed to understand the magnitude of his injury seconds after it occurred as he slammed down his helmet as he sat on the ground. He needed assistance from quarterback Russell Wilson and fellow receiver Courtland Sutton to be placed in a cart that drove onto the practice field. Patrick was helped again by training staff once the cart got to the training room doors.
"I was watching it directly,'' Payton said of the 7-on-7 drill in which Patrick went down from the side of the line soon after takeoff from the snap. "Because he was running a route and it was something that we corrected earlier. It was kind of on-air (no coverage), planted. It looked like he slipped.''
Patrick suffered a torn ACL to his right knee on Aug. 2 last year. This ankle injury occurred to his other leg.
"That's tough,'' said linebacker Josey Jewell. "A guy that's worked so hard to come back.''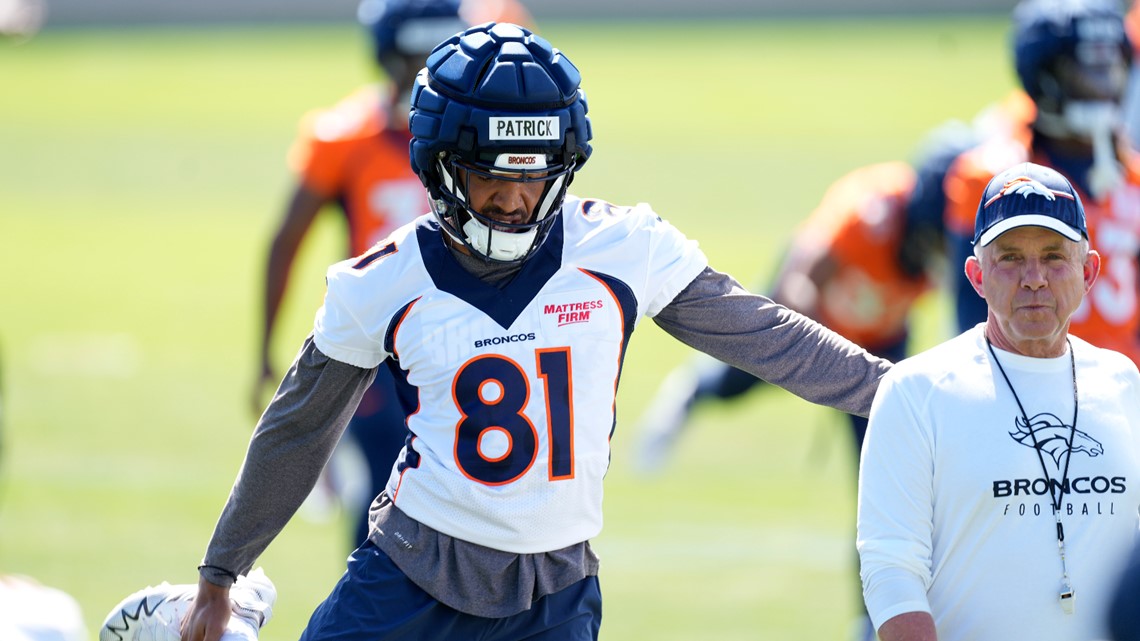 "It's a tough break for us as a team obviously when you see something like that,'' said star cornerback Pat Surtain II. "Especially a great player, a great leader. It sucks to watch him go down like that. I wish him the best and we'll go on from there."
Patrick, 29, had back-to-back seasons of at least 50 catches for more than 700 yards in 2020-21 for the Broncos, which precipated general manager George Paton to give him a three-year, $30 million contract extension midway through the 2021 season.
Patrick now will have drawn $19.5 million over the first two years of his contract without playing a down. The $10 million he is scheduled to receive in 2024 is non-guaranteed.
"It's always difficult, you guys see it, especially a guy like that who's a leader, who is coming of an entire year of rehabilitation,'' Payton said. "It's difficult for his teammates, for all of us. Hopefully, we get some good news, but it appears it's his left Achilles."
More 9NEWS stories by Mike Klis:
9NEWS+ has multiple live daily shows including 9NEWS Mornings, Next with Kyle Clark and 9NEWS+ Daily, an original streaming program. 9NEWS+ is where you can watch live breaking news, weather updates, and press conferences. You can also replay recent newscasts and find videos on demand of our top stories, local politics, investigations and Colorado specific features.