ENGLEWOOD, Colo. — Injured everywhere, at no position have the Broncos been decimated more than along their defensive line.
Three of their five game-day defensive linemen through their first two games are now on injured reserve – Dre'Mont Jones (knee), DeMarcus Walker (calf) and Jurrell Casey (biceps).
The Broncos are adding much needed reinforcement Wednesday by signing veteran defensive lineman Timmy Jernigan. The Broncos had previously called up DeShawn Williams from their practice squad to play Sunday against Tampa Bay and activated, for the first time, third-round rookie McTelvin Agim.
Williams' game against the Bucs was his first in four years. He played in four games for the Bengals in 2016, a year after he signed with Cincinnati as an undrafted free agent out of Clemson.
Jernigan has much more, and recent, experience. A second-round draft selection by the Baltimore Ravens in 2014 after he came off Florida State's national championship season, Jernigan started 15 games as a rookie and made the NFL's All Rookie team. He was traded after his third season to Philadelphia and in his first season with the Eagles, Jernigan started 15 games at defensive tackle and also started on their Super Bowl 52-winning team to cap the 2017 season.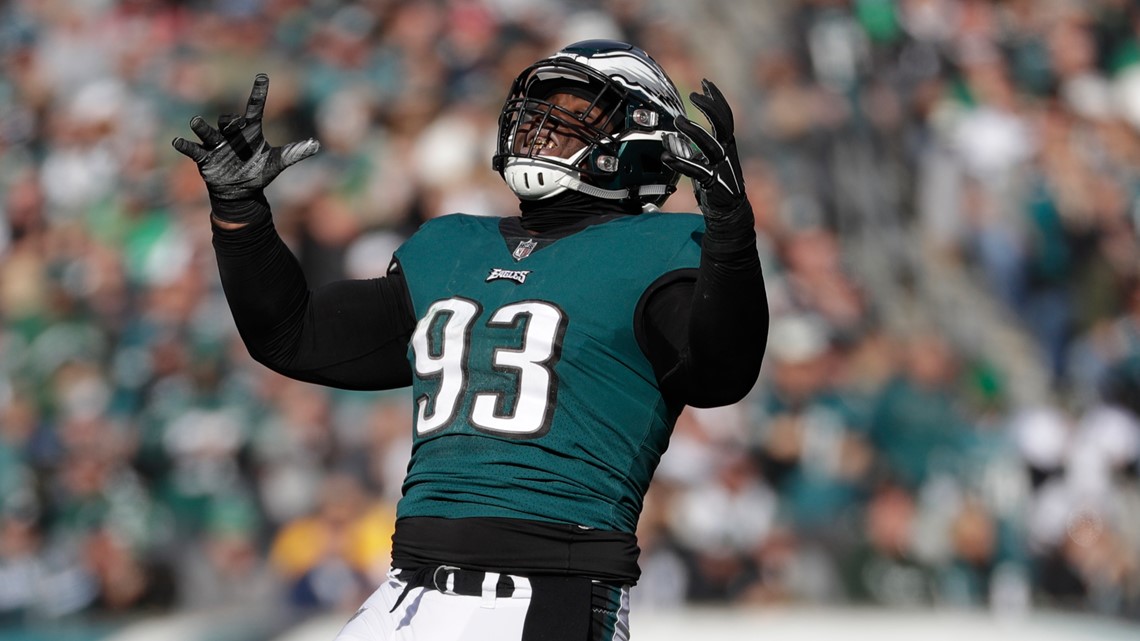 He played the first three games with Jacksonville before he was released Monday. Jernigan quickly flew to Denver to go through their coronavirus testing protocols and after taking his physical exam Wednesday morning, will sign a one-year deal with the Broncos and board one of the busses to DIA for a flight to New Jersey this afternoon.
Jernigan is eligible to play for the Broncos in their game Thursday night (tomorrow) at the New York Jets, although it's unclear if he will be activated by head coach Vic Fangio. If Jernigan is activated he would play in back-to-back Thursday night games for two different teams as he played in Jacksonville's loss to Miami last Thursday.
With outside linebacker Jeremiah Attaochu not playing against the Jets because of a quad injury, and running back Phillip Lindsay still iffy with a turf toe injury, the Broncos promoted Derrek Tuszka and LeVante Bellamy to their 53-man roster Wednesday.
Tuszka and Bellamy had each burned up their two game-day call-ups from the practice squad so a third promotion meant a permanent spot on the 53-man roster. As practice squanders, the edge-rushing Tuszka and running back Bellamy each made $8,400 a week. As rookies on the big roster, they will $35,882.35 per week, the prorated portion of a $610,000 salary.
They are the sixth and seventh players on the Broncos' 53-man roster who were on the practice squad when the season began. The others were De'Vante Bausby, Austin Chickillo (who opened on the Saints' practice squad), P.J. Locke, Brett Rypien and Williams.
The Broncos may also call up offensive tackle Jake Rodgers and inside linebacker Josh Watson as game-day callups for depth following the long-term injuries to Elijah Wilkinson (knee) and Austin Calitro (hamstring). The Broncos could also consider defensive lineman Deyon Sizor and cornerback Kevin Toliver II as practice squad call-ups for their game-day roster.
Sylvester back for tryout
The Broncos may be signing another defensive lineman or two Friday, even its to their practice squad. Sylvester Williams, the Broncos' first-round pick in 2013 who started in their Super Bowls following the 2013 and 2015 seasons, is among the five defensive linemen who will work out for the Broncos on Friday at UCHealth Training Center.
All five were in town the past two days completing the team's virus testing protocols.
The others are Darius Kilgo, a sixth round pick of the Broncos in 2015, David Moa, veteran Brian Price and Niles Scott.
Williams was a four-year starting defensive tackle for the Broncos, then started for the Titans in 2017, Lions in 2018 and appeared in five games for the Chargers last year.
Kilgo played in 18 games his first two seasons with the Broncos, then 11 for Tennessee in 2018. Price has played sparingly for the Packers, Cowboys, Browns and Raiders. Scott has played for the Bengals.
Sylvester Williams may be considered the man to beat in the audition as he has the most recent playing time and the people who selected him in the first round, general manager John Elway and top assistant Matt Russell, are still in charge of the Broncos' football personnel department.