ENGLEWOOD, Colo. — After paying $4.65 billion to buy the Denver Broncos' franchise, what's another $245 million for a franchise quarterback?
The Broncos' new Walton/Penner ownership group just signed off on a new seven-year, $296 million contract for quarterback Russell Wilson, who is now the NFL's second-highest-paid player in terms of "new money extension" to Green Bay's Aaron Rodgers.
Before the new deal, Wilson was scheduled to make $51 million combined over the next two seasons. The five-year, $245 million add on averages out to $49 million annually in "new money" that puts Wilson only behind Rodgers, the Green Bay Packers' great who received a $50.27 million per year extension in March.
Staggering as Wilson's contract numbers may be, he could have pushed for more. Twice before he received contract extensions with the Seattle Seahawks that made him the NFL's highest-paid player. This time, Wilson did not push for the full five-year guarantee that Deshaun Watson received from Cleveland nor did he demand a few more million dollars that would have edged him past Rodgers as the highest-paid player.
"To me what it's really about is to win championships and being able to have enough space in the salary cap for George to make his magic so we can get guys like Randy Gregory and other great players,'' Wilson said in reference to general manager George Paton at his press conference Thursday. "We want to make this a destination location.''
9NEWS has the year-by-year details of the Wilson contract:
2023: $50 million signing bonus
2022 Total: $57 million, fully guaranteed
*Wilson was scheduled to make $24 million in 2022.
2023: $20 million option bonus
Total: $28 million, fully guaranteed. (2 years, $85 million, fully guaranteed)
*Wilson had been scheduled to make $27 million in 2023 or $51 million over 2 years.
2024: $22 million option bonus
2024: $39 million, fully guaranteed (3 years, $124 million).
*One of the most significant aspects of the deal is an early guarantee trigger for 2025. On the 5th day of the league year in 2024, Wilson's $37 million for 2025 becomes fully guranteed.The Broncos aren't going to cut Wilson in 2024 because he is to receive $39 million fully guaranteed that year. So the early guarantee trigger makes this a four-year, $161 guaranteed deal.
2025: $37 million salary (fully guaranteed in March 2024, 4 years, $161 million).
2026: $40 million salary ($4 million injury guarantee)
2027: $44 million salary; $1 million roster bonus. $45 million total (non-guaranteed)
2028: $50 million salary (non-guaranteed)
Total contract: 7 years, $296 million, $165 million in guarantees.
Wilson, who turns 34 in November, will be 37 after the fourth guaranteed year of his new contract and 40 if he plays out all seven years. He said Thursday he has studied how elite athletes continue to perform near peak performance as they age into their late-30s, early 40s.
"I have one of the best trainers in the world in Tim Grover, who has worked with Michael Jordan, Kobe Bryant,'' Wilson said about the former NBA superstars. "I've had pretty cool relationships with guys over the years. I've asked (former Yankee shortstop) Derek Jeter about how he was able to play so long. I got to pick (basketball star) Vince Carter's brain once about how he was able to play for so long. (WNBA geat) Sue Bird was somebody I got to talk to a long time last year about her greatness and how she was able to do it.''
Wilson then delivered a tutorial on the three elements of playing well at a relatively advanced athletic age.
"No. 1 you have to keep your mind, your spirit and your body right. Every day," he said.
Secondly, surround yourself with his teammates and personalized performance team. And thirdly?
"You have to believe in it,'' Wilson said. "I never doubt. I've never doubted in my life. Never have. Never will. A lot of it is you put the work in. I try to beat the sun every morning. That gives me the chance to catch a few extra hours of making sure all the treatment and everything you do and your process and your planning and your vision and everything else aligns.''
To have those three elements aligned is the final piece, Wilson said.
The Broncos acquired Wilson from Seattle in exchange for two first-round draft picks, two second-round draft picks, and players Drew Lock, Shelby Harris and Noah Fant.
Three months later, the Broncos were sold to Rob Walton, his daughter Carrie Walton-Penner and son-in-law Greg Penner for $4.65 billion. Greg Penner is the team's CEO and he immediately stated full trust in Paton, who not only swung the trade for Wilson, but negotiated the new contract along with Broncos' chief negotiator Rich Hurtado with Wilson's agent Mark Rodgers.
Paton said Thursday that Hurtado and Rodgers started negotiating around the NFL owners meetings in late-March. Talks were put on pause while the Broncos' franchise was put up for sale via auction.
Once Penner took charge, negotiations heated up. Penner and Paton started communicating on a daily basis over the past three weeks. Rodgers was in and out of Broncos' headquarters during training camp and then again in recent days.
The two sides imposed their own deadline of this week to get a deal done so Wilson wouldn't have a scintilla of distraction heading into the final week of preparation for the season-opener Monday night, Sept. 12 against his former Seahawks in Seattle.
The contract agreement was reached precisely at 11:10 Wednesday night after Wilson attended a team-building dinner with several teammates and coach Nathaniel Hackett at Matsuhisa, an acclaimed Japanese seafood restaurant in Cherry Creek. Broncos union rep, kicker and annual captain Brandon McManus organized the dinner.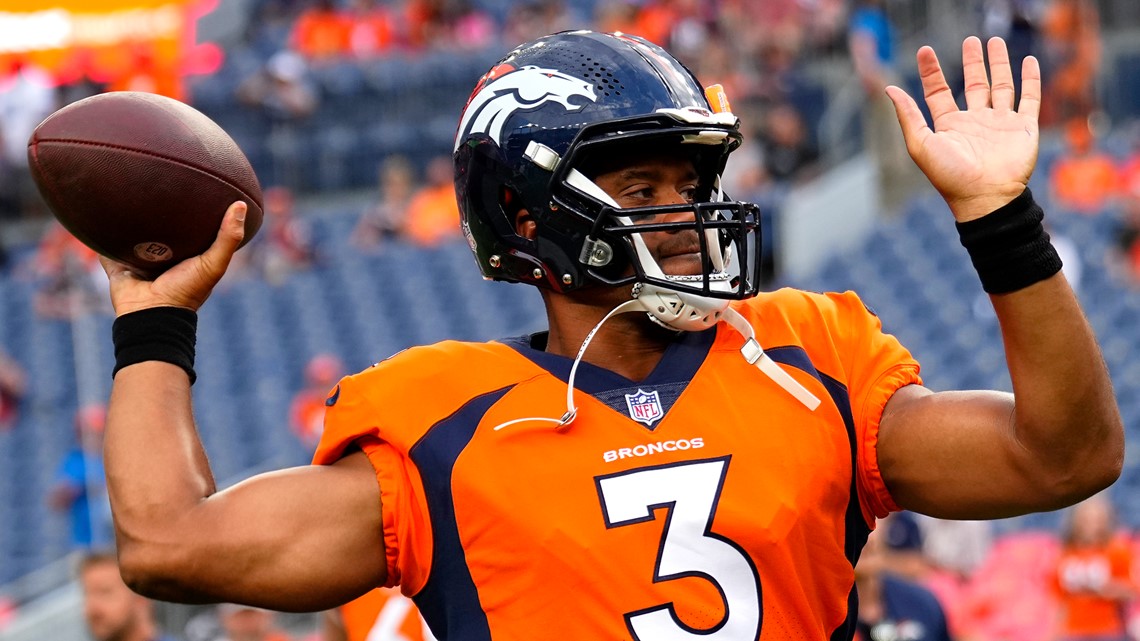 Why get the contract done now? Sooner was better than later because in the ever-burgeoning business that is the NFL, the price only goes up. The Broncos didn't need to see Wilson play a few games before making a decision. When a team surrenders two first-round draft picks and two second-round picks, it already knows what it has. Wilson has 10 years of tape. His video package includes far more wins (113, counting postseason) than losses (60); more completions (3,354) than incompletions (1,733); more touchdown passes (317) than interceptions (99).
And although he was held out of the Broncos' three preseason games, Wilson has proved to be more than the Broncos expected in terms of preparation -- he almost always arrives at the team's facility in the 6 a.m. hour and sometimes in the 5 a.m. hour -- and leadership. His work ethic is unmatched. His quest to be great -- which he knows comes from winning -- is ferocious. Even if it means taking less money.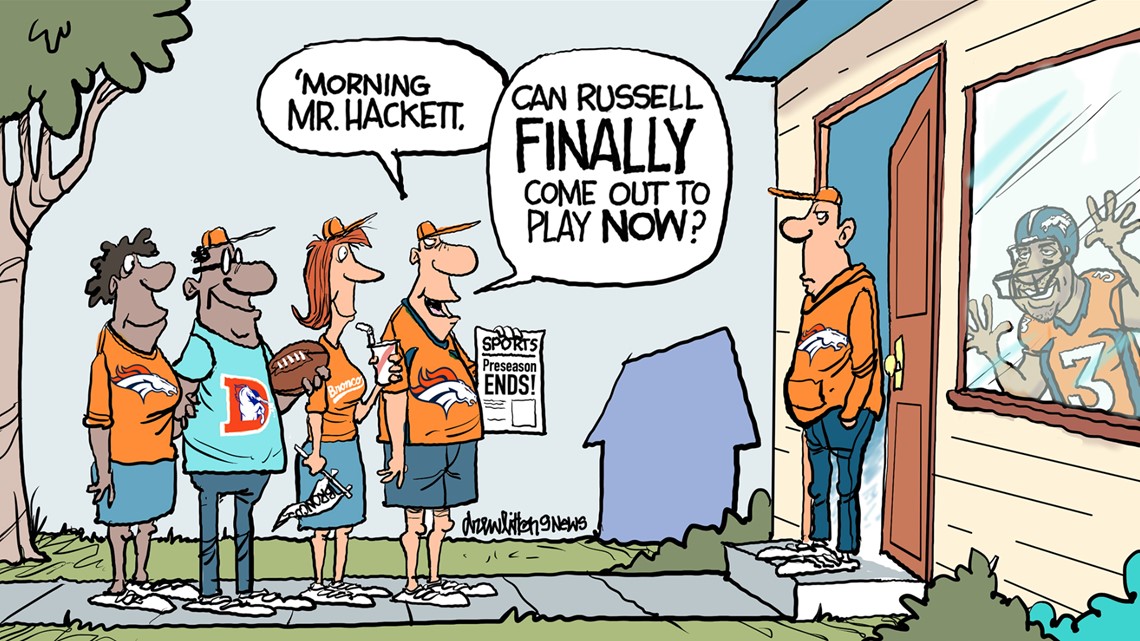 And Wilson has played well in training camp, especially during the late move-the-ball and 2-minute drills.
The alternative would have been to have Wilson play out this season and then give him a new deal when there would have been only one year remaining on his contract. But again, the new salary price likely could well have been $55 million-plus after this year instead of the $49 million he took now.
Playing the season opener in Seattle carries its own distractions. Getting the contract distraction out of the way before that game was imperative.
"To be able to get this done before the season and have it all done is a blessing.'' Wilson said.
9NEWS+
9NEWS+ has multiple live daily shows including 9NEWS Mornings, Next with Kyle Clark and 9NEWS+ Daily, an original streaming program. 9NEWS+ is where you can watch live breaking news, weather updates, and press conferences. You can also replay recent newscasts and find videos on demand of our top stories, local politics, investigations and Colorado specific features.