DENVER — Jerry Sturm, a Broncos center-guard-fullback in the 1960s who was named to Denver's Top 100 players team and who for the past 50 years owned the popular South Restaurant in Englewood, has died.
He was 83. His family is donating his brain to the Concussion Legacy Foundation at Boston University. Brett Sturm, Jerry's son, said his dad first showed signs of dementia in 2006 and for the past eight years had required 24-hour care. Sturm had been in the NFL's 88 Plan which provides assistance for former NFL players who have been diagnosed with dementia.
Boston University will be conducting research on Sturm's brain trauma history in the NFL.
"He was one of few who got full disability from NFL,'' Brett said. "It took some time. All the documentation wasn't really recorded back then like it is nowadays so we had to go through files upon files, news articles.
"Probably 10 years ago, once we found one game where he fractured his skull and he was back in the next week. He was playing with the (New Orleans Saints) at the time. They just put a bar over the top of his helmet where his temple was, where he fractured it and they sent him back in. Once we sent that to the NFL, it was one of the quicker responses we ever got back from them and he was put on full disability."
Jerry Sturm was as honest as he was versatile and tough. He was named to the AFL All Star team in 1964 as a center and 1966 as a left guard. He also played offensive tackle and fullback with the Broncos. That's right, in 1961, Sturm had 8 carries for 31 yards and added two receptions.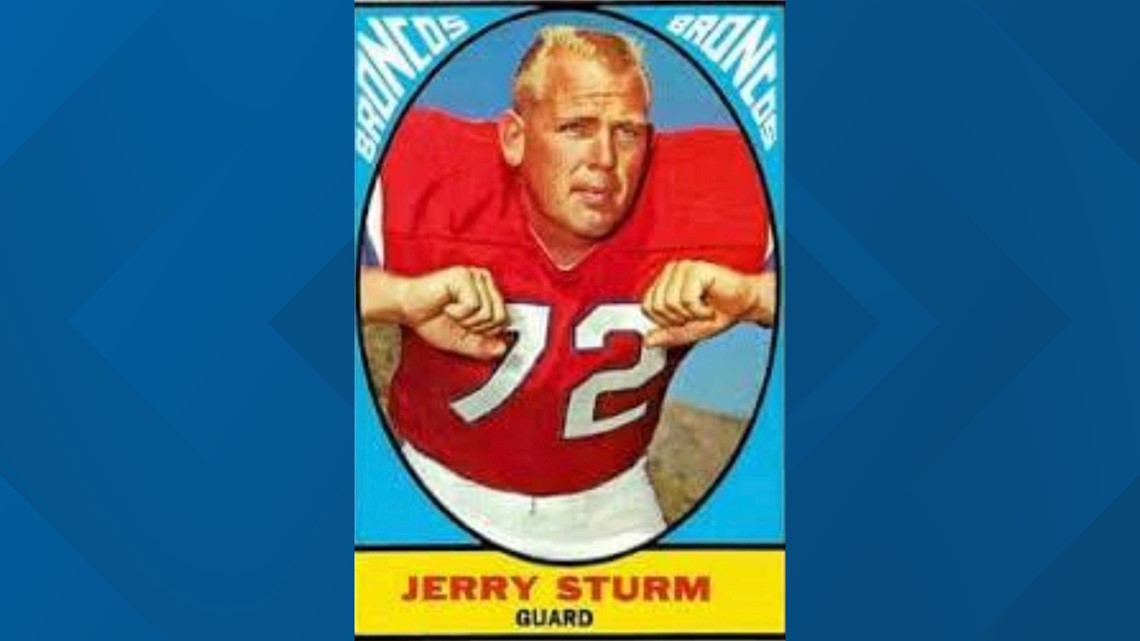 He played in the Canadian Football League for Calgary in 1959-60 before joining the Broncos on the recommendation of head coach Frank Filchock, who had coached Sturm in Calgary.
As much as his football prowess, Sturm drew attention for his virtue that helped stymie a game-fixing scheme.
While playing for the Houston Oilers in 1971, Sturm was approached by a former Broncos player who offered a $10,000 bribe if the center would mess up snaps on kicks and to the quarterback in a December 1971 game against the Pittsburgh Steelers. Sturm turned in the bribe offer to Houston head coach Ed Hughes, who went to NFL, who went to FBI.
Sturm owned and operated "The South" restaurant, a popular Mexican-American eatery, in Englewood since 1970, while he was still playing for the Saints. Sturm and Denver restaurateur George Pappas became 50-50 partners in four Denver-area establishments, including The Holly. Four years later, Sturm bought out Pappas and The Holly was later renamed The South.
"It's just a good family restaurant,'' Brett said. "The regulars and the community there are second to none. They're like family to us."
And yet, Jerry Sturm had other priorities.
"He golfed every day of his life,'' said Brett, who is now working in real estate investments and property management in Hawaii. "He always said golf was No. 1, he told my mom she was No. 2 (he laughed) and the restaurant was No. 3. We used to always joke about that."
Jerry Sturm was a scratch golfer after he retired from football and he kept his handicap below a 5 until health forced him to stop playing. Brett grew up on a house sitting just off hole No. 2 at the Columbine Country Club.
"He was trying to make the Tour for a while after his NFL career,'' Brett said. "Everyone that knew him knew he loved his Coors Light and he loved his golf."
Brett said his dad counted former NFL quarterback Billy Kilmer as his best friend. Former Broncos' teammates Goose Gonsoulin and Bud McFadin were also close friends. Sturm also golfed many rounds of golf with former Bronco quarterbacks John Elway and Gary Kubiak over the years.
Jerry Sturm and his wife Deborah were together 45 years, married for 43. They had one son together, Brett, who played at Heritage High School and San Diego State University from 2002-06. He went to training camps with Seattle and Tampa Bay and had tryouts with Houston and the Broncos.
"I tried to follow my father's footsteps to the NFL, but I was in an out of four NFL camps and kept getting cut,'' Brett said. "Pops was the one who had the amazing career."
A career that was capped last year when fan voting elected him to the Broncos Top 100 players team as part of the NFL's centennial season celebration.
"We were so blessed when that came out,'' Brett said.
Even when Jerry couldn't appreciate the honor as he could have before dementia set in, honoring his legacy meant much to those who knew him.
"He had me when he was 47,'' Brett said. "Dad flew out to San Diego State for all my practices, all my games. Anywhere I was playing, whether it be Hawaii or Ohio State or Michigan, he was out there for all of that. Even growing up here, he never missed a practice, never missed a game. Very hands-on father which for me was a blessing.''
Jerry Sturm passed away at 2:15 Wednesday morning with his wife and son at his side. Besides his wife and son Brett, Sturm is survived by daughter Cindy from a previous marriage. He was preceded in death by two children from his first marriage, son Jerry Lee and daughter Beth.
The South Restaurant posted notice of Sturm's passing on its Facebook page, stating:
"With a heavy heart, The South Family regrets to inform you that our leader and "chief" Jerry Sturm is no longer with us. Jerry passed away peacefully with his loving family by his side.
"As you know Jerry touched the souls of many, and in doing this, he has become respected and loved by an innumerable amount of people. This includes not only his immediate family and friends, but also his extended NFL family, his longtime golfing buddies, and the community he helped cultivate at The South. He will undoubtedly be deeply missed by all.
"Words can't describe how much our hearts ache over the loss of Jerry. We all knew him as our friend and cherished his intelligent and witty personality. He was strong and tough. Yet he was also one of the sweetest, most genuine, generous and outgoing men any of us will ever have the privilege of knowing. Jerry adored all of his friends and he was always excited to share a smile or beer, steal a kiss, or offer that unforgettable solid hand shake.
"Our thoughts and prayers are with everyone who is grieving the loss of this Great Man. One of the Greatest, Top 100 All-Time and Number 1 in our book. The South Family would like to thank everyone from the bottom of our hearts and express our gratitude for the outpouring of community support over the years and during this time.
"Please know that we will share details about a memorial honoring Jerry Sturm and his everlasting legacy at a later date to follow."