DENVER — It was unquestionably the most bizarre, dumfounding, brilliant, exhilerating, disbelieving and heartbreaking final 2 minutes and 25 seconds a Broncos fan will ever see.
Cutting to the very last second -- cutting to when time expired after that very last second -- the Chicago Bears beat the Broncos, 16-14, Sunday on a 53-yard field goal by Eddie Pineiro. Oh sure, now the Bears have a kicker.
"I've never been part of something like that,'' said Bronco defensive end Derek Wolfe. "That's crazy. That's insane.''
"I don't think we ever lost like that here,'' said cornerback Chris Harris Jr. "It's definitely tough, man. Just got to figure out how to win and bounce back."
There was an ultra conservatively played game for 57 minutes and 30 seconds with the visiting Chicago Bears pretty much having a slight advantage throughout. And there was the game played in the final 2 minutes and 25 seconds that completely flipped the script at freshly renamed Empower Field at Mile High.
Let's review the final 2:25:
*The Bears were leading 13-6. The Broncos were confronting fourth-and-10 at the Bears' 43 with no timeouts remaining and the 2-minute warning one play away. The Broncos had been to Bears' territory in seven of their previous eight possessions and had just two Brandon McManus field goals to show for it.
Why should they be any different now? Many from the crowd of 76,885 didn't think so as they started exiting after quarterback Joe Flacco spoiled a first-and-goal opportunity by thowing his first interception of the season.
"I didn't see it,'' Harris said of so many fans leaving early. "But it can be a frustrating game. We don't score a lot of points. We're not entertaining so I can understand."
But a couple minutes later, it's do or die, and Flacco connected with receiver Courtland Sutton for a 10-yard gain. First down, 2-minute warning.
The drive methodically continued until it was fourth-and-3 at the Bears' 12 with 1:02 remaining in regulation. Flacco hit Sutton again, this time for 5 yards, setting up first-and-goal at the 7. On the next play, Flacco hit Emmanuel Sanders in the back of the end zone for a touchdown with 31 seconds remaining.
The Broncos now trailed, 13-12 and needed just a McManus extra point to tie it and send the game into overtime against the exhausted Bears. Then Broncos' head coach Vic Fangio stepped in.
*Fangio had been waiting through 40 years as an assistant coach for a gutsy, win-or-else play call. He went for the 2-point conversion and the win.
"We're trying to win games and if we have an opportunity to win a game with a 2-point play at the end there, I'm always going to consider it,'' Fangio said. "The circumstances always come into play, but it doesn't mean I'm going to do it the next time. I was convinced it was the right decision this time.''
But before the play was snapped, the Broncos were called for delay of game. Ugh. Instead of the 2-point from the 2-yard line, the ball would have been placed at the 7.
Fangio decided to take the 5-yard penalty on the extra-point kick. But noooooo! McManus missed from 38. Bears win.
Wait a minute. The Bears' Buster Skrine jumped the snap and was offside. Now the Broncos had a choice for either a 33-yard extra point for a tie, or 2-point conversion from the 1-yard line.
Again, Fangio went for the win. Flacco hit Sanders. Good. The Broncos were up, 14-13, and to repeat, there were only 31 seconds remaining.
*The Bears weren't done. The Broncos thought they ran out of time. But it wasn't to be. On the first play, Bears quarterback Mitch Trubisky completed a simple 5-yard pass to tight end Trey Burton, who got out of the bounds to stop the clock. On the same play, Broncos' pass rusher Bradley Chubb was flagged on a questionable roughing the passer penalty.
That moved the Bears up to their 45. They were still there three plays later. It was fourth-and-10 with 13 seconds left. The Bears were called for too many men in the huddle. That made it fourth-and-15 from their own 40. Trubisky stepped up in the pocket and found receiver Allen Robinson all alone -- wide, wide, open -- 25 yards down field. Robinson caught it, immediately went down and Bears coach Matt Nagy simultaneously called timeout.
The clock read 0:00 but the official told the timekeeper to put 1 more second on the clock.
"What I want to know is where did the second come from?'' Wolfe asked. "The commissioner needs to review that. That's our win. Time is gone. They ran out of time.
"I thought we won. And then I'm like, wait, 'How are they kicking a field goal? 'Time's out.''
*Robinson went down at the Broncos' 35. Out came kicker Eddie Pineiro for a 53-yard try. If this game was played last year, the Bears' kicker would have clanked the goal post and the Broncos would have won. Pineiro drilled it.
The Bears celebrated. They are now 1-1. The Broncos are 0-2 and play at 2-0 Green Bay next Sunday.
"I've been part of some pretty jacked up sidelines and I think we were pretty jacked up there and the end of the game, but that's how it goes,'' said Flacco, was 35 of 50 for 292 yards with a touchdown but also an interception near the goal line in the fourth quarter. "We're a young team. I'm the new guy, got some other new guys and situational football, you've got to learn how to win football games. So hopefully we can quicken that process up as much as we can and move on.''
PHOTOS | Chicago Bears defeat Denver Broncos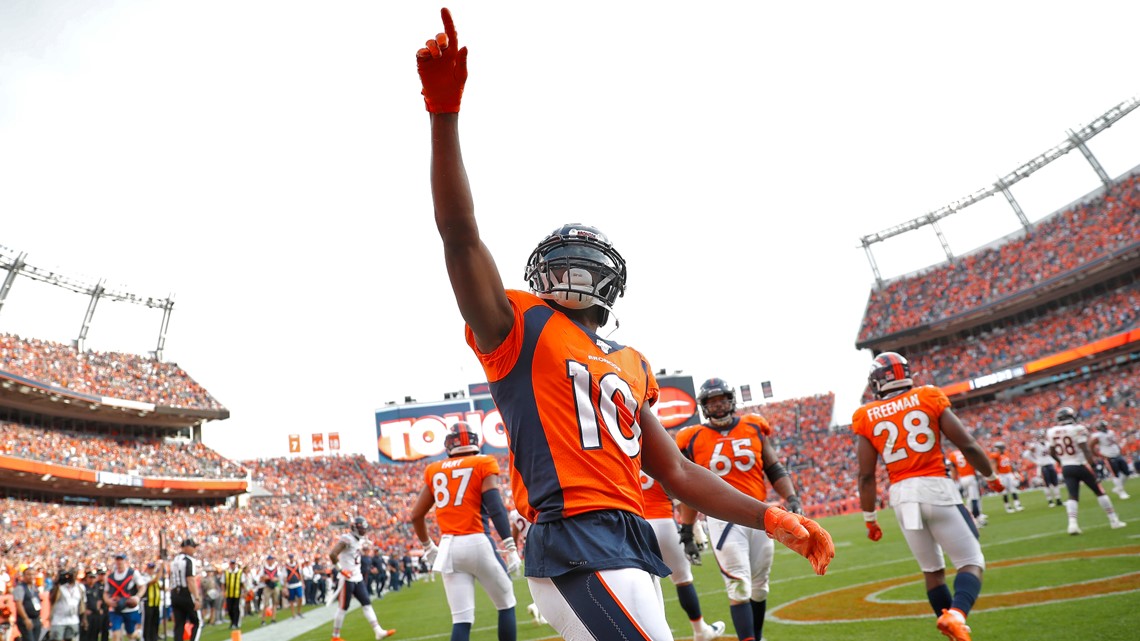 RELATED: LIVE COVERAGE | Denver Broncos vs. Chicago Bears
RELATED: Klis' Mike Drop podcast: Denver's disappointing loss to Oakland, 1-on-1 with Courtland Sutton and looking ahead to the Bears in Week 2
SUGGESTED VIDEOS | Sports